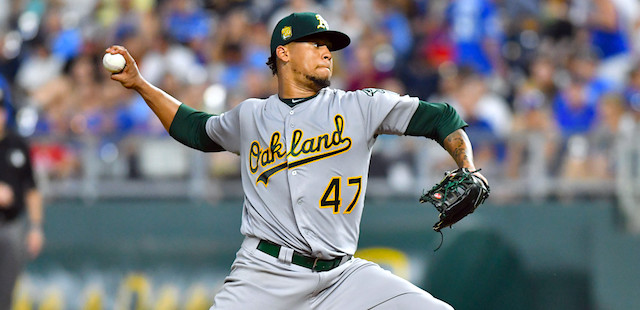 Once you reach the middle-to-late rounds of drafts, it would be smart to consider drafting some upside fliers that can provide a great return on value. You can take a risk or two on a variety of different players, including a prospect, forgotten veterans, players returning from injuries, or even players with skills but have playing time concerns. It is essential to know the player pool so you can take a chance at a spot in the draft that you're comfortable without deviating from your overall strategy.
Today we are looking at some mid-round starting pitchers for you to consider. Do we think they are draft targets or players to avoid? Are their ADPs undervalued? Will they make significant fantasy contributions and be one of your later-round draft sleepers? Read on to see our take.
Our editors have hand-picked these specific MLB players for your draft prep enjoyment. Normally only available to Premium subscribers, the five outlooks below are meant to give you a taste of the in-depth analysis you receive with our industry-leading 2020 Draft Kit. Be sure to subscribe today and start reading all 400+ of our 2020 player outlooks, and many other premium articles and tools, available exclusively in our 2020 Draft Kit.
Editor's Note: Our incredible team of writers received 13 award nominations by the Fantasy Sports Writers Association including Baseball Writer of the Year, Football Writers of the Year, Golf Writer of the Year and many more! Be sure to follow their analysis, rankings and advice all year long, and win big with RotoBaller!
Read More!
Oakland Athletics' starting pitcher Frankie Montas broke out in a big way in 2019, finishing with a 2.63 ERA, 1.11 WHIP, and 103 strikeouts in 96 innings before being suspended for 80 games. While 16 starts is a relatively small sample size, Montas made specific pitch mix changes that fueled his breakout. Most importantly, he added a splitter and started throwing it at the expense of his sinker and fastball.
While the splitter had a 2.2 pVAL, it also helped him improve results with the fastball and slider, which both jumped over six points in pVAL. The new repertoire led to a SwStr% of 11.5%, which was a three-percent jump from 2018, and his K%-BB% was 20.3%, easily the highest of his MLB career. His xBA, xSLG, xwOBA and barrel% were all a career-low, further indicating the validity of the new Montas.
As a result, Montas' current ADP of 141, or the 54th pitcher off the board, feels too low. Expect a final line around 10-13 wins, a 3.40 ERA, a 1.2 WHIP, and a 24% K%. He should easily be going inside the top 100, around Jose Berrios (89th) and James Paxton (92nd).
It feels strange typing this, but Arizona Diamondbacks starting pitcher Madison Bumgarner will not take the mound for the Giants for the first time in 11 seasons. MadBum was able to stay healthy in 2019 and delivered as expected, going 9-9 with a 3.90 ERA, an 8.80 K/9 rate, and a 1.86 BB/9 rate over 207 ⅔ innings pitched. Digging deeper, it was encouraging to see Bumgarner add a bit of velocity back to his fastball (91.4 MPH) and a lot of spin (2,405 revolutions per minute) while maintaining a respectable 24.1% strikeout rate.
However, Bumgarner's batted-ball profile left much to be desired; his average launch angle jumped to 17.4 degrees compared to his average of 14.3 degrees and his 41.5% hard-hit rate was in the bottom 10 percent of baseball. This is all reflected in his 4.15 SIERA, which, while it isn't awful, is not the level that we have come to expect from Bumgarner. Further, Bumgarner will no longer have the luxury of pitching his home games in one of baseball's most pitcher-friendly parks. Chase Field did actually favor pitchers slightly in 2019 per ESPN's park factors, likely due to the installation of the humidor, but it was not nearly as pitcher-friendly as Oracle Park.
The batted-ball profile and shift in home fields point towards a decrease in performance in 2020. Bumgarner is currently the 38th pitcher going off the board at pick 116. This seems reasonable, as it slots him as about a number-three starter. Given the expected regression for MadBum, between pick 116 to about 130 feels like a good value.
Zack Wheeler — SP, Philadelphia Phillies
New Philadelphia Phillies starting pitcher Zack Wheeler has tantalized with upside ever since the Mets acquired him in 2011 but couldn't seem to stay healthy or put together a full season of dominance. It was more of the same in 2019, which saw him finish 11-8 with a 3.96 ERA and 1.26 WHIP but a 23.6 K%. In many ways, it was a worse year for him than 2018. In addition to a worse ERA and WHIP, he saw a jump in xBA, xSLG, and xwOBA, while giving up almost 7% more hard contact.
All of that points to regression; however, a closer look seems to suggest he was unlucky. His BABIP was over .030 points higher, but his O-Swing% and SwStr% are nearly identical to 2018. More confusingly, his Whiff% and PutAway% improved on his fastball, sinker, and slider, which should indicate a jump in performance on all three pitches; yet, they all had a worse pVAL than 2018. It seems as though Wheeler was essentially the same pitcher as he was in 2018, if not more effective in certain areas, but gave up slightly more good contact.
Since the underlying metrics don't point to a clear reason for that, and he's moved to a team with a better defense behind him (not to mention he gets to face the Mets now), it's not unreasonable to expect Wheeler to return to his 2018 numbers, which makes him a worthy gamble at an ADP of 118 after arms he should be going before, like Madison Bumgarner, Dinelson Lamet, Mike Soroka, and Corey Kluber.
Jesus Luzardo — SP/RP, Oakland Athletics
The Oakland A's organization had to wait longer than expected for Jesus Luzardo to impact the big league club in 2019. A nasty shoulder injury held him out of action until June. He then made 11 appearances before receiving his much-anticipated promotion to the Majors in September. The club was understandably cautious with him and he threw just 12 innings out of the bullpen but was dominant. He allowed just five hits while striking out 16.
The A's rotation will enter 2020 with a lot of question marks, which is great news for Luzardo owners. The young southpaw offers good control and three pitches that are expected to grade out as plus in his prime, although the breaking ball needs the most work to get there. He also induces a ton of ground-ball outs which should help him keep the ball in the park — a valuable skill in this homer-happy era.
Invest in Luzardo knowing that the shoulder injury he suffered in 2019 was very serious and he's never thrown more than 109.1 innings in his career. And he topped out at well under that mark in 2019 so it would be surprising to see him throw much more than 120-140 innings.
Boston Red Sox starting pitcher Eduardo Rodriguez enjoyed a mini breakout last year fueled by a 19-6 record, 3.81 ERA and 213 strikeouts in 203.1 innings pitched. While the 26-year-old lefty was certainly a valuable contributor, much of his 2019 numbers were exactly the same as his 2018 ones, except for a six-win increase.
His 3.81 ERA last year was only a slight increase from his 3.83 ERA in 2018. His K%-BB% was 16.1 last year, which was worse than his 18.3% in 2018. His SwStr% of 11.7 was only a slight increase from his 11.1 in 2018, and there was no discernible difference in his pitch mix or pVAL outside of his fastball jumping from a 2.8 to a 10.8 even though it dropped .4 miles per hour. The underlying metrics tell the same exact story. His xBA was .001 better than in 2018, his xSLG was .008 better, and his barrel% was .8 better.
Essentially, Eduardo Rodriguez has been the same pitcher over the last two years, outside of fluky wins, and should likely remain the same pitcher again this year. Draft him expecting 13-15 wins, an ERA around 3.80, a WHIP around 1.30 and a 25% K rate. He'll be a fine arm, and a solid SP3 or SP4 depending on league size, but he shouldn't be going at 135 ahead of Frankie Montas and Max Fried.
More Fantasy Baseball Analysis