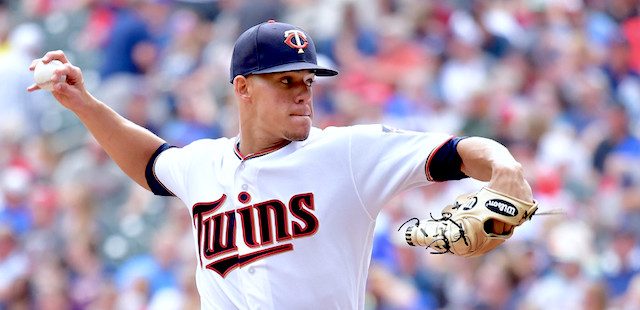 That's GOLD, Jerry! GOLD!
RotoSurgeon here with my first ever "gold predictions" piece. Many of you may not be familiar with my work because I have not been with RotoBaller as long as some of my esteemed colleagues. It is reasonable to not trust nor care about what I say because of my lack of fantasy longevity/relevance, but I felt compelled to throw my hat in the ring here regardless.
If most of my predictions turn out true, I guarantee that I will screenshot them on Twitter for my victory lap. If most turn out false, well, hopefully, you will have forgotten about 'em by then. I believe in me, so you should believe in me, capiche? Let's get this thing rolling.
Editor's Note: Get any full-season MLB Premium Pass for 50% off. Exclusive access to our Draft Kit, premium rankings, projections, player outlooks, top prospects, dynasty rankings, 15 in-season lineup tools, and over 200 days of expert DFS research.
Sign Up Now!
This take is my favorite of the bunch and deserves the top spot. Yasiel Puig has been an absolute tease since he burst onto the MLB scene. The Cuban sensation was a phenom out the gates in Los Angeles. Those first few games in Dodger Stadium, he was tatering the ball and leaving fans in awe of the raw power being displayed. Puig's presence changed the atmosphere of the Dodgers' clubhouse. The team went on a historic 50 game stretch soon after his call to the majors and looked set up with a young, other-worldly talent in their outfield for the next decade.
Puig's counting numbers slightly regressed in 2014, but his plate discipline improved. Hope was still there among believers that he could end up overshadowing Mike Trout as Southern California's baseball star child. Those naive hopes were soon crushed as hamstring injuries and attitude issues stymied Puig's growth.
Nevertheless, with the help of hitting coach Turner Ward (who is now in Cincinnati), Puig has seen a renaissance in his bat. His performances these past two seasons are a far cry from his first two, but there is a reason to believe in the Wild Horse.
Great American Ballpark is a hitting haven. Puig will be leaving the confines of pitcher-friendly Dodger Stadium for the sixth-best park for hitters (fourth-best for righty home runs) according to Fangraphs. On top of this, he will now be batting in the top half (three-hole) of the order rather than towards the bottom. He will be slotted between Joey Votto and Eugenio Suarez. The opportunities are going to be there to not only get on base but also compile runs.
Less importantly, but still worth noting, Puig is in a contract year. Whether that means anything to you or not, it could push Puig to limits we have yet to see.
Gold Projection: 100 runs/35 HR/100 runs/15 SB
Phillies' shortstop Jean Segura was a force in 2016. 20 home runs and 33 stolen bases fueled him to top-five production at his position but it was unfortunately short-lived. Segura was traded after just one season in Arizona. Segura's time in Seattle was rough on his power numbers as his SLG has dropped the past two seasons and so has his OBP.
Now, in Philadelphia, Segura is presented with a new opportunity to potentially five-category numbers. Citizens Bank is the top park for right-handed hitters in the league when it comes to home runs. The boost in power and lineup position between former MVPs Andrew McCutchen and Bryce Harper in the top-third of the order should bring Segura close to or even surpassing his amazing 2016.
Gold Projection: 100 runs/20 HR/65 RBI/25 SB
Miguel Andujar is getting drafted in the top-100 of most drafts and that just feels like a big mistake. He doesn't get on base very often and he stinks at defense. Those two things matter and could find Andujar winding up in a platoon.
Last year's AL ROY runner-up was phenomenal with 27 home runs and a .297 average. While those numbers are repeatable, the inability to take walks or play third base could be detrimental to his playing time in a few months. The Yankees have a logjam in their infield that will be exasperated when (if) Didi Gregorius returns. The signings of DJ LeMahieu and Troy Tulowitzki (lol) could cause some trouble for playing time.
A simple solution would probably be to DH Andujar but that spot will be filled by one of Sanchez, Judge, Voit, and even Judge occasionally. Andujar's margin for error is fairly slim and the risk of drafting him may not be worth the reward, especially in leagues that value OBP.
Gold Projection: 60 runs/20 HR/70 RBI/2 SB
Castellanos is pretty good, and the Tigers are pretty bad. Unless Miguel Cabrera can stay healthy and regain his form from half a decade ago, there is not much to be hopeful about in Detroit. Michael Fulmer's season-ending injury, most of the pitching staff, and the lack of hitting talent overall really caps this ragtag roster.
Fortunately, Castellanos, as the most valuable, realistic trade piece, could get moved. A potential mid-season trade should recoup some big value for fantasy owners. The Tigers are in limbo right now with a bad farm system and bad major league team. It's purgatory and if they're smart, pieces will get moved for prospects sooner than later.
While the future destination is unpredictable, I can guarantee that it's probably better than Detroit. Castellanos is a good, probably cheap bat to target after May if he has not been moved yet.
Gold Projection: 95 runs/25 HR/100 RBI/3 SB
This is not a name too many are familiar with, but they might need to be. Spencer Turnbull has been named the Detroit Tigers' third starter and this opportunity could be beneficial to him and his potential fantasy owners in the future.
Turnbull has a good fastball and slider but struggles with command. He's been pegged as a bullpen arm but has performed very well as a starter throughout spring and during his stint in AAA last year. His 6.06 ERA in the majors was a bit misleading as Turnbull had horrible luck with runners on. 51 percent of the runners on base scored while Turnbull was pitching, the league average is roughly 75.
His xFIP and SIERA were both well below four which typically indicates a solid underlying skill set. Major issues lie in the Tigers' defense given that Christin Stewart and Nick Castellanos will be seeing a ton of time in the outfield. Shoddy fielding could be the biggest detriment to the Tigers pitching staff but Turnbull's high groundball rate could prevent too many balls going out of the infield. Jeimar Candelario is no wizard with the glove either though. Fortunately, the Tigers stink as I've previously stated, and if Turnbull has a bad turn or two through the rotation, there won't be too much risk of demotion.
He should get his chances to potentially breakout this season or he will get replaced by Daniel Norris. Only time will tell.
Gold Projection: 4.10 ERA/1.30 WHIP/145 K/150 IP
If Yankee Stadium was not kind to Sonny Gray, don't expect Great American to be some sweetheart. Both of these parks are bandboxes and cause trouble for homer-prone pitchers (that which Gray is). He claims that his troubles were a result of the Yankees messing with his pitch-mix and forcing him to throw stuff he was not comfortable with, and I don't believe that one bit. Good pitchers figure it out, and Gray just might not be good enough to cut it at GAB.
The past few seasons have definitely been rough for the former budding ace. He was cruising in Oakland until a shoulder injury ruined his 2016 season. The wide foul ground and thick air at O. Coliseum were kind to gray even after the injury. He typically outperformed his peripherals and produced like a top-tier pitcher while never striking out too many batters. The opportunities to start will be there no matter what given that the Reds just extended him for three years. Gray will be better than last year, but not by much.
Gold Projection: 4.50 ERA/1.30 WHIP/155 K/180 IP
Anthony Rendon is one of the more underrated bats in the MLB. He consistently hits well, gets on base and provides plus defense. He just is not talked about too much because of his pedestrian power numbers. Rendon's home run total maxed out at 25 in 2017. While his overall numbers look very good year-after-year, his power leaves a bit to be desired. Rendon's a big doubles guy but this year, with his contract expiring, a few more of those may be converted to home runs. Rendon has had trouble playing a full season over the past two years but if he can get close to 162 games, 35 home runs may be in the realm of possibility.
The shadow of Bryce Harper no longer looms over the nation's capital, and with it, a new day arrives in Washington. It is Rendon's turn to concern Nationals' fans over whether he'll stay or not, and his performance this year might force ownership's hand mid-season.
Gold Projection: 100 runs/32 HR/110 RBI/5 SB
Jose Berrios Jumps Into the Top-Five SP
The 24-year-old Minnesota Twins' ace is going to break out, the question has always been when. His first go-around in the MLB was not very kind as he posted an 8.02 ERA over 14 starts. The next two seasons saw progressive improvement and signs of his true potential in the first half of last season. Although the second half of 2018 was rough, he flashed enough brilliance to believe in this season.
Berrios has built the stamina to throw over 180 innings throughout the past two years and now can harness that and build some consistency through it. He has improved his strikeout rate while lowering his walk rate over the past three seasons. Relatedly, his ERA and xFIP have progressively come down as well.
The AL Central is a joke right now. Minnesota might legitimately be the most daunting offense there and they might not crack the top-15. Cleveland is banking on a Jake Bauers breakout and Jose Ramirez repeat while praying for Francisco Lindor's lower body to remain in one piece. The White Sox have added Eloy Jimenez, which is a big boost, but still is not enough to push them too far. Then there's Detroit and Kansas City...lol.
Everyone asks "who is the next Blake Snell" for 2019 and Berrios just might be it. Snell entered his age-25 season last year and Berrios is coming into it this year. Although Berrios's price tag is more than what folks paid for Snell in 2018, the ROI may be similarly plentiful.
Gold Projection: 2.95 ERA/1.00 WHIP/240/210 IP
Keone Kela Regains a Closing Role
This situation could come about in a few ways. Either Felipe Vasquez struggles enough in the ninth inning role that he gets replaced, or, one of him or Kela get traded at the deadline when the Pirates are dead last in the NL Central.
Vasquez was looking very choppy last September but has mostly been solid in the role. He recently signed a team friendly that has him locked down for the next five years which could return a great haul from a contender trying to win now. The Pirates will try to win this year, but when reality hits them, it could be Kela's time to shine (somewhere).
He was great in the closing role last season for the Rangers and has a higher career strikeout rate than Vasquez. Kela should be closing at some point this season.
Gold Projection: 2.50 ERA/1.05 WHIP/75 K/60 IP
This one is a bit tricky. Brad Peacock was recently named the Astros' fifth starter and McHugh has been penciled in as the SP3 for a while now. Without Lance McCullers Jr. or Charlie Morton this season, Houston is making do with bullpen pieces that have past starting experience. Neither may have the stamina to pitch a full seasons worth of games as starters, but combined, they may prove extremely valuable.
Both possess elite arsenals and have proven capable of mowing batters down out of the bullpen and as starters. McHugh's starting job was pulled from under him as a shoulder injury relegated him to the bullpen where he re-introduced and mastered a slider.
Peacock shined as a starter in 2017 but couldn't crack the rotation in 2018 with the typical starters healthy and succeeding. He is a two-pitch pitcher (fastball/slider) and probably won't go deeper than five or six innings, but with his proven swing-and-miss capabilities, there should be enough to work with.
The Houston Astros have basically solved MLB pitching and created a system that leans heavily on a baseball's spin rate. I'm not too familiar with the specifics but it is evident that they have cracked some code. It should not be shocking if even Wade Miley proves valuable this season...
Neither McHugh nor Peacock should be expected to exceed 150 IP but with their combined efforts, they could match one of Verlander or Cole in production.
Gold (combined) Projection: 2.80 ERA/ 1.10 WHIP/250 K/220 IP
More 2019 Fantasy Baseball Advice