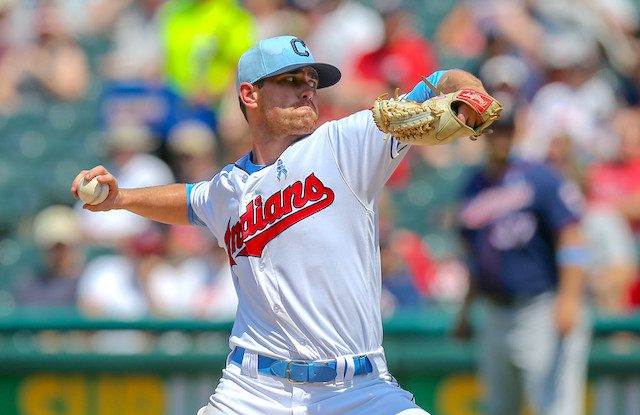 Bold predictions can be the key to fantasy seasons. Predicting players who will outperform or underperform expectations by extreme amounts can win leagues. Bold predictions can also be entirely unhelpful, speculative thoughts that are just fun to consider.
And the latter is what these ones are! Sort of. I'm not going to tell you I think Aaron Judge leads the league in home runs again this year. That's not exactly bold now, is it? I do think that each of these predictions has a legitimate chance of occurring this year but I'm not banking on them. They should offer some insight into what I'm looking at in terms of performance from the relevant names
Last year's predictions were a bit hit-and-miss with Max Stassi, Kevin Smith, and the Cardinals outfield all being letdowns. But Joe Ryan, David Robertson, and some Brewers hitters came good for me. As I don't like to wish ill on anyone, all predictions are positive upside ones (where possible). So here's hoping we can hit a couple of these outlandish predictions.
Featured Promo: Get any full-season MLB and DFS Premium Pass for 50% off. Exclusive access to our Team Sync platform, Premium articles, daily Matchup Rating projections, 15 lineup tools, DFS cheat sheets, Research Stations, Lineup Optimizers and much more!
Go Premium, Win More!
Esteury Ruiz leads the league in stolen bases and has more steals than runs or RBI
Unlike previous years, a speedy outfielder hasn't been excessively bumped up in drafts to the point he can only bust for your team. Billy Hamilton and Adelberto Mondesi ring any bells? Ruiz was set to do so but his ADP has been held in check to around the 260 mark. He's now been confirmed as making the A's Opening Day roster meaning those of us who drafted him can at least take a deep breath and relax.
I genuinely believe Ruiz can reach 50 stolen bases if, for no other reason, the A's have nothing to get excited about and will struggle to score runs so they might as well let Ruiz run wild on the bases. He's set to hit ninth in the order so he's not going the be much of a run producer unless he finds his way up the order. And he can flat-out run, ranking tied-13th in average sprint speed last year (29.8 MPH).
For context, Sean Murphy led the A's in runs (67) and Seth Brown led them in RBI (73) last year. They were the only two players with 50+ runs and RBI with Tony Kemp (55) being the only other member of the 50+ run club. If Ruiz can steal 50 bases, he might only wind up with ~40 runs and ~40 RBI, which is as much an indictment on the A's as it is optimism on Ruiz. The one thing that's for certain is Ruiz can fly!
Esteury Ruiz can FLY (Pt. 2). #RootedInOakland pic.twitter.com/MtlfUVhc0O

— Uprooted (@uprootedoakland) March 10, 2023
The Dodgers are set to enter the 2023 season without a single closer. Daniel Hudson was expected to be in contention but is set to start the season on the IL. Evan Phillips was excellent last year and while I do believe in his talent, he had a 6.68 career ERA prior to 2022. And reports surfaced during Spring Training that if the Dodgers were to go with one closer, it'd likely be Hudson or Graterol getting the role.
It's strange seeing someone regularly touch 100 MPH on his fastball and sinker to only have a 19.6% K% in the Majors, yet, that's what we have with Graterol. But his 21.8% K% last year was the highest since joining the Dodgers and he's got a respectable 3.64 ERA, 3.66 xFIP and 3.36 SIERA since moving to LA. Last year's 2.75 SIERA was third-best on the team among qualified relievers.
If we look at his pitch mix, a simple way for Graterol to be elite would be to focus more on the slider and sinker.
| | | | | | | |
| --- | --- | --- | --- | --- | --- | --- |
| Pitch | %age use | Avg MPH | AVG | SLG | wOBA | Whiff% |
| Sinker | 42.7% | 99.7 MPH | .188 | .259 | .232 | 15.4% |
| Cutter | 27.4% | 95.6 MPH | .302 | .372 | .296 | 13.6% |
| Slider | 19.3% | 90.6 MPH | .193 | .342 | .213 | 38.6% |
| 4-seamer | 10.7% | 99.4 MPH | .186 | .467 | .374 | 26.2% |
It might be a bit simplistic but looking at his numbers, Graterol should just throw sinkers until he gets into a 2-strike count, then put the hitter away with a slider. With a 5.1% BB% last year, control isn't an issue and he has all the ingredients to make an elite reliever. It might need Gordan Ramsey to cook up everything properly and unlock his full potential. Still only 24 years old, Graterol has the makings of becoming a top-tier closer, and dare I say, a breakout is on the horizon.
Ruiz isn't the only exciting young player on a bad team I'm backing for a big 2023. I'm a big believer in Steer this year and it's nothing to do with the fact that's a catchy slogan, although that does help. But I feel he's being undervalued given his struggles in a small sample following his call-up to the Reds and his Minor League numbers are more noteworthy.
Steer was part of the Tyler Mahle trade and after his promotion to the Majors, hit just .211/.306/.326 with two homers, eight RBI, 12 runs, and no steals. He's set to open the season as the Reds starting third baseman and if he can perform as he did in the Minors, there's every chance he not only sticks in the lineup but he actually excels.
In 2021, Steer hit .254/.348/.484 with 24 homers, 66 RBI, 82 runs, and eight stolen bases (110 games) at the High-A and Double-A levels. In 2022, across Double-A and Triple-A, Steer hit .274/.364/.515 with 23 homers, 75 RBI, 80 runs, and four steals (106 games). There's a 25-homer bat in him and if he can hit above .260, he's already producing above league average. Third base lacks depth more than ever in fantasy so if Steer can have a breakout, his status as a starting corner infielder is almost nailed on.
Grisham hurt a lot of fantasy managers last year, after hitting .184/.284/.341, with 17 homers, 53 RBI, 58 runs and seven steals (152 games). But there's optimism for this year if you look closely. You might need to squint, but they are there.
Firstly, despite struggling last year, Grisham still played 152 games. So he gets plenty of playing time even when he's bad.
Prior to last year, Grisham had a .242/.334/.424 slash line in the Majors (242 games) and he still maintained his career 10.9% BB% last year, which ranked in the 83rd percentile.
Towards the end of Spring Training, Manager Bob Melvin hinted at Grisham leading off for the Padres and providing he can put up an OBP similar to pre-2022, he should stick there.
Then, there's Grisham's second half in 2022. We can see below how, although his numbers didn't really change much in the second half, he was hitting fewer ground balls and was hitting the ball a lot harder. That can only be a good thing, right?
| | | | | | | | | |
| --- | --- | --- | --- | --- | --- | --- | --- | --- |
| Split | PA | AVG | OBP | SLG | wOBA | ISO | HardHit% | GB% |
| 1st half | 345 | .190 | .292 | .330 | .281 | .139 | 24.2% | 46.5% |
| 2nd half | 179 | .172 | .270 | .363 | .280 | .191 | 44.2% | 36.0% |
The Padres are set to have some combination of Manny Machado, Juan Soto, Xander Bogaerts and (at some point) Fernando Tatis Jr. hitting atop the order so as long as Grisham can perform well enough to stick in the leadoff spot throughout the year, reaching triple-digits runs scored isn't beyond the realms of possibility. Something only seven players achieved in the NL last year.
I didn't think this was much of a bold prediction but looking at the Vegas odds, it seems to be on the bold side. Heading into the season, Bieber is priced at +2400 to win the AL Cy Young, which makes him tied-11th favorite alongside Cristian Javier and Tyler Glasnow. For those of you who don't know, that means you'd get $240 back if you bet $10 on Bieber winning the Cy Young.
Considering he finished seventh in the voting last year, following a season in which he made only 16 starts due to a shoulder injury, his odds appear a little higher than I'd have expected. Bieber returned last year, made 31 starts (200.0 IP), and had a 2.88 ERA. His 25.0% K% was significantly down but so was his fastball velocity, which averaged 91.3 MPH (92.8 MPH in 2021 and 94.1 MPH in 2020).
Bieber proved he can perform without the 94 MPH fastball, relying more on his slider and cutter. As long as that trend continues, Bieber should have no problem being an SP1 in fantasy and he's shown he can be a workhouse so he doesn't need much to fall his way to pick up the award.
I feel like I've spent most of my offseason extolling Garrett Mitchell and with good reason. I won't bore you with even more in-depth coverage of Mitchell, which you can go and read by clicking here. So here are the cliffs notes on Mitchell.
He's very fast (Mitchell's 30.2 ft/sec average sprint speed ranked sixth amongst all MLB players in 2022 and he recorded the fastest "home to first" time last year at 4.01 seconds). Need proof?
He hits the ball hard (Mitchell had an average exit velocity of 92.9 mph with the Brewers).
He's shown he can perform at the highest level (Mitchell hit 311/.373/.459 with two homers, nine RBI, nine runs, and eight stolen bases, albeit in just 28 games).
The one negative is he hits the ball on the ground too much, with a 59.5% ground ball rate in the Minors last year. But Mitchell improved that to 39.4% in the Majors and teammate Christian Yelich has had a pretty decent career hitting the ball on the ground a ton. The speed is legit and sets a nice floor. If he can cut down hitting the ball along the floor as often as he did in the Minors, Mitchell is a star in the making.
Download Our Free News & Alerts Mobile App
Like what you see? Download our updated fantasy baseball app for iPhone and Android with 24x7 player news, injury alerts, sleepers, prospects & more. All free!


More Fantasy Baseball Advice