We'll be doing this roundup of points leagues every week here at RotoBaller, with waiver wire targets and streaming pitchers being evaluated in terms of the different scoring systems of ESPN, Yahoo!, CBS, and Fantrax.
Player values can vary wildly from platform to platform, so we'll make sure to highlight where players are the best and worst fits. We know points league players get neglected and we're here to help.
These waiver-wire adds are for the week of August 1st - August 8th, looking at players below 50% rostered for ESPN and Yahoo! Stats and rankings are calculated using games through Saturday, July 31.
Editor's Note: Our incredible team of writers received five total writing awards and 13 award nominations by the Fantasy Sports Writers Association, tops in the industry! Congrats to all the award winners and nominees including Best MLB Series, NFL Series, NBA Writer, PGA Writer and Player Notes writer of the year. Be sure to follow their analysis, rankings and advice all year long, and win big with RotoBaller!
Read More!
Know Your System
If you've read me even a little, you likely know what I'm going to say...You must account for, as precisely as possible, how a player performs under your particular scoring system. Don't be fooled into believing you can just make rough adjustments in your head, bumping up guys with high on-base percentages and low strikeout rates. Every point, in every category, counts.
For example, ESPN and Fantrax are virtually identical in their scoring for hitters and roster size. The only difference is that stolen bases are worth one more point on Fantrax and ESPN subtracts one point per strikeout. That's the difference between Ronald Acuna Jr. being a top-five hitter versus top-20.
If your league uses standard settings, then great! Turn to page 94 and you can skip ahead to the leaderboards. If you play with custom settings, it'll still be fine. Go back to page 43 and look below at the scoring systems of the four major platforms. I bet there's a chance that you'll find that your league's scoring is very similar to one of the four (well, not Yahoo!'s), even if it's not the platform you actually play on.
For example, my home league started on a now-defunct platform before moving first to ESPN and is now at Fantrax. But our scoring is basically ESPN standard only with two points for stolen bases and a handful of other minor adjustments.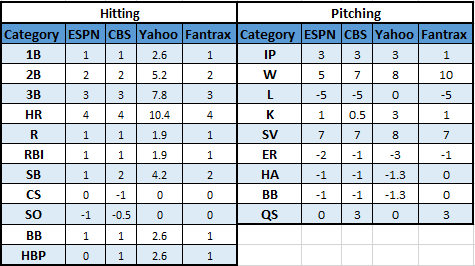 If you look above, you'll likely find a suitable mirror to your own system. While every point counts, as long as they aren't seismic changes you can get away with some "close enough" calls. IE. If everything is the same except for HBP (or something similar), you're probably fine.
Waiver Wire Leaderboards
In addition to our overall waiver wire leaderboards, we're deep enough into the season that we'll also start doing a 14-day leaderboard (21 days for pitchers), as well, giving us a window into recent production. The charts are updated prior to Saturday's games, on stats and ownerships. All leaderboards, overall and 14-day, are sorted according to the player's APR*, and clicking on a chart will open a new page with a magnified version.
*APR = Average Platform Ranking - the average platform ranking between ESPN, CBS, Yahoo, and Fantrax (standard point settings)
The Hansels
Let the recency bias wash over you because these players are just so hot, right now. So, just for fun, let's start making a chart of the players in the top-100 of APR over the last two weeks before diving into the position-by-position analysis.
First Base
Must Add
It looks like we're finally empty...All it took was Joey Votto hitting a million home runs to finally push his ownership over 50%. Well done!
Can Add
Desperate Adds
Rowdy Tellez, 1B, MIL - Poor Rowdy just got it going but is probably headed back to the bench after the Brewers traded for Eduardo Escobar and Dan Vogelbach makes his return.
Miguel Cabrera, 1B, DET - Cabrera has hit a brief renaissance the last few weeks, posting a 35 APR over the last two weeks, with a .393 wOBA.
Notable IL
Second Base
Must Adds
Cesar Hernandez, 2B, CHW - On a much better team, Hernandez just keeps compiling, posting a 44 APR over the last two weeks, with a 62 APR for the season. Now batting near the top of a powerful White Sox lineup, Hernandez has three home runs and a .411 wOBA over the last two weeks.
Can Adds
Kolten Wong, MIL - Wong has a 116 APR over the last two weeks and amazingly hasn't been on the IL in two weeks.
Wilmer Flores, 1B/2B/3B, SF - Flores continues to be a points monster, posting a 50 APR and .366 wOBA over the last two weeks, while hitting four home runs. But with the trade for Kris Bryant and the impending returns of Brandon Belt and Evan Longoria, San Francisco's lineup continues to get packed in.
Rodolfo Castro, 2B, PIT - He'll get a chance to play following Adam Frazier's move to San Diego and has now hit five home runs in his first 34 PA. Castro has a sweet swing but had plate-discipline woes throughout the minors. Whether he can continue to make contact will likely determine if he'll unlock enough power to be a reliable fantasy option.
Desperate Adds
Garrett Hampson, 2B/OF, COL - Hampson has a 145 APR for the season but has been a dumpster lately, running just a .182 wOBA over the last two weeks.
Jed Lowrie, 2B/3B, OAK - Lowrie has slowed right back down, posting just a .217 wOBA over the last two weeks, and remaining just a fill-in whom you should only ride whenever he hits his next two-week hot streak.
Rougned Odor,2B, NYY - Odor has posted a .392 wOBA and 47 APR over the last two weeks but will have to continue fighting for playing time in a now-crowded Yankees lineup.
Notable IL
Third Base
Must Adds
Jeimer Candelario, 1B/3B, DET - Candelario continues to be ignored in Detroit, even as he has stayed red-hot, running a .443 wOBA over the last two weeks and posting an 11 APR. And as the year goes on, the plate-discipline improvements he saw in 2020 have started to return:
Brian Anderson, MIA - Anderson has hit the ground running after returning from a shoulder injury on July 24, slashing .348/.444/.609 over 27 PA, hitting two home runs and posting a .449 wOBA. He'd been disappointing prior to his injury, hitting just three home runs in his first 136 PA but Anderson has been a solid points asset before and looks to be getting back on track.
Can Adds
Yandy Diaz, 1B/3B, TB - Diaz has been on a heater, running a .419 wOBA over the last two weeks, hitting three home runs, and coming in at a 60 APR. But following the addition of Nelson Cruz, Diaz playing every day isn't a guarantee going forward.
Abraham Toro, 3B, SEA - Toro has been starting every day at second since being traded to the Mariners, rewarding Seattle by going 6-for-15 over his first four games, including a pinch-hit home run against his old team in his team debut. He now has a 76 APR over the last two weeks, with a .416 wOBA.
Hunter Dozier, KC
Patrick Wisdom, CHC - At least we know playing time won't be a concern, following the Cubs trading aways half of their team. But Wisdom has also been hot, posting a 62 APR over the last two weeks, hitting three home runs, and posting a .394 wOBA.
Desperate Adds
Notable IL 
Shortstop
Must Adds
Kyle Farmer, 2B/3B/SS, CIN - It's Kyle Farmer SZN? I don't think I did that right. But regardless, Farmer has been absolutely crushing and cannot be ignored. He has a 19 APR over the last two weeks, putting up a .538 wOBA over 53 PA and batting third for the Reds for their last three games. Farmer is still worse vs LHP but a .482 wOBA and 201 wRC+ in July should be enough to get him on your radar...Granted, he will turn back into a Kyle Farmer-shaped pumpkin shortly, so use him while you can.
Can Adds
Desperate Adds
Notable IL
Outfielders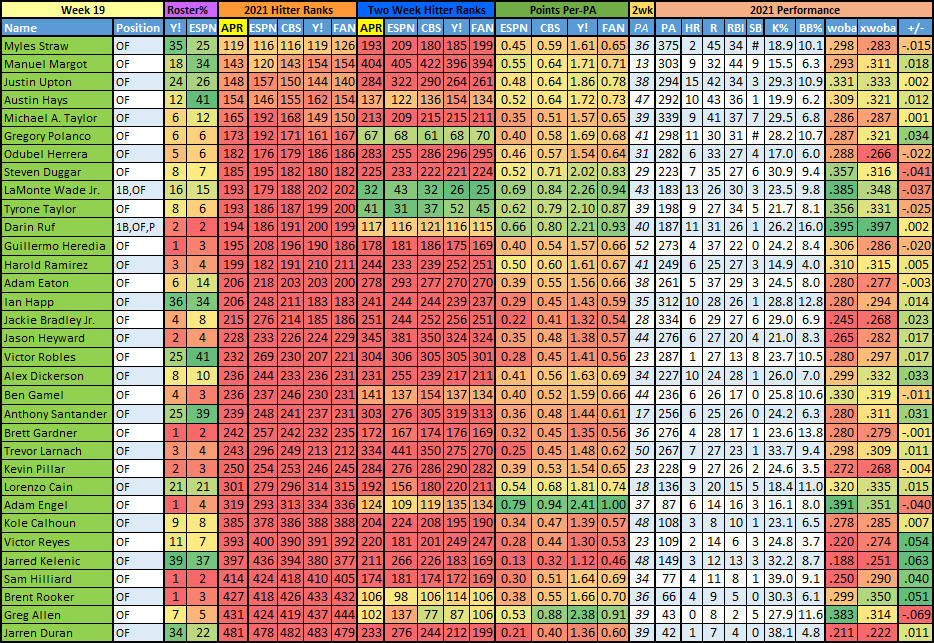 Must Adds
Lorenzo Cain, OF, MIL - Since returning from the IL on July 27, Cain is 7-for-18, with 4 R, 6 RBI, and 1 SB, slashing .438/.500/.500, with a .442 wOBA.
Can Adds
Desperate Adds
Victor Robles, OF, WSH - Welcome to the Good News About Victor Robles. Robles has a 17.4% BB% over the last two weeks and might bat leadoff more following the trade of Trea Turner. This has been the Good News About Victor Robles. Join us next week when we check-in to see if he's stolen another base.
Justin Upton, OF, LAA - Maybe his back gets better but Upton has been a shell since returning from the IL on July 22, slashing .139/.184/.278, with a .202 wOBA and 24 wRC+. Look at the following graph and see if you can tell when he went on the IL (psst...it's the red arrow):
Notable IL
Catchers
Must Adds
Daulton Varsho, C/OF, ARI - Since hitting a home run on the eve of the All-Star break, Varsho has been absolutely on fire, slashing .350/.458/.800, with five home runs and two stolen bases in his last 48 PA. He's batting near the bottom of the order for a bad team but just the fact that he's playing almost every game (whether at backing up Kelly at catcher or in center field), gives Varsho a big boost. This means that even when his production inevitably slows down, those extra PAs will still give him a large advantage over most of the field. So, unless you have one of the top catchers, Varsho should be added.
Can Adds
Carson Kelly, C, ARI - Kelly was having a great year prior to missing a month following a Walker Buehler fastball-induced broken wrist, slashing .260/.385/.460  over 167 PA, with a .366 wOBA. He's only been back for two games but keep an eye on the lingering effects that come with wrist injuries.
Elias Diaz, C, COL
Tyler Stephenson, C, CIN
Mike Zunino, TB
Desperate Adds
All catcher adds are desperate adds.
Notable IL
Download Our Free News & Alerts Mobile App
Like what you see? Download our updated fantasy baseball app for
iPhone
and
Android
with 24x7 player news, injury alerts, sleepers, prospects & more. All free!
More Points Leagues Analysis