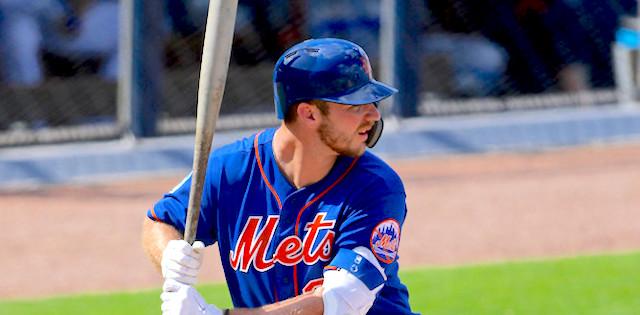 We all dream of drafting the sleeper pick who vastly outproduce his draft-day value and carries our team to victory. However, the truth is that those types of selections are few and far between. Often a player will give you more value than you would normally expect from his draft slot, but it's likely only by a couple of rounds. The draft pick that drastically alters your entire season is not as common as we'd like to believe.
Unless that pick turns out to be a bust.
Despite the sexiness of sleepers, avoiding busts, or even players who return a loss, is often the best way to ensure a solid draft. Investing major draft capital in a player who fails to live up to expectations can put your team behind in categories at a rate that is often too hard to overcome since the draft pick invested in a bust usually carries with it projections that are hard to make up on the waiver wire.
Featured Promo: Want a free RotoBaller Premium Pass? Check out these sports betting promo offers from the top sportsbooks! All new sign-ups get a free bonus offer on their first deposit, and a free year of RotoBaller's Premium Pass for all sports ($450 value)!
Sign Up Now!
Defining A Bust
Now, I should clarify that, in order for a player to be a bust, a certain level of draft capital needs to have been invested. If you take a shot on Dylan Bundy in the 19th round of a 12-team league and he doesn't pan out, that's not a bust. What he was projected to give your team is easier to replace with a hot free agent, or playing your cards right with streamers.
On the other hand, if you take somebody in the first 13 rounds of a 12-team league, so within the top 156 players, and they don't hit, it likely means you've missed out on major production available at the same draft slot.
As a general rule, you should be looking for consistent production and limited risk with your early picks, which allows you to take gambles on higher-upside guys as the draft progresses. What I hope to do in these articles is flag any players who are being drafted inside Bust Territory, who present more risk than I'm personally comfortable with at their ADP. While some of them might not wind up being the textbook definition of a bust, my hope is to help you limit risk and missed value in the early part of your draft.
(All ADPs listed have been calculated using the date range 3/15/20 to 4/05/20 for NFBC Online Championships)
Pete Alonso (NYM, ADP: 31)
Pete Alonso will be a good fantasy baseball player. You won't be upset that you have him on your roster. I just don't think you should be spending the draft capital that is currently required to snag him. There are two main reasons for this.
The first is the unsustainable home run numbers he put up last year. Alonso has ridiculous power, but his 53 home runs were propped up by a crazy high 30.6% HR/FB rate. While power hitters often have high totals, anything over 30% is especially rare - there have only been 10 players since 2015 to exceed a 30% HR/FB rate over a full season.
Adding onto that, Alonso was 12th in the league in plate appearances last season and played in 161 of a possible 162 games. Now, he's young and plays a less physically demanding position than some others, so it's not impossible that he plays that many games again this season. However, it's also entirely feasible that he misses some games or perhaps sits to allow Dom Smith more time at 1B if the Mets outfield is fully healthy with Yoenis Cespedes (possibly) making his return. Any reduction in plate appearances would obviously lead to a likelihood of fewer total home runs.
Another reason that I'm skeptical about Alonso repeating his performance is the amount of swing-and-miss in his game. Yes, he hits the ball hard and pulls it often, even though his Pull% dropped in 2019, but his 15.8% barrel rate really should have been 13.7%, according to Alex Chamberlain's deserved barrel rate (dBarrel). A small difference, but a larger indication of how Alonso over-performed his stats last year.
In the end, I believe his 26.4% strikeout rate is going to catch up to him. There are simply too many stretches in the season where he is striking out well above league-average.
With a full year of tape on him, pitchers will be even more confident in finding his weaknesses. As a result, I believe Alonso will put up solid numbers, but we projected him for something closer to .250 with 38 home runs, 101 RBI and 95 runs. It's a solid year, but I'm not sure it's worth using a pick this high on when I can get Matt Olson 15 picks later or Rhys Hoskins 90 picks later and likely get similar numbers, or, in Hoskins' case, at least better relative value, in my 1B slot.
The days of Paul Goldschmidt the stolen base threat are over. After stealing 18 bases in 2017 (and 32(!) in 2016), Goldschmidt hasn't hit double-digits. In fact, he only had three last season. That's a massive hit to his value. Without stolen bases, Goldy is a fine-but-not-great 1B option.
For starters, his .260 batting average last year was deserved according to his.262 xBA, which means we also may no longer be looking at a .290-.300 hitter. When he does make contact, his underlying metrics are showing a troubling decline. His exit velocity, wxOBAcon, and Hard Hit% have dropped for three years in a row. In 2019, barrel% dropped, his SweetSpot% dropped, and his walk rate was his worst since 2012. He also had a SwStr% of 11.1, which was his worst total since his rookie season, while also falling behind in the count more than he ever has during his career.
So we've got a 32-year-old veteran about to enter his 10th season who no longer steals, swings and misses more, and doesn't hit the ball with as much authority as he used to. None of that adds up to a player that we should be targeting. Especially when the offense he plays in got unquestionably worse by losing Marcell Ozuna and replacing him with nobody.
I just don't see how you draft a player like that over Jose Abreu and Josh Bell, let alone the hitters at other positions going after him, like Eugenio Suarez, Josh Donaldson, Mike Moustakas, and Jorge Soler to name a few.
I'll start with the disclaimer that I don't think Carlos Santana will be a huge bust, but I felt that this was the perfect article to point out some of his warning signs. Since there aren't many 1B who are being drafted incredibly high, there aren't many busts at the position. Instead, Santana is on my radar as somebody who I'm being cautious about investing in at his current cost.
In my launch angle article, I noticed that Santana was another player who decreased his launch angle but hit more home runs thanks to a career-high HR/FB ratio. Now, Santana raised his barrel%, exit velocity, and xSLG so there was some legitimate growth, but his HR/FB% was over 5% higher than his career numbers, and he was 37th in baseball in players who benefited from the juiced ball last year with 45 benefit balls.
Home run regression will happen in 2020.
I'd expect something closer to 25-26 home runs than the 34 he had in 2019. He should still hit around .260 with solid RBI and runs in a good lineup, but don't expect him to push 110 and 100 like he did last year. So, while Santana isn't a major bust, I don't think his upside is as high as people want to believe. I'd rather wait and grab Edwin Encarnacion at 168, Luke Voit at 189, or CJ Cron at 214 (unless I was playing in an OBP league).
People seem to be buying in on Yuli Gurriel after seeing him finish last year with 31 home runs. Playing for a dynamic Houston offense, that also netted him 104 RBIs and 85 runs to go along with his .298/.343/.541 line. Overall, it's pretty impressive. It's just all fake.
One look at Gurriel's Statcast page (above) will show you that he made minimal exciting changes. While he doubled his barrel rate, it only rose to 3.8% in 2019, which is, well, not good. His xSLG of .422 was over 100 points below his SLG%, and his .334 wOBAcon is nothing to write home about.
Yes, his 14.5-degree launch angle is noticeably better than the 11.5-degree one he put up in 2018, but his inability to barrel the baseball frequently suggests that Gurriel's home run output was due in large part to the new baseball and a 15.6 HR/FB%, which was more than double his rate from 2018.
It's feasible that Gurriel did make some conscious changes to raise his launch angle and give himself more home run upside. He also had a 6% deserved barrel metric, which shows his barrel rate could have bene better, but that's still a subpar number for the 1B position.
What's more, much of his home run output (19 of his 31 home runs) came over a hot stretch in the middle of the summer from June 23rd to July 23rd. He would later add four home runs in the final week and a half of the season against eliminated teams, but the first three months of the season and majority of August are more in line with what I believe you can expect of Gurriel over a full season.
This is supported by the rolling breakdown of his xSLG, which shows that, apart from the mid-summer hot stretch, Gurriel was a league-average player in terms of his xSLG. That's why, as mentioned earlier, his Statcast metrics suggest he should have accrued a slugging-percentage over 100 points lower than what he did.
What I mean by all this is that the 31 home runs were an absolute fluke. You don't hit 31 home runs with league average slugging and barely any barrels. Gurriel may not be a 13 home run bat anymore, but I wouldn't count on much more than 20.
Another concern is the fact that Gurriel had a massive home/away split advantage in his SLG% (.615 home compared to .479 away). That's a larger discrepancy that becomes concerning when you consider the Astros' sign-stealing controversy. That difference was far less egregious in other season, but we still have to wonder how much of this surge was because of Gurriel sitting on juicy pitches.
At the end of the day, if he were to put up a .280 average with 20 home runs, 75 runs, and 85 RBIs, that would make him a solid bat, but not much different from Eric Hosmer, who went .265 with 22 home runs, 72 runs, and 99 RBIs last year. He's also going almost 90 picks after Gurriel.
More Fantasy Baseball Analysis