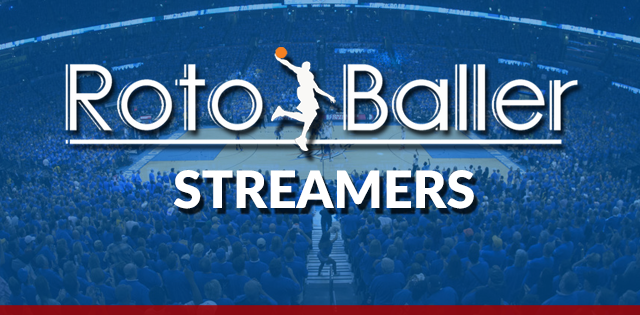 I'll be dead honest with you guys: I don't have any f*#$ing clue who half of these players are on any given NBA roster that isn't named the Chicago Bulls. And if I don't know half the guys, you probably don't know half the guys either. Yet, we trudge on, just like the league, and make the best of the situation. There's bound to be some found money out there and plenty of fool's gold, so we'll shoot for the former here in your weekly Category Streamers article!!
This is Christmas week, so the games are kind of light. The Hornets, Cavs, Timberwolves, and Trail Blazers only have two games this week, so we'll fade all of them and focus on the other 26 teams. We'll try to find some gold on the Oklahoma City Thunder and Orlando Magic, who are the only two teams that have four games this week.
Our staff at RotoBaller has great insight and daily columns on how to improve your squad and tips to make your team successful, so be sure to check them out. Now, let's get prepared for the upcoming week and go win your leagues. All players in this article are rostered at 50 percent or less.
Editor's Note: Our incredible team of writers received five total writing awards and 13 award nominations by the Fantasy Sports Writers Association, tops in the industry! Congrats to all the award winners and nominees including NBA Writer of the Year, Best NFL Series, MLB Series, PGA Writer and Player Notes writer of the year. Be sure to follow their analysis, rankings and advice all year long, and win big with RotoBaller!
Read More!
Week 10 Standard 9-Category Leagues
Columns are written based on H2H 9-category standard size leagues:
FIELD GOAL PERCENTAGE
Precious Achiuwa - SF/PF/C - Toronto Raptors (15% rostered)
Precious Achiuwa is a borderline specialist in that he offers rebounds and good field goal percentage, and that's it for stuff he offers consistently. Still, as long as he's seeing close to 25 minutes per game, he's worth a look, and the Raptors are going to need him in a week where they play the Cavaliers. The first two games of the week are a bit of a softball for him too in the Orlando Magic (without both their centers, probably) and the still shorthanded Chicago Bulls. He should get plenty of run in these games.
Other streamers:
FREE THROW PERCENTAGE
Cam Reddish - SG/SF - Atlanta Hawks (17% rostered)
Cam Reddish has seen his minutes fluctuate this season, but when he's finding the floor he's finding the line. He's a 91% shooter from the charity stripe this season and shoots it from there 2.2 times per game. That's not a big number, but it's enough to move the needle for your fantasy team, and this guy still has some potential. If he ever puts it together, watch out.
Other streamers:
POINTS
Kemba Walker - PG - New York Knicks (49% rostered)
I had Josh Richardson here, but then he went into the league's health and safety protocols, so there goes that. And this is the last time I'm changing it, so help me Jesus. Kemba is worth a stream in the short term with the Knicks down a lot of bodies. He played so well against the Celtics that he has to have a spot in the rotation now, even if Thibodeau isn't a big fan.
Other streamers:
THREE-POINTERS
Gabe Vincent - PG - Miami Heat (24% rostered)
Jimmy Butler is still out. Bam Adebayo is still out. Gabe Vincent is on fire. Don't sleep on this guy as he's a guy who has never shot less than three three-pointers per game at any point in his career, and he's improved incrementally year over year. Now in year three he's shooting it at a 38.7% clip from the arc. If that trend holds, and he keeps putting up nearly four three-pointers per game, then he'll at least be worth a look as a specialist. For now, he's just a great streamer while Butler is out.
Other streamers:
REBOUNDS
Robin Lopez - C - Orlando Magic (10% rostered)
The Magic are on a four-game week here and Wendell Carter Jr. just went down with a muscle strain. Mo Bamba is still in the protocols, so Robin Lopez has a great chance to put up big numbers, at least until Bamba returns. Stream him and be ready to drop him as soon as you get news on either big man in Orlando.
Other streamers:
ASSISTS
Facundo Campazzo - PG - Denver Nuggets (8% rostered)
Facundo Campazzo has been dropping dimes of late. He's gotten five or more assists in the last four games and it seems like he's going to have a solid 23-25 minute role for the Nuggets. If that's the case, he'll provide threes, steals, and assists in bunches with the occasional dud. There's no reason he can't continue to do this all season too.
Other streamers:
STEALS
Chuma Okeke - PF - Orlando Magic (40% rostered)
Chuma Okeke is worth an add for a variety of reasons while Wendell Carter Jr. and Mo Bamba are sidelined, but one of the main reasons should be his output in steals. He snagged 6(!) of them in one game within the last week and is capable of doing that in any given game. He averaged 1.1 steals per game last season, but he's averaging slightly more per 36 minutes this year. The combination of the number of games and minutes available make him a MUST ADD for this week.
Other streamers:
BLOCKS
Nerlens Noel - PF/C - New York Knicks (42% rostered)
It's time to rush out and scoop up Nerlens Noel post haste. He's put up 10th round value over the past week mainly from his production in stocks, putting up 2.3 blocks and 1.3 steals in just 24 minutes per game. He'll likely split time with Mitchell Robinson again, but now that he's finally healthy he deserves a spot on your roster as a guy that helps you everywhere and doesn't hurt you anywhere. Just don't expect big games. Owning Nerlens Noel is all about shooting efficiency, stocks, and rebounds.
Other streamers:
Download Our Free News & Alerts Mobile App
Like what you see? Download our updated fantasy basketball mobile app for
iPhone
and
Android
with 24x7 player news, injury alerts, lineup notifications & DFS articles. All free!
More Fantasy Basketball Analysis