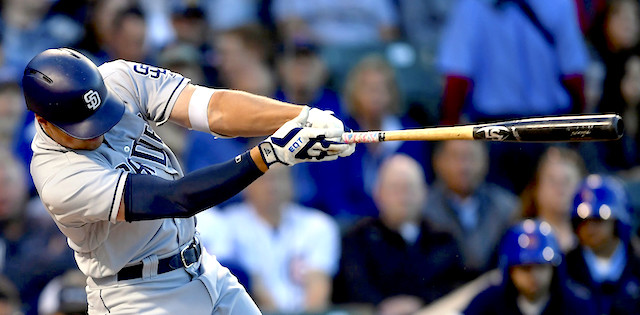 Welcome to the Saturday, June 15th edition of Daily Slivers of the Fantasy Soapbox.
Discussing baseball is as fun as the game itself. It has a way of bringing people together to share different opinions about the sport we all love. A similar action can be done with fantasy baseball where we not only discuss topics but also look to improve our teams as well as the teams of our fellow fantasy baseball enthusiasts. Everyone has their own perspectives which are not to be cast off as frivolous. They should be used as a method of expanding our own knowledge.
In this article, I review the previous day's boxscores and provide my opinion on a variety of topics. Some will be random, some will be fun, and some will be stat-driven. It's a soapbox so I may rant from time to time as well. So without any further delay, below are my thoughts on June 15th. Enjoy them. You can even respond with your own thoughts on Twitter @EllisCan2.
Editor's Note: Get any full-season MLB Premium Pass for 50% off. Exclusive access to our Draft Kit, premium rankings, projections, player outlooks, top sleepers, dynasty and prospect rankings, 15 in-season lineup tools, and over 200 days of expert DFS research.
Sign Up Now!
Daily Musings
Professor, what's another name for Pirate treasure? Well, I think it's Booty. That's exactly what you'll have to search for to afford Yordan Alvarez after he smacked his third HR. You can't send the offering plate around a third time. Time to search for that Pirate's booty.
Jacob deGrom does his job (8K, 2ER, 7IP), but bullpen gets bulldozed. It was Edwin Diaz no less(2IP, 3ER). It was his third blown save, only second rough outing. deGrom stays at 3-6 w/little team support.
Where has Paul DeJong gone? A late-round grab-bag pick. The first month of the season was spectacular (.342, 5HR, 26R, 2SB). May was dreadful (.200AVG, 3HR). May is always his worst month (career .221). June hasn't been much better (.222), but two-straight games w/HR might ease the path towards productivity.
Max Scherzer dominates but allows HR to the most unlikely of people (Nick Ahmed, Carson Kelly)
Anthony Rendon w/four HR in five games. Steady as she goes.
Six HR for Boston, including Michael Chavis(12), J.D. Martinez x two (15), Brock Holt(one), and Christian Vazquez(eight). Camden opens its bosom for all to enjoy, even Jackie Bradley Jr(seven).
Too much offense made Eduardo Rodriguez' job easy (7IP, 1ER, 4K). Twins next. Eesh.
Welcome to Rougie Rollercoaster. Rises, jerks, turns, and drastic falls. You might lose a few hair plugs. We hope you enjoyed the Rougned Odor ride. Eighth HR. Three SB in last week. 44% owned.
Nick Senzel HR(six). YES. Damn, too bad he has six games against righties next week (.231AVG).
Colin Moran w/10th HR. I'd step off this train next week. Only five games and all against lefties (career .216AVG).
What?! Someone wasted Andrew Heaney's solid start? Who was it? Ty Buttrey? Cody Allen?! Why is anyone still handing him the ball. And he's 30% owned?! Stop the madness.
In better news, Shohei Ohtani steals his second base. 63% owned. Slow and steady people are jumping aboard. Y'all are lucky I'm not the conductor. I would have left your @ss. Stop this snails pace to let non-believers jump on.
Jose Ramirez fills up the stat sheet. 2-for-5, 2R, 2RBI. It will take a HR for people to come out of the woodworks talking about "I knew it. I totally knew it." It will happen though. I'd still buy low. Power/speed potential is still too valuable.
Kyle Gibson looking like a superstar (eight scoreless innings w/six K). Red Sox next. Bench time.
Can some team rescue Nick Castellanos already? He's drowning in the Tiger misery.
Why did Philly give Scott Kingery all that money? So stupid. Yeah, maybe it was for the stuff he did last week. 5HR, 9RBI, .318AVG.
Workout. Cycle Time. Jake Bauers has his day of glory. That is all.
Someone told Manny Machado (13th HR) it was time to do battle w/Charlie Blackmon(15th HR). Mr. One-Upper of the day: Hunter Renfroe w/three HR(21). Alright. Big man on campus.
Speaking of slow trains. Eloy Jimenez is 70% owned despite a 5HR, 11RBI, .381AVG week. Our good people, check your wires.
Robinson Chirinos w/12th HR, 6RBI. 1.6WAR, tied w/Gary Sanchez. Costs much less. Value.
Everyone stop what you're doing. I have a terrible player to recommend that we've not mentioned here before (smothered, covered, diced, chopped, and topped w/sarcasm). Mallex Smith. He's new around here. He ONLY has 2HR, 7RBI, 4SB, and .300AVG in last two weeks. Give him a warm welcome, more than a mere 52% ownership. 52%?!?! Bonkers. We are trying to win leagues here people. Participate in your own success.
Have a great day of Saturday baseball.
Chirinos!
More Fantasy Baseball Analysis