Welcome to Contact Rate Risers and Fallers for Week 23! Our premium tools allow us to get out ahead of trends in player performance, including contact rate. Every Wednesday, we'll be looking at some players that have seen an increase in contact rate and some that have seen it decline.
Contact rate can foretell a player's batting average and general hitting statistics, and any drastic change could signal a shift in performance. Contact rate shifts often act as a precursor to hot streaks and slumps.
Here is a breakdown of some of the biggest fantasy-relevant risers and fallers in contact rate over the last seven days.
Editor's Note: Get our 2020 MLB Premium Pass for 50% off, with exclusive access to our draft kit, premium rankings, player projections and outlooks, our top sleepers, dynasty and prospect rankings, 20 preseason and in-season lineup tools, and over 200 days of expert DFS research and tools.
Sign Up Now!
Contact Rate Risers
Data current as of 9/4/2019 and taken from RotoBaller's Premium Tool.
94% contact rate last seven days (+20%)
It has not been the year that many hoped would come from Kiner-Falefa, as he has just one home run and a .242 batting average in 156 PA. It was always going to be a tough season, as he transitioned further towards being a full-time catcher, and it has shown in both his batting average and strikeout rate heading in the wrong direction. His K% has risen to 22.8% from 15.7%, and the issue is clear in his contact profile. His O-Swing% has risen over 2.5% this season, but his O-Contact% has dropped over 6.5%, leading to a 2.2% rise in SwStr%. Based on what we have seen since the All-Star break we may be set to see a lot of Kiner-Falefa in the next month of the season, and unless he continues to keep hitting .260, as he has been, and demonstrates more power, he will head into next year as a virtual dud for fantasy purposes.
85% contact rate last seven days (+14%)
In contrast, what a superb year it has been for the young rookie. Alonso has hit 44 home runs with a .268 batting average, 104 RBI and 85 runs. Things have not been all rosy, as his strikeout rate sits at 25%, which was only topped by his Triple-A performance in 2018. Overall his contact rate numbers have room for improvement. He swings at 33% of pitches outside the zone, but at least manages to make a contact on 64% of those pitches. However, his 11.8 SwStr% is higher than would be ideal and does hint at the possibility of a slump next season. He has been slumping a little bit since the All-Star break, hitting for a .240 batting average and 14 home runs in 238 PA. However, this upturn in fortunes is hopefully setting him up for a strong finish to the 2019 season, allowing him to lead his fantasy owners to that championship.
81% contact rate last seven days (+12%)
Soler has finally managed to put it all together this season, with 39 home runs, 77 runs, and 100 RBI. He has continued to hit in the .260 region, with a .255 batting average, and has kept his strikeout rate around the 26% mark this season. His contact profile is showing improvement, including his highest Contact% since his rookie season, thanks in large part to his highest Z-Contact% of his career. However, he has found a nice combination, getting his O-Swing% below his career average, increasing his O-Contact%, while also increasing his Z-Swing%, and therefore, cutting down on his looking strikes. All of this has brought his SwStr% down to 13.1%, the lowest since that rookie season, but there are still reasons to be concerned about how high this rate remains. A hot streak now will make him a prime sell candidate in dynasty leagues this offseason, as there is still a risk of the SwStr% and K% catching up to him.
Contact Rate Fallers
Data current as of 9/4/2019 and taken from RotoBaller's Premium Tool.
50% contact rate last seven days (-20%)
Alvarez has landed in the major leagues with a bang, hitting 22 home runs with a .317 batting average and 109 combined runs and RBI in 263 PA. His K% has been a means for concern, with a 25.4% rate, among the highest in his career. Interestingly, his contact profile suggests that strikeout rate might be a little inflated, as he has a SwStr% of just 10.6% on a 75.6 Contact%. He came out of the gate so hot there was always likely to be a correction, and that is it exactly what is happening. In redraft leagues, this is something worth watching because if it extends deep into September it could be enough to derail a championship push. However, the underlying numbers suggest he could bring that strikeout rate down a touch next season, and perhaps even produce better results. Therefore, in dynasty leagues, a quiet patch now may present an opportunity for fantasy owners to buy-low at the end of the season.
53% contact rate last seven days (-14%)
Voit was always going to struggle to keep going at the pace he started at. The Yankees' first baseman exploded out of the gate, hitting 14 home runs by the end of May, but he has cleared the fences just five times since. His K% since the All-Star break has rocketed up to 36.8% and his contact profile shows why. After finishing 2018 strong, 2019 has had its issues, as hs O-Contact% has plummeted down to 44.4% this season, dragging his Contact% down to 67%, and pushing his SwStr% up to 15.8%. His already high 26.7 K% has risen this season to 28% and his .276 batting average may still flatter him if he finishes with another tough month. All of the shine is now gone from Voit, and in dynasty leagues, a bad finish to the season could make him extremely expendable this offseason.
55% contact rate last seven days (-14%)
After bouncing around the major leagues Santana found himself a home and made the most of it. Santana has hit .287 with 24 home runs in 430 PA this season, having only hit 13 prior to that in his career, and not having a batting average over .240 since his rookie year. Santana has slowed down as the season has worn on. He managed eight home runs in August but only hit .195. In fact, trading power for a little batting average has been the story of his second half, and frankly given his batting average has only dropped from .300 to .280 and his home runs have doubled it has been a worthwhile tradeoff.
However, contact profile wise there is some reason for concern, as he has a 29.5 K%, an O-Swing over 40%, an O-Contact% below 60% and a SwStr% of 15.9%. What this all means is that Santana is primed to regress from these numbers n a pretty big way. If he can avoid slumping completely down the stretch then he is a prime sell-hgh candidate in the upcoming season. The Rangers are likely to keep a spot for him, but even in a favorable hitting situation such as Texas, he is still someone you should look to move on from.
Contact Rate Risers and Fallers - Premium Tool
Identifying top batting average surgers for each week can help you spot the best pickups before your competition. RotoBaller's Premium Contact Rate Risers and Fallers tool has you covered every day. As thoughtful fantasy baseball players, we won't lead you astray. Here is a small sample: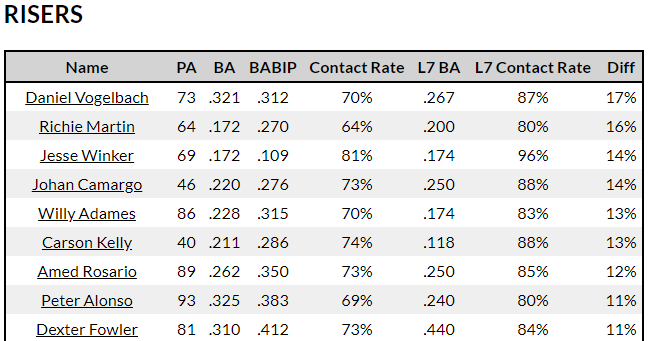 This type of data is available as part of our Premium MLB Subscription and launched on April 22nd for the 2019 season. Don't settle for basic stats and surface-level advice from other sites. RotoBaller brings you advanced statistics and professional analysis that you need to win your fantasy leagues and DFS games because we're ballers just like you. We are your secret weapon!
More Fantasy Baseball Advice and Analysis