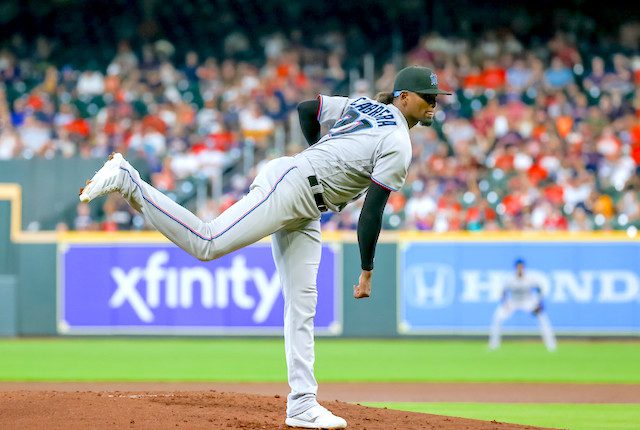 Welcome back to "Are You For Real?", a weekly column where we take starting pitchers who had surprisingly good starts over the past week and put them under the microscope to determine whether they're legit or just smoke and mirrors.
We've got three fascinating arms to look at this week, including Florida fireballer Edward Cabrera of the Marlins, slider machine Glenn Otto of the Rangers, and crafty lefty Kyle Freeland of the Rockies.
Roster percentages are taken from Yahoo and are accurate as of 8/8/22.
Edward Cabrera, Miami Marlins – 34% Rostered
2022 Stats (prior to this start): 15.2 IP, .3.45 ERA, 5.15 FIP, 8.7% K-BB%
8/05 @ CHC: 5 IP, 0 H, 0 ER, 3 BB, 8 K
It was a welcome return from the injured list for Cabrera on Friday, as the young right-hander held the Cubs hitless over five innings while striking out eight in a dominant performance.
Cabrera had been on the shelf since June 15 with right elbow tendonitis, but the fireballer apparently hadn't missed a beat after a strong return against the Cubs. Cabrera is reaching full strength at the perfect time for fantasy managers, who could use a pick-me-up arm off of waivers. Can Cabrera be a breakout star down the stretch, or will this fish flounder?
Signed as an international free agent out of the Dominican Republic back in 2015, Cabrera's name soon rose through the prospect ranks as scouts raved about his large frame (6'5", 217 lbs) and electric stuff.
His high-90s fastball blew evaluators and minor leaguers away, and Cabrera pairs the pitch with a deep arsenal of secondary offerings, including a slider, curveball, and changeup. These are the ingredients of a frontline starter, and Cabrera was considered a top-50 prospect before reaching the major leagues.
If there's one pitch that stands out with Cabrera, it's his fastball. Cabrera throws two fastballs, a four-seamer and a sinker, and his heaters sit around 96-98, sometimes touching triple digits on a good day. Not only does he throw hard, but with 2315 RPM the pitch is a standout in spin rate as well, and Cabrera tops it off with two additional inches of break on his fastball compared to league average.
Cabrera's four-seamer is a plus pitch any way you slice it, and Cabrera's gotten the results to back up his performance thus far. Opposing batters have managed a meager .083 AVG and .280 wOBA against the pitch, along with a 9.8% swinging strike rate, a strong number for a fastball.
The fastball may have come as advertised, but there's been a bit of good fortune involved in Cabrera's success with his fastball thus far. His .202 xBA is over 100 points higher than the actual batting average against, but the real frightening numbers are the .611 xSLG and .410 xwOBA on his heater. Those numbers seem like they portend doom for Cabrera, but they are heavily influenced by an extreme flyball rate that may not necessarily translate into negative outcomes.
Batters have a 21-degree average launch angle and a 62.5% flyball rate off Cabrera's fastball thus far, but Cabrera benefits from an 84.1 MPH average exit velocity against and from his home ballpark, which is exceptionally pitcher-friendly. Those factors should help limit the damage batters can do, even when the pitches aren't executed perfectly.
Though Cabrera is probably best known for his fastball, he doesn't rely on the pitch as much as one might think. We often see pitchers with big fastballs use and overuse them, but Cabrera has only thrown his fastball 30.5% of the time, and his four-seamer (which is the better fastball) only 22.5% of the time. This is likely a pitching philosophy exercised by the Marlins organization, who have been at the forefront of getting their pitchers to throw with more modern, pitching styles.
Sandy Alcantara is a perfect example; Alcantara has an incredible fastball, yet his fastball usage has decreased year-over-year as he's gotten better. This writer suspects the Marlins are tinkering with Cabrera's pitch sequencing to find what works best, which looks to be a fastball and changeup-heavy approach, with a healthy dose of sliders and curves sprinkled in.
Cabrera's most used pitch this season has been the changeup, which he's thrown 37.4% of the time, a near 14% increase from the previous season. A Cabrera changeup comes in hard; at 93.4 MPH, Cabrera's changeup is almost as hard as the league average fastball. In fact, earlier this season Cabrera threw the hardest changeup in MLB history. Like his fastball, Cabrera's changeup looks awfully special too, and opponents have been stymied by this off-speed offering.
Batters have hit just .147 off Cabrera's changeup this season, along with .176 SLG and .235 wOBA. Unlike his fastball, Statcast backs up Cabrera's changeup results rather convincingly.
He has a .162 xBA, .181 xSLG, and .245 xwOBA against the pitch, and the quality of contact against his changeup has been abysmal. Batters have a 79.9 MPH average exit velocity and -9-degree average launch angle. If a hitter even manages to make contact, they're sending a piddly little grounder straight into the dirt.
Of course, one must consider the incredibly small sample size at play here since Cabrera has only made four starts this season, but it's hard to ignore such strong outcomes. If you aren't so much a numbers person, let's have a look at this beauty in action from everyone's favorite Twitter follow, Pitching Ninja.
It's truly a unique offering and looks every bit like major league caliber pitching. Now that we've vetted the stuff to make sure it's legit, it would be nice to put a bow on Cabrera and declare him the late-season breakout to have, but unfortunately, there's more to pitching than raw stuff.
Cabrera has had his share of struggles throughout his minor league journey, and some of those issues have bled over into the major leagues. The chief issue facing Cabrera is control. He's the stereotypical wild fireballer. His talent is evident, but walks and inefficiency have been his kryptonite in the past.
Cabrera's walk rate has ballooned as he's progressed professionally, and he has an untenable 15% BB rate as a major leaguer. Even in his start against the Cubs, Cabrera issued three free passes.
He's made 11 major league starts to this point, and has walked fewer than two batters just once, way back on August 31, 2021. The issue extends beyond walks, as Cabrera seems incapable of commanding his pitches within the zone at times. Here's his fastball heatmap from this season.
It's a bit all over the place, which is indicative of a pitcher who is struggling to command the pitch. It would be unlike the Marlins organization, or any pitching coach really, to have Cabrera pitch like this.
Poorly executed fastballs can often be loud, which might explain the .611 xSLG against his fastball this season. There's a lot to like about Cabrera, but there's still growth that needs to happen before he can take the next step.
Verdict:
Cabrera shot up prospect lists on the strength of his stuff, and that ranking looks justified after seeing what Cabrera is capable of with his deep arsenal of plus offerings. Cabrera has the tendency to be a bit wild at times, and walks will be an issue for him for the foreseeable future. Even knowing Cabrera managers will take some lumps, he is still a good waiver wire pitcher to gamble on.
He's young, talented, and pitching for one of the best organizations in terms of pitching development. If you need a boost down the stretch, don't be afraid to take a risk on Cabrera, even expending a good portion of the remaining FAB to acquire him. There won't be many more impact players emerging, so Cabrera is a good dart throw if you are sitting on FAB this late into the year.
Kyle Freeland, Colorado Rockies – 7% Rostered
2022 Stats (prior to this start): 114.2 IP, 4.63 ERA, 4.28 FIP, 9.9% K-BB%
8/04 @ SD: 5.2 IP, 6 H, 2 ER, 4 BB, 7 K
It's been quite some time since Freeland was a fantasy-relevant pitcher, but the crafty left-hander showed us that there's still something left in his tank on Thursday. Facing a new and improved San Diego lineup, Freeland mowed down the Padres for seven strikes over five and two-thirds, holding them to just two earned runs en route to his third straight victory.
Freeland has been on a mini hot streak as of late, posting a 2.41 ERA and 9.64 K/9 over his last three starts. His opponents weren't slouches either, as Freeland made his way through the Brewers, Dodgers, and Padres. Freeland has gone through periods of greatness and periods of utter futility over his tumultuous Rockies career. Is he the same old middling starter, or is it time to get hooked on a Freeland?
Originally selected eighth overall by Colorado back in 2014, Freeland was one of the Rockies' best pitching prospects in the mid-2010s. He, along with Jon Gray, Jeff Hoffman, and German Marquez, was supposed to bring a new era of pitching to the always pitching-needy Colorado franchise.
Looking back, the results were a mixed bag, but Freeland went through long periods of effectiveness at times. His most notable claim to fame was a 2018 season that saw Freeland post a 17-7 record with a 2.85 ERA and finishing fourth in the NL Cy Young race.
Freeland works with a rather large arsenal, using both a two-seam and four-seam fastball, along with a slider, curveball, and changeup. The issue for Freeland is that, unlike Edward Cabrera, none of his pitches really stand out as extraordinary. He's a soft-tossing lefty who averages a mere 90.5 MPH on his fastball, which has only gotten slower over the years.
Freeland's slider (sometimes also categorized as a cutter) has produced unremarkable results, including a .246 AVG against and a 13% swinging strike rate all time, both below average for sliders. His changeup has fared even worse, with a .335 AVG and .886 OPS against all time. The only pitch that has shown a semblance of remarkability is his newest one, the curveball.
First added as a show-me pitch back in 2018, Freeland didn't start using his curveball—which is sometimes categorized as a slider—heavily until the 2020 season. In 2020 he used the pitch 18.9% of the time, cutting back on fastball usage. Any reduction in fastball reliance is probably a good thing for Freeland, who not only throws softly but has allowed a .769 OPS off his four-seamer and a .835 OPS off his sinker for his career.
Freeland's curveball has fared much better, with opponents managing just a .210 AVG and .615 OPS off the pitch all time. Furthermore, Freeland boasts a 15.7% swinging strike rate with his curveball this season, a strong number on a curve.
The curveball is inarguably his best pitch, and something he's begun to rely on more as of late. Over his last three starts, Freeland has a 21% curveball usage rate, 2.3% higher than his season average.
Though the curveball has been effective, when digging deeper into the pitch, it's hard to determine just what makes it so special. Its spin rate is below average, and batters have pulverized the pitch for a 90.4 MPH average exit velocity and 25.8% line drive rate. With the quality of contact that poor it's a wonder that Freeland hasn't allowed more hits with the pitch, especially considering his home ballpark.
The curveball's most noteworthy attribute is its horizontal movement, as Freeland's curveball has over five additional inches of break compared to the league average. The Statcast expected stats aren't bad with a .210 xBA, .376 xSLG, and .298 xwOBA, but it's awfully hard to trust these numbers when viewed in context with the actual batted balls Freeland is surrendering.
Expected stats can get wonky when it comes to an extremely hitter-friendly environment like Coors Field, so it's best to take these numbers with a grain of salt if using them to evaluate Freeland's curveball performance.
We've already established that Freeland's stuff is so-so, which means he needs another standout skill to work as an effective, fantasy-relevant starting pitcher. Freeland has decent control, but his 7.1% walk rate this season is far from outstanding.
The same is true of his power suppression, as Freeland has a respectable 0.97 HR/9 this season, but an ugly 1.64 HR/9 in the three seasons prior. Neither skill is terrible, but it's not enough to overcome his middling stuff. Pair these concerns with the ever-important Coors Field factor, and you have a pitcher that fantasy managers shouldn't touch save for the occasional road start.
Verdict:
With each passing year, it becomes more and more clear that 2018 was a fluke for Kyle Freeland. He throws five pitches, but only the curveball has performed well, and it's garnered solid results despite underwhelming measurables and hard contact surrendered.
There just isn't all that much to like about Freeland from a fantasy perspective. He does have a 3.53 ERA on the road this season, so if you're in a pinch you could stream him away from Coors Field. Bear in mind he has a 5.55 ERA at home this year, so avoid using him in Coors at all costs.
Glenn Otto, Texas Rangers – 2% Rostered
2022 Stats (prior to this start): 72 IP, 5.50 ERA, 5.29 FIP, 6.0% K-BB%
8/05 vs. CWS: 6 IP, 4 H, 2 ER, 1 BB, 7 K
It was a night to remember for Glen Otto on Friday, as the young right-hander turned in one of his best starts all year, limiting the White Sox to just two runs over six innings while striking out seven. Otto was a tough-luck loser in the box score, but things may finally be looking up for the embattled Ranger, who posted an ugly 5.59 ERA in July.
With nothing to lose and no better options in the pipeline, the Rangers will likely roll with Otto for the rest of the season to see what they've got. However, us fantasy players we've got a ton to lose, so we must approach Otto with caution. Is there something special brewing in this Texas arm, or should Otto remain an afterthought?
Drafted by the Yankees back in 2017 in the fifth round out of Rice University, Otto came to Texas as part of the ill-fated Joey Gallo swap. Otto was never much of a prospect on the national level, and many thought his final destination would be in the bullpen. That may still be his ultimate outcome, but he has some positive attributes that suggest he could work as a starter, chiefly his deep repertoire.
Altogether, Otto throws two fastballs, a two-seamer and a four-seamer, and throws three off-speed pitches: a slider, curveball, and changeup. The slider has long been considered Otto's best pitch, and that has remained true this season even as Otto has struggled.
Opposing batters have hit .274 against Otto's slider this season, along with a .772 OPS and 15.4% swinging strike rate. These aren't the prettiest results, but the slider has still been one of Otto's strongest offerings. The Statcast expected stats are much better, as Otto has a .236 xBA and a .339 xwOBA against his slider.
What really makes Otto's slider special is the movement, as he gets nearly two additional inches of drop and nearly six additional inches of break with this pitch compared to the league average slider.
Since the numbers aren't so great, we'll take a look at Otto's slider in action against a righty and a lefty below to get an idea.
That could certainly be an effective pitch, and with better command and more seasoning, one could anticipate better results in the future for Otto with his slider. Otto routinely put up strikeout rates greater than 10 K/9 in the minor leagues, and those results may one day be realized in the majors.
Otto threw his slider a ton in this start; it was his most used pitch, throwing it 44% of the time. That is going to be the path toward success for Otto in the future, so it was encouraging to see him go all-in on sliders and produce strong results.
Outside of his slider, Otto does one other thing surprisingly well, and that's utilize his sinker. With below-average spin and velocity, one wouldn't expect much out of this pitch, but batters have been stumped by it. Opponents are hitting just .194 against the pitch this season, along with a .284 SLG and .320 wOBA.
These results are thanks to exceptionally weak contact against this pitch, as opponents have an average launch angle against of just three degrees and an average exit velocity of just 86 MPH off Otto's sinker.
Otto has a monster 66.1% groundball rate with his sinker this season, suggesting that his positive outcomes with the pitch are sustainable, though likely not to this degree.
Otto has a good thing going with his sinker-slider approach, but the man has a 5.31 ERA for a reason, and it's because much of his pitching hasn't been all that good this season.
The primary culprit would be his four-seam fastball, which opponents have hit .284 against with a .473 xSLG and .412 xwOBA. Batters have clobbered this pitch for a staggering 95.6 MPH average exit velocity and 33.3% line drive rate.
This would suggest that Otto has earned quite a bit of his negative outcomes so far, and the only remedy for this would be decreased four-seam usage.
His bump in slider usage is a start, but he was still 50/50 on four-seamers and sinkers in his start against the White Sox, and hasn't been able to make the transition this year. This would represent a big change for Otto, and it may be something he works on during the offseason rather than try and make such a drastic change with less than two months remaining in the regular season.
Not only is his fastball a concern, but the base-level peripheral numbers aren't all that pretty on Otto either. A 5.19 FIP and 4.87 SIERA suggest Otto has earned a good portion of his bad results, and he hasn't exactly been unlucky either.
He has a .276 BABIP against and a 13.4% HR/FB ratio, both of which indicate neutral or even some good fortune in his favor this year. His 1.64 K/BB ratio is downright nauseating, as is his 34.6% hard contact rate allowed. There are some things to like about Otto, but not enough to jump in head first during such a crucial time in the fantasy season.
Verdict:
Otto boasts two effective pitches in his slider and sinker, but he's still rough around the edges and far from polished. His four-seam fastball has been a liability, and he will need to do some serious tinkering with his pitch sequencing or the pitch itself to make it work.
Otto has been lackluster all season, and this start simply isn't enough to warrant taking such a big risk on a 5+ ERA pitcher on a losing ballclub. Monitor his slider usage, and if it remains this high that's a positive sign for Otto; he might even reach streaming territory. Otherwise, keep him on waivers for now.
Download Our Free News & Alerts Mobile App
Like what you see? Download our updated fantasy baseball app for iPhone and Android with 24x7 player news, injury alerts, sleepers, prospects & more. All free!


More Fantasy Baseball Advice