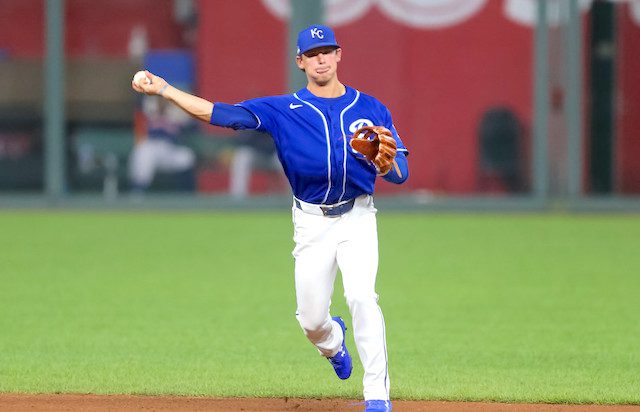 Welcome back RotoBallers. Today is an exciting day for MLB and fantasy baseball fans everywhere, as we finally got some good news about the labor discussions. Spring training will start immediately, and there will be a full 162-game season. Baseball is back!
Below you will find our top 2022 redraft fantasy baseball prospects, and projected ETAs for when these prospects and rookies may be called up. These are the top 25 prospects, and you can read part 1 of our Top 50 redraft rankings here for analysis on prospects 26-50.
Our goal is to identify and project the MLB prospects who will make fantasy baseball impacts in 2022, so they can be targeted and drafted in upcoming fantasy baseball leagues. Bear in mind, this is a redraft prospect review looking to predict 2022 impacts only — not a long-term dynasty ranking.
Featured Promo: Get any full-season MLB and DFS Premium Pass for 50% off. Exclusive access to our Team Sync platform, Premium articles, daily Matchup Rating projections, 15 lineup tools, DFS cheat sheets, Research Stations, Lineup Optimizers and much more!
Sign Up Now!
2022 Fantasy Baseball Prospects #1-25
The list below is for 2022 fantasy baseball redraft leagues. You can see our top 250 dynasty prospect rankings as well. 
#16-25 Rankings - Fantasy Baseball Prospects
25. George Kirby, SP (Not on 40-man): On talent alone, Kirby would be much higher on this list. Unfortunately, he's looking at having a much larger impact in 2023. This talented arm should reach the majors in 2022 but I don't see him pitching more than 70-80 innings at the level. He threw just 67 2/3 innings in 2021 and hasn't surpassed the 100-inning mark since 2019 when he threw 111 1/3 innings between college and his first taste of pro ball. With just 26 innings of experience above A-ball, he'll likely start the year back in Double-A.
24. Nick Pratto, 1B (On 40-man): To say Pratto saved his career with his 2021 performance is not an overstatement. The young slugger looked completely lost in 2019 when he posted a 73 wRC+ in A-ball and then couldn't get back on the field in a traditional setting in 2020. He deserves huge props for not dwelling on the struggles and he came back with a vengeance in 2021 while destroying both Double-A and Triple-A pitchers to the tune of a 156 wRC+ with 36 home runs. Pratto has some (uninspiring) depth ahead of him so he'll likely start 2022 back in Triple-A, but could be up within a month or two. His ability to make an immediate impact in the coming year will depend on his ability to make consistent contact against good pitching (His career strikeout rate is nearing 30% and the associated risks should not be understated).
23. Alec Burleson, OF (Not on 40-man): The Cardinals organization does a great job of identifying college talent and Burleson could end up as a steal after going 70th overall in the 2020 amateur draft. His numbers took a noticeable dive as the season went on in 2021, but the young outfielder was playing in his first pro season and was moved aggressively. He finished the season with 45 games at Triple-A. Once he catches his breath in the upper levels of the minors, he could force the Cardinals to find a spot for him on the big-league roster. Burleson should produce a strong average and solid power.
22. Joe Ryan, SP (On 40-man): Ryan has dominated everywhere that he's pitched — and produced video-game-like strikeout numbers. The right-hander isn't the hardest thrower but his stuff is difficult to pick up and he has above-average control. Triple-A hitters struggled to hit even .170 against him in 2021 and then he produced a 30% strikeout rate against big league hitters. My concern with Ryan is that he's an extreme fly-ball pitcher which could make him prone to the home run ball — although he's avoided this issue during his trek through the minors.
21. Miguel Vargas, 3B (Not on 40-man): Third base incumbent Justin Turner is 37 and has started to show signs of slowing down a bit. He's also entering the stage in his career where he could be more prone to injury, which bodes well for Vargas. The young infielder has always shown signs of being an above-average hitter and he added power in 2021 — seeing his season-high total jump from seven in 2019 to 23 in 2021. Along with spending most of his time at the hot corner, Vargas spent 15 games at second base, which should help him eventually find a spot on the Dodgers' 26-man roster.
20. Jose Miranda, 3B/1B (On 40-man): On paper, Miranda is one of the most advanced rookie hitters entering the 2022 season but he lacks a clear path to MLB at-bats with Josh Donaldson at third base and Miguel Sano at first base. The DH slot could allow the Twins an opportunity to move hitters around enough to find regular playing time for the rookie. Miranda opened 2021 in Double-A but quickly moved up to Triple-A where he produced a 156 wRC+ in 80 games. He slugged 30 home runs with .344 batting average — but his aggressive nature could hurt his overall output at the MLB level when he faces premium pitching talent.
19. Oneil Cruz, SS (On 40-man): Cruz has the talent to be one of the top rookie hitters, but he comes with a lot of baggage and significant concerns over his makeup/maturity so it's difficult to put too much faith in his future. If he can stay on the straight-and-narrow path, the 23-year-old infielder has massive upside with 30-homer potential. He's cut down on the swing-and-miss to his game but, at 6-foot-7 with long arms, he'll always have holes in his swing and will likely produce a batting average more in the .250-.270 range during his prime.
18. Bryson Stott, SS (Not on 40-man): I've never been a huge Stott fan — dating back to his college days. With that said, he's shown enough to suggest he could be an average big-league shortstop for the Phillies. He showed his promise with the bat in 2021 by hitting close to .300 while playing at three levels. Stott also has added value in on-base leagues due to his propensity for taking a walk. The power started to show up more consistently in 2021 but his ceiling could be in the 15-20 range at the MLB level.
17. Alek Thomas, OF (Not on 40-man): Thomas continues to fly under the radar as a member of the Diamondbacks organization, but he should be ready for the big stage in 2022. A 2018 second-round pick out of high school, he spent most of 2021 in Double-A where he posted a 134 wRC+ and showed improved power. He also had a nice showing in 34 Triple-A games and could force his way into a MLB job by midseason — although the organization has quite a bit of depth for him to push through. In his prime, Thomas has the capability to be a .280-.300 hitter with 20 home runs, and a strong on-base presence. He has the raw power to hit more home runs but it will require a swing adjustment to hit more fly balls.
16. Vidal Brujan, IF/OF (On 40-man): Brujan had a wild 2021, which began with him showing unexpected – and as it turned out – unsustainable power. At his best, Brujan is a fleet-footed, gap-to-gap hitter who can wreak havoc on the base paths. His versatility further enhances his allure in fantasy baseball because of his ability to slot in at multiple positions and provide at least average offense. He'll enter 2022 without a defined role/position but he should accumulate significant at-bats nonetheless and could net 20-30 stolen bases.
#6-15 Rankings - Fantasy Baseball Prospects
15. Nate Pearson, SP/RP (On 40-man): There is no debating the fact Pearson had a terrible 2021 season, but on the plus side, his struggles can be tied back to a sports hernia. The injury has since been addressed with surgery, but it went undiagnosed for a long time last year. If back to full health, the Jays may finally get the pitcher they've been expecting. When he's at his best, Pearson has solid control with premium velocity and at least three above-average offerings. There is risk here, but unlike a young pitcher like MacKenzie Gore, we can pinpoint exactly what was wrong with this the Jays' prospect.
14. Joey Bart, C (On 40-man): The surprise retirement of Buster Posey means the Giants will need to rely on Bart sooner than expected. The young backstop will no doubt split time — at least early on — with a defensive-minded veteran, which will eat into his value early on in 2022. In time though, he should take over the starting gig and provide plus pop. The downside to Bart is that his strong batting averages in Double-A and Triple-A were mirages created by unsustainably high BABIPs.
13. Jose Barrero, SS (On 40-man): Former catcher Kyle Farmer had a better year than expected at shortstop in 2021, but in a perfect world, Barrero will force his way into the picture after a breakout year in the minors. The young shortstop may never get to his full potential because he's too aggressive at the plate but he has the skills to be a 20-20 (HR-SB) player. With the Reds in money-saving mode, Barrero will no doubt get a long look whenever spring training begins.
12. Edward Cabrera, SP (On 40-man): Cabrera made his MLB debut in 2021 and averaged almost 97 mph on his fastball and showed a promising four-pitch mix. Unfortunately, he struggled with his control at both Triple-A and in the majors. If he can develop average control, he could be a star. Fringe-average control could still allow him to be an above-average starte, but until that happens, there will be reliever risk here. The cheap, ever-rebuilding Marlins will no doubt give him every opportunity to prove he can start in 2022.   
11. Hunter Greene, SP (On 40-man): I'm a big fan of Greene. He's not the perfect pitcher — his fastball is too straight at times and he could use a more consistent third offering — but he has more than enough talent (and excellent makeup/drive) to be an impact hurler. Greene can hit triple digits with his heater with ease and he backs it up with a promising breaking ball. In his first season back from Tommy John surgery, the young pitcher rolled over Double-A hitters and held his own against Triple-A batters. If he can solve the home-run issues that plagued him in the second half of the year, then he should be a helpful hurler in 2022.
10. Aaron Ashby, SP (On 40-man): Ashby is not the same pitcher the Brewers selected in the fourth round back in 2018. His stuff has undergone a massive jump in quality and he now looks like his floor may be a mid-rotation arm. Ashby's heater sat around 97 mph during his 2021 MLB debut, and he posted premium strikeout rates in both Triple-A and the majors. He struggles with throwing strikes consistently at times but he should eventually have average control. Along with getting outs via the strikeout, Ashby also produced a massive ground-ball rate in 2021 which should help him evade the long ball.
9. Josh Lowe, OF (On 40-man): He may not have a clear path to regular playing time right now, but Lowe should be a regular for the Rays before too long — especially if the club can find a taker for Kevin Kiermaier (who seems like the kind of player the Giants always overpay for). Lowe has the chance to develop into a 20-20 player at the MLB level with a strong on-base presence — albeit with significant swing-and-miss. He had a strong, full season at Triple-A in 2021 with a 142 wRC+ and has nothing left to prove at that level.
8. Nolan Gorman, 2B/3B (On 40-man): The shift from third base to second base for Gorman should do wonders for his fantasy value and I can see a Jonathan India type impact coming for 2022. The Cardinals prospect is well known for having plus raw power but he's matured as a hitter, cut down on the swing-and-miss, and doesn't sell out for the power. With a willingness to use the whole field, Gorman could eventually be a solid hitter with 25+ home run potential. If he qualifies in fantasy baseball at both second base and third base, then he'll have even more value.
7. Keibert Ruiz, C (On 40-man): It feels like we've been waiting a long time for Ruiz to "arrive," but he's still only 23 years old. He also finally enjoyed an offensive breakout in the upper levels of the minors and is in a great position to be the top-hitting rookie catcher at the MLB level in 2022 (Sorry, Adley). Ruiz maintained a .300+ batting average in 2021 while showing much-improved power. He slugged 21 homers in just 72 games in the minors before holding his own at the MLB level. Now with Washington and out of Will Smith's shadow, he should get a chance to play every day.
6. Jarren Duran, OF (On 40-man): Big things were expected from Duran in 2021, but after dominating the minors, he managed a measly 49 wRC+ in 33 big league games. The young outfielder deserves a mulligan after three strong minor league seasons but he needs to find a way to marry his previous contact-oriented approach with his newfound power. If everything clicks as I think it will, Duran has 20-20 (HR-SB) potential and the ability to hit .270-.290 if he can cut down on the strikeouts. Finding at-bats on a playoff contender like Boston, though, will be tough.
#1-5 Rankings - Fantasy Baseball Prospects
5. Spencer Torkelson, 1B (Not on 40-man): While I remain hesitant to predict an immediate breakout for Riley Greene (who I remain very high on from a dynasty perspective), I am less cautious with my predictions for Torkelson. The former first overall draft pick has made good strides in a short period of time as a pro. He was challenged mightily in 2021 while being pushed aggressively through the minors and being asked to play a new position. If the Tigers wise up and let him play regularly at first base, then he could truly shine in 2022 with plus power and a strong on-base presence. Of course, it would be great if he dabbles at third base long enough to earn eligibility at the position.
4. Josh Jung, 3B  (Not on 40-man): This one didn't age well as the list was originally published prior to the news that Jung's shoulder issue was a season-threatening injury. I kept him here to show how high his potential was to impact the 2022 season. Now tuck the name away for 2023…
3. Shane Baz, SP (On 40-man): Baz clicked on the light bulb in 2021 and saw a massive surge in his already sky-high potential. The young hurler came out of the lost 2020 season showing above-average control (after previously having below-average control) and paired that with his well-above-average stuff to strike out 41% of Double-A hitters, 36% of Triple-A hitters, and 37% of big-league hitters. If that version of Baz shows up again in 2022 — and there is no reason to think he won't — then he has No. 1 starter potential on a very good Rays club.
2. Seth Beer, 1B/DH (On 40 man): This is no doubt going to be a head-scratcher ranking for many, but Beer has a shot at surprising a lot of people — assuming he's fully recovered from the shoulder surgery he had late last season. He has long been a strong offensive performer that has shown the ability to hit for a solid average, post good on-base numbers, and flirt with above-average power. The shoulder has reportedly been an ongoing issue for a number of years now so the stability in the joint could help him tap into his plus raw power even more consistently once he's 100% percent. His (real world) prospect value has always been hurt by his defensive shortcomings, but the (apparent) arrival of the DH in the NL should give him a relatively clear path to playing time, as could the dwindling performance from Christian Walker. 
1. Bobby Witt Jr., SS  (Not on 40-man): I've been hesitant to give Witt Jr. his dues over the years but he's earned the top place on this list. He showed incredible growth during the 2021 season and also clearly made good use of his "time off" during the lost 2020 season. He has an outside shot at being a 30-30 player at the MLB level, although I'm not sure he'll be motivated to regularly threaten 30 steals. I previously had reservations about his ability to make enough contact to be an above-average hitter but he appears to have put those concerns to rest with his strong performance in 2021. The Royals should have a perennial all-start at the shortstop position — and the early favorite for rookie of the year.
Download Our Free News & Alerts Mobile App
Like what you see? Download our updated fantasy baseball app for
iPhone
and
Android
with 24x7 player news, injury alerts, sleepers, prospects & more. All free!
More Fantasy Baseball Prospects and Rookies