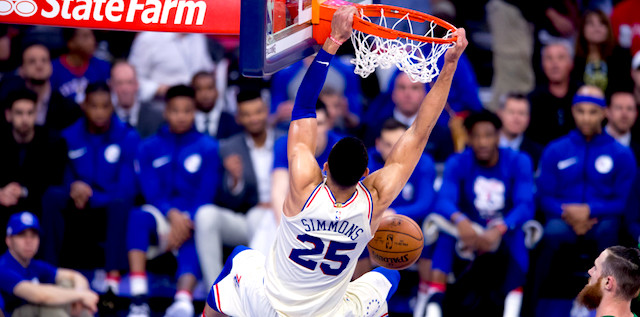 Welcome to fantasy draft season for the 2019-20 NBA season! It's time to start thinking about how you're going to win your league this year. RotoBaller will be here with rankings, sleepers, players to avoid, and much more including more articles about punting strategies. Before we dive too deep into individual players, though, let's take a step back and look at strategy. One of the best ways to win in head-to-head category leagues is by doing a little bit of losing.
Punting has become a household word in fantasy basketball circles, because it's such a potent strategy in these kind of leagues. But it's the type of strategy that can easily backfire. It's worth taking a step back to consider how and why punting works, and that's what this guide is intended to do.
This is my fifth year updating this guide, and it's one of my favorite thing to do every year. It would have to be for me to keep coming back to it for a full half-decade!
Editor's Note: Get any full-season NBA and DFS Premium Pass for 50% off. Our exclusive DFS tools, Lineup Optimizer and daily Premium DFS Research.
Sign Up Now!
What is Punting?
First things first. After reading this article, we have other punting strategy articles for you to take a look at as well.
Punting is something that may seem obvious to experienced managers, but isn't so clear if you've never punted before.  Punting is a strategy of completely giving up on one or more categories in a head to head category league in order to select players who maximize your team's strengths in other categories.
For example, by electing to give up on winning free throw percentage, you can build a team that features LeBron James, Ben Simmons, and De'Aaron Fox to absolutely dominate in the other eight categories, particularly in stats that usually come with a bad free throw percentage, like field goal percentage and rebounds, which you can pile on with mid-to-late round centers.
Likewise, if you ignore field goal percentage, it's easier to crush a league in guard-friendly stats like points, assists, and threes with a team featuring James Harden, Trae Young, and Lauri Markkanen.
Can I punt if I'm not in a H2H category league?
In roto leagues you should almost never punt.  It's usually better to try to compete in every category.  Even if you're not great somewhere, getting 3 or 4 points instead of 1 point for a category is a big deal in the final standings.  I can see a scenario in an extremely strong league where a punting gambit could work.  But I'm talking a god-level expert league where everyone fights and scraps for points in the standings to the bitter end.
High-level roto punting strategies have been famously pulled off in baseball before, and it's fascinating to read about when they've worked, but such strategies absolutely require top-to-bottom active owners to work -- they will backfire spectacularly if just one or two owners get lazy about their teams allowing your domination everywhere else to be not-so-dominant over competitive owners.  It's best to ignore punting as a strategy in roto leagues.
As for point leagues, saying you're punting a category isn't really correct, because there are no categories to punt. Points leagues may seem like they have lots of "categories" because they use the same stats you see in category leagues (points, assists, steals, etc.) to figure out the scoring.  But really, they only have one category -- fantasy points.  It doesn't matter how you get them.
In a sense, you may still be ignoring certain stats like you would if you were punting them, because they have less value than they would in a category league. Defensive stats and percentages in particular are much less important in a points league.  It's just not called punting, because you're not sacrificing something of value to gain more value elsewhere.  You're just paying attention to your scoring system to know which players will score the most fantasy points.
For more about other types of scoring, check out my column from two years ago, Why Your Fantasy Basketball Rankings are Wrong.
How many categories should I punt?
First, it depends on how many categories you have.  If you play in a 15-cat league, by all means, punt five categories -- you'll still have 10 to play with.  But for the purposes of this column, I'm going to assume the standard nine categories (points, rebounds, assists, steals, blocks, threes, field goal percentage, free throw percentage, and turnovers).
Many owners (myself included) have had success punting three or four categories in a league, but you should really know what you're doing before trying to pull that off.  You aren't left with any margin for error if you don't crush it, so your league has to be perfect for it.  As a punting beginner, I'd suggest punting just one or two categories, while attempting to be extremely strong in five and competitive in the other two or three as fallback options.
How do I decide what categories to punt?
Let's say you are getting ready for your head-to-head category league snake draft this weekend and you want to try to employ a punting strategy.  First off, you should never decide what you're punting in advance of your draft.  Drafting with a certain punt in mind could lead to you losing value or being stuck in a strategy without the key players to make it effective.
If you were doing an auction draft, you could almost pick what you wanted to punt before the draft, if you knew other people weren't going to employ the same strategy and bid up key players. But in a snake draft, you can't just decide you're going to punt free throw percentage then take Andre Drummond with your 1st round pick.  He may technically have have top 10 value to team punting free throw percentage, but it's a massive waste of draft capital.
Even if you aim to punt categories, your goal in the draft is still to maximize the value of your picks by taking guys close to their overall value (within a round or so of their ADP), then getting surplus value based on how they fit into your punt strategy.  Your first round pick should still be a guy who's going in the first round.  That said, you can slightly adjust even early rankings based how easy a guy is to punt with.  For example, it's perfectly reasonable to take James Harden or Giannis Antetokounmpo ahead of Anthony Davis or Karl-Anthony Towns, regardless of what overall projections might say.  Harden and Giannis have close to the same value as those well-rounded centers, but if you feel it will be easier for you to execute a killer punt around them, that's a tiebreaker in their favor.
Your first round pick can narrow your punt but not decide it. It's your second and third picks that will start to commit you on a punt strategy. The key in making those picks is to find a complementary piece that fits a similar punt, while building up strengths and filling positions and stats that will be hard to come by later in the draft -- for example, after selecting Harden with an idea to possibly punt field goal percentage and turnovers, it's important to grab complementary bigs who will shore up rebounds and blocks without hurting your free throw percentage, because those guys will be hard to come by late, while guards with poor field goal percentage and turnover totals will be easier to find. Let's consider a couple of first round picks, and some popular punt builds for those players.
Giannis Antetokounmpo or LeBron James 
Punt free throw percentage
It's common to think about punting free throw percentage with one of these stars, since they give you such a head start in assists, which are a category your mid round targets like Montrezl Harrell and DeAndre Jordan aren't going to help you with later in the draft. My preferred target in a 2nd rounder is to look to build on the typically hard-to-win-with-bigs categories such as assists or steals, ideally filling your PG position with someone who won't compromise your utter dominance in field goal percentage. A guard with a high field goal percentage who can pile up assists and steals, like Ben Simmons or Jrue Holiday, is an ideal fits if he slides back around to you. It'll often leave you in a better position in your punt than going for what might seem like a more obvious building block in Andre Drummond or Rudy Gobert. You'll be able to score plenty of elite rebounders and shot blockers in the third round on by targeting the likes of Clint Capela and Mitchell Robinson, while it will be more difficult to find elite guards for your build.
Russell Westbrook or Damian Lillard 
Punt field goal percentage
If you end up with one of these star high usage point guards, the idea is to set yourself up to collect high usage "sloppy" guards later in the draft.  You'll be able to draft all those guys chucking up a high volume of shots for terrible teams -- hello, Collin Sexton and Terry Rozier! The key to doing it well is accumulating enough bigs in the early/mid rounds so that you aren't also punting rebounds and blocks. The nice thing is that there are a handful of high usage bigs in the 2nd and 3rd rounds with tons of excellent counting stats who fit well. Joel Embiid is the perfect center for your build, and is often going to be available around the turn to owners who can score Westbrook at the end of the 1st. Myles Turner also makes a fine target, as does even going for a big who might have a pretty good field goal percentage -- like Deandre Ayton or John Collins -- who will give you rebounds and a few blocks without hurting your free throws.  The nice thing is you'll still be able to keep your build flexible with those guys, and only commit if the right players for a punt fall to you.
Anthony Davis or Karl-Anthony Towns 
Punt assists
Assists are a tricky category to win, and are often dominated by teams that take a star facilitator in the first and build around him. Let's say you take Davis or Towns early, then watch all the good point guards, point forwards, and Jokic disappear before you pick again at the end of the second.  It's obviously tempting to just throw up your hands and not bother with the category. Luckily, fantasy basketball rewards you for getting frustrated and giving up, unlike most of the rest of life. In that case, you can focus on maximizing scoring and shooting out of your guards, while continuing to pick up well-rounded bigs. Kemba Walker is a great late 2nd round target, as is another high-scoring big like LaMarcus Aldridge. Then throughout the rest of the draft, you can target scoring like Buddy Hield and Lou Williams to round out your roster, while other teams are feeling compelled to reach for assists.
Okay, I have my 1st rounder and complementary 2nd and 3rd rounders -- now what?
In the mid rounds, you generally attack players at the core positions who fit your strategies. I will say that once you get into the mid-rounds, it's okay to start reaching on a round higher than a player's rank suggests.  The absolute difference in value between picks gets lower the later you get in the draft, so this isn't really much of an overpay. I prefer not to make too many "value picks" based on your draft site's rankings that don't fit your team, with the intention of trying to trade for the guys you actually want for your punt build.  There's a good chance the owner who does take those punt-friendly players is punting the same cats themselves, and will be unwilling to part ways with their key players for guys who won't fit their teams either.
Once you have the basis of your team, one idea is to fill the back end of your roster with specialists in the weakest categories you're still competing in. Alternately, you can just draft for maximum upside regardless of how well a guy fits your punt. If you see a late round deep sleeper you're convinced will break out, grab him -- you either didn't spend much, or you have an asset actually worth trading for a lot more. The bottom of your roster isn't a big deal, since you'll be using it to snag breakout stars or stream players, so draft for upside over fit.
So that's it!  You've got the basic concept of punting down.  Welcome to world of losing a little to win it all in fantasy basketball.
More Fantasy Basketball Analysis