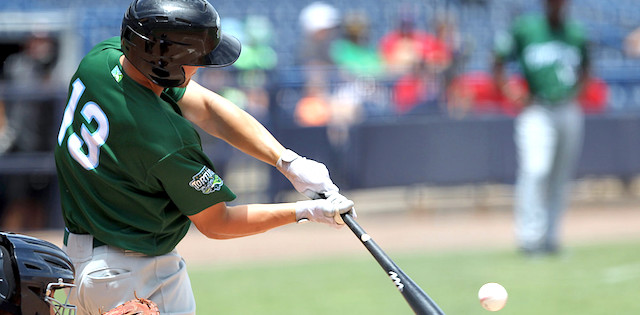 What Appears In This Article?
hide
Hello everyone, and welcome to my weekly Top-30 Fantasy Rankings for Impact Rookies! In this series, I will be going over the top prospects in baseball and discussing which ones figure to have an impact for the rest of this fantasy baseball season.
I don't know about you all, but it was a rough weekend. Between the injuries to Shohei Ohtani and Vladimir Guerrero Jr., the baseball gods have decided that we can't really have nice things and that everything needs to be sad. Hopefully Ohtani will be able to play again this season and won't require Tommy John surgery, but there seems to be a lot of confusion around this and for fantasy owners, patience is advised for his injury.
On the bright side, there were a couple big prospect promotions that happened to try and make things better. The Tampa Bay Rays called up both Willy Adames and Jake Bauers while the Cleveland Indians made the somewhat surprising move to promote Francisco Mejia. Adames and Bauers are both worth adding and while Mejia is really interesting, it awaits to be seen what role he will have and whether or not he will find consistency at the plate, something he lacked in the minors.
Featured Promo: Get your 2023 MLB Premium Pass for 50% off. Exclusive access to our preseason Draft Kit, #1 accuracy rankings, #1 ATC projections, Team Sync platform, Live Draft Assistant, 15 in-season lineup tools, customized rankings and much more!
Sign Up Now!
Top MLB Prospects - Fantasy Baseball Power Rankings
To be clear, this list is not the top 30 prospects in baseball. This is a list of the top 30 prospects who are likely going to rise to the major leagues and provide fantasy baseball value this season. The qualifications are simple: a player must not be on an active roster, they must have a clear path to the majors, and while they may have played in seasons prior to 2018, they must still have rookie eligibility. If a player is moved to the active roster of their team, they will be removed from this power rankings list and replaced.
1. Kyle Tucker (OF, HOU, AAA)
Stats: 272 PA, .275/.352/.475, 9 HR, 8 SB, 10.7% BB%, 19.5% K%
ETA: Early July
Tucker just continues to hit at Triple-A. In his past 13 games, the top Houston Astros' prospect has hit four home runs with a 6:8 walk-to-strikeout ratio with a .294/.373/.647 slash line. Tony Kemp is doing a good job keeping him at bay, but Marwin Gonzalez, Derek Fisher and Josh Reddick have not been particularly good this season. For a team like the Astros, they need to go all out and the all out move would be to promote Tucker to use him in one of the corner outfield spots along with Kemp and George Springer. Like with Guerrero, a promotion is far from certain, but you don't want to be the owner in any league who doesn't own Tucker. In deeper leagues, he is worth stashing over some other bench bats.
2. Nick Senzel (2B/3B/SS, CIN, AAA)
Stats: 151 PA, .282/.364/.450, 3 HR, 7 SB, 11.3% BB%, 19.9% K%
ETA: Late July
Nick Krall, the Cincinnati Reds' general manager, was reported by John Fay of the Cincinnati Enquirer that Senzel will not be promoted until he has a "place to play every day." This seems sensible. Right now between Eugenio Suarez, Jose Peraza, Scooter Gennett and Joey Votto, the Reds' infield is totally filled even with Peraza struggling. However, Gennett seems to be a logical trade candidate for the Reds and Senzel could play second base for Cincinnati, a position that seems to be his future home after Suarez was signed to an extension. At some point, the Reds are going to have to find space for Senzel to play, and when they do, he will be worth owning in all fantasy leagues.
3. Michael Kopech (SP, CWS, AAA)
Stats: 59.1 IP, 4.70 ERA, 3.60 FIP, 30.9% K%, 13.1% BB%, 7.3% HR/FB
ETA: Early August
Kopech's last start was basically Kopech in a nutshell. He went six innings, allowed two runs on five hits. However, he struck out 10 batters and walked five. Kopech has insanely electric stuff that is virtually untouchable when he's on, but he also has issues locating his stuff. He is probably the most talented pitcher in the Chicago White Sox's system. He just needs to become one of the more consistent ones. Kopech should be up in the majors at some point this season given the major issues of the White Sox's rotation and his strikeout upside would make him worth owning in plenty of 10-plus-team leagues.
4. Austin Riley (3B, ATL, AAA)
Stats: 222 PA, .308/.369/.552, 10 HR, 1 SB, 8.1% BB%, 29.7% K%
ETA: Early July
The Atlanta Braves has remained in playoff contention for a while, but the Washington Nationals are making a strong push and are tied atop the NL East with the Braves. The Nationals are the more talented team right now, but the Braves have Riley, who could make a difference in the playoff race. Johan Camargo is not getting it done offensively at third base and Atlanta needs a right-handed power bat in the middle of its lineup. Riley might have some strikeout issues, but his power could provide a much-needed boost to an already impressive, young lineup. Owners who are able to pick him up could benefit from home runs and RBIs even if the batting average could fluctuate a bit.
5. Alex Verdugo (OF, LAD, AAA)
Stats: 173 PA, .323/.364/.447, 4 HR, 2 SB, 6.4% BB%, 12.1% K%
ETA: Early July
Don't look now, but the Los Angeles Dodgers are back in the thick of the playoff race. They are starting to hit a little bit, led largely by a pair of surprising studs in Matt Kemp and Max Muncy. Because of those two and a resurgent Joc Pederson, there is not as clear a path to playing time for Verdugo despite the fact he continues to hit extremely well at Triple-A. Verdugo could be a potential trade candidate at the deadline and he is certainly the next man up if there is an injury, but for right now, owners will need to be patient. He should receive playing time at some point and would be a consistent, reliable starter for fantasy owners.
6. Christin Stewart (OF, DET, AAA)
Stats: 253 PA, .281/.360/.520, 13 HR, 0 SB, 10.7% BB%, 21.3% K%
ETA: Early July
There's little reason for Stewart to remain in the minors for much longer given both the Detroit Tigers' current roster and the success he has found at Triple-A. The Tigers don't have many hitters producing numbers good enough to keep Stewart in the minors, especially given that he has appeared to quell most of the concerns about him. His strikeouts are down while he is still walking and hitting for power. The strikeouts could come back against big-league pitching, but the power is legit and he still could reach base at a high clip.
7. Shane Bieber (SP, CLE, AAA)
Stats: 69.1 IP, 1.30 ERA, 2.35 FIP, 26.1% K%, 2.0% BB%, 7.0% HR/FB
ETA: Early July
The Cleveland Indians are very set with their four top starting pitchers, but beyond that, the pitching staff is a mess. There has been no clear No. 5 starter and the bullpen has been abysmal. Bieber, on the other hand, has been nothing if not consistent this season between Double- and Triple-A. It was originally believed Bieber would start Tuesday, but instead Adam Plutko was given the nod. However, Bieber seems the better fifth starter option for the rest of the season than Plutko, whose peripherals suggest major regression this season. Bieber's exceptional control and average repertoire suggest he is a low-risk/medium-reward starting pitching option that would be a reliable starter in 12-plus-team leagues.
8. Tyler O'Neill (OF, STL, AAA)
Stats: 155 PA, .314/.361/.643, 13 HR, 2 SB, 7.1% BB%, 23.2% K%
ETA: Early July
The strikeouts and inability to take a walk ultimately sank O'Neill, who was off to a hot start in the majors. Despite showing prodigious power, he still has issues he needs to fix before he's really ready for the majors. Since his return to the minors on June 2, O'Neill is walking at a 25.8 percent clip with a 19.4 percent strikeout rate. He is clearly doing his best to fix his issues and would deserve to be a big-league starter if he can start walking more given his aforementioned power. The St. Louis Cardinals have a log-jam in the outfield, but he could be a trade candidate or could be the next man up if there is an injury out there (and there have already been several). He is worth keeping an eye on in most leagues.
9. Jalen Beeks (SP, BOS, AAA)
Stats: 56.1 IP, 2.56 ERA, 2.97 FIP, 35.4% K%, 6.2% BB%, 13.7% HR/FB
ETA: Early July
There has been a lot of hype surrounding Beeks this season given his success in the minors and the Boston Red Sox's inability to find a fifth starting option. However, Beeks was rocked in his MLB debut, allowing six runs on seven hits with three walks and four strikeouts over just four innings. While Beeks has solid stuff, his repertoire has never been viewed as much above average which is probably why he had a rough outing. Still, he has been able to pitch effectively this season and he should be able to get another chance to start for the Red Sox. He has a recent history of high strikeouts, which could prove valuable even if he is susceptible to the long ball and could be inconsistent.
10. Nick Kingham (SP, PIT, AAA)
Stats: 34.2 IP, 2.86 ERA, 2.41 FIP, 23.9% K%, 7.8% BB%, 0.0% HR/FB
ETA: Late June
Kingham seemed to be the most consistent starter in the history of the big leagues — while he was up. Every start seemed to be at least five innings and exactly three earned runs allowed each start. While the peripherals suggested he would be better, it wasn't enough to keep him from being demoted when Ivan Nova returned from the DL. Kingham was solid though, and has earned the right to be considered the Pittsburgh Pirates' sixth starting pitcher if there is ever an injury. He should be back up in the majors at some point this year — probably soon — and has shown he can handle big league hitters at least enough to warrant owning in some deeper leagues.
11. Kolby Allard (SP, ATL, AAA)
Stats: 69.0 IP, 2.22 ERA, 3.55 FIP, 16.1% K%, 7.0% BB%, 4.1% HR/FB
ETA: Late July
Gohara's control issues have led him to become an inconsistent pitching option despite having front-of-the-rotation stuff. There has been no rumor of a possible demotion for Gohara, but if he was sent down, the Braves could turn to his near opposite. Allard does not have lights out stuff, but he locates his pitches well and has a well-balanced repertoire as opposed to just two plus pitches. Allard won't miss too many bats with his stuff, but that control will give him a high floor. He would be worth owning as a solid starting option in 12-plus-team leagues if he is given the promotion to the rotation.
12. Peter Alonso (1B, NYM, AA)
Stats: 261 PA, .310/.441/.567, 15 HR, 0 SB, 16.5% BB%, 18.8% K%
ETA: Early August
Adrian Gonzalez is gone from New York and Dominic Smith is now up in his place despite lackluster numbers at Triple-A. Smith is slashing just .260/.343/.370 with only two homers in 56 games despite playing in a notoriously hitter-friendly ballpark in a hitter-friendly league. Alonso, on the other hand, has drawn comparisons to Rhys Hoskins and is absolutely crushing Double-A pitching right now. He has 30-homer power and could hit for a high average given his contact ability and patience at the plate. If Smith does not work out at the big league level, Alonso seems like the next man up to get the call and would offer fantasy owners a lot even at first base.
13. Willie Calhoun (OF, TEX, AAA)
Stats: 263 PA, .273/.323/.412, 6 HR, 0 SB, 6.1% BB%, 11.8% K%
ETA: Early August
Calhoun's posts have almost always said the same thing: he has a clear path to playing time if he can just start hitting. However, up until recently, he wasn't hitting. Over his past five games, however, Calhoun is slashing .435/.480/.826 with a pair over homers and no strikeouts. That's a small sample size, but as we saw with Mejia, sometimes it only takes a brief hot streak for a team to pull the trigger on a talented prospect. Calhoun has not done much this season to warrant a promotion, but his track record as one of the minors' best hitters over the past several seasons warrants fantasy consideration if he is given a promotion.
14. Danny Jansen (C, TOR, AAA)
Stats: 192 PA, .313/.414/.488, 4 HR, 4 SB, 12.0% BB%, 13.5% K%
ETA: Mid-August
Jansen has hit as well as he possibly could at Triple-A it would seem and Russell Martin is a veteran who has not hit well in the big leagues. The advantage Martin still holds over Jansen is the defense behind the plate where Jansen has been said to still need a little bit of work. However, Jansen might be the long-term catcher for Toronto. If they decide to call up Guerrero, there's no reason not to promote Jansen. He won't hit for a ton of power, but Jansen would have value in two-catcher leagues and plenty of other formats as a bat-first catcher.
15. Vladimir Guerrero Jr. (3B/OF, TOR, AA)
Stats: 235 PA, .407/.457/.667, 11 HR, 3 SB, 8.5% BB%, 8.9% K%
ETA: Late July
Guerrero's injury was disappointing, and it could really affect his chances of a promotion. He is slated to miss about three weeks, which will delay a rumored promotion to Triple-A. The Toronto Blue Jays are slipping out of contention and Josh Donaldson could be on the block, which would free up space for Guerrero. However, it awaits to be seen how much the injury will affect his chances of reaching the big leagues.
16. David Fletcher (2B/SS, LAA, AAA)
Stats: 275 PA, .350/.394/.559, 6 HR, 7 SB, 5.8% BB%, 7.6% K%
ETA: Early August
With the Ohtani injury news, there's now space for someone to play at DH or at first base if Albert Pujols is moved into the DH role. Fletcher is not someone to play DH, but he could come up and be a versatile infield utility bat who could allow someone like Ian Kinsler or Zack Cozart to either DH or rest. Especially given the success Fletcher has found at Triple-A with the bat, Fletcher could be an option for a Los Angeles team that is only slightly above-average offensively and could probably use a little more success at third base. Fletcher would not be someone worth owning in shallow leagues given his lack of pronounced power or speed, but he could be a solid option if he is promoted in deeper leagues.
Editor's Note: Fletcher was promoted to the big-league club Wednesday.
17. Myles Straw (OF, HOU, AA)
Stats: 276 PA, .338/.427/.406, 1 HR, 35 SB, 12.3% BB%, 14.5% K%
ETA: Mid-July
The more Tucker hits, the less likely it seems the Astros would turn to Straw if they need another outfielder. While Straw's numbers are impressive, he is doing it all at Double-A, a level lower than Tucker. However, Straw's improving value and unclear future in Houston would seem to make him a viable trade candidate. He seems like he could handle a starting role in the majors given his impressive walk rate, low strikeout rate and plus-plus speed. If he is moved to another team — or even promoted to Houston — his speed and high batting average upside would make him a strong starting option in plenty of leagues.
18. Luis Urias (2B/SS, SD, AAA)
Stats: 255 PA, .262/.380/.407, 6 HR, 1 SB, 14.1% BB%, 18.4% K%
ETA: Early August
Like Fletcher, Urias has done well in the minors and probably deserves to reach the majors. Urias is a more talented and younger player than Fletcher, but with that comes the service time considerations. Urias could probably start at either second base or shortstop right now for San Diego, but it seems Freddy Galvis and Jose Pirela will hold those positions down at least for the time being. If Galvis or Pirela is moved, Urias seems likely to receive a call up. But unless there is a trade or injury, his path to playing time seems complex.
19. Matt Thaiss (1B, LAA, AAA)
Stats: 261 PA, .304/.360/.527, 10 HR, 2 SB, 7.7% BB%, 17.6% K%
ETA: Early August
As mentioned earlier, the Angels now have a real need at first base and DH with the Ohtani injury and Thaiss has done as much as he can to prove he deserves to be given a shot. Despite not having ever hit for much power, Thaiss has found his power stroke at Triple-A, slugging .600 with four home runs in 18 games. He also is the left-handed bat the Angels don't currently have and could benefit from if they hope to make it to the playoffs. There is more pressure on Thaiss' bat than Fletcher's given the position he plays at, but he could produce solid numbers in deeper leagues if he is promoted to Anaheim.
20. Forrest Whitley (SP, HOU, AA)
Stats: 4.0 IP, 0.00 ERA, 1.15 FIP, 35.7% K%, 0.0% BB%, 0.0% HR/FB
ETA: September
In his return from his 80-game suspension, Whitley was exceptional, throwing four shutout innings with five strikeouts and just one hit allowed. He is viewed by some as the most complete pitching prospect in baseball with a well-rounded repertoire and control of all his pitches that would help make him a frontline starting pitching option. However, if you haven't noticed, Houston has a lot of those types of guys in its rotation. Whitley could be one of the first guys called up in the event of an injury, but it would make more sense that he is used as a bullpen/spot starter arm in September when he proves he's really ready to handle big-league hitters. Even in a small body of work in September, his talent could prove to be a real boost for fantasy owners in plenty of leagues.
21. Griffin Canning (SP, LAA, AA)
Stats: 48.2 IP, 1.85 ERA, 3.15 FIP, 28.5% K%, 10.9% BB%, 5.3% HR/FB
ETA: September
22. Nick Gordon (2B/SS, MIN, AAA)
Stats: 260 PA, .318/.358/.485, 5 HR, 7 SB, 5.0% BB%, 16.9% K%
ETA: Mid-August
23. Eloy Jimenez (OF, CWS, AA)
Stats: 208 PA, .319/.370/.569, 10 HR, 0 SB, 7.7% BB%, 16.8% K%
ETA: September
24. Sandy Alcantara (SP, MIA, AAA)
Stats: 72.0 IP, 3.88 ERA, 4.41 FIP, 17.2% K%, 8.9% BB%, 5.8% HR/FB
ETA: Late July
25. Corbin Burnes (SP, MIL, AAA)
Stats: 63.0 IP, 5.14 ERA, 4.19 FIP, 23.6% K%, 9.8% BB%, 7.7% HR/FB
ETA: Early August
26. Jon Duplantier (SP, ARI, AAA)
Stats: 35.2 IP, 2.52 ERA, 2.92 FIP, 28.5% K%, 7.6% BB%, 8.3% HR/FB
ETA: September
27. Cedric Mullins (OF, BAL, AAA)
Stats: 256 PA, .292/.349/.481, 7 HR, 9 SB, 7.4% BB%, 14.5% K%
ETA: Early August
28. Victor Robles (OF, WAS, AAA)
Stats: 15 PA, .385/.467/.385, 0 HR, 2 SB, 13.3% BB%, 6.7% K%
ETA: September
29. Steven Duggar (OF, SF, AAA)
Stats: 260 PA, .283/.358/.433, 3 HR, 9 SB, 10.0% BB%, 28.8% K%
ETA: Late July
30. Franklin Barreto (2B/SS, OAK, AAA)
Stats: 176 PA, .238/.341/.450, 7 HR, 2 SB, 11.9% BB%, 31.3% K%
ETA: Early August
MLB Rookie Rankings
1. Gleyber Torres (2B/SS/3B, NYY)
2. Ronald Acuna (OF, ATL)
3. Walker Buehler (SP, LAD)
4. Juan Soto (OF, WAS)
5. Jack Flaherty (SP, STL)
6. Austin Meadows (OF, PIT)
7. Miguel Andujar (3B, NYY)
8. Josh Hader (RP, MIL)
9. Colin Moran (1B/3B, PIT)
10. Fernando Romero (SP, MIN)
11. Dustin Fowler (OF, OAK)
12. Ryan Yarbrough (SP, TB)
13. Willy Adames (SS, TB)
14. Jake Bauers (OF, TB)
15. Francisco Mejia (C/3B/OF, CLE)
16. Caleb Smith (SP, MIA)
17. Mike Soroka (SP, ATL)
18. Luiz Gohara (SP, ATL)
19. Christian Villanueva (3B, SD)
20. Brian Anderson (3B, MIA)