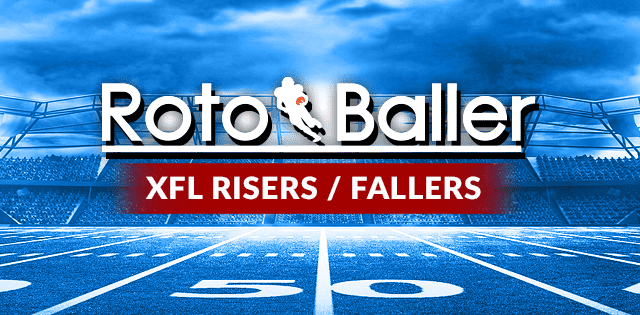 Welcome to the Week 5 edition of RotoBaller's XFL Risers and Fallers, where we'll aim to identify multiple players at each skill position each week that appear to be either be trending toward an expanding or shrinking role.  After you're done here, be sure to also read all our other weekly XFL fantasy football articles.
Naturally, the participation and success level of many players, especially during the early portion of the season in a new league, can vary from week to week. However, the goal will be to spotlight players that have clear-cut reasons to support a continued ascension or decline while factoring in conditions such as the offensive system they're in, injuries around them, and the roles of other teammates at their position.
One note about the general protocol I'll try to follow with the selection of players for this article – once a player has been designated as either Riser or Faller in a particular week, I'll usually refrain from assigning them the same designation the very following week. The rare exception will be when an additional factor that makes them even more of a Riser or Faller surfaces during that specific time frame.
For a look at who was featured in the Week 4 edition of Risers and Fallers, click here.
XFL Quarterback Risers         
Brandon Silvers, Roughnecks | Week 5 matchup: @ Sea Dragons (Thurs.)
Silvers is clearly the most ascending quarterback in the league at the moment while increasingly taking command of A.J. Smith's innovative, aggressive offense. The Troy product has thrown multiple touchdowns in each of his first four games, including three apiece in the last two.
Houston's offense unsurprisingly only seems to be getting more proficient by the week, and Silvers continues to develop chemistry with an impressive and diverse group of pass catchers that includes NFL vet Deontay Burnett, Jontre Kirklin, and Travell Harris, among others. With Smith guaranteed to continue dialing up plenty of passing plays and Silvers also having a versatile running back group at his disposal, his stock remains very high.
A.J. McCarron, Battlehawks | Week 5 matchup: vs. Defenders (Sat.)
McCarron is parlaying his NFL experience into increasingly impressive play. After failing to top the 200-yard mark in his first two games of the season, the Alabama product has thrown for 262 and 214 yards in the next pair of contests while also tossing six touchdowns in that span. He's also shown some nifty mobility with 55 rushing yards and a touchdown on 13 attempts.
McCarron is working very effectively with a pair of young receivers in Hakeem Butler and Darrius Shepherd that have already gotten regular-season pro football experience under their belt prior to the XFL. His rapport with Austin Proehl has also been impressive, and he has a pair of very capable pass-catching backs in Brian Hill and Mataeo Durant. Given his comfort in the offense and surrounding weaponry, consider McCarron a definite Riser at the moment.
ON THE RADAR: Luis Perez, Vipers | Week 5 matchup: vs. Guardians (Sat.)
XFL Quarterback Fallers
Kyle Sloter, Renegades | Week 5 matchup: @ Brahmas (Sun.)
Last week we mentioned Sloter as a potential Faller candidate if he didn't show enough improvement in his second start in Week 4. That's basically what's come to pass, considering head coach Bob Stoops is even talking about the possibility of splitting reps between Sloter and prior starter Drew Plitt in Week 5.
Sloter did boost his passing yards to 205 yards in Week 4 but also completed only 59.0 percent of his throws and tossed three interceptions. Consequently, we'll consider Sloter to be on a downturn in terms of his fantasy prospects for the time being.
ON THE RADAR: Brett Hundley, Vipers | Week 5 matchup: vs. Guardians (Sat.)
XFL Running Back Risers  
John Lovett, Vipers | Week 5 matchup: vs. Guardians (Sat.)
Lovett is still somewhat of a speculative Riser, so to speak, but there's a clear case for his stock to be considered bullish at the moment. Lovett out-carried backfield mate Rod Smith for the first time in Week 4 by a pair of totes after having flashed with a 50-yard touchdown reception in Week 3.
Lovett finished with 61 total yards against the Defenders and now has 12 carries over the last two games. With the Vipers seemingly open to any answer to their offensive struggles, it wouldn't be surprising to see Lovett continue to receive more opportunity in Week 5 against a Guardians team he could exploit.
Brian Hill, Battlehawks | Week 5 matchup: vs. Roughnecks (Sat.)
Hill's arrow is pointing back up after a Week 2 absence where he sat out with a hamstring issue. The former Atlanta Falcon followed up a solid Week 3 performance with his best game yet in Week 4, recording an 18-89-1 on the ground in the rousing home win against the Renegades.
Hill also has a 9-101-1 line through the air on 10 targets in three games, an encouraging level of involvement in the passing game that should continue, especially considering the Wyoming product also had 38 career receptions during his time in the NFL. With St. Louis' offense on an upswing, Hill should continue going along for the ride as the clear-cut lead back.
ON THE RADAR: Devin Darrington, Guardians | Week 5 matchup: vs. Vipers (Sat.)
XFL Running Back Fallers
Kalen Ballage, Brahmas | Week 5 matchup: vs. Renegades (Sun.)
Unlike Hill, Ballage is a back with a solid degree of NFL experience that isn't experiencing the level of success one might expect at the XFL level. Ballage's season started off promisingly enough with a 24-carry workload in the opener, but matters have gone downhill.
The ASU product has logged just 27 carries over the next three games and gained a paltry 63 yards in the process. With his carries also having hit a low point of five in Week 4, Ballage's stock is certainly bearish at the moment.
XFL Wide Receiver Risers
Jeff Badet, Vipers | Week 5 matchup: vs. Guardians (Sat.)
Badet's stock has arguably been rising since Day 1, considering he generated a 6-81-2 line right out of the gate. However, Badet has gone on to prove that the strong start wasn't a fluke, considering that after a two-reception, six-yard clunker in Week 2, he's roared back with 11 receptions for 173 yards and a touchdown over the next pair of games.
The Vipers notably let offensive coordinator Duane Taylor go before Week 4 and didn't see much of an improvement against a tough Defenders defense in the immediate aftermath. Nevertheless, Badet continued to thrive by posting a season-high seven catches and coming up just one yard short of the tally he'd produced in the opener. Having proven he can produce with either Luis Perez or Brett Hundley under center, Badet is a Riser in every sense of the word going into Week 5.
Darrius Shepherd, Battlehawks | Week 5 matchup: vs. Defenders (Sat.)
Shepherd, like Badet, is a young veteran with some NFL experience, but he also has the benefit of having enjoyed plenty of reps with the New Jersey Generals in the USFL. That seems to be paying off nicely for Shepherd, who's gone from generating a 4-19 line over the first two games to generating 13 catches for 142 yards and a touchdown in the next pair of contests.
Shepherd has the benefit of working with a quarterback in A.J. McCarron that has the most accomplished NFL resume of any signal-caller in the XFL. Given the way the two have connected over the last two games and the potential for that to continue, consider Shepherd a surging wideout that has a very good chance of remaining on his current heater.
ON THE RADAR: Chris Blair, Defenders | Week 5 matchup: @ Battlehawks (Sat.) // Cedric Byrd, Roughnecks | Week 5 matchup: @ Sea Dragons (Thurs.)
XFL Wide Receiver Fallers
Jordan Smallwood, Renegades | Week 5 matchup: @ Brahmas (Sun.)
Smallwood came into the season already boasting XFL 2.0 and CFL experience, but it hasn't translated into any appreciable on-field results. The Renegades offense as a whole has struggled as outlined partly in Sloter's entry, and perhaps Smallwood is simply a victim of the shaky quarterback play.
Whatever the case might be, there's no denying that after he flashed with a 22-yard grab in the season opener, Smallwood's stock has done nothing but plummet. The Oklahoma product has just two receptions for 11 yards on three targets over the next three games, and until Sloter or Plitt get their act together, the receiver is likely to have a bleak fantasy outlook.
XFL Tight End Risers  
Brandon Dillon, Vipers | Week 5 matchup: vs. Guardians (Sat.)
Dillon had shown next to nothing going into Week 4 before breaking out for a 3-47 line on three targets. With tight end really the one position that is having trouble gaining traction around the league -- with a couple of exceptions that have already been talked up here before -- Dillon is what passes for a Riser at the position this week, especially if Vegas' search for offensive success continues to find him more involved moving forward.
XFL Tight End Fallers
Ryan Becker, Guardians | Week 5 matchup: @ Vipers (Sat.)
Becker was only modestly involved as a receiver at SMU during his college years, and that trend has continued thus far in his brief pro career. The 25-year-old did post two receptions on as many targets back in the opener, but he didn't see a pass thrown his way in Week 2 or 3 and then was a healthy scratch in Week 4. Considering those developments and the fact the Guardians' passing game is heavily focused on the team's wideouts, Becker is a complete fantasy non-factor at the moment.
Download Our Free News & Alerts Mobile App
Like what you see? Download our updated fantasy football app for
iPhone
and
Android
with 24x7 player news, injury alerts, rankings, starts/sits & more. All free!
Win Big With RotoBaller
Be sure to also check out all of our other daily
fantasy football articles
and analysis to help you set those winning lineups, including this new RotoBaller YouTube video:
More Weekly DFS Analysis