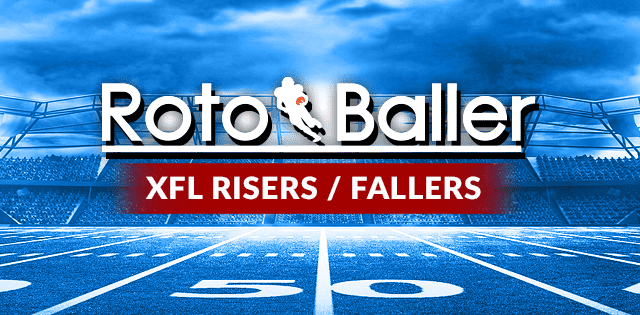 Welcome to the Week 4 edition of RotoBaller's XFL Risers and Fallers, where we'll aim to identify multiple players at each skill position each week that appear to be either be trending toward an expanding or shrinking role.  After you're done here, be sure to also read all our other weekly XFL fantasy football articles.
Naturally, the participation and success level of many players, especially during the early portion of the season in a new league, can vary from week to week. However, the goal will be to spotlight players that have clear-cut reasons to support a continued ascension or decline while factoring in conditions such as the offensive system they're in, injuries around them, and the roles of other players at their position.
One note about the general protocol I'll try to follow with the selection of players for this article – once a player has been designated as either Riser or Faller in a particular week, I'll usually refrain from assigning them the same designation the very following week. The rare exception will be when an additional factor that makes them even more of a Riser or Faller surfaces during that specific time frame.
For a look at who was featured in the Week 3 edition of Risers and Fallers, click here.
XFL Quarterback Risers         
Ben DiNucci, Sea Dragons | Week 4 matchup: vs. Brahmas (Sat.)
DiNucci's Week 3 performance puts him in this category, even though he'd also put together a pair of solid efforts in Weeks 1 and 2. However, the former Dallas Cowboy looked the part of a player with NFL experience in leading a wild comeback win versus the Vipers on Saturday night, a game in which he threw for 377 yards and four touchdowns and added 32 rushing yards.
June Jones' offenses have typically led to gaudy numbers for quarterbacks, and the fact DiNucci is already displaying very good chemistry with up to three pass catchers in Josh Gordon, Jahcour Pearson, and Blake Jackson makes him a very hot commodity for the time being.
Jordan Ta'amu, Defenders | Week 4 matchup: vs. Vipers (Sun.)
We're putting some faith in Ta'amu and the body of work he put on tape in Week 3, when he bounced back from an abysmal Week 2 passing effort to throw for 196 yards and a touchdown while adding 22 rushing yards and a score. Ta'amu did rush for 68 yards in that second game of the season, and it's his ability to make plays with his legs while also likely improving as a passer the more he plays that earns him a Riser designation.
Ta'amu isn't without prior quality pro football regular-season experience after having completed 72.4 percent of his passes for 1,050 yards with a 5:2 TD:INT during his five-game stint with the Battlehawks in 2020 and then throwing for 2,015 yards with 14 touchdowns and 12 interceptions as the Tampa Bay Bandits' signal-caller in the USFL last spring. Therefore, he's on an upward trajectory that we believe he can sustain going into Week 4.
XFL Quarterback Fallers
We have a somewhat unique situation at quarterback in Week 4 in that no one starter at the position is truly deserving of a Faller tag. Even the Brahmas' Jack Coan, who was held to 64 passing yards by the league-best Roughnecks defense in Week 3, gets a mulligan thanks to both the matchup and the fact he'd shown much better form in the first two weeks.
The Renegades' Kyle Sloter would be another potential candidate after throwing for only 124 yards in his season debut in Week 3, but given his own success in the USFL last week, he also gets at least one more week to get acclimated before we saddle him with a bearish outlook.
XFL Running Back Risers  
Kenneth Farrow, Renegades | Week 4 matchup: @ Battlehawks (Sun.)
Much like Ta'amu on the quarterback side, we take a bit of a leap of faith here with Farrow for some of the same reasons. The veteran running back has proven himself previously at the spring league level, having rushed for 372 yards and four touchdowns for the San Antonio Commanders of the AAF in 2019 and then posting 156 at 4.1 yards per rush for the 2020 Seattle Dragons in the XFL.
Farrow is also a good receiver out of the backfield that boasts 34 career receptions between his time with the Chargers in the NFL and his two alt-league stints. He logged five carries in his first game with Arlington and could ultimately prove to be more effective than both the player he replaced in Keith Ford and even starting running back De'Veon Smith, who's averaging under 3.0 yards per carry through three games.
Ryquell Armstead, Defenders | Week 4 matchup: vs. Vipers (Sun.)
Armstead is showing he and backfield mate Abram Smith can be one of the league's most formidable 1-2 punches, and he seems to be carving out a larger role for himself on an offense that's relied heavily on the ground attack through three games. Ta'amu's own very impressive mobility at quarterback is certainly helping open up lanes for the rest of the team's ground attack, and Armstead has benefited in the last two games with 109 yards on 26 carries over that span.
In a sense, Armstead has been steadier on a game-to-game basis thus far than Smith, although the latter still seems to be the preferred option as the lead back. Nevertheless, there certainly seems to be room for Armstead in this offense, and although he has just one reception for 14 yards thus far, he's also a better receiver than that production would indicate.
XFL Running Back Fallers
DeJoun Lee, Roughnecks | Week 4 matchup: @ Guardians (Sat.)
Lee was made a healthy scratch in Week 3 in favor of Brycen Alleyne, and that could turn out to be the case again in Week 4. Lee gained 31 yards on nine carries and caught one pass for four yards in the first two games behind Max Borghi, who appears set to garner the majority of touches thanks to his strong play so far. At just 5-foot-7 and 185 pounds, Lee profiles as more of a scatback anyhow, and he, therefore, is unlikely to enjoy a substantial role even when active.
XFL Wide Receiver Risers
Hakeem Butler, Battlehawks | Week 4 matchup: vs. Renegades (Sun.)
There are several receivers that seem to be hitting their stride as we approach Week 4, unsurprising given that it takes some time for offenses to gel. Butler is a shining example, however, as he's seen his receptions, receiving yards and targets climb with each game thus far.
He's topped out at this point with an impressive 9-105-1 line on 13 targets versus the Defenders in Week 3 and clearly seems to be increasing his chemistry with quarterback A.J. McCarron. Butler's massive frame and strong hands make him a threat anywhere on the field, especially in an area where he has the potential to help fantasy managers cash in handsomely, the red zone.
Blake Jackson, Sea Dragons | Week 4 matchup: vs. Brahmas (Sat.)
While it would also be appropriate to designate Jackson's teammates Josh Gordon and Jahcour Pearson as Risers, each has already been previously featured and Jackson has now earned his turn with an impressively consistent body of work through three games. Despite the odds being against him after having played at the Division III level in college, Jackson has already posted 18 receptions for 121 yards and a touchdown through three games.
Jackson has also seen 22 targets in that span in Seattle's pass-heavy attack, which bodes well on a couple of fronts – not only does he clearly already have DiNucci's trust, but his stellar catch rate inspires confidence he'll continue to be efficient with his opportunities as the season unfolds and he gets even more well-versed in the receiver-friendly system.
ALSO RISING: Lucky Jackson, Defenders | Week 4 matchup: vs. Vipers (Sun.)
XFL Wide Receiver Fallers
Geronimo Allison, Vipers | Week 4 matchup: @ Defenders (Sun.)
It would have been hard to envision saddling Allison with this designation before the season began, and he could well prove it wrong one of these weeks. However, after a three-game sample in which he's brought in only four of 10 targets for 24 yards, there's not really an argument to view his stock as anything but falling. The fact he does have a pair of quality options at quarterback on his team and that Vegas is going in a different direction at offensive coordinator going into Week 4 could ultimately help the NFL vet break out, but we'll have to see it first for at least a couple of weeks to be convinced.
XFL Tight End Risers  
Jake Sutherland, Battlehawks | Week 4 matchup: vs. Renegades (Sun.)
The tight end pool is more or less stagnant this week in terms of the trajectory of its members, but we'll make a quick case for Sutherland as a candidate with some potential that it might make sense to take a waiver-wire flyer on at this point. The Morehead State product showed off some decent pass-catching chops in his last two college seasons with a combined 45-445-5 tally, and his two catches thus far with St. Louis have impressively gone for 44 yards, including a 23-yard touchdown grab.
XFL Tight End Fallers
Charlie Taumoepau, Sea Dragons | Week 4 matchup: vs. Brahmas (Sat.)
Taumoepau is an interesting case, as he's an undeniably talented pass catcher at tight end stuck in an offense that doesn't really give much opportunity to the position. The Portland State product finished his college career with 114 receptions, 1,837 receiving yards, and 11 touchdowns, but he has just two catches for 25 yards on two targets thus far in Seattle and was blanked altogether in Week 3. Considering he's now also listed as questionable with a calf injury going into Week 4, Taumoepau is definitely in the Faller category for now.
Download Our Free News & Alerts Mobile App
Like what you see? Download our updated fantasy football app for
iPhone
and
Android
with 24x7 player news, injury alerts, rankings, starts/sits & more. All free!
Win Big With RotoBaller
Be sure to also check out all of our other daily
fantasy football articles
and analysis to help you set those winning lineups, including this new RotoBaller YouTube video:
More Weekly DFS Analysis