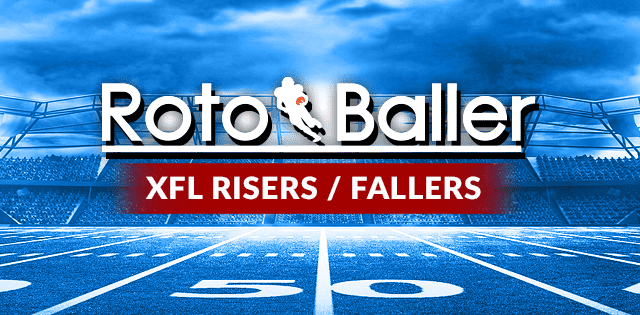 Welcome to the Week 3 edition of RotoBaller's XFL Risers and Fallers, where we'll aim to identify multiple players at each skill position each week that appear to be either be trending toward an expanding or shrinking role.  After you're done here, be sure to also read all our other weekly XFL fantasy football articles.
Naturally, the participation and success level of many players, especially during the early portion of the season in a new league, can vary from week to week. However, the goal will be to spotlight players that have clear-cut reasons to support a continued ascension or decline while factoring in conditions such as the offensive system they're in, injuries around them, and the roles of players at their position.
One note about the general protocol I'll try to follow with the selection of players for this article – once a player has been designated as either Riser or Faller in a particular week, I'll usually refrain from assigning them the same designation the very following week. The rare exception will be when an additional factor that makes them even more of a Riser or Faller surfaces during that specific time frame. For a look at who was featured in the Week 2 edition of Risers and Fallers, click here.
XFL Quarterback Risers         
Jack Coan, Brahmas | Week 3 matchup: @ Roughnecks (Sun.)
Coan finished his college career with strong showings at Wisconsin and Notre Dame in 2019 and 2021, respectively, and he's now doing his best to make a case for an NFL opportunity. The Brahmas' starting signal-caller has fashioned a 4:1 TD:INT and completed 68.3 percent of his throws while averaging a solid 6.2 yards per attempt through two games.
San Antonio has a solid array of skill-position assets to support Coan as he continues to get his pro legs under him, and he's even demonstrated some decent mobility with 33 yards on seven rush attempts thus far. With the starting job seemingly in his grasp and the likelihood he only gets better the more reps he receivers, Coan is firmly in the Riser category for the time being.
Kyle Sloter, Renegades | Week 3 matchup: vs. Guardians (Sun.)
Sloter has been named the Week 3 starter over Drew Plitt, and that, combined with his past body of work at the spring league level in particular, makes his stock bullish at the moment. The Northern Colorado alum has some preseason NFL experience as well,  but his one regular-season stint under center came in 2022 with the USFL's New Orleans Breakers.
Sloter had some trouble with interceptions during his tenure, but he still spearheaded one of the league's most dynamic passing attacks while throwing for 1,799 yards at 6.2 yards per attempt. He should step into the starting role for Arlington with confidence and will work with a solid group of running backs, receivers, and just as important, tight end Sal Cannella, who he enjoyed plenty of success with less than a year ago.
XFL Quarterback Fallers
Drew Plitt, Renegades | Week 3 matchup: vs. Guardians (Sun.)
Plitt's inclusion in this spot is pretty much self-explanatory considering what was just detailed in Sloter's entry. With the Ball State product having been benched after throwing for just 292 yards with two touchdowns and three interceptions through two games, it's likely Sloter gets an extended look under center and Plitt potentially only sees the field going forward on an emergency basis.
Luis Perez, Vipers | Week 3 matchup: vs. Sea Dragons (Sat.)
Perez is sort of in the same boat as Plitt for the moment, as he was replaced by veteran Brett Hundley early in the Week 2 loss to the Defenders. Hundley put together a solid performance despite the fact he couldn't come close to helping the Vipers pull out a victory, but it seems as if head coach Rod Woodson will give the one-time Packers starter a chance to build some chemistry with an accomplished wideout group that includes Martavis Bryant and Geronimo Allison.
XFL Running Back Risers  
Morgan Ellison, Sea Dragons | Week 3 matchup: @ Vipers (Sat.)
Ellison not only earns Riser status for an impressive all-around Week 2 performance, but also because he'll have a chance to potentially tighten his grip on the starting job in Week 3 as a result of backfield mate Brenden Knox being out due to a foot injury. Ellison prepped for a larger workload with a Week 2 effort versus the Battlehawks in which he compiled 50 rushing yards and another 24 receiving on four receptions.
Ellison usually proved very efficient with his college opportunities at Indiana, Independence Community College and Southeastern Louisiana, averaging no fewer than 4.9 yards per carry in any one stop. His ability to seemingly fill a three-down role and the fact he could capitalize on the matchup against a Vipers defense that allowed the Defenders to run all over them in Week 2 has the potential to keep Ellison's stock on an upward trajectory moving forward.
Abram Smith, Defenders | Week 3 matchup: vs. Battlehawks (Sun.)
Speaking of the Defenders' ground attack, Smith spearheaded it in Week 3 with a 74-yard showing on 12 carries and a 15-yard reception. The Baylor product fell just short of a 1,600-yard season as a senior and therefore has more than enough upside to make significant strides at the spring league level, at minimum.
One of the most encouraging aspects of Smith's outlook is that Defenders head coach Reggie Barlow didn't give up on his lead back after one week despite Smith gaining just 28 yards on 11 carries in the opener versus the Sea Dragons. That's especially pertinent considering Smith's backup is a player with a solid degree of NFL experience in Ryquell Armstead, and it makes the case for the former likely enjoying a secure role for the foreseeable future.
XFL Running Back Fallers
Brian Hill, Battlehawks | Week 3 matchup: @ D.C. (Sun.)
Hill was inactive in Week 2 and is questionable for the Week 3 matchup versus the Defenders due to a hamstring issue. With the lingering nature of soft-tissue injuries and the fact backfield mate Mataeo Durant is a capable three-down back that put up some impressive numbers his last two seasons at Duke, Hill's stock is bearish at the moment.
XFL Wide Receiver Risers
Jontre Kirklin, Roughnecks | Week 3 matchup: vs. Brahmas (Sun.)
Kirklin looks like quite the fit for the Roughnecks' creative, aggressive offense through two weeks, as he's contributed a 7-127-1 line with a long reception of 40 yards. The LSU speedster should only get better as he gets more comfortable in A.J. Smith's scheme and builds additional chemistry with quarterback Brandon Silvers.
Kirklin encouragingly logged eight and six targets in the first two games, which are especially elevated by early-season XFL standards. With his deep speed and explosive playmaking ability, there's little doubt Kirklin should continue delivering plenty of splash plays in a system that's designed to constantly attack defenses through the air.
Cody Latimer, Guardians | Week 3 matchup: @ Renegades (Sun.)
There certainly hasn't been much for Guardians coaches or fans to smile about thus far, but Latimer's play has been a rare exception. The one-time Denver Bronco and New York Giant has one of the more accomplished NFL resumes at any skill position among XFL players, and he's posted a 10-89-2 line on 14 targets through two games.
It's little surprise Latimer has been focused on heavily by former Broncos teammate Paxton Lynch, considering the familiarity between them. The big-bodied veteran is also an excellent red-zone target, and with Orlando's quarterback room shrinking by one player this week with the release of Quentin Dormady, Latimer is likely to continue catching passes primarily from Lynch for the time being.
XFL Wide Receiver Fallers
Charleston Rambo, Guardians | Week 3 matchup: @ Renegades (Sun.)
With Latimer and fellow NFL alum Eli Rogers playing well and another accomplished wideout in Lance Lenoir now joining the Guardians receiving corps, Rambo's stock appears to be in decline. The Oklahoma/Miami product came into the season with high expectations considering he wrapped up his college career with a 79-1,172-7 line across 12 games for the Hurricanes in 2021, but after mustering just five catches for 26 yards through Orlando's first two games, he's sliding down the depth chart.
Jordan Smallwood, Renegades | Week 3 matchup: vs. Guardians (Sun.)
Smallwood is another talented receiver who has some pro experience from his time in XFL 2.0 and the CFL, but his latest tenure isn't off to a rousing start. The 28-year-old has logged a scant two targets through two games and brought them in for 26 yards. Smallwood also will have to build chemistry with new quarterback Kyle Sloter and appears to be No. 3 at most on the depth chart at the moment behind Tyler Vaughns and Brandon Arconado.
XFL Tight End Risers  
Sal Cannella, Renegades | Week 3 matchup: vs. Guardians (Sun.)
Cannella is one of those aforementioned exceptions to the rule about a player appearing in consecutive weeks in this column. The reason for his encore has little to do with his Week 2 performance, although his 4-38 line on four targets was certainly serviceable enough considering the lackluster play of young Drew Plitt under center. Rather, the primary factor in Cannella's factor rising even further this week is the fact Plitt is being replaced by Sloter, who was profiled as a Riser in the Quarterbacks category earlier.
As alluded to in that entry, Cannella enjoyed a very successful season with the USFL's Breakers while working with Sloter as his quarterback, posting a 34-368-2 line during the regular season and then exploding for 12 receptions and 154 yards in a playoff loss to the Birmingham Stallions. With none of the Renegades receivers truly stepping up yet as a No. 1 option through two games, Cannella could see his numbers enjoy a nice surge right away with Sloter throwing him the ball.
Alize Mack, Brahmas | Week 3 matchup: @ Roughnecks (Sun.)
Mack was a seventh-round pick of the Saints back in 2019 that never got to see any regular-season NFL action, but he's gotten his XFL career off to a positive start. The Notre Dame product has generated a 7-57-1 line on 10 targets through two games thus far, with his best performance coming in Week 2 against the Guardians that was highlighted by an impressive touchdown grab in traffic as part of a four-catch, 48-yard day.
Mack also showed some upside as a receiver in his final college season in particular, when he recorded 36 receptions for 360 yards and three touchdowns across 12 games back in 2018. Although he does have some solid competition at his position in former Patrick Mahomes target Deon Yelder, Mack seems to be pulling ahead as the preferred pass-catching option of the two thus far.
XFL Tight End Fallers
Jordan Thomas, Battlehawks | Week 3 matchup: @ Defenders (Sun.)
It was arguably justifiable to have some solid fantasy expectations of Thomas coming into the season, as he was one of the few tight ends in the XFL with meaningful NFL experience after playing in 27 games with the Texans, Cardinals, and Patriots following his selection by Houston in the sixth round back in 2018. However, Thomas has been a complete non-factor through two games, failing to bring in his only target and only garnering active status in the opener. With his healthy scratch status in Week 2 and No. 3 spot in the depth chart, his fantasy value is non-existent for the moment.
Download Our Free News & Alerts Mobile App
Like what you see? Download our updated fantasy football app for
iPhone
and
Android
with 24x7 player news, injury alerts, rankings, starts/sits & more. All free!
Win Big With RotoBaller
Be sure to also check out all of our other daily
fantasy football articles
and analysis to help you set those winning lineups, including this new RotoBaller YouTube video:
More Weekly DFS Analysis