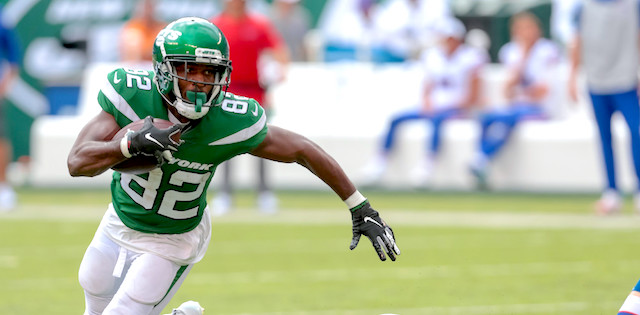 After months of research, conversation, and recommendations regarding potential usage and production for wide receivers, we can finally shift into the analysis of actual regular-season matchups. The results of Week 1 provided a collection of impressive performances, including a number of surprising developments. It also delivered the first opportunity to examine the massive assortment of numbers that were generated during the season openers for all 32 teams.
Those results provide the foundation for this weekly statistical breakdown of the wide receiver position. This will be the first installment that will examine game-specific data, including updated totals for targets, red-zone targets, snap counts, and a blend of advanced statistics. The information that is contained in this weekly report will be designed to analyze how various receivers are being utilized, and how effectively they are capitalizing on their opportunities.
This week's article will be functioning with one week of data, which will construct the baseline from which the numbers that are generated in the upcoming weeks can be evaluated. Beginning next week, noteworthy changes in usage and production will be blended into the equation. That will bolster your efforts to determine which wide receivers should be in your lineups, and which are worthy of remaining on your rosters. Pro Football Reference, NextGenStats, Rotowire, Rotoviz, and Football Outsiders were all used as resources in compiling this data.
Editor's Note: Get any rest-of-season NFL Premium Pass for 50% off. Our exclusive DFS Tools, Lineup Optimizer and Premium DFS Research through the Super Bowl.
Sign Up Now!
Week 1 Target Leaders 
Of the 26 players who were targeted 10+ times during Week 1, 21 of the performers were wide receivers. Jamison Crowder captured a league-high 17, while six different receivers each collected 13 - DeAndre Hopkins, Michael Thomas, Larry Fitzgerald, Robert Woods, Danny Amendola, and Allen Robinson. Christian Kirk and John Ross were next with 12, followed by Ross's teammate Tyler Boyd, Sammy Watkins, Odell Beckham Jr., Julian Edelman and Julio Jones with 11. Seven additional receivers accrued 10 targets during their season openers, including rookie Keesean Johnson and 32-year old DeSean Jackson during his return to Philadelphia.
Crowder has now attained double-digit targets in eight different contests since his 2015 rookie season. But his league-best total in Week 1 established a new career-high. He also joined Thomas as the only two wide receivers who also generated double-digit reception totals (Crowder -14/Thomas -10).
Fitzgerald captured 150+ targets nine times from 2005 -2017 and finished fourth overall with 161 in 2017. But his 13 targets in Week 1 exceeded his weekly totals throughout all 16 matchups of 2018. Fitzgerald's promising Week 1 numbers will be discussed further in the 5 Things That I Noticed section.
The resume of Ross is vastly different than Fitzgerald's. But his career-best 12 targets were five more than his previous high. Amendola's total was his highest since Week 13 of 2015. The double-digit total for Watkins was his first since 2016, while Moore attained 10+ for the first time in his career.
The 13 targets for Woods tied his career-high. It also continued his momentum from 2018, when he finished 13th overall in the same category (130/8.1 per-game). Teammate Kupp's return to a spot among the target leaders was also encouraging. He averaged 8-per-game before his 2018 season ended abruptly (ACL/ MCL), and will resume his critical responsibilities as a preferred weapon for Jared Goff.
Adam Thielen, Stefon Diggs, Antonio Brown, and Tyreek Hill all finished among the top 10 in during 2018 while accumulating 607 targets. But last week they combined for just seven. Among the receivers who produced the 20 highest target totals during 2018, Hopkins, Thomas, Jones, Woods, Beckham, Boyd, Edelman, and Keenan Allen are included among this week's top 20.
Yards-Per-Target And Targeted Air Yards Leaders
There are many factors that will alter the placement of receivers in yards-per-target averages as the season progresses. But after Week 1, three rookies were contained in the top 10 of this category. D.J. Chark led all receivers (36.5), followed by Marquise Brown (29.4),  A.J. Brown (25.0), Phillip Dorsett (23.8), Will Fuller (23.0) Michael Gallup (22.6), Diggs (18.5), Josh Gordon (18.3), Watkins (18.0) and Terry McLaurin (17.9).
Williams delivered a collection of favorable numbers during his initial matchup as Oaklands WR1, and leading the league in percentage share of team's air yards (TAY%) was among them (60.6%). He was followed by newcomer D.K. Metcalf (58.9) Hopkins (55.72), Cody Latimer (54.98), Watkins (53.43), and Robby Anderson (52.92). 17 receivers collected a share of at least 40% in this category. This group included an assortment of players that would be expected (Allen/Thomas/Hilton/ Jackson/John Brown), along with Chris Conley and McLaurin.
McLaurin (19.4) and Marquise Brown (18.4) were joined by fellow rookies Metcalf (16.3) and Preston Williams (16.1) among the top 11 in targeted air yards. James Washington led all receivers in this category (26.8) followed by Devante Parker (23.4), Mike Evans (22.7), Cody Latimer  (20.3) and McLaurin. Anderson (17.3), Tyrell Williams (17.2), and Golladay (16.5) were also among the other top 10 finishers.
Week 1 Red Zone Target Leaders 
13 different teams attempted at least five red zone passes in Week 1, led by Kansas City (10), New Orleans (8), and four teams that launched seven passes inside the 20 (Indianapolis/Denver/Arizona/Tampa Bay). Six different players were targeted three times in the red zone. However, Hilton, Allen, and Emmanuel Sanders were the only wide receivers who were included in that select group. A total of 16 receivers were targeted at least twice, including rookies Preston Williams and Keesean Johnson.
Hopkins and Shepard were the only receivers that finished among the top 10 in red zone targets last season who also garnered at least two targets in Week 1. Hilton and Godwin were the other receivers from last year's top 16 to collect 2+. Adams led the league in that category during 2018 (31), while Smith-Schuster and Thomas were next with 29. But that trio combined for just one in Week 1, as both Thomas and Smith-Schuster failed to register a target.
Four receivers were targeted twice inside the 10 (Allen/Fitzgerald/Godwin/Quinn), while Fitzgerald was the lone receiver to collect two targets inside the five. Moncrief and Williams were the only players on their respective teams to register a red zone target. The Cardinals and Broncos were the only two teams to target more than one wide receiver multiple times inside the 20, while the Bills, Panthers, and Vikings failed to distribute a red zone target to the position.
Week 1 Snap Count Leaders 
Beginning next week, there will be multiple games from which to compare increases and decreases in snap counts and percentages, along with the changes in every other major category. During Week 1, Cleveland teammates Beckham and Landry were the only wide receivers to play on all 100% of their team's offensive snaps. Hopkins, Shepard, Golladay, Fuller, and Quinn were the only other players to perform on at least 97% of their team's snaps, while a total of 28 receivers attained a count of least 90%.
Golladay, Fitzgerald, and Kirk were the only three receivers that were involved in at least 80 offensive plays. That was a byproduct of the Cardinals and Lions being the only two teams that generated 80+ offensive plays in Week 1 (Arizona 82/Detroit 80). Only the Dolphins (47) ran fewer offensive plays than the Vikings (49), which limited Thielen to 47 snaps. Teammate Diggs was only involved on 32 snaps, as he was also contending with a hamstring issue.
5 Things I Noticed
1,  Jamison Crowder's usage was impressive but not necessarily surprising. The potential for this fifth-year receiver to reemerge among the NFL's most targeted performers in the slot was recently discussed here. He averaged 93 targets, 64 receptions and 747 yards with Washington from 2015-2017, and led the Redskins with 103 targets in 2017. He should continue to benefit from operating within an Adam Gase offense, as his head coach possesses a favorable track record of slot receiver deployment while scripting plays for the Broncos, Bears, and Dolphins. He was included among my recommendations for receivers to prioritize in late rounds of the PPR draft process, and his projected role should come to fruition. Crowder should continue collecting passes as an inside route runner while performing as a short-yardage weapon for Sam Darnold. But his point production will be generated primarily on receptions, not sizable yardage totals, as his 5.8 yards-per-target average placed him just 88th
2. Stefon Diggs and Adam Thielen combined for over 300 targets in 2018 (302), which enabled both Viking receivers to finish among the top seven in that category. But the tandem combined for just five targets in Week 1, and Mike Zimmer's continued preference for a ground-oriented approach should be disconcerting for owners of either Viking receiver. Minnesota's 64.4% pass play percentage in 2018 dropped to 52% during the Vikings' final three matchups. That coincided with Kevin Stefanski's promotion to offensive coordinator and the team's increased commitment to its rushing attack. Cousins averaged 18 attempts during that sequence, and Thielen only averaged 4 targets-per-game. In Week 1, Minnesota ran 38 times, while Cousins only launched 10 passes. Upcoming game scripts might not present the same opportunity to eschew the passing game, and the snap counts for both receivers should rise. But this situation is worth monitoring.
3. If you stayed up late on Monday night to watch the Bronco/Raider matchup in Oakland, you were able to witness excellent performances by a trio of wide receivers. Williams entrenchment as Oakland top receiving option was mentioned previously. But second-year receiver Courtland Sutton and 32-year old Emmanuel Sanders also delivered encouraging performances for anyone who invested in either Bronco during their draft process. The duo commandeered 15 of the 19 targets that Joe Flacco distributed to Denver's wide receivers and combined for 202 of their team's 268 receiving yards. Sutton captured seven of his team-high eight targets and generated 120 yards, while Sanders snared five of his seven targets and averaged 17.2 yards-per-reception. Considering the enormous obstacles that Sanders has overcome following a devastating December injury (torn Achilles), his accomplishments during Denver's season opener are beyond amazing. Both receivers can be started with a level of confidence that exceeds what even the most optimistic observers and owners had anticipated.
4. I recommend avoiding overreaction to the collection of numbers that were generated during Arizona's Week 1 matchup. Because a larger sample size is necessary before cementing perceptions about the Cardinals' transformation into Kliff Kingsbury's offense.  Developments to watch during this week's encounter with the Ravens include Christian Kirk's yard-per-target average after his microscopic 2.7 average against Detroit. KeeSean Johnson also functioned outside on 64 of 68 plays, although his usage could be altered as Michael Crabtree becomes integrated into the attack. As we await their matchup in Baltimore, the collection of categories in which Larry Fitzgerald was prominent in Week 1 should not be overlooked. A sample size of one week is minuscule. But the results bode well for his chances of eclipsing last year's 7-target-per- game average. His 8.7 yards per-target average would also be the highest season-long average since 2011 if he were to attain that number as the weeks advance. Fitzgerald's usage near the goal-line was promising (2 targets inside the 5), and he has already matched last season's total of 100-yard games. While the production of most Arizona receivers could be erratic, Fitzgerald should remain highly involved in his team's ongoing aerial assault.  

5. Six different Titans collected passes that were launched by Marcus Mariota during Tennessee's Week 1 matchup. But that list did not include Corey Davis, who was only targeted three times and failed to register a reception. Rookie A.J. Brown led Titan wide receivers with four. and he capitalized by igniting for 100 yards. That helped him average 25 yards-per-target during his prolific debut. However, the fact that Davis was not the focal point of Tennessee's passing attack is of prime concern for his owners. He did perform on 74% of Tennessee's offensive snaps, which was significantly higher than any other Titan wide receiver - Tajae Sharpe (49%), Brown (43%), Adam Humphries (36%). He also maintains the role of Mariota's primary receiving option. However, it is incumbent upon Mariota to locate Davis with far greater frequency, and the third-year receiver also needs to seize the opportunities that he is given. Otherwise, his designation as Tennessee's WR1 is meaningless to those who selected him during their drafts.
More Fantasy Football Analysis