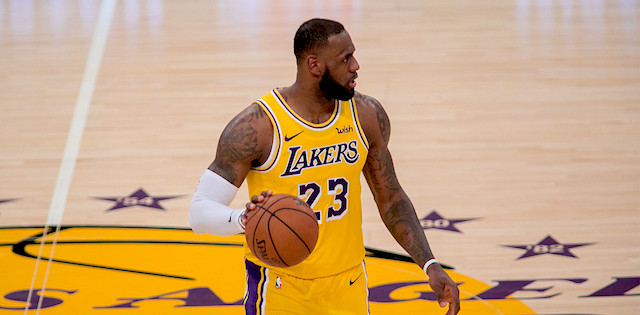 NBA fans all around the globe waited patiently for the start of the free agency period, and it's safe to say that the wait was worth it. Although next year's FA class is more stacked, there were a lot of big deals and many surprises that happened during this off-season.
And just like every year, there were a lot of winners and losers. Some teams got considerably better with solid signings, while some other teams lost their contributors or overpaid for their new acquisitions.
With that in mind, this article will look at some of the winners from the 2023 NBA free agency period. Keep in mind that this list is in no particular order and is entirely subjective.
#5. Golden State Warriors (and Jordan Poole)
Even if Jordan Poole becomes an all-star in Washington, the Warriors had to make this move. He was under immense pressure at Golden State, and always tried to do too much. Playing next to Stephen Curry is a dream for many role players and superstars, but it can be a nightmare for young, developing players who want to make a name for themselves. Jordan Poole always wanted to emulate Steph, and it would have been fine on a rebuilding team, but definitely not on an aging title contender with a title window that is rapidly closing. They did the best thing for Poole's future development as a player, and for themselves, as the addition of Chris Paul is always a welcome one.
Officially, official. ⚡️

The Dubs have acquired 12x NBA All-Star guard Chris Paul. pic.twitter.com/oPNCpMj3Xq

— Golden State Warriors (@warriors) July 6, 2023
The Dubs also resigned Draymond Green to a pretty decent deal, worth $25 million a year for three seasons with an option for a fourth year. Despite his age, this was a very good signing, as the Warriors finally committed fully to winning now as opposed to their failed "dual era" plan of last year. Also, the deal gets even better if you consider some of the other contracts around the league and the value Green brings to the Warriors specifically. Former NBA champ Cory Joseph was signed on a veteran's minimum, as was Dario Saric. Joseph is a quality passer and shooter, and Saric is one of the best pieces you can get on a contending team, and he can fill the hole that Nemanja Bjelica left nicely.
These two players both shot 39% from the floor last season and somehow got massive contracts from the Houston Rockets. VanVleet and Brooks will combine to make an average of over $64 million a year, which is ridiculous. They both combined to make half of that last year, and it could be argued that even for that price they were overpaid. Now if you go ahead and double that amount, which is what the Rockets did, you get one of the biggest wastes of money in NBA history. Now, let's look at this through the perspective of VanVleet and Brooks. Fred VanVleet will be the 14th-highest earner in the NBA next season, which means he will earn more than some superstars.
Fred VanVleet with #Rockets GM Rafael Stone and Rich Paul:

3 Years 130M 💰 pic.twitter.com/6L9W57UPC3

— Bradeaux (@BradeauxNBA) July 10, 2023
In the 2023-24 season, VanVleet, who had a 54% true shooting percentage last season (4.1% lower than the league's average), will earn more than Anthony Davis, Luka Doncic, Devin Booker, Ja Morant, and many other NBA stars. As for Brooks, he had a very disappointing season and a terrible playoff performance where he was embarrassed and humiliated by LeBron James. Many analysts predicted that Brooks wouldn't return to the league after the Grizzlies dumped him, but not only did he get signed by Houston, but he also got "the bag". Brooks will earn more than Austin Reaves, Lauri Markkanen, and Jarrett Allen next season, which is certainly not bad for someone who averaged a 9.4 PER, 49.4% TS%, -1.1 VORP, and genuinely looked like the worst starter in basketball last season.
#3. Los Angeles Lakers
Speaking of LeBron, now that he has confirmed that he will be coming back for the 2023-24 season, he should be delighted with his team's performance in free agency. This very well might be his last season in LA, as he has a player option after this season and could decline it so he can play for the team that drafts his son Bronny to end his legendary career. If this truly is the final year of the LeBron/AD duo, they should still be one of the biggest threats to win the championship. Even when LeBron leaves, they'll still be in a really good position with Anthony Davis and the other young stars that have remained with the franchise.
Austin Reaves via IG story

Tony Stark/Peter Parker relationship 💯 pic.twitter.com/OngJOAPr1W

— ²³𝙻𝚎𝙱𝚛𝚘𝚗𝚌𝚑𝚒𝚝𝚒𝚜🏀☄️🌎💞 (@BronGotGame) July 14, 2023
Resigning Austin Reaves and Rui Hachimura was a way better move than signing Kyrie, Draymond, or trading for Chris Paul, as these two have tons of potential. Reaves averaged 17.2 points and 5.1 assists on 49.2/44.2/90.1 splits in 27 games as a starter in the regular season and playoffs since the start of the 2023 calendar year, and Darvin Ham believes that he'll soon become an all-star. Hachimura also had a positive On-Off average with LA, the first time that he has done that in his career. Gabe Vincent cooked the Celtics and will be a solid addition, and the same goes for Taurean Prince, who is a great 3 and D player. Lastly, Jaxson Hayes and Cam Reddish were top-10 picks in 2019 and are looking to reach their potential in LA.
#2. Indiana Pacers
The Indiana Pacers are no strangers to making brilliant moves. They used to be quite reckless with their spending in the Larry Bird era, but ever since the NBA legend stepped down as team president, Kevin Pritchard has done a fantastic job. It all started with the extension of Tyrese Haliburton, who is developing rapidly and might become the best PG in the league in a few seasons. Indy last had a star of this caliber quite a while ago, and keeping him happy should be their main priority. Also, this deal will look like a bargain as time goes on, considering that Karl-Anthony Towns is set to make around $20 million more than Tyrese in 2027-28.
done deal. 🔏

Tyrese Haliburton has signed a longterm extension. pic.twitter.com/IGXUkKDtrk

— Indiana Pacers (@Pacers) July 6, 2023
Now, let's get to the signings. Bruce Brown was perhaps the best signing of the entire offseason. Brown is someone that you have to watch to appreciate, as his raw and advanced stats are nothing special, but when you watch him you can feel that he makes his team better and can be the missing piece who can push the Pacers to contention. Chris Duarte was great as a rookie, but his constant injury struggles last season caused him to be replaced by Andrew Nembhard and  Aaron Nesmith, which made him expendable. He still has a future in this league, but not on the Pacers. Obi Toppin never got a fair chance in New York due to Julius Randle's rise to stardom, and he can surprise many people in Indy.
#1. Los Angeles Clippers
Everyone is beginning to lose patience with the Clippers and their injury issues, but you can't deny that they made some great moves this offseason. Let's start with the trade for Kenyon Martin Jr., which was a solid piece of business. Martin is a young stud who is a human highlight reel and almost led the poor Rockets team in win shares last season (4.9, just 0.3 behind Alperen Sengun). He can bring back some of the excitement from the "Lob City" era, and coincidentally, his father used to be on the first-ever "Lob City" team, but he was way past his prime at the age of 34. But "KJ" is just 22 and at the peak of his athleticism.
The LA Clippers have officially re-signed Russell Westbrook:

"In the two months Russ spent with the team, he was everything we hoped he would be and more."

— Farbod Esnaashari (@Farbod_E) July 7, 2023
Mason Plumlee played well in the regular season and especially in the playoffs, so retaining him was a no-brainer. His role on the Nuggets was integral to Nikola Jokic's development, and he is still a valuable contributor. Last but definitely not least, we have the re-signing of Russell Westbrook. Say what you want about him, but getting a player of Westbrook's caliber for less than $4 million a year is a bargain. Russ looked revitalized with the Clippers last season as he returned to the starting lineup following a stint as the sixth man on the Lakers. He carried the team when Kawhi Leonard went down in the postseason, and he can help Kawhi and Paul George finally win an NBA championship.
Download Our Free News & Alerts Mobile App
Like what you see? Download our updated fantasy basketball mobile app for
iPhone
and
Android
with 24x7 player news, injury alerts, lineup notifications & DFS articles. All free!