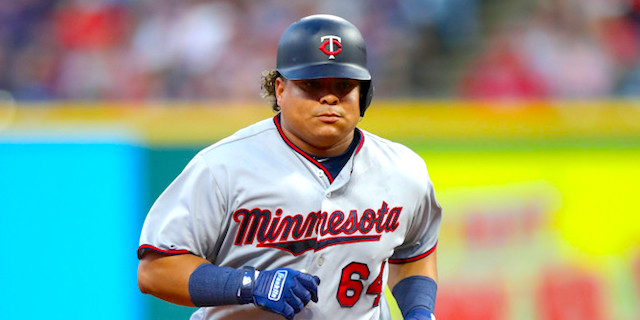 BALLER MOVE: Draft target ~pick 315
CURRENT ADP: ~340 overall
ANALYSIS: Willians Astudillo just might be my favorite player in baseball. It's almost impossible to look at him, and his stats, and not immediately become a fan. First off, he's just 5'9" yet weighs 225 lbs, so seeing him field and run the bases is fun for the whole family. Secondly, the guy is almost incapable of striking out - or drawing a walk, which means you get to see him run the bases almost every time he steps up to the plate. Astudillo has been in the Minor Leagues since he was 18 in 2009, and got his first taste of the bigs last year with the Twins. Through 30 games, the physical anomaly hit an absurd .355. He struck out three times. THREE TIMES. His 3.1 K% would have cut the MLB leader Andrelton Simmons' 7.3% in half. He boasted a 91.2 Contact% and 96.2 Z-Contact%. It's like the guy gets to use a bloated whiffle ball bat that covers half the strike zone. He even stole seven bases!
Astudillo could prove to be an extremely beneficial fantasy player this season. The path to playing time is extremely crowded in Minnesota after the acquisitions of Jonathan Schoop, Nelson Cruz, and C.J. Cron, with the expected "improvement" of Miguel Sano and Byron Buxton. He should split time behind the plate with Jason Castro and Mitch Garver, and can provide rest days for basically anyone else in the lineup. Also, expecting Buxton and Sano to remain healthy and/or remain in the bigs all season is an ill-advised bet at this point in their careers.  Outside of the top-seven fantasy catchers, you start hurting your team BA and getting zeroes from the position for a third of the games.
The baller move would be to wait out the top-two tiers of catchers, and then let the young-flair names like Francisco Mejia, Danny Jansen, and Jorge Alfaro (he still counts, right?) get scooped up before grabbing your starting catcher - Willians Astudillo.
Check out RotoBaller's entire fantasy baseball waiver wire pickups and sleepers list, updated daily!