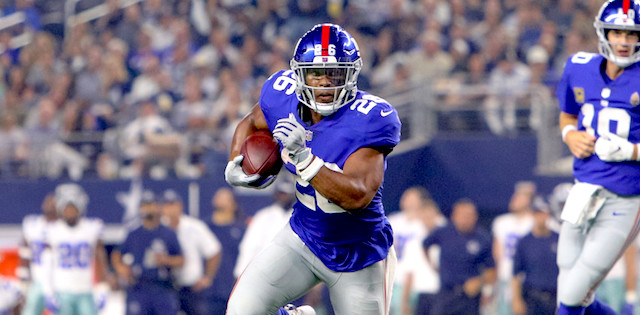 You want the first overall pick in your draft. Even if you think you don't, you do. Historical data supports that the higher you pick, the more likely you are to win. Sometimes, having the first overall pick makes things easy. In 2017, David Johnson was the obvious top pick. In 2015 and 2013, it was Adrian Peterson. For a bunch of years in the 2000s, it was LaDainian Tomlinson.
Unfortunately, it's usually not that easy. More often than not, having the first overall pick means making a tough decision on who you think will be the best player in fantasy football. If I had to compare 2019 to a previous year, it would be 2014. There was no player with a consensus 1.01 ADP according to Fantasyfootballcalculator. LeSean McCoy, Jamaal Charles, Calvin Johnson, Matt Forte, and Adrian Peterson were all legitimate candidates for the top spot.
In 2019, we have four options at first overall. Let's look at each one to see who makes the strongest case for top pick.
Editor's Note: Get any rest-of-season NFL Premium Pass for 50% off. Our exclusive DFS Tools, Lineup Optimizer and Premium DFS Research through the Super Bowl.
Sign Up Now!
Candidate #1 is Saquon Barkley, the guy who was proclaimed to be a generational talent and then came in the league and did generational talent things. Barkley absolutely dominated as a rookie, eclipsing 2,000 yards from scrimmage and scoring 15 touchdowns on a bad team. Barkley touched the ball 352 times last season and is virtually certain to reach that number again. Most importantly, Barkley was targeted 121 times. While that number seems very high for a running back that isn't viewed as a true receiver (Barkley is an excellent pass-catching back, but he is not a receiver the way David Johnson is), following the Odell Beckham trade, it is reasonable to project Barkley to reach that target total again. So what are the knocks on Barkley?
Volume is not a concern. Opportunity is not a concern. The Giants have a below average offensive line and are going to regress on offense following the trading away of their best offensive weapon. The Giants should see fewer scoring opportunities and it is unlikely that Barkley scores five times from 50+ yards out again. 2,000 yards from scrimmage is close to repeatable, but the 15 touchdowns could see as much as a 33% reduction. If Barkley's efficiency drops a little and he loses five touchdowns, is he the best running back in fantasy football?
Candidate #2 is Ezekiel Elliott, the guy who can't stop doing stupid things off the field. For what it's worth, the whole incident with the security guard in Vegas seems very minor. While it is imprudent to expect anything resembling fairness from Roger Goodell, the fact that Elliott was already suspended for six games despite no finding of guilt actually plays in his favor on this one. I do not expect Elliott to miss any games. With that being said, even a one or two game suspension would be enough to knock him out of contention given how close it is at the top this season.
Elliott has played three professional season. He has led the league in yards per game in all of them. Extrapolating his suspension shortened 2017, he essentially reached 2,000 yards from scrimmage all three years (1,994 as a rookie, but close enough). The rushing volume is not a concern and I have zero concerns over the 1,000 touches Zeke has handled as a professional. He's 24 years old. He is not breaking down. In 2018, the Cowboys finally figured out how to use Zeke in the passing game, tossing 95 balls in his direction after seeing just 67 targets over his first 25 career games. There are some concerns over whether Elliott's passing game usage is sustainable, but his targeting did not change following the arrival of Amari Cooper.
Even if Zeke sees a reduction in targets, he is due for some serious positive regression in the touchdown department. Elliott rushed for 1,434 yards and had 51 red zone touches, yet only rushed for six touchdowns. He had nine total touchdowns on the season. he should have had more like 12-14 touchdowns. I expect Zeke to score more this season and 20 touchdowns is within his range of outcomes, which would more than make up for any reduction in targets. The Cowboys offense also boasts one of the league's best offensive lines, ranking third in power run blocking in 2018. The line is only going to improve with the expected return of pro bowl center, Travis Frederick.
Are there any real concerns? Aside from the off the field stuff, there is the matter of the Cowboys spending two draft picks on running backs. However, both Tony Pollard and Mike Weber were day three picks and the Cowboys let Rod Smith walk. The Cowboys may have visions of reducing Zeke's workload, but it will be minimal, if at all. Is Zeke the 1.01 in 2019 fantasy drafts?
Candidate #3 is Christian McCaffrey, the guy who couldn't handle a full workload that handled a full workload. The fantasy community started wisening up to Christian McCaffrey as a real bell cow in about late August 2018. McCaffrey saw his ADP rise from an early to mid second round pick into the back half of the first round. He was well worth it, finishing just under 2,000 yards from scrimmage and finishing eighth in the NFL in receptions with 107. Yeah, that includes wide receivers.
McCaffrey has been targeted 237 times over his first two NFL seasons. That is a real thing and we can project McCaffrey for another 110 targets in 2019. Arguably the best receiving back in the league (I still put David Johnson #1), McCaffrey has one of the highest floors in all of fantasy football.
The people are worried, though. The people do not believe McCaffrey can handle a full workload even though he did it twice in college and now twice in the NFL. Ron Rivera has stated that he wants to help McCaffrey out in the backfield. There is also the concern of his rushing touchdown total. Seven does seem quite high for someone not built to be a goal-line back who shares a backfield with Cam Newton. The thing is I think CMC's five to six receiving touchdowns are repeatable. What exactly are we projecting as a decrease in rushing touchdowns? Is he really going to score fewer than four times on the ground? If CMC ends up with "only" 1,800 yards from scrimmage and 10 total touchdowns, is he worthy of the top spot?
Candidate #4 is Alvin Kamara, the guy who never has a backfield to himself. Even with Mark Ingram gone, Latavius Murray is just a more athletic version of Ingram. He is going to play the same role and cap Kamara's touchdown upside. With that being said, Kamara scored 13 touchdowns as a rookie and 18 touchdowns last season. Out of all four candidates, I can guarantee that Kamara touches the ball the fewest amount of times. But has that really mattered yet?
Last year, I was a little down on Kamara because I didn't want to bank on efficiency with my first round pick - I wanted the sure volume. Kamara touched the ball 275 times in 2018 and 250+ touches seems all but certain for 2019. His targeting and receiving numbers couldn't be more consistent with 100 and 105 targets over his first two seasons and 81 receptions both years. Kamara saw the significant drop in efficiency everyone expected last season, but made up for it in volume. As a rookie, Kamara totaled 1,554 yards from scrimmage on 201 touches. As a sophomore, Kamara totaled 1,592 yards from scrimmage on 275 touches.
Kamara also has one clear advantage over the other three candidates - he is on the best offense. Kamara makes up for his lack of volume by playing for the best offense with the best coach who always uses him properly. Sean Payton gets Kamara the ball out in space and lets him do his thing.
Should we be concerned about Murray? A little. Kamara did score five of his touchdowns and post his two best receiving games of the season, by far, in the first four games while Ingram was suspended. Between Weeks 5 and 16, Kamara did not eclipse 47 receiving yards in a game. Kamara has been consistently efficient and scored touchdowns at an excellent pace despite the reduced workload compared to other feature backs, but touchdown regression is coming. Is Kamara's lack of volume and inevitable touchdown regression enough to knock him out of contention for the top spot?
So Who's #1?
I do not believe that any other players outside of the four highlighted here should be considered at #1 overall. I also believe that these four players should be the top four picks in every league regardless of format. You've now read over 1,400 words and I still haven't told you who's #1? That's because there is no answer. My hill to die on for the first overall pick in 2019 is that there is no hill to die on. You can take any one of these four players at first overall and it is a great pick. But since I know that you really want to know, my choice would be Ezekiel Elliott.
More Fantasy Football Analysis