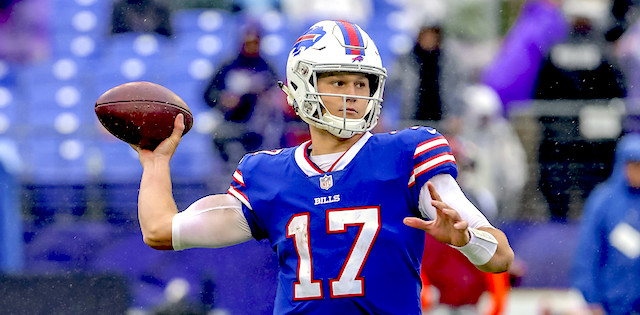 Welcome to our Week 3 matchup analysis and start/sit column for fantasy football. We'll be covering every single contest from the Sunday slate in one convenient location, helping you make the best decisions for your fantasy lineups. Be sure to check back regularly because this article will be updated as news comes in regarding injuries and other important information.
Spencer Aguiar will start off by covering the first set of games that begin at 1:00 PM ET on Sunday and Chris O'Reilly will take you home with his analysis of the late afternoon and evening games.
If you have any additional lineup questions, follow us on Twitter @Teeoffsports and @cjoreillyCLE and feel free to ask away! Without further ado, let's get started.
Editor's Note: Get any rest-of-season NFL Premium Pass for 50% off. Our exclusive DFS Tools, Lineup Optimizer and Premium DFS Research through the Super Bowl.
Sign Up Now!
Matchups Analysis - 1:00 PM ET Games
Bengals at Bills
Matchups We Love:
Josh Allen (QB, BUF)
Josh Allen has taken a big step in his maturation process from year one to year two, and it has allowed the Buffalo Bills to get off to a quick 2-0 start to begin the season. Part of the reason for his progress has come down to how Buffalo has put Allen in a position to find success on early downs. Last season, the Bills earned 4.7 yards per play, placing them second-worst in the NFL, but their increase to 5.8 yards through two games has positioned them 13th overall and is allowing the second-year QB not to be faced with as many third and longs. That statistic becomes even more evident when we look at actual third-down conversion percentage from 2018 to 2019. Buffalo ranked third to last in the NFL with a 31.63% rate in 2018 but has jumped up nearly 12 percent to 43.48% in 2019. Cincinnati enters the week ranked 29th in defensive passing efficiency and 32nd in explosive pass plays allowed, and if the Bengals are unable to apply pressure on Allen, who has been given nearly three seconds to throw per attempt this season, look for the 23-year-old to produce as a high-end QB1 in Week 3.
John Brown (WR, BUF)
John Brown draws a favorable matchup this weekend against CB Dre Kirkpatrick, who currently ranks 71st overall on PFF at the position. Kirkpatrick features a speed rating that would place him in the 28th percentile and draws Brown, who registered 4.34 speed at the combine (98th percentile). To make matters worse, Kirkpatrick has allowed a 143.3 passer rating when targeted this season and 79 yards after the catch. Cincinnati has been unable to apply pressure to opposing QBs and with Allen's propensity to throw the deep ball and the Bengals' nature to allow explosive passing plays (32nd in the NFL at 18%), Brown should be able to continue his early-season onslaught.
 Frank Gore (RB, BUF)
If Devin Singletary is ruled out due to a hamstring injury, Frank Gore jumps into RB2 consideration against a Bengals Defense that ranks 26th in success rate against the run. Both players could co-exist as RB3s if the rookie is able to take the field, but it is beginning to look as if the vet could be in store for a significant workload on Sunday. Stay tuned for updates throughout the week.
*** Update to the original post. Singletary has been ruled out, giving Gore what should be a massive workload on Sunday in a game where the Bills are favored by six points. Wind in the forecast should help the narrative, and the 36-year-old is well-within the RB2 discussion. 
Matchups We Hate:
Andy Dalton (QB, CIN)
Andy Dalton has thrown for 729 yards on 93 pass attempts during his first two games, but a road matchup against the Buffalo Bills does draw concerns for many reasons. For starters, Buffalo enters the week having allowed only two percent of passing downs to produce an explosive result (second-best in the NFL), and the majority of Dalton's early-season success has come from the big-play ability he has been able to produce with WRs Tyler Boyd and John Ross. To have a chance in this game, the Bengals will need to try and establish the run, and we would prefer to leave Dalton on the bench in this challenging road test.
John Ross III (WR, CIN)
The second-ranked WR entering Week 3 in PPR settings, John Ross III is one of my favorite sell-high candidates before he takes the field against the Buffalo Bills. Ross has found most of his success from his big-play ability, but the eventual return of A.J. Green and a difficult matchup against Buffalo should cause the 23-year-old to come back down to earth after his scorching start. Ross is nothing more than a high upside WR4 for me on Sunday against a strong set of safeties and CB Tre'Davious White.
Other Matchups:
Tyler Boyd (WR, CIN)
Tyler Boyd has a solid matchup against slot cornerback Siran Neal and should be Andy Dalton's primary target in the passing game on Sunday. Boyd has taken a backseat to John Ross III through the first two weeks, but a high target share should keep the 24-year-old in the WR2 range against a problematic Buffalo squad, which makes him good enough to start comfortably as far as I am concerned.
Joe Mixon (RB, CIN)
Negatives: Through two games, Joe Mixon has carried the ball 17 times for 27 yards.
Positives: Buffalo's rushing defense ranks 27th in total efficiency, 28th in success rate and 27th in explosive rushing plays allowed.
If the Bengals want to be successful on Sunday, it will begin with Mixon, and I'd expect him to get out of his slump and produce RB2 numbers as the teams' go-to option. Mixon has practiced fully this week and looks to be completely past his ankle injury that has caused issues to begin the year.
Lions at Eagles
Matchups We Love:
Kenny Golladay (WR, DET), Marvin Jones Jr. (WR, DET)
Fresh off a dismantling that Julio Jones and Calvin Ridley just applied to the Philadelphia Eagles secondary, Kenny Golladay and Marvin Jones Jr. will look to do the same during their Sunday clash. Ridley and Jones were each able to provide over 100 yards receiving, scoring three touchdowns to go along with a combined 52.1 PPR fantasy points, and the aforementioned Detroit wideouts have the capabilities to do the same against a reeling Eagles squad. Golladay should be considered in the WR1 conversation and Jones Jr. has WR2 upside.
Matchups We Hate:
Alshon Jeffery (WR, PHI), DeSean Jackson (WR, PHI)
It is impossible to be overly bullish on Alshon Jeffery and DeSean Jackson when neither player is likely to see the field for Sunday's game. If you own Jackson, you should begin making other plans because I'd consider him doubtful, and the same could be said for Jeffery, who is at the very least on the wrong side of questionable.
J.J. Arcega-Whiteside (WR, PHI), Nelson Agholor (WR, PHI)
I doubt we see CB Darius Slay shadow either of these two WRs around during Sunday's tilt unless Nelson Agholor erupts early in the game. If that were to happen, J.J. Arcega-Whiteside would draw easier coverage, but it is difficult to love the situation for either with a lack of depth around them.
Carson Wentz (QB, PHI)
I am far less optimistic than most in Week 3 for Carson Wentz. Detroit brings in the fifth-best unit in success against the pass, allowing only 39% of throws to grade out successfully, and that has come against matchups against Philip Rivers and Kyler Murray. Wentz suffered a rib injury on Sunday night, and although he did return and almost lead the team to a last-minute victory, Alshon Jeffery, DeSean Jackson and Dallas Goedert will all most likely be on the sidelines come Sunday. Detroit's secondary looks legit and deserves some credit, making Wentz a back-end QB1 option.
Other Matchups:
Kerryon Johnson (RB, DET)
Is Kerryon Johnson about to be unleashed after the Detroit Lions decided to move on from RB C.J. Anderson? I wouldn't count on it. In my opinion, this gives a small boost to Ty Johnson, but Detroit hasn't featured anyone since the days of Barry Sanders. Consider Kerryon a low-end RB2 against a stout front-seven in Week 3 - even though an injury to defensive tackle Malik Jackson should help him find a little extra room on the day.
Zach Ertz (TE, PHI)
Detroit has only allowed three catches for 29 yards in two games to the tight end position, but I would take that information with a grain of salt. A Hunter Henry-less Los Angeles Chargers and Charles Clay led Arizona Cardinals will not be the same as taking on Zach Ertz, and the 28-year-old should be in line for a substantial target share in the offense and remains a top-three tight end for Week 3.
Miles Sanders (RB, PHI), Jordan Howard (RB, PHI)
With a multitude of injuries, the Philadelphia Eagles will most likely apply a run-first approach against the Detroit Lions and look to eat some clock on the ground. Miles Sanders has been disappointing to being the season but does have RB2 upside in a friendly matchup against a Detroit squad that has allowed 50% of rushing plays to grade out successfully (19th in the NFL). As for Jordan Howard, the opportunity is there on Sunday to take on an extended workload, but he appears to be nothing more than a mediocre RB4 option that is touchdown dependant to find a favorable outcome. I have absolutely no issues rolling Sanders out this weekend and believe he might finally have his breakthrough performance.
Jets at Patriots
Matchups We Love: 
Tom Brady (QB, NE)
If you own Tom Brady, there is no reason to abandon ship against the New York Jets. A poor game script might call for a more run-heavy nature than you care to see as an owner, but if New England has anything that could hold them back this season, it is their offensive line that is having issues staying healthy. I'd imagine Brady will remain aggressive throughout for that reason and should be considered a top-five option against the struggling Jets.
Sony Michel (RB, NE)
Sony Michel couldn't quite get out of quicksand against the Miami Dolphins in Week 2, rushing for 85 yards and a touchdown on 21 carries, but a showdown against the Jets will provide him a second opportunity to produce a multiple touchdown performance. The Jets have been respectable against the run so far this year but will need DT Quinnen Williams and LB C.J. Mosley if they want to continue their decent play. The Patriots should find the end zone a handful of times on Sunday and look for Michel to shoulder the load when they get close.
Matchups We Hate:
Robby Anderson (WR, NYJ), Jamison Crowder (WR, NYJ)
Until Sam Darnold returns to the field, I am not sure how you can reasonably start any wideout on the team. Luke Falk's stat line on Monday looked fine if you didn't watch the game, but if you remove Anderson's long catch and Bell's lengthy reception before fumbling the football, Falk failed to look down the field on any throw. A week of practice should help slightly, but the Patriots have looked unbreakable through two weeks of the year in their secondary.
Other Matchups:
Julian Edelman (WR, NE) and Josh Gordon (WR, NE)
Even without Antonio Brown, who, in case you somehow didn't hear has been released by the Pats, the passing game should be just fine. Although more targets to go around helps each receiver, this is a game where they won't need to keep their foot on the gas. I'd consider Julian Edelman a WR2 and Josh Gordon a high-end WR3 for now. The upside is there for either of them to find paydirt, but I wouldn't be expecting Brady to attempt more than 30-something passes, limiting the upside to everyone on the team.
James White (RB, NE) and Rex Burkhead (RB, NE)
You would suspect it is going to be a negative game script for both James White and Rex Burkhead, but that hasn't stopped either from producing during the first two weeks. I'd consider White an RB3/Flex and Burkhead closer to an RB4 in a game where Brady shouldn't have to throw it too often to find success.
Le'Veon Bell (RB, NYJ)
Bill Belichick is extremely good at taking away the other units best player. While that could mean Le'Veon Bell struggles to find running room on Sunday, the same could be said for his Monday night performance, and that didn't stop him from recording 10 receptions for 61 yards. The Jets are extremely limited with what they are capable of doing offensively, which means we should expect another heavy dosage of Bell in an inefficient manner. However, that is still good enough to warrant RB1 status.
Raiders at Vikings
Matchups We Love:
Adam Thielen (WR, MIN), Stefon Diggs (WR, MIN)
Kirk Cousins has not looked good to begin the season, but a conservative nature has added to the disaster that has been Minnesota's passing offense. Ranked 28th in the league in success rate at just 36%, the Vikings will look to get back on track this weekend against a porous Raiders squad that has allowed 54% of throws to grade out successfully (26th best). Adam Thielen and Stefon Diggs should finally get their time to shine, and I wouldn't be overthinking this matchup.
Dalvin Cook (RB, MIN)
Some players just look "different" on tape, and I am not sure any RB has looked sharper than Dalvin Cook has in 2019. You obviously aren't benching your star at any point this season, but Oakland has been stout against the run to begin the year, ranking ninth in success rate at 44%. Regardless, Cook is an RB1 until further notice and draws a favorable game-script on Sunday.
Matchups We Hate:
Josh Jacobs (RB, OAK)
You have to deal with ebbs and flows when it comes to most rookies, and red flags are appearing all over the place for Josh Jacobs in Week 3s showdown against the Minnesota Vikings. Jacobs has been dealing with a groin injury and illness for the past week, dropping a supposed 10 pounds in the process. There doesn't seem to be any concern around his availability for Sunday, but Minnesota's defense should be out for blood after their slow start, which adds to the issues of a potential blowout coming into play.
Tyrell Williams (WR, OAK)
A hip pointer has made Tyrell Williams limited at practice all week, and while the Vikings did allow the Green Bay Packers playmakers to run wild for the first quarter of their game on Sunday, Xavier Rhodes and company settled in and looked like a different team during the final three quarters. The Vikings have not graded out well against the pass this season, but we have no reasons to believe their poor play will continue when you take into account their long-term success rate. Williams carries some flex potential but could be in a for a long day against a Minnesota unit that will be looking to make a statement, making him an option I'd highly consider benching if possible.
Derek Carr (QB, OAK)
Derek Carr wouldn't be on the radar in 1-QB leagues during most weeks but should be viewed as unplayable against the Vikings in Week 3. I'd also prefer to avoid him in 2-QB settings if possible.
Other Matchups:
Kirk Cousins (QB, MIN)
Kirk Cousins didn't have to throw much in Week 1 during the Vikings' comfortable victory. In Week 2, the script was flipped, and no Kirk, we did not like what we saw. Cousins inefficiency with the football has been worrisome, but things should turn around against Oakland on Sunday. If they don't, we have significant issues on our hands with Cousins going forward. I view him as a high-end QB2, despite all his early-season concerns and would feel comfortable starting him this weekend if I didn't have other alternatives. The matchup is ripe for the picking.
Kyle Rudolph (TE, MIN)
Three catches for nine yards in two weeks has turned Kyle Rudolph into a droppable asset in some fantasy leagues, but the 29-year-old does have viable streaming potential against the Oakland Raiders, who have allowed the 10th most points to fantasy TEs this year.
Darren Waller (TE, OAK)
I'd temper expectations for Darren Waller against the Minnesota Vikings, a team that has allowed the seventh-fewest yards to tight ends since Week 1 of 2018. With that being said, Waller is Oakland's primary option through the air and should receive enough volume to support another TE1 showing.
Ravens at Chiefs
Matchups We Love:
Patrick Mahomes (QB, KC)
The Baltimore Ravens enter Kansas City with a top-10 defensive unit in efficiency, but can we be sure that is accurate when it comes to Don Martindale's squad? Week 1s contest against the Miami Dolphins should probably be scraped from the calculations, and we just saw the Ravens struggle against Kyler Murray in his first true road test last Sunday. Even without WR Tyreek Hill, Patrick Mahomes has completed 14 explosives passes in two games, ranking as the third-best passer on deep shots in the NFL. We will see if the Ravens are ready for the dynamic Chiefs offense, but I'd expect Mahomes to have his way throughout.
Lamar Jackson (QB, BAL)
Lamar Jackson enters Week 3 with the best passer rating in the NFL. Not a statistic many of us expected to hear, but the 22-year-old has been magnificent early in the year. Jackson ranks first in explosive passes and first in average air yards, coming in at 8.7 yards per completion. His offensive line has kept him clean with only eight pressures, and he is averaging 6.5 yards per carry and appears to be well on his way to over 1,000 yards on the ground.
Mark Andrews (TE, BAL)
The Kansas City Chiefs have allowed 14 receptions on 16 attempts to the tight end position through two games, leaving Mark Andrews with another opening to find success. Andrews is the number one ranked PPR TE through two weeks and has secured 88% of his targets to go along with 12 first downs. Potential rain in the forecast could slow down the Ravens offense, but Andrews is locked-in as a TE1.
Travis Kelce (TE, KC)
The Baltimore Ravens Defense has allowed 1,023 yards to the tight end position during the teams' last 18 games, 12th-most in the league. With Tyreek Hill still out of the lineup, Travis Kelce will take center stage as Patrick Mahomes' number one target, making him my top tight end on the board for Week 3.
Matchups We Hate:
Damien Williams (RB, KC), LeSean McCoy (RB, KC)
The Baltimore Ravens defense has held opposing running backs to just 28 rushing yards on 1.56 yards per attempt this season. With both LeSean McCoy and Damien Williams questionable for Week 3, it is hard to be overly excited about either option. Williams is on the wrong side of questionable but would come off the hate list if he were able to play. As for McCoy, I am not buying into the narrative. I'd anticipate Darwin Thompson and Darrel Williams getting increased workloads if Damien Williams is ruled out, and I'd prefer not to play McCoy regardless.
*** As mentioned during our initial thoughts, Damien Williams has been ruled out. It does increase McCoy's value entering Sunday, but I wouldn't feel comfortable viewing him as much more than an RB3 or fill-in flex option. 
Other Matchups:
Marquise Brown (WR, BAL)
Marquise Brown only played 14 snaps against the Miami Dolphins during his four-catch, 147-yard and two-touchdown coming-out party against the Arizona Cardinals. Last week, Brown recorded 51 snaps, posting eight catches and 86 yards on 13 targets. Twenty-eight of Lamar Jackson's 41 completions have gone to either Brown or Mark Andrews, and the team will need them to perform on Sunday if they want to pull off a surprise upset on the road. Brown is well-within the WR2 conversation but does bring a little trepidation with their being rain and winds in the forecast.
Mark Ingram (RB, BAL)
Kansas City's rushing defense is substantially better this season than last, but they are far from being established. Mark Ingram will have an opportunity early in the game to make a difference, but if he gets off to a slow start, we could be looking at a disappointing performance that ends with him watching on the sidelines. We still don't quite know what Ingram's downside is during games where the Ravens trail, but we might learn a lot this week.
Justice Hill (RB, BAL)
We haven't seen what the Baltimore Ravens offense will look like when they are playing from behind, and I can't promise that we see the Justice Hill breakout game against Kansas City, but signs are pointing towards a heavier workload in Week 3. Hill is still not startable, but I'd be adding him to my bench in case this is the week where his value skyrockets.
Sammy Watkins (WR, KC)
It remains to be seen if cornerback Marlon Humphrey will shadow Sammy Watkins on Sunday, but even if the Ravens use their other corner Brandon Carr on him for spurts of the game, Watkins will not have the easiest time finding running lanes on his routes. There is enough volume there to warrant WR2 numbers, but I am not quite as sold that Watkins lights the world on fire as others.
Mecole Hardman (WR, KC), Demarcus Robinson (WR, KC)
Both boom-or-bust options, I'd prefer to start Demarcus Robinson if I was given the choice of the two. Robinson is someone that should be considered a flex play, as where Hardman is more of a desperation option if you are looking for a massive performance off your bench.
Darwin Thompson (RB, KC), Darrel Williams (RB, KC)
Unless both LeSean McCoy and Damien Williams are ruled out, Darwin Thompson and Darrel Williams are nothing more than bench stashes. However, I would try to get ahead of the market and make sure they aren't sitting on the waiver wire in any of my leagues heading into the weekend. I'm not playing either, but both are as good of speculative adds as anyone that you might find.
Falcons at Colts
Matchups We Love:
None
Matchups We Hate:
Eric Ebron (TE, IND), Jack Doyle (TE, IND)
Things might continue to stay in the cellar for Eric Ebron, who draws one of the best cover linebackers in the league in Deion Jones. The same could be said for Jack Doyle after catching only three passes in his first two games and neither player brings a ton of reasons for optimism. The Falcons did a good job in containing Zach Ertz last week and will look to keep the momentum going on Sunday.
Other Matchups:
Matt Ryan (QB, ATL)
Atlanta features the second-highest no-huddle rate in the NFL, but this does not seem to be working early in the year. Four of Matt Ryan's five interceptions have been complete head-scratchers, and his current INT rate is 4.5 times more than last year. To make matters worse, Ryan has only completed 52% of passes when pressured, and the Colts have emphasized constraining QBS - forcing 34 pressures and the third-best adjusted sack rate in the NFL. Ryan remains in the QB1 conversation, but I'm not as optimistic as most.
Jacoby Brissett (QB, IND)
Jacoby Brissett set a new career-high with three passing scores in Week 2, but passing yards didn't seem to follow. A lot of that can be chalked up to offensive coordinator Nick Sirianni's conservative playcalling to begin the year, but Brissett carries intrigue coming into Week 3. The Colts are currently ranked 13th in offensive efficiency, and the new Colts quarterback appears more than capable of leading the squad to success. Brissett is a high-end QB2 against a streaky Falcons Defense.
Marlon Mack (RB, IND), Jordan Wilkins (RB, IND) & Nyheim Hines (RB, IND)
Not only is Marlon Mack leading the league in carries at 45, but he has helped to guide the Colts to a ranking of second in the NFL in explosive rushing plays of 20 or more yards. The Falcons defense ranks near the bottom of the league in big-plays conceded on the ground but plugging Mack into your lineup isn't quite so simple. Mack has yet to practice this week with a calf injury and should be considered highly questionable for Sunday's clash. If he can't give it a go, look for Jordan Wilkins to shoulder the rushing load, while Nyheim Hines provides his typical change-of-pace and pass-catching variety.
Devonta Freeman (RB, ATL), Ito Smith (RB, ATL)
Alright Devonta Freeman, let's see what you still have left. Freeman is currently producing five percent below the league average in rushing success rate, but with the Colts ranking 30th in adjusted line yards and 24th in success rate against ground attacks, we will find out quickly if the 27-year-old still has something left in the tank. Indianapolis' defense was built around Andrew Luck, specializing in playing ahead with their speed, and it would be intelligent for Atlanta to change the tempo away from their aggressive no-huddle offense and try to provide a more systematic attack. If Freeman looks shaky again early, Ito Smith's workload should continue to rise. Smith does have back-end RB3 possibilities against a vulnerable Colts squad, and Freeman does have RB1 upside if he can get his legs back underneath him.
T.Y. Hilton (WR, IND)
The Falcons struggled against a weakened Philadelphia WR core on Sunday night, so there is potential that T.Y Hilton can find success if his current quad injury ends up being just precautionary. I am not overly concerned about his status and view him as a WR2 with upside for more.
Julio Jones (WR, ATL), Calvin Ridley (WR, ATL)
You aren't benching Julio Jones or Calvin Ridley, but a lot of the reasons mentioned behind my concerns for Matt Ryan apply to the two stud Falcons wideouts. The Falcons might take a more conservative approach in their attack, and I don't believe Jones and Ridley are guarantees to produce at the levels they have early in the year. Consider Jones a WR1 and Ridley a WR2, but the Colts are extremely live in this matchup in both betting and real-life performances.
Austin Hooper (TE, ATL)
Austin Hooper brings some check-down potential against a respectable Colts secondary that will be more focused on keeping Julio Jones and Calvin Ridley in check than they will be in slowing down Hooper. Consider Hooper a TE1 option in Week 3.
Broncos at Packers
Matchups We Love:
None
Matchups We Hate:
Joe Flacco (QB, DEN)
The Green Bay Packers present another major challenge for Joe Flacco and Denver's offense, as Green Bay has allowed the second-fewest points per drive to opponents this season. It probably didn't need to be stated, but Flacco should be avoided in all formats.
Other Matchups:
Aaron Rodgers (QB, GB)
If you drafted Aaron Rodgers, you will have to continue to be patient. Head coach Matt LaFleur and Rodgers have yet to get on the same page, and it hasn't helped that the Packers will be facing their third straight formidable defense. The 35-year-old looks solid in real life with three touchdowns and no INTs to begin the year, but this isn't a test that leaves us jumping for joy. Rodgers will always be in the QB1 conversation when healthy, but he shouldn't be considered a surefire top-five option.
Aaron Jones (RB, GB), Jamaal Williams (RB, GB)
What do former head coach Mike McCarthy and current head coach Matt LaFleur have in common? Both fail to realize Aaron Jones is the teams' best option to find success on the ground. Cue in the drums (ba dum tsss). Sadly, that isn't a very good joke since it seems to be true and almost unfathomable. LaFleur's demeanor changed in Week 2 when he gave Jones 23 carries en route to 116 yards and a touchdown, but that has once again gone in the wrong direction after his comments made this week, saying he wants to "even up touches" between Jones and Jamaal Williams. There may be some coachspeak behind those comments, but consider Jones more of an RB2 against a difficult Denver opponent. As for Williams, he stays as nothing better than an RB4 until further notice.
Phillip Lindsay (RB, DEN), Royce Freeman (RB, DEN)
Phillip Lindsay is beginning to run a risk of falling behind Royce Freeman on the depth chart if he doesn't begin to produce. The two men are already evenly splitting touches almost straight down the middle, but it is Lindsay that will need a better showing to get himself some momentum. Freeman is starting to look as if he has more upside weekly than his running mate, and a matchup against a Green Bay defense allows both to find success after the Packers have allowed 6.1 yards per carry to backs. Consider both flex plays on the road.
Davante Adams (WR, GB), Geronimo Allison (WR, GB) & Marquez Valdes-Scantling (WR, GB)
It is difficult to play any Green Bay WR other than Davante Adams this weekend. Adams is always too good to bench and has proven to succeed in challenging matchups in the past, but if you are expecting the 26-year-old to lead your squad, you might want to soften expectations slightly.
Emmanuel Sanders (WR, DEN), Courtland Sutton (WR, DEN) & Daesean Hamilton (WR, DEN)
Let's try to break down these three wideouts for Sunday. Emmanuel Sanders should be treated as a WR2/WR3, Courtland Sutton as a WR3/WR4 and DaeSean Hamilton should be benched in pretty much all settings. The matchup is a tough one with the Packers currently only allowing 31% of pass attempts to grade out successfully (first in the NFL), but the Broncos should be playing from behind - allowing a chance for points throughout.
Dolphins at Cowboys
Matchups We Love:
Dak Prescott (QB, DAL), Ezekiel Elliott (RB, DAL) & Amari Cooper (WR, DAL)
I don't think we need a lengthy synopsis of why Dallas players have a fantastic matchup against the historically bad Miami Dolphins. We are looking at one of the largest spreads in history at 22.5 points, and you could make a strong case for starting just about anyone on this squad.
Matchups We Hate:
Miami Dolphins (All)
I'm not saying you shouldn't own any Miami Dolphins players, but I am not sure how you can start someone on that team for the time being. Quarterback Josh Rosen might be able to infuse a little life into the offense, running back Kenyan Drake is probably your best option if you are looking for a low upside flex play and I still believe Albert Wilson will add a dynamic force to the team if he can ever get healthy. Unfortunately, this won't be the week as he continues to nurse both hip and calf issues and has been all but ruled out for the game. I'm taking a wait and see approach before I get burned again by this unit.
Randall Cobb (WR, DAL), Devin Smith (WR, DAL)
Randall Cobb is better used in deeper PPR leagues and is still just a WR4 for me in this matchup, but desperate teams could start him as a WR3/Flex. As for Devin Smith, Xavien Howard will be on Amari Cooper for most of the day, providing Smith with a situation to yield boom-or-bust potential.
Matchups Analysis - 4:05 PM ET Games
New York Giants at Tampa Bay Buccaneers
Matchups We Love:
Evan Engram (TE, NYG)
Evan Engram has hauled in 17 of 22 targets for 164 yards and a touchdown through two weeks, and he's now about to face a Tampa defense that has given up the third-most yards (164) in the league to tight ends on 14 catches. Engram figures to see another high target share in a game the Giants could be trailing early. I worry about the fact that he's got a rookie throwing him the ball against a defense that has allowed just one offensive touchdown so far this season, but the volume keeps him in the upper TE tier.
Chris Godwin (WR, TB)
I'll admit it: after two weeks of the 2019 NFL season, I was wrong on Chris Godwin. I thought the hype had gotten out of control, but he has come through. He has more receptions, targets, and yards than Mike Evans, and he's the only Tampa Bay player with a receiving touchdown (and he has two of those). It will be interesting to see who Janoris Jenkins follows around the field for the Giants, and the reputation of Evans suggests it should still be him regardless of Godwin's early performances. If you saw what Michael Gallup did to this Giants secondary (seven catches, 158 yards) as the Cowboys' number-two in Week 1, you already know Godwin is a locked-in WR2 (at worst) for Week 3.
Matchups We Hate:
Daniel Jones (QB, NYG)
Say what you will about the Buccaneers, but through two weeks they've actually performed well against the pass. Tampa Bay has given up just under 250 passing yards per game and only one passing touchdown. Sterling Shepard remains questionable for Week 3 after missing Week 2 with a concussion, leaving Daniel Jones with Evan Engram, Saquon Barkley, and a nearly anonymous corps of wide receivers to throw to. There is no logical reason to deploy Jones as a fantasy QB in his first-ever NFL start.
Giants Wide Receivers (WR, NYG)
Sterling Shepard and Cody Latimer are both questionable with concussions, which leaves T.J. Jones, Bennie Fowler, and Russell Shepard if those two are inactive. D.J. Moore and Curtis Samuel did carve the Tampa Bay secondary up for 180 combined receiving yards in Week 2, but who among this collection of Giants wideouts do you trust in Week 3?
Peyton Barber/Ronald Jones II (RB, TB)
Ronald Jones rushed 13 times for 75 yards against what looks like an above-average 49ers Defense in Week 1. He was rewarded with four carries in Week 2, while Peyton Barber toted the ball 23 times for 82 yards and a touchdown. The best analogy I can come up with for this comes courtesy of Uncle Eddie in Christmas Vacation: "She falls in a well, eyes go crossed. She gets kicked by a mule, they go back to normal. I don't know..." Like Uncle Eddie, I don't know what to make of this backfield situation in Tampa Bay. Neither Jones nor Barber profile as anything higher than a risky flex play for me based on their puzzling usage trends.
Other Matchups:
Jameis Winston (QB, TB)
The entire fantasy community is just about ready to wash their hands of Jameis Winston, which is why I'm worried he's going to come out on Sunday and throw for 350 yards and three touchdowns. The Giants have allowed 658 passing yards through two weeks, and 253 of those came from Josh Allen. New York has also allowed five passing touchdowns. Can we at least agree that Winston is as good as Josh Allen, with better weapons around him? Winston is maddeningly inconsistent and he'll get no season-long votes of confidence from me until he turns that around. But if I just lost Drew Brees or Ben Roethlisberger this week, I'd be targeting Winston at least as a streaming option for Week 3.
Mike Evans (WR, TB)
His stock is somewhat down, but I believe there are brighter days ahead for Mike Evans. He's seen 13 targets through two weeks, and would likely have caught more than six of them if somebody other than Jameis Winston was throwing him the ball. Plus, the extra attention Godwin is going to command if he keeps this up will inevitably open things up for Evans. He's still a no-doubt fantasy starter, and one of the better buy-low candidates out there.
O.J. Howard/Cameron Brate (TE, TB)
O.J. Howard played 92% of the offensive snaps in last Thursday's game against the Panthers. He was targeted zero times. Cameron Brate played 28% of the snaps in that same game, and was targeted twice. I wouldn't be placing my faith in Brate to begin with, but we'd all be lying if we said we weren't concerned about the fact that Howard has seen five targets in two games. If there's anything to lean on, consider that both Jason Witten and Blake Jarwin scored touchdowns against the Giants in Week 1. What makes Howard's situation worse is that it's already too late to grab the likes of Mark Andrews, Darren Waller, or T.J. Hockenson off the waiver wire (or at least it should be). I have no problem with giving Howard one more chance to produce in a matchup where the Buccaneers should be able to have success in the passing game, but if he lets you down again, he should be benched as you seek out a replacement on the trade market.
Saquon Barkley (RB, NYG)
I'm not exactly worried about Saquon Barkley, but if there are a handful of games this season in which he just can't get going for one reason or another, this could be one of them. The Bucs have yet to allow a rushing touchdown after two weeks, and have permitted a total of 137 rushing yards. They've also held opposing backs to five catches for 49 yards. Keep in mind that one of the running backs in question here is Christian McCaffrey. This Tampa Bay defense has been solid enough all-around that they might be 2-0 if Jameis Winston didn't throw two pick sixes in Week 1. Now they're facing a rookie quarterback on the road in his first career start with no wide receivers of note. Barkley's volume alone keeps him in the high-end RB1 conversation, just don't be too shocked if he fails to reach the 100-rushing-yard summit for the first time this season.
Carolina Panthers at Arizona Cardinals
Matchups We Love:
David Johnson (RB, ARI)
After turning in a dud in Week 2 (seven carries, one reception, 14 total yards) I like David Johnson to be considerably more involved in Arizona's game plan against a Panthers run defense that has been gashed for 241 rushing yards and three touchdowns on the ground through two weeks. The fact that Kyler Murray has attempted the most passes of any quarterback in the league through two weeks is concerning, but the Cardinals aren't always going to be down by multiple scores. With a reeling 0-2 Panthers team coming to town likely without their starting QB, we could finally get a glimpse of how Kliff Kingsbury wants to run his offense when he is in control of the tempo. Johnson is a mid-tier RB1 for Week 3.
Christian McCaffrey (RB, CAR)
For everything the Cardinals do wrong against the pass, they've been pretty effective against the run. They're allowing just 3.4 yards per carry to opposing backs, and have not permitted a rushing touchdown to a running back. That said, McCaffrey is by far the best and most dynamic back Arizona will have faced in the first three weeks. The Panthers have had since last Thursday to devise a game plan that prevents their best player from being shut down like he was in Week 2, and the offense will only run more heavily through McCaffrey if Cam Newton is inactive.
Matchups We Hate:
None
Other Matchups:
D.J. Moore/Curtis Samuel (WR, CAR)
Not that Cam Newton has looked like a legitimate NFL quarterback through two weeks, but I'm concerned about his receivers if he's out for Week 3. D.J. Moore and Curtis Samuel have combined for 24 catches on 41 targets for 288 yards in Carolina's first two games, so if Newton has been doing anything right, it's finding his top two receiving options. The upside here is that the Cardinals have allowed 328.5 yards per game and five touchdowns through the air this season. I'm more inclined to lean toward Moore than Samuel if Newton is out, as the former leads the team in all receiving categories.
Kyle Allen/Cam Newton (QB, CAR)
I suppose there are less favorable defenses for a backup quarterback to face, which is why Kyle Allen is not listed among matchups we hate. As was mentioned above, the Cardinals have been torched through the air in the first two weeks of 2019. If he can find Moore and Samuel for chunk yardage here and there with the possibility of a big play or touchdown, there is promise in Allen's Week 3 outlook. That's not an "if" I'm willing to gamble on, even against this porous secondary. If by some miracle Newton plays, proceed as planned with Carolina's pass-catchers, with Newton himself coming in as a fringe starting option in a favorable matchup.
Greg Olsen (TE, CAR)
Greg Olsen is second on the Panthers in targets behind Moore, and it would stand to reason that a backup QB might look his way quite often on Sunday. The Cardinals have also been leveled by opposing tight ends during the first two weeks of this season, having allowed 17 receptions for 273 yards and three touchdowns. It pains me not to list all the Panthers among matchups we love in this game, but that'd be placing an awful lot of faith in a backup QB that has attempted 31 passes in his career, and Carolina has not exactly been a well-oiled machine on offense even with Newton at the helm. I'd start Olsen anyway if I had him, just bear in mind that there is a wide spectrum of outcomes here.
Kyler Murray (QB, ARI)
Is it good for Kyler Murray's fantasy upside that he has attempted nearly 100 passes in his first two NFL games? Sure. What's not good for his upside is that he's completed just 57.4% of those attempts, ranking him 28th of 33 qualified quarterbacks. Murray hasn't yet displayed the efficiency necessary for us to trust him in fantasy lineups, and he's not offsetting that with his legs (six carries, 17 yards). Moreover, I can't imagine Arizona's coaching staff is looking at the results of the first two weeks and patting themselves on the back for the team's offensive performance as a whole. Murray has attempted nine passes inside the 10-yard line and completed just two of them. Look for a more balanced attack on Sunday against a Panthers Defense that has surrendered just 197 passing yards per game in the first two weeks.
Larry Fitzgerald/Christian Kirk/Keesean Johnson/Damiere Byrd (WR, ARI)
Should the Arizona Air Raid continue in full force, there is certainly enough to go around for all the wide receivers. Larry Fitzgerald, Christian Kirk, KeeSean Johnson, and Damiere Byrd have all seen at least 12 targets through the Cardinals' first two games. Fitzgerald leads the team--and is tied for third in the NFL--with 24, while Kirk has seen 20. Unfortunately for this work in progress of a passing offense, only Byrd has a catch rate above 55%. There are clear accuracy and timing issues here as Murray settles in to life as an NFL quarterback. We also just got done talking about how it's probably in Arizona's best interest to stop asking Murray to throw the ball 50 times a game. Keep Fitzgerald among your volume-based WR2's, with Kirk coming in as a similarly volume-dependent flex. Johnson and Byrd may well provide consistent fantasy value down the road if I turn out to be wrong about the Cardinals finding some offensive balance, but we haven't seen enough evidence to justify starting either one just yet.
Houston Texans at Los Angeles Chargers
Matchups We Love:
DeAndre Hopkins (WR, HOU)
Casey Hayward shadowed a Lions wideout in Week 2, but it wasn't who you'd think. Instead of Kenny Golladay, Hayward blanketed Marvin Jones Jr. on 67.7% of his routes and held him to one catch for six yards on two targets. Golladay proceeded to go off for eight catches, 117 yards, and a touchdown without the Chargers' best corner in his face. If the Chargers don't lock Hayward on DeAndre Hopkins this week... Oh boy. He is on the injury report as of this writing, but assuming he gets the green light for Sunday, lock him in.
Keenan Allen (WR, LAC)
Keenan Allen's 25 targets are second only to Michael Thomas among all NFL players. He's caught 16 of them for 221 yards and a touchdown. He was shadowed by Darius Slay last week, and still managed to reel in six of his 11 targets for 81 yards. Not a week-winner of a performance, but solid nonetheless. The Texans have allowed 381 yards and two touchdowns to opposing wide receivers through two weeks. Considering Allen's level of involvement in the offense these first two weeks, I'm not at all worried about him for Week 3.
Austin Ekeler (RB, LAC)
The Texans have allowed opposing running backs to catch 13 passes for 116 yards through two weeks. Austin Ekeler has caught 12 of 13 targets for 163 yards. He's also handled five of the Chargers' seven rushing attempts inside the 10-yard line, as well as all three inside the five. Ekeler has accounted for four of the Chargers' five touchdowns. This offense runs through him no matter the down and distance or field position, and so should your fantasy team.
Matchups We Hate:
None
Other Matchups:
Deshaun Watson (QB, HOU)
The Chargers have been among the league's stingier pass defenses, allowing just 217.5 yards per game. They have been beaten for four touchdowns through the air, however, and have yet to face a quarterback as dynamic as Deshaun Watson. There's concern here that Los Angeles could combat Houston's number-one weapon the same way Jacksonville did in Week 2, by blanketing DeAndre Hopkins with Casey Hayward. Jalen Ramsey held Hopkins in check last Sunday and the Texans' offense struggled mightily, just barely escaping with a win. Watson does already have two rushing touchdowns this season, so there is always that ace up his sleeve if the Chargers are able to minimize what Houston is able to do through the air. In any case, you didn't draft Watson to sit on your bench, so you're starting him in a game with shootout potential.
Carlos Hyde/Duke Johnson Jr. (RB, HOU)
Carlos Hyde has looked surprisingly good on the ground through two games for Houston, averaging 5.8 yards per carry on 30 attempts. The question is, how long can he keep it up? Hyde hasn't even averaged over four yards per carry for a full season since 2016, and he has no role in Houston's passing game as long as Duke Johnson is around. If you're deploying Hyde in your fantasy lineup, it's worth noting the Chargers have allowed 286 rushing yards through two games--the third-highest total in the league. I won't adamantly insist you bench Hyde; just know his latest production has not been the norm over the past two seasons. As for Johnson, he has a pretty low target share for a running back with a pass-catching reputation. He's been targeted six times through two games, and has hauled in four of them. He also has yet to see any real run in scoring position, as he has only one touch inside the 10.
Will Fuller/Kenny Stills(WR, HOU)
Will Fuller is the only player on the Texans other than Hopkins with double-digit targets after two weeks. You like that both Fuller and Kenny Stills rank in the top 30 among all players in yards per target, but you're betting on big plays if you start either one of them. There's shootout potential here, so those big plays could very well be coming on Sunday. I'm just not particularly inclined to trust Fuller or Stills with the lack of volume thus far. They're risky flex plays for me this week.
Justin Jackson (RB, LAC)
Justin Jackson has proven to be effective when he's gotten his chances (8.9 yards per carry), though he hasn't gotten many and Austin Ekeler hasn't given the Chargers any reason to rethink that. Jackson has carried the ball just 13 times through two weeks, and has just one carry inside the 10. It's pretty clear after two weeks that Jackson's role is just to give Ekeler the occasional breather. That said, do not drop him unless you need the roster spot, because the talent is there if he ever sees an uptick in volume.
Mike Williams/Dontrell Inman/Travis Benjamin (WR, LAC)
Keenan Allen has 16 catches on 25 targets for 221 yards. Mike Williams, Dontrell Inman, and Travis Benjamin have eight catches on 16 targets for 157 yards combined. Williams is the only one worth considering in fantasy, and even his value is that of a risky, big-play-dependent flex.
Virgil Green (TE, LAC)
If Virgil Green goes off for 75 yards and a touchdown while wasting away on the waiver wire, I can live with it. He saw two targets last week with no Hunter Henry in the fold. Leave him off the radar.
Philip Rivers (QB, LAC)
Drew Brees torched the Texans' defense for 370 yards and two touchdowns in Week 1, so I'm inclined to believe in those numbers more than I do in what Houston held Gardner Minshew to last week. This game should be relatively high-scoring (28-24, Chargers, to be precise). Philip Rivers has the weapons to jump into a shootout, and he's attempted six passes inside the 10--the third-highest total in the league after two weeks. Rivers is another QB I'm seeing about if my starter just suffered a long-term injury in Week 2. For the far-sighted, he plays Miami in Week 4...
Pittsburgh Steelers at San Francisco 49ers
Matchups We Love:
Jimmy Garoppolo (QB, SF)
While we're all busy trying to keep up with Lamar Jackson and Patrick Mahomes, Jimmy Garoppolo is quietly sneaking his way back onto the fantasy radar. He's completed 67.3% of his passes for 463 yards and four touchdowns, connecting with a plethora of equally under-the-radar wide receivers along the way. Next up is a reeling Pittsburgh squad that has given up 641 passing yards and six passing touchdowns in its first two games. I expect a spirited effort from the Steelers this week after losing Ben Roethlisberger for the season, but they're facing some serious problems in pass coverage and two days of integrating Minkah Fitzpatrick isn't solving those overnight. I like the efficiency Garoppolo has shown through the first two weeks to provide you with a high-floor fantasy start against a defense that has been anything but efficient against the pass.
George Kittle (TE, SF)
"Hey, that's supposed to be mine!" exclaimed every George Kittle owner in the free world last week as Raheem Mostert, Marquise Goodwin, and Deebo Samuel scored receiving touchdowns for the Niners. I imagine you're concerned about this development, so let me try to talk you off the ledge. For one thing, Mostert and Matt Breida averaged a combined 8.16 yards per carry on the ground against Cincinnati, greatly reducing the need to chuck the ball around. For another, the 49ers were playing from ahead by multiple scores for just about the entire game. I'm not worried about Kittle's three targets in Week 2, as we all know that when the 49ers do find themselves in passing situations, he's their guy. Russell Wilson and Will Dissly just connected for 50 yards and two touchdowns against this Pittsburgh defense. Kyle Shanahan knows that, and now you know it too. Now please, step down, it's starting to get cold up here.
Matchups We Hate:
James Conner/Jaylen Samuels (RB, PIT)
As of Thursday morning, James Conner had yet to practice during the week. If he's active on Sunday, he's taking on a 49ers run defense allowing just 65.5 yards per game to opposing backs. San Francisco also has yet to allow a rushing touchdown. Unless you're absolutely loaded at running back, you probably can't afford to bench Conner this week if he does play. Just know the deck is stacked against him in this one. Jaylen Samuels would get the majority of the backfield touches if Conner sits on Sunday, but if I don't like the number-one RB against this defense, I'm certainly not confident in the backup.
Other Matchups:
Raheem Mostert/Matt Breida/Jeff Wilson (RB, SF)
I love that both Raheem Mostert and Matt Breida saw at least 13 touches each in Week 2. I love that they both gained well over 100 yards each from scrimmage. I do not love that Jeff Wilson handled--and scored on--two of San Francisco's three carries inside the five-yard line. Breida does not have a touch in the red zone through two games. It's nice to see a relatively even distribution work out for all three running backs in a committee, but how often can we honestly expect that to happen? For the sake of sorting this mess out: view Mostert as a PPR flex with upside, while Breida at least looks like the best bet to see most of the rushing attempts, and can also be considered a low-end flex play. Wilson is a touchdown-dependent fantasy option, but a decent DFS gamble given his apparent goal line role. I'll rule in favor of Mostert's overall value for Week 3, as the Steelers have allowed the second-most receptions (17) and the third-most yards (140) to opposing running backs.
Deebo Samuel/Marquise Goodwin/Kendrick Bourne/Richie James/Dante Pettis (WR, SF)
Deebo Samuel is the only 49ers wide receiver with double-digit targets after two weeks. I suppose there's excitement about the fact that three of these guys already have touchdown receptions, but can you honestly say you feel comfortable starting any of them this week? I'd like to have shares of Samuel and Marquise Goodwin at the moment, but I'm keeping both on my bench for now. Richie James and Kendrick Bourne have combined to catch four of their 11 total targets. Leave them out. As for Dante Pettis, I mean, what can you say? He's seen one target in two games. The Steelers have given up 467 yards and four touchdowns to opposing receivers, both of which rank inside the top three highest totals in the NFL. There's upside here for Samuel and Goodwin; just be aware you're rolling those dice on a limited and not very inviting sample.
Mason Rudolph (QB, PIT)
It is with reckless optimism that I charge into the Mason Rudolph era in Pittsburgh. He did lead a 75-yard touchdown drive early in the third quarter against Seattle last week, and I don't believe his pass-catchers are going to suddenly drop off the face of the fantasy earth just because Ben Roethlisberger is no longer in the picture. I am erring on the conservative side regarding his ceiling for Week 3, however. The 49ers already have four interceptions (although to be fair, they came from Andy Dalton and Jameis Winston), and have allowed just over 250 passing yards per game through two weeks. San Francisco's defense is also tied for third in the league with seven sacks. This will be a baptism by fire for Rudolph, and I'd be looking elsewhere for my starting QB until we see for sure what he's capable of.
Vance McDonald (TE, PIT)
Both of Rudolph's touchdown passes in Week 2 went to Vance McDonald, so there's that. The 49ers have allowed just 74 receiving yards to opposing tight ends through two games, however. I like McDonald as a volume-based starter at tight end for Week 2, as I expect the young QB to look his way often against a tough defense.
JuJu Smith-Schuster (WR, PIT)
I feel like the crew of the USS Smith-Schuster is abandoning ship, and I'm not really sure why. He's caught 11 of 16 targets for 162 yards through two games. I'll allow that you were hoping for more if you drafted him, but that's decent PPR work at the very least. Let's chalk Week 1 up to facing a Bill Belichick defense, which, nine times out of 10, is going to take away the opposing team's best option. It's worth remembering Smith-Schuster still managed six catches for 78 yards even with Stephon Gilmore chasing him around all night. As for Week 2, I think it's fair to allow for an offense to be somewhat out of sync when its franchise quarterback leaves the game and is replaced by a kid who had never attempted a pass in the regular season. Smith-Schuster caught five passes for 84 yards in that one. I'll temper my expectations until we get a better idea what to expect with Rudolph at the helm, but I'm still locking Smith-Schuster in as a high-end WR2 for the time being.
James Washington/Donte Moncrief/Ryan Switzer (WR, PIT)
If for some reason you're still wasting a roster spot on Donte Moncrief, stop it. He's been targeted 11 times and has dropped more of them than he's caught. Ryan Switzer is averaging a whopping 4.1 yards per reception. James Washington has only four catches on nine targets. None of these three are fantasy-relevant in Week 3.
New Orleans Saints at Seattle Seahawks
Matchups We Love:
Chris Carson (RB, SEA)
The Saints have allowed opposing backs to gain 120 yards per game on the ground through two weeks. Without a firm idea of what to expect from the Saints without Drew Brees, I envision a game script in which Seattle's offense has the ball a lot on Sunday. Chris Carson has averaged just 3.5 yards on 30 rushing attempts so far, but maybe a defense surrendering just under six yards per carry gets him going. Carson is also the featured pass-catching back after two games, with nine catches on 10 targets.
Jared Cook (TE, NO)
Jared Cook is off to a painfully slow start, and it doesn't help that he's now without a future Hall-of-Famer at quarterback. I wouldn't blame you for benching him if you were able to grab a better option off the waiver wire, but consider this before you do: Seattle is tied for the second-most receptions allowed to opposing tight ends (16), and have permitted the position to gain 131 yards and two touchdowns through two weeks. It's not impossible to imagine Teddy Bridgewater checking down to his tight end frequently on Sunday, so consider Cook a low-end starter with a favorable matchup.
Matchups We Hate:
Will Dissly (TE, SEA)
New Orleans has permitted tight ends to catch six passes for 59 yards through two games. Banking on another two-touchdown performance out of Will Dissly in Week 3 is a gamble. He's only seen seven targets through two games, so it's not like there's an established level of high volume to bank on. I'm looking elsewhere for my starting tight end.
Other Matchups:
Alvin Kamara (RB, NO)
You're still starting Alvin Kamara as an RB1 this week, as he's by far the best running back the Seahawks will have faced so far this season. Just bear in mind that the Seahawks' run defense is surrendering the fourth-fewest rushing yards per game to opposing backs, and have held the position to eight catches for 74 yards. Expect Kamara's value for Week 3 to stem from a heavy workload as the Saints try to take some pressure off of Teddy Bridgewater.
Teddy Bridgewater (QB, NO)
If there's a silver lining here, it's that Seattle permitted Andy Dalton to throw for 418 yards and two touchdowns in Week 1. Regardless of what you think of Dalton, I think it's fair to say Teddy Bridgewater has a better array of weapons at his disposal. I'm keeping an eye on him this week, as there is undoubtedly the potential for some upside if Bridgewater is able to keep the Saints offense above water while Brees is out. I'm not starting him on the road against Seattle though.
Michael Thomas (WR, NO)
Michael Thomas leads the NFL in receptions and targets after two weeks, and even with a backup quarterback in the fold, his volume isn't going to drastically decrease. I'm concerned about the possibility of a Kamara-dominated game plan for the Saints offense in Week 3, but Thomas is still going to see his fair share of targets. Temper expectations, of course, but lock him in as a WR1 against a Seahawks Defense that has allowed 400 yards and two touchdowns to opposing receivers through two weeks.
Latavius Murray (RB, NO)
Latavius Murray is too touchdown-dependent to rely on in fantasy. He has just 11 carries through two games, and zero of them have come inside the 10-yard line. He's also got a nearly nonexistent role in the passing game. There are better fantasy options at RB.
Taysom Hill (UTIL, NO)
Expect the Saints to get more creative than ever with Taysom Hill over the next several weeks, especially in the red zone. Without a clearly-defined or sustainable role in the offense, however, he's nothing more than the most touchdown-dependent of long shots.
Tre'Quan Smith/Ted Ginn Jr. (WR, NO)
Ted Ginn didn't see a target in Week 2. Tre'Quan Smith has seen just five total in two games. They have both caught 100% of passes thrown their way, but they've been targeted eight fewer times combined than Michael Thomas has catches. Both are also dealing with injuries. I'm avoiding Smith and Ginn for Week 3.
Russell Wilson (QB, SEA)
The Seahawks have won their first two games by a combined three points, yet Russell Wilson still ranks 26th among QBs in attempted passes. He's been extremely efficient, completing 78.2% of his throws (second-best in the league) for 495 yards and five touchdowns. He's a high-floor fantasy play, I'm just not convinced this game turns into a shootout where he's forced to chuck it a ton. The Saints lead the league with nine sacks, and have been a suspect run defense. I'm leaning toward a run-heavy approach from the Seahawks on Sunday, and I consider Wilson's fantasy value to be dependent on efficiency as opposed to volume.
Rashaad Penny (RB, SEA)
Rashaad Penny has averaged exactly five yards per carry on 16 attempts, and scored a rushing touchdown in Week 2. He's only been targeted once in the passing game through two contests, however, and Chris Carson out-snapped him 43-25 against the Steelers last week. There's upside here, but not enough opportunity yet.
Tyler Lockett/D.K. Metcalf (WR, SEA)
Tyler Lockett and D.K. Metcalf have combined for 18 receptions on 27 targets for 273 yards through two weeks. They've each scored a touchdown for their trouble. On Sunday they'll face a Saints Defense that has allowed four total touchdowns and well over 200 yards a game to opposing receivers. Though I'm not sold on Seattle airing it out in Week 3, the volume and production are there for a productive day out of Lockett as a WR2. Metcalf has less of a track record, so consider him a flex with upside.
Matchups Analysis - Sunday Night, 8:20 PM ET
Los Angeles Rams at Cleveland Browns
Matchups We Love:
None
Matchups We Hate:
Baker Mayfield (QB, CLE)
For a game featuring as much offensive talent as this one, it's probably surprising to see exactly zero players among the matchups we love. With that in mind, consider that the Browns have yet to look like the explosive offense we were expecting, and that both of these defenses have played well through two games. Baker Mayfield has been sacked eight times in two games, and has the 25th-best completion percentage in the league. Without Odell Beckham's thunderous 89-yard touchdown on Monday night, Mayfield would rank 16th in the league in passing yards with one TD and four interceptions. While we can all (probably) agree that the Browns will come into their own as the season progresses, the Rams don't exactly present a get-right matchup. Los Angeles hasn't allowed a passing touchdown yet, and is giving up just 221 yards per game through the air. This is a matchup in which I'd be exploring other options if Mayfield was my QB.
Jared Goff (QB, LAR)
We can probably chalk up Cleveland's success against the pass to the fact that they've faced Marcus Mariota, Trevor Siemian, and Luke Falk. That said, the Browns rank just behind the Rams in terms of passing yards allowed per game (224.5), and even Mariota would not have achieved the 200-yard threshold in Week 1 if not for Derrick Henry's 75-yard scamper. Despite being 2-0, the Rams haven't resembled the unbeatable offense we're used to seeing. Jared Goff ranks 22nd in completion percentage and 19th in yards per game with two touchdowns. I'm well aware of the Rams' reputation on offense, and the QB herd just got thinner due to injury, but I'm avoiding Goff if I can help it this week.
Other Matchups:
Jarvis Landry/Odell Beckham Jr. (WR, CLE)
Aqib Talib hasn't shadowed an opposing receiver through the first two weeks. The fact that one of the ones he could have shadowed was Michael Thomas suggests the Browns will be able to keep Odell Beckham away from the Rams' best corner on Sunday night. Either way, despite Cleveland's underwhelming offense, Beckham is a surefire fantasy starter. Jarvis Landry is second on the team in targets, but he's probably dealing with Talib for most of the night unless the Rams pivot. Neither of the Rams' first two opponents (Carolina, New Orleans) have had success finding their secondary or tertiary receiving options. Landry is a risky flex play in a tough matchup for Week 3.
Browns Tight Ends (TE, CLE)
David Njoku has been ruled out for the foreseeable future with a broken wrist, and even he wasn't heavily utilized early on in the Cleveland offense. Expect even less work for whoever takes over in his place, whether it be Demetrius Harris or Ricky Seals-Jones.
Nick Chubb (RB, CLE)
There's promise in Nick Chubb's spectrum of outcomes if the Browns are able to get the ball in his hands as often as Carolina did with Christian McCaffrey in Week 1. McCaffrey saw 29 total touches for 209 total yards and scored two rushing touchdowns. Chubb has an absolute stranglehold on Cleveland's rushing workload, and is third on the team behind Beckham and Landry in targets. This is a sneaky matchup for Chubb as an RB2.
Brandin Cooks/Robert Woods/Cooper Kupp (WR, LAR)
The Browns have allowed the fewest receptions (14) to opposing wide receivers after two games, and no receiver has scored a touchdown against them. Again, they've faced some pretty bad ones, so the legitimacy of this success has yet to be determined. Cleveland has allowed 16.4 yards per reception to wideouts, which certainly bodes well for the Rams' three speedsters at the position if they can get into open space. I'm curious to see if the Browns elect to shadow any one of Brandin Cooks, Robert Woods, or Cooper Kupp with Denzel Ward on Sunday. If I'm concerned about any of the three, it's Cooks based on target share (10 through two games). You can safely plug this trio into fantasy lineups for Week 3, with Woods and Kupp coming in as solid PPR options.
Todd Gurley/Malcolm Brown (RB, LAR)
Todd Gurley and Malcolm Brown are averaging an identical 5.3 yards per carry. The difference is Gurley has seen nearly twice the workload. Gurley has been suspiciously absent from the passing game so far, but I'm curious to see if that changes against a Browns Defense that has allowed 14 receptions for 142 yards and a receiving touchdown to opposing RBs. In any case, he's a locked-in RB1 for Week 3 based on his efficiency in the rushing attack. As for Brown, you can't justify starting him until he sees more volume.
Tyler Higbee/Gerald Everett (TE, LAR)
There's intrigue here after what Delanie Walker did to the Browns in Week 1: five catches, 55 yards, two TDs. Tyler Higbee has seen three targets inside the 10-yard line, catching all three and converting one for a touchdown. That said, you're very much banking on a touchdown out of him if you plan to start him in Week 3. He and Gerald Everett have seen a combined 14 targets through two games. I'm keeping a close watch on Higbee's role near the goal line, as there is the potential for value down the road. I'm not placing my faith in him against the Browns on Sunday night.
More Start/Sit Advice