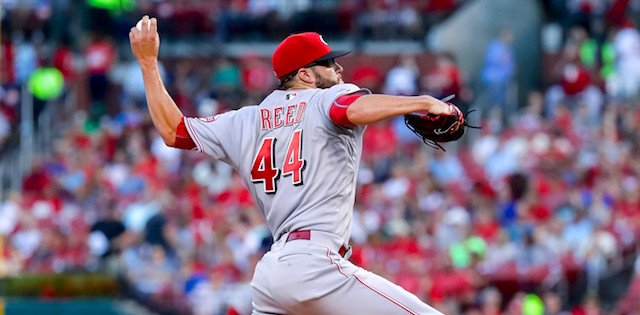 Welcome to the last week of September, everyone! The insane marathon that is the fantasy baseball season is truly in its home stretch, and there's nothing more indicative of the championship week of fantasy baseball than everyone scrambling to get pitchers. Whether it's for your head-to-head matchup or streaming in order to max out your rotisserie innings, we all need arms. Heck, maybe you're out of innings and just want to block your opponents -- I respect that.
As always, you can find me on Twitter @NMariano53 and ask any follow-up questions or about other pitchers not touched on here.
In the interest of my being exhausted and there being plenty of names worth touching on, these blurbs will be short and sweet. Using Yahoo ownership and cutting off around 30%, here are my starting pitcher waiver wire targets for Week 26.
Editor's Note: Get any full-season MLB Premium Pass for 50% off, with exclusive access to our season-long articles, 15 in-season lineup tools and over 200 days of expert DFS research/tools.
Sign Up Now!
Starting Pitcher Waiver Wire Targets
Nathan Eovaldi (BOS - SP): 30% owned
Eovaldi shut down the Yankees on Sept. 18 with six scoreless frames and then followed that up with a season-high 10 strikeouts over five innings of one-run ball against the Orioles. Unfortunately, he has to do battle with the Yanks once again in his final start of the regular season on Sept. 30, but at least he's shown the ability to handle his former team. Plus, 23 strikeouts in 18 September innings with a paltry .206 slugging percentage allowed isn't half bad either.
Ryan Borucki (TOR - SP): 26% owned
Borucki now has four consecutive quality starts and has collected a QS in 11 of his 16 Major League outings so far. I'd have preferred he didn't force himself to work around four walks in his latest appearance against Tampa Bay, but he struck out seven for the second straight time and has yielded just four hits apiece in each of his last four times on the bump. It's never ideal when a pitcher has to face the same lineup in back-to-back starts -- he's set to finish out against the Rays again -- but he's been solid in each appearance against an improved Tampa squad so I shan't fear them.
Adam Wainwright (STL - SP): 23% owned
Waino will face the Cubs in Wrigley on Sept. 28 for his last start of the regular season. Scoreboard-watchers won't feel as confidently about him as those who saw his start against the Giants, as he was solid through six innings before a string of four singles bounced him in the seventh and inflated his numbers. He'd walked none and scattered four hits through six frames, so let's hope he either stays strong through the end or his coaches recognize a late fade when it occurs.
Cody Reed (CIN - SP/RP): 16% owned
Those of you who specifically like getting SP/RP eligible starters to shoehorn into your lineup should be all over Reed, who faces the Royals at home as he looks for his third straight strong outing. Reed struck out 10 Cubs over five shutout innings on Sept. 15 before holding the Marlins scoreless over six frames on the 20th, as the 25-year-old Red may just have figured something out down the stretch.
Zach Davies (MIL - SP): 15% owned
Some of you simply need wins, and while Davies has taken two straight losses at the hands of the Pirates, he and the Brewers take on the Tigers at home on Sept. 28 in their quest for the NL Central title. Davies has maxed out at five innings since returning to action earlier this month but has a 3.32 ERA/1.11 WHIP with 15 strikeouts in those 19 innings. In other words, perfectly reasonable stats that should yield a W against a Detroit ballclub whose team wOBA of .291 against righties is tied with the Padres for worst in 2018.
Felix Pena (LAA - SP/RP): 12% owned
Pena burned some of you (...us) by getting hit for six runs over four innings in Oakland on the 19th, but he rebounded with a quality start against Texas at home and will get to redeem himself against an A's squad that may be looking over the Angels at their Wild Card matchup come Sept. 30. He has a 3.49 ERA/3.44 FIP/3.73 xFIP with a 45/11 K/BB ratio over his last eight starts with six quality starts mixed in. If you want to take Oakland's side of that game, have a look at the mustachio'd Daniel Mengden (6% owned), who is slated to oppose Pena after allowing three runs on five hits across five innings to Seattle on Sept. 24.
Thomas Pannone (TOR - SP/RP): 9% owned
Pannone is now 4-1 with four quality starts in five starts for Toronto in '18, with a particularly impressive stretch of limiting the Indians, Yankees and Rays to just two runs each in recent weeks. It'd be nice if he could face someone other than the Rays for his final start considering they're a top-five offense in the last 14 days, but Pannone has dialed up a spectacular 35.6% soft-contact rate as a starter in September. That's the best out of any American League starting pitcher with at least 20 innings in the month (Anibal Sanchez's 40.7% in the NL bests him, while Walker Buehler and Jacob deGrom just come up short). That's good, yeah?
Trevor Richards (MIA - SP): 5% owned
Richards will face the Mets in New York for his final performance of the 2018 season, and while the Mets have shown more life in the second half, they're still batting .228 as a team with an above-average 22.8% strikeout rate over the last two weeks. Richards hasn't been the sharpest with command in September, but his latest trip to the rubber saw him dominate Cincinnati with nine strikeouts over seven shutout innings. There are worse gambles you could make.
Antonio Senzatela (COL - SP/RP): 5% owned
Senzatela is another doozy for the SP/RP crowd, as the young Rockie will face the Phillies on Sept. 27 as Colorado fights for its playoff life. He's won his past two starts with two combined runs allowed over 12 innings, though they were both away from Coors Field. But the Phillies' collective 23.4% strikeout rate and .218 batting average over the past 14 days are worse than the Mets if you need a 5% pivot.
More Waiver Wire Pickups and Streamers