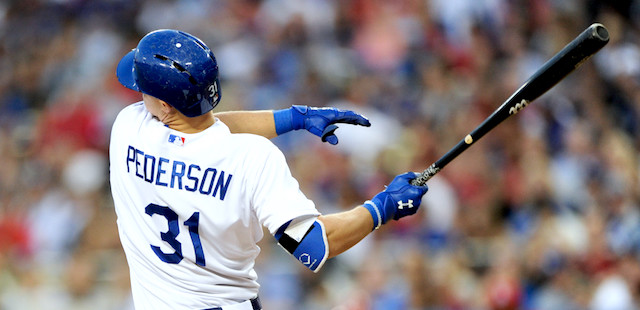 What Appears In This Article?
hide
RotoBallers, I'll dispense with the nonsense this week. The vast majority of you will be skipping the few paragraphs of color I offer prior to getting to the good stuff. If you're here, you're playing for dollars, belts, and glory.
If you do read this, then let me once again put forth my impassioned plea to get you and your league a championship belt. Guys, seriously, $10 from everyone will give you enough to get a dope belt to pass between you and your leaguemates. Plus, if you're reading this, then you're playing for the belt! So you get to carry that beast over your shoulder like you're John Cena, cue the trumpets.
Ok, without further ado, here's your championship week waiver wire adds. We're looking at guys that will help you this week and damn the torpedos. Since many leagues have reverted to H2H for the playoffs, counting stats are more critical than ever. So enjoy week 26 and see you next year, Rotoballers!
Editor's Note: Our incredible team of writers received 13 award nominations by the Fantasy Sports Writers Association including Baseball Writer of the Year, Football Writers of the Year, Golf Writer of the Year and many more! Be sure to follow their analysis, rankings and advice all year long, and win big with RotoBaller!
Read More!
Week 26 Outfield Waiver Wire Targets
Joc Pederson (OF, LAD) - 18% owned
8 games vs. SD, ARI, SF
Dodger's outfielder Joc Pederson is one of my favorite fantasy assets. He also happens to be one of the most misunderstood. The fact that his ownership percentage is at 18% is evidence of this fact. To their credit, the Dodgers have learned how best to utilize him, and fantasy owners should learn the same.
Joc is a hard split asset. You deploy him against right-handed starting pitching and never against southpaws. There really isn't any more to understand about using him, but people see the good weeks and think you can throw him out there any time. Joc has sat against all left-handed starters and, wouldn't you know it, is putting up All-Star caliber numbers playing part-time. I personally have been using Joc in our staff Ottoneu league, in which I'm playing for my own belt, and the four dingers he's put up in the last two weeks while opening up a roster spot for another hitter when he's playing against a less advantageous matchup. The .290/.313/.645 line he's put up in 32 plate appearances is great. Add in the extra production I'm getting from guys like Kevin Kiermaier, Joc's teammate Alex Verdugo, or any of the other guys on this list, and you have the recipe for dynamite production out of a single spot.
Luckily for Joc, he plays a tidy eight games against teams with righty heavy rotations. He should have plenty of opportunities to smash homers, making him a must play in DFS and H2H situations. And he's one of the few assets that I'd add even if I don't need to use him. I don't want that bat in the lineup against me, so grab him immediately.
Kevin Pillar (OF, TOR) - 18% owned
8 games vs. TB, HOU
I've talked at length about Kevin Pillar over the course of the 2018 season, so I won't belabor the point. The Blue Jays' centerfielder is one of the few players you need to watch for where he's hitting in the order. Luckily for owners, he's getting in good spots for him and filling up the stat sheet. The 29-year-old is the only option of this list where he has a good shot of putting up a combo of steals and homers. Plus, the Blue Jays have a surprisingly strong offense from a numbers perspective, so Pillar is getting great opportunities to contribute.
Pillar has a couple of tough matchups over the final eight games of the season against Tampa and Houston, but he's fared surprisingly well against the two squads.
Ryan O'Hearn (1B/OF, KC) - 14% owned
8 games vs. DET, CIN, CLE
I'm in love. I have shares of O'Hearn in dynasty leagues, and I sort of forgot he existed until he got called up. After 11 knocks and a .272/.372/.632 line in just 146 plate appearances, the young first baseman and outfielder has made quite the impression on Kansas City. He'll go into 2018 as the starting first baseman against right-handed pitching, although they'll desperately need to supplement him with someone that can make decent contact against southpaws.
That's right, we have another platoon hitter. But with as well as O'Hearn mashes dudes who just happen to use their right arms, you shouldn't care. He crushes strong-side pitching. Over the last two weeks, for example, he slashed .345/.424/.655 over 33 plate appearances, with more than half of his hits going for extra bases. For a fun exercise, check out his Rotoballer matchup ratings sometime. They're among the best the rating system has to offer when he hits against righties. If O'Hearn hit both sides of the plate as well, we'd be talking the next Albert Pujols. He's a legitimate monster.
This is another guy that I'd be adding just to play keep away. He has a very solid set of matchups in the next eight games. If you've survived up to this point playing someone like Justin Smoak at the three, grab O'Hearn and thank me later.
Peter O'Brien (OF/1B, MIA) - 4% owned
9 games vs. CIN, WAS, NYM, PIT
I'll be 100% honest RotoBallers. This guy completely evaded my radar until I spun up my usual tools for finding and picking out waiver wire adds. But while I usually would just chalk up a line like .294/.375/.647 and three dingers over his first 40 major-league plate appearances since 2016 as beginner's luck, I was intrigued enough to dive in. A 28-year-old rookie on his seventh organization, O'Brien had six home runs on just 79 plate appearances heading into the cup of coffee he's received with Miami. The power he's shown all season, 30 homers between double and triple-A, was expected. He's a big swinger who strikes out frequently. In his first two tastes of the bigs, he was teed up to the tune of 41.7% and 40.3%, and neither of those numbers were terribly unexpected. He's the spiritual successor to Matt Reynolds, a guy who can send the ball to the moon, take a walk, and set single season strikeout records. With a little more playing time, he might compete with Joey Gallo, Yonder Alonso, and Chris Davis for the three true outcomes trophy.
There's a little extra team-building theory to this pick too, so allow me to offer some additional thoughts. H2H, whether your league is roto or points, is all about plugging in as many at-bats as possible that can be productive and not harmful. Many H2H leagues include deductions and penalties for strikeouts, grounding into double plays, leaving men on base, and other negative outcomes. But home runs, steals, and other extra base hits bring nice bonuses. So you want to fill your lineup with a mix of guys who can produce bonus points and players who are steady enough to weather the kinds of dramatic swings players like Gallo or Alonso can be subject to.
Which brings us back to O'Brien. He is indeed a huge cutter who has made soft contact on, and I swear this is true, just 4.3% of contact. When he hits a ball, he freaking hits a ball. But there have been a few changes which might be indicative of good things to come. For one, while he's still striking out around 30%, that represents a major improvement. Furthermore, it's been a consistent change all year. He's swinging less, which has cut his rate of swings on outside pitches by more than 15% from his career average and his swinging strike rate nearly in half. For a guy with moonshot power and a swingers mentality, these are the first two numbers to drop when a guy shifts from a scrub to an asset. And sure enough, his contact rate is up more than 10% over his career best. And as we've clearly established, when O'Brien hits the ball, he hits the ball.
TL;DR while he's not the next Frank Thomas, Peter O'Brien could be a useful fantasy option for the end season run, especially in H2H points leagues. Remember, all you care about is filling at-bats with guys who can produce, and O'Brien can produce in bunches. He's the perfect kind of asset to pair with Tommy Pham or Anthony Rendon, steady eddy types. O'Brien's Marlins are also playing the Pirates as the only game on the last day of the season, so if you need a reason to care that's a pretty good one.
More Waiver Wire Pickups and Streamers