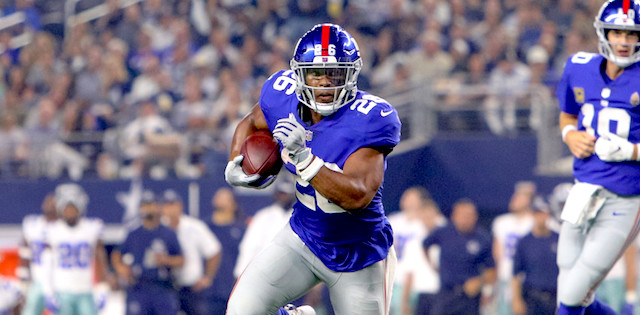 The season is officially in full swing. Two weeks are gone, and 32 games are already on the books providing some tasty information and data to crunch.
At this point in time, there is no excuse for you not to access the advanced statistics being used in every sport you follow and their importance. Back in the day, it was all about wins and losses, passing yards, and touchdowns scored. It is not that those stats are worthless, but they don't offer enough to the savvy analysts. While football is yet in its infancy in terms of analytics compared to baseball, the evolution the sport has seen lately in those terms is notable.
You already know why I'm here: I'll be tackling NFL's Next Gen Stats on a weekly basis, bringing you the data from the just-completed week's games and highlighting some takeaways you should take into consideration when assessing fantasy players for the upcoming games. In case you're new to the series, or Next Gen Stats altogether, I recommend you read our preseason primer. With this little introduction and two-way congratulatory message (I wanted football back in my life as much as you did, we both deserve congrats for enduring such a hard summer of endless waiting) out of the way, it's time to get to the data!
Editor's Note: Get any rest-of-season NFL Premium Pass for 50% off. Our exclusive DFS Tools, Lineup Optimizer and Premium DFS Research through the Super Bowl.
Sign Up Now!
Week 2 - The Running Game Is Alive!
Back a couple of weeks ago when I introduced the series to you, I mentioned one of the most important concepts to consider when analyzing players: Air Yards. The metrics around it are key to know who is really over-performing or under-performing among receivers and passers, but it doesn't have much to do with rushers. For this last group, which mostly features on the ground, we can look at time, speed, and efficiency metrics.
With only one week of data, I deemed it optimal to first look at wideouts and tight ends, as their receiving profiles were probably true from the get-go. The best players were going to get targeted no matter what, and deep threats would remain being speedsters, just as short-router-runners would also keep their profile the same.
I'll focus on running backs for this week's entry. You know about the good old debate surrounding the position and its two opposing philosophies: do you prefer a patient rusher with great instincts, or would you rather bet on your typical smashmouth, head-first beast that just relies on brute force to make a way for himself?
We can define runners in terms of how they move, and how quickly they do so. Two advanced stats allow us to measure these things: Efficiency (EFF) and Time Behind the Line of Scrimmage (TLOS). Those are the metrics (among others) that we will review next. Just so you know the context we're working within, here are some takeaways from the first two weeks of the season and the data I'll be using:
Through Week 2, NFL teams have attempted 2,272 passes and 1,583 rushes. That makes for a 59/41% pass/run split. The pass is favored, as we should have expected, but so far the running game remains featured heavily on offenses.
The Vikings are by far the most run-heavy team of the season with a 40/60% split. They're followed by San Francisco (42/58), and Baltimore (46/54). Indianapolis and Dallas are the other two team running more than passing through Week 2.
The data for this article comes from the NFL NextGenStats and it only has information about running backs with at least 10 rush attempts. There have been 53 RBs to reach the 10-carry mark in the first two weeks of the season combined. Marlon Mack has the most carries (45) while six players are tied for the lowest mark with 10.
Efficient Rushers Make the Best Runners
Let's start digging into individual player data taking a look at the most (and least) efficient rushers of the first two weeks. Remember, Efficiency (EFF) tells us the total number of yards (both vertical and horizontal) the rusher traveled in comparison to the vertical yards he gained. If he gains 10 yards traveling another 10, we know he ran a straight line forward for an Efficiency of 1.0. If he gained 10 yards but traveled 20 total yards, he had a 2.0 Efficiency as 10 of those 20 yards didn't give his offense any real advancement up the field. The lower the number, the more a North/South runner.
Here are your leaders and trailers of the season in EFF:
I made the cuts at EFF values of lower than three for the most efficient rushers, and seven or higher for the least efficient ones. Although there are only 13 players out of the 53 in the table, some interesting things can already be taken from it.
The first thing that jumps off the page is the correlation between EFF and Y/ATT. As you can see, every one of the most-efficient rushers have averaged at least 4.9 yards per attempt. On the other hand, none of the six-least efficient runners have posted more than 2.2 yards per carry. Overall, the R-squared value of the relation is up to 0.57 (where positive-1 means total correlation).
At the end of the day, less is more. Hand the ball to your running back, hope for him to find the most efficient route, and rejoice in a fresh pair of legs along with a nice gain every time he touches the ball.
Fantasy Takeaways:
In a low-usage couple of weeks, Devin Singletary has been the most-efficient runner of the league. It makes total sense and passes the eye test. He has run for more yards than 37 other rushers, his average his out worldly, and although Frank Gore has taken on RB1 duties in Buffalo it is just a matter of time for Singletary to get the leading role.
Draft-day darlings Saquon Barkley (2.33 EFF), Dalvin Cook (3.18), Alvin Kamara (3.38), Christian McCaffrey (3.42), and Ezekiel Elliott (3.49) have all been above-average in terms of efficient running. All of them have 26 or more rush attempts, 4.6 Y/ATT or more, and only Kamara has yet to score a touchdown.
Justin Jackson, the backup of Melvin Gordon's backup Austin Ekeler, has been much more efficient (and better overall) than the latter one. Jackson's 2.75 EFF ranks third-best in the league, and his Y/ATT are more than double those of Ekeler (8.9 to 4.3).
Cincinnati should cause concern to fantasy GMs looking for rushing options in the Bengals. Both Mixon and Bernard are two of the least-efficient rushers in the league. They have at least 13 carries each, both have logged just 27 yards in two games, and they have still to face a stacked box (eight or more defenders in the box). They should be outright skipped in fantasy lineups.
New England's Sony Michel is the only player with an EFF over 5.0 to have (almost) 100 yards on the ground. Although he's running much more than he's awarding the Patriots, he's been used heavily (36 attempts) and producing nicely having already scored a touchdown.
"Patience" Doesn't Matter Much (If Anything)
If you have read the last section and not skipped straight to this one, you see how Efficiency and Y/ATT have a massive correlation of around 57%. That is a really good relationship between both variables. Sadly, we can't say anything close to the same about the time rushers spend behind the Line Of Scrimmage (LOS) and the yards they ultimately get per attempt.
Looking at the TLOS metric, we get just what it stands for: the amount of time a rusher spends before crossing the Line of Scrimmage, no matter if the RB uses that time standing still in the back of a lineman waiting for an opening, or just moving east/west trying to break through some hole. High or low TLOS values don't correlate with better or worse efficiency neither, mind you.
Here are the slowest and fastest RBs to cross the LOS through the first two weeks of the season:
| | | | | |
| --- | --- | --- | --- | --- |
| Player | Team | TLOS | ATT | Y/ATT |
| 1. Josh Jacobs | OAK | 2.34 | 35 | 5.3 |
| 2. Gus Edwards | BAL | 2.37 | 20 | 3.4 |
| 3. Ronald Jones II | TB | 2.43 | 17 | 4.9 |
| 4. Sony Michel | NE | 2.54 | 36 | 2.8 |
| 5. Frank Gore | BUF | 2.57 | 30 | 2.9 |
| 6. Derrius Guice | WAS | 2.59 | 10 | 1.8 |
| 48. Justin Jackson | LAC | 3.02 | 13 | 8.9 |
| 49. Austin Ekeler | LAC | 3.12 | 29 | 4.3 |
| 50. Phillip Lindsay | DEN | 3.21 | 24 | 3.3 |
| 51. Raheem Mostert | SF | 3.22 | 22 | 5.6 |
| 52. Marlon Mack | IND | 3.24 | 45 | 5 |
| 53. Tony Pollard | DAL | 3.27 | 17 | 2.7 |
As you see, there is not much to say about this data. Among the rushers to go forward faster than the rest, there is a mix of rookies (Jacobs and Guice) and veterans (Michel and Gore). The same happens for the slowest, with the contrasting years of experience of veteran Morstet and newcomer Pollard. The production is spread all over the place and varies without reason. Even in this small sample of 12 players, the R-squared correlation amounts to only 0.05 (5%), and in the full dataset of 53 players, it doesn't even reach 1%.
With this in mind, though, we can still try and comment on some of the names to appear on the list and others lost in the middle of the dataset.
Fantasy Takeaways:
The Raiders have only given 10 or more carries to Josh Jacobs, and the team-player pair has the lowest TLOS of the whole league during the first two weeks. It is working for the running back, as in as many as 35 attempts he's putting up 5.3 Y/ATT, tied for 13th-best in the NFL.
San Francisco is the only team for which three rushers have logged more than 10 carries each. None of them has a TLOS lower than 2.64, and on average they're spending 2.94 seconds behind the LOS when running. None of them has been overly efficient, but both Matt Breida and Raheem Mostert are averaging 5.5 Y/ATT or more in at least 22 carries each.
Kansas City has the most-similar running backs in TLOS. LeSean McCoy has a 2.74 TLOS and Damien Williams a 2.75 mark. McCoy, though, has been much more efficient (3.47 EFF; 104 yards in 21 attempts) than Williams (8.83 EFF; 34 yards in 22 attempts).
On the other hand, Dallas has featured two completely opposite runners: Ezekiel Elliot has a 2.64 TLOS compared to Pollard's 3.27 TLOS (more than half a second slower!). No wonder Elliot's making the most out of his carries with 4.6 Y/ATT while Pollard is just at 2.7 Y/ATT.
The poster boy of the "Patient Running Back Movement", Le'Veon Bell, has a 2.94 TLOS in 38 attempts for 128 yards. That is the ninth-slowest average among the 53 qualified players, sandwiched between James Conner (2.93) and Todd Gurley (2.95)
A Quick Note On Stacked Boxes
Although this was no part of the original plan, I would like to make just a brief comment on the impact of facing stacked boxes on the production of running backs.
We define a "stacked box" as one in which the rusher faces at least eight defenders stacked in the box at the time of the snap. A lot of the time we're warned about how running backs that faces stacked boxes on a high ratio are bound to produce less, or at least have it harder to run for more yards. That, my friends, is just false.
Same as we've seen with TLOS, the correlation between 8+D% and Y/ATT is almost non-existent. This season, the R-squared value of those two values amounts for 0.01. That means the presence of a stacked box or not only explains 1% of the Y/ATT a rusher gets. If you want a bigger sample size, for the whole 2018 season the relation was 0.06 or 6%. That is something virtually negligible and in most cases is just a product of the game's situation.
Rushers that only feature on goal-line situations almost always will see stacked boxes. They will also average fewer yards per attempt, basically because they can't run long distances as they see the final yards of the field. Dalvin Cook, an all-around running back, has seen stacked boxes on 29% of his runs this season and is averaging 6.5 Y/ATT. At the other end of the spectrum, Marlon Mack has a 8+D% of just 5.88 yet he's averaging 5.0 Y/ATT. Both lead their teams' backfields, they are facing different approaches from defenses, yet both are producing similarly good numbers.
Main takeaway: don't focus too much on stacked boxes data. It goes for nothing.
More Fantasy Football Analysis