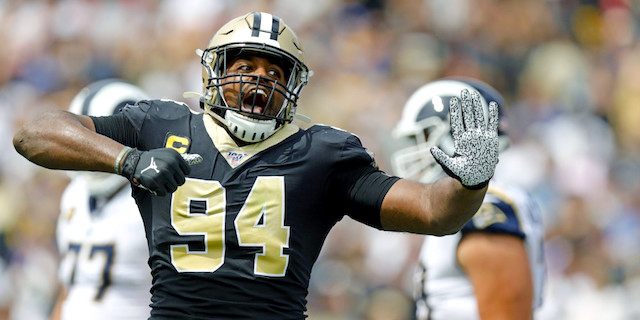 For many of you, the fantasy football season is over. I know the last few weeks made it particularly difficult, but I hope it ended on a high note for you. At the end of the day, we all started playing this game because it was fun, so even though the season can be tilting and is certainly a grind, the hope is that we always get some enjoyment out of these few months and make some trash-talking leverage with our friends.
I'm grateful for those of you who have checked out this column on a weekly basis, as well as those of you just checking it out for the first time. Picking the right DST is always a crapshoot, and I know I've gotten things wrong my fair share this season, but I hope my ranking system and explanations have been useful and helped you to solidify your own process. Remember that, no matter what any writer/podcaster says, it's your team and the final decision should rest with what you feel comfortable doing. Take in all the insight and opinions, but anybody who writes content is just using data, matchup analysis, team information, and trying to make the most educated guess we can.
Lastly, for those of you still working towards a championship this week or using this article for DFS in Week 18, the column will be the same as it always is. My biggest piece of advice for this week is to not lock in your defense this early in the week. Now that more teams have been eliminated, we may hear news about players resting or rookies getting more of a chance, so the rankings will change. We also may see some teams start to give up, as the Giants did on Sunday. I moved the Bears up to #9 towards the end of the week, but that clearly wasn't enough, and I never expected the Giants to run the ball 40 times even though they were down by 20+ for most of the game. However, that is the danger of these end-of-season games, so you'll see that safety is something I'm valuing heavily in this week's rankings.
Make sure to always check the link to my updated rankings as the week goes on. Especially with all of the COVID-chaos, I will likely be updating that Google Sheet every day to reflect the newest information.
Editor's Note: Be sure to also read our other Week 18 waiver wire articles for even more in-depth waiver wire analysis on running backs, wide receivers, tight ends, quarterbacks, kickers, IDP leagues, recommended FAAB waiver wire bids, and players to consider dropping.
Picking The Right Defenses To Pickup and Start
Just a quick recap of my general philosophy and what we discussed at length last year: when choosing a defense, you want to look for defenses that get consistent pressure and takeaways. Sacks and turnovers are more valuable for fantasy defense than preventing yardage, and even to a certain extent, preventing points. If a defense allows a stingy yards-per-play number, that's great and I'll cite some of those numbers below. However, they better also be able to get into the backfield or force turnovers, or else it won't really matter in the long run.
Essentially, we need to move away from points against as being the most important factor in choosing a fantasy defense.  With offenses putting up video game numbers, it means that we can't continue to judge a defense solely by the number of points they allow or the number of yards they give up. Those numbers will naturally be higher than we're used to. Instead, we need to look for which offensive lines are truly weak points and which defenses will either be blitz-heavy or get consistent pressure with their pass rush. These are all incredibly important pieces of information in determining which defenses to play in any given week.
Starting the right defense every week can be a difference-maker, so remember to check back here during the week as I will make updates once we get more information on some of these injuries and also get a better sense of the weather for the game.
Week 18 Defenses To Start and Stream: Tiered Rankings
Returning for this year: Confidence Ratings (out of 15) - Since every league's DST scoring is different, projections don't always make a ton of sense. The confidence rating is a guideline for how much more I like one team over another instead of just a point projection. A zero means "do not start," then the confidence rises from there. Typically, the top-three tiers will be DSTs you should target, with Tier 4 being options in deep leagues.
New this year: BOD (Best Overall Defense) Rankings. This is my defensive rankings formula based on the stats that I think are most conducive to fantasy success, which are ones that focus mainly on pressure rate but also on turnover rate since these are metrics that traditionally lead to the most consistent results and are also scheme-dependent, thus highlighting defensive schemes that are more fantasy-friendly. You can see the full updated leaderboard here but the basic formula is:
(Pressure Rate x 2) + (Sacks) + (QB Hurry Rate) + (%Drives ending in a Turnover x 2)
Minus
(% Drives ending in a Score x 2) + (Yards per play)
BOD is designed to tell us who the best fantasy defenses are, but depending on the matchup, they might be ranked differently in a given week. That's why we have this column where I will be breaking down my rankings for each week and an explanation of why I have the defenses ranked the way I do. The rankings will take into account their BOD ranking, opponent, injuries, weather, etc., but I hope my explanation will help make sense of each ranking.
Tier 1 Defenses - Fantasy Football Rankings for Week 18
There are few teams with more on the line this weekend than the Saints. The final playoff spot in the NFC will come down to the Saints or the 49ers, and with the 49ers playing a tough matchup against the Rams, the Saints absolutely need to handle business against a poor Falcons team. A week after being short-handed due to COVID, the Saints put a hurting on Carolina on Sunday, finishing as the 2nd ranked defense last week, but they have also been the 3rd-ranked defense over the last month, so last week was not a fluke. That's good news against an Atlanta team that severely dialed back its usage of Cordarrelle Patterson over the last few weeks and might be without Kyle Pitts due to a hamstring injury suffered last week against the Bills. The Falcons allowed five sacks to the Bills and Sunday, so I expect the Saints to get home a few times as well.
Tennessee is another team with a lot on the line as they look to lock up the top seed in the AFC and a bye in the playoffs, which would make it more likely they can get Derrick Henry back in time for their first game. The Titans destroyed a hot Miami team, finishing as the 4th-ranked defense last week by allowing only 256 yards of total offense, sacking Tua Tagovailoa four times, and forcing two turnovers. This isn't new for them as they've been the 2nd-ranked defense over the last month. I know that Houston has been moving in the right direction, and Davis Mills has seemingly been improving every week, but they just allowed three sacks and only scored seven points against a 49ers defense that has been playing slightly worse football than the Titans, so I'm all in on the Titans coming to drop the hammer this weekend.
Tampa Bay failed to deliver on Sunday. It's that simple. They came away with a win, but that was a disaster of a performance against the Jets, both taking into account the on-field and off-field issues. However, if there is anything we can say about Tom Brady it's that he is one of the most competitive players in the NFL, hands down. You can absolutely bet on him making sure this team is ready to go on Sunday with playoff seeding on the line. Add to that a Panthers team that is just atrocious on offense, and you have a real recipe for defensive success. The Panthers gained just 178 yards of TOTAL OFFENSE against the Saints and allowed a ridiculous seven sacks while turning the ball over twice. I know Shaq Barrett won't be out there, but this Tampa Bay defense is going to be playing with their hair on fire.
Tier 2 Defenses - Fantasy Football Rankings for Week 18
I'm surprised we've come to this, but the Colts are playing for their playoff lives against the Jaguars on Sunday. That's bad news for the Jaguars. The Colts have only been OK on defense of late, rankings 13th over the last month, but they were getting a lot of players back off the COVID list last week, and we've seen the effect that can have on a player's cardio, so it's possible this defense really wasn't 100% against the Raiders. The Jaguars were also abysmal against the Patriots and have no real dynamic offensive option with James Robinson out. They gained 253 yards of total offense against the Patriots, allowing two sacks and turning the ball over three times. The Colts are the best turnover defense in the league, so I fully expect them to capitalize on that more than once this weekend.
Here we get our first ranking drastically impacted by Week 18. The Eagles clinched a playoff spot last weekend and essentially have the 7th-seed in the playoffs all but locked up, which caused many to speculate that they may choose to rest their starters. On Monday, they put most of their top players on the reserve-COVID list. We certainly don't want to assume anything when it comes to COVID, but it would seem unlikely these players would be activated before the game. Since they would remain on the IR, Philadelphia would have the ability to call up players from the practice squad and sign short-term contracts to field a roster on Sunday without having to rush players back who may not be healthy. So now, a Dallas defense that has been the #1 DST over the last month is going to get the Eagles' bench players in a game that the Cowboys need to win for seeding purposes. If the Eagles don't activate these players before Sunday, I think you can feel extremely confident in this play.
In a game where Josh Allen simply didn't have it, this Buffalo defense came to play, helping to lead the Bills to a key win and finished tied for the 9th-ranked defense last week. The Bills will be playing another game at home with everything to play for as a win will give them the AFC East crown and a first-round home game. A week ago, we would have likely had them as a top-tier defense, but Zach Wilson is improving as a passer. He didn't light the world on fire against Tampa and only threw for 234 yards, but he didn't make many boneheaded, which is clear growth for him. However, the Bills do have a better secondary than Tampa Bay, so this will be a tough test. I expect the Bills to come out looking to make a statement, and their pass rush has really taken a step up recently with the dynamic play of Ed Oliver, so I think they're a high-floor option this week, but we haven't really seen a high-ceiling game from them in weeks and it's time to start to accept that this might be their new reality.
The Patriots find themselves near the end of tier two after finishing as the 6th-ranked defense last week against Jacksonville. They weren't able to get to Trevor Lawrence as much as was expected since Matthew Judon was on the COVID-IR for this game, but we can assume the talented pass-rusher will be back and ready to go in a crucial game for New England. If the Patriots win and the Bills lose to the Jets, the Pats would win the AFC East and have a home game to start the playoffs. That should give them enough inspiration to come out and try to get after Tua, who struggled against the Titans last week. However, one thing to keep in mind is that the Patriots have clinched a playoff spot and cannot play a home game if the Bills win, so if the Bills are up big on the Jets have halftime, it's possible that New England would rest some of its veterans to ensure they're healthy for the playoffs. It might not be the most likely scenario, but it's Week 18, so we need to account for everything.
The Chiefs are still pushing for the top seed in the AFC and play the first game of the week on Sunday, which means they will absolutely be trying to win, even if they'd lose the tiebreaker to Tennessee if/when the Titans beat the Texans. The Broncos, on the other hand, have nothing to play for, so it might not make sense for them to rush back Teddy Bridgewater (concussion) or some of the other players like Jerry Jeudy and Tim Patrick, who were on the COVID-IR for the loss to the Chargers. If the Broncos are short-handed again and starting Drew Lock at quarterback, you have to like this matchup since they're the 5th-ranked defense over the last month and the Lock isn't going to be able to exploit their man coverage the way that Joe Burrow did. However, we also know that Denver wants to just run the ball all game, which means fewer plays overall. The initial reaction might be that this is a good thing because it means the Broncos won't score a lot, but it also means fewer pass attempts, which means fewer opportunities for sacks and turnovers for this Kansas City defense and caps their upside a bit.
Tier 3 Defenses - Fantasy Football Rankings for Week 18
I'm going to talk about Minnesota and Washington together because they're essentially in the same situation. Both teams have really good matchups, and we covered above just how pathetic this New York Giants offense is and I've certainly learned my lesson after last week. However, Minnesota and Washington are both eliminated from playoff contention, so we're not yet 100% sure if we're going to see all of their starters play this entire game. I could easily see Washington moving up in the top-10 given how bad the Giants are, but I want to hear whether or not they are going to get some young bench players more game action or not before I feel truly comfortable moving them up.
Miami really struggled last week against the Titans, and I know that is fresh in people's memory, but this is still the 4th-ranked defense over the last month and 2nd-ranked defense over the last six weeks. The New England offense looked great against the Jaguars, but it's the Jaguars; this is still a fairly average offense without real playmaking weapons in the passing game. Miami has been blitz-happy of late and leading the league in pressure rate over the last six weeks, so it could be a tough test for Mac Jones to see how he responds to that. Jones has improved as the year has gone on, and the Patriots have a good rushing attack, which is why Miami falls outside of the top-10, but don't forget about them entirely.
Pittsburgh's defense really took it to Baker Mayfield and the Browns, bringing down the quarterback nine times on Monday night. However, they should be in for a little more of a fight on Sunday with the Ravens, like the Steelers, still competing for a playoff spot. However, we've also talked all year about how Lamar Jackson has been playing behind a beat-up offensive line and without a good rushing attack, which has forced him to try to do more. As a result, he's holding onto the ball longer, taking more sacks, and throwing more picks. With the way T.J. Watt played on Monday, you can expect the Steelers to get pressure on Lamar, which could cause some issues. If it's Tyler Huntley again, the Steelers might move up since it's clear that the Green Bay game a few weeks back was likely a career-best effort from the Utah product.
The Packers would be a lot higher on this list, but they have locked up the top seed in the NFC and have nothing to play for. For now, we're going to keep them here since they're the 10th-ranked defense over the last month and are facing a Lions team that is confusing as hell. After saying they were going to cut D'Andre Swift loose, they may have cut him loose from the team because he was barely used on Sunday. Amon-Ra St. Brown is enjoying a heck of an end of the season, but it may be Tim Boyle again at quarterback, so if Green Bay plays any starters, they could be worth a start. However, in the likely event that Green Bay does decide to sit its starters, we may have to bump them down even a bit further.
This Rams and 49ers game is gonna be a scrap. The 49ers need to win to get into the playoffs, and the Rams need to win in order to ensure they host a playoff game. The Rams are the more talented defense, ranking 7th for me on the season and finishing as the 6th-ranked defense over the last month; however, San Francisco isn't far behind, coming in as the 9th-ranked defense over the last month. However, much of the 49ers' fantasy defense success has come against the Falcons and Texans of late, while the Rams just won four straight games against the Cardinals, Seahawks, Vikings, and Ravens. I trust the Rams' talent and their metrics more than the 49ers' recent run of success as San Francisco has had poor pressure metrics for much of the season.
Arizona played a solid defensive game against the Cowboys on Sunday and needs this game for playoff seeding, so one might expect them to be higher in my rankings. However, the Seahawks can still be a potent offense, as they showed last week. I know it was against Detroit, but Russell Wilson has begun to look better and Rashaad Penny looks like the player he was coming out of San Diego State. Given the injuries to the Cardinals' defense, I just find them a bit hard to trust in such an important week.
Cincinnati is another defense to keep an eye on because Cleveland has been eliminated and Cincinnati might not be playing for playoff seeding. If Cleveland rests some of their banged-up offensive players, Cincinnati could move higher up in the rankings. However, Cincinnati is likely playing for either the 3rd or 4th seed in the AFC playoffs, so they may decide that, since both seeds host a playoff game, they'd rather rest players (like injured Joe Burrow) and get healthy for the playoffs. As of now, the Vegas lines seem to imply that they believe the Bengals will rest starters. If so, they shouldn't be used.
Tier 4 Defenses - Fantasy Football Rankings for Week 18
Tier 5 Defenses - Fantasy Football Rankings for Week 18
Download Our Free News & Alerts Mobile App
Like what you see? Download our updated fantasy football app for
iPhone
and
Android
with 24x7 player news, injury alerts, rankings, starts/sits & more. All free!
Win Big With RotoBaller
Be sure to also check out all of our other daily
fantasy football articles
and analysis to help you set those winning lineups, including this new RotoBaller YouTube video:
More Fantasy Football Analysis
Check out all of RotoBaller's fantasy football rankings. Staff rankings are updated regularly for all positions and include standard formats, PPR scoring, tiered rankings and dynasty leagues.