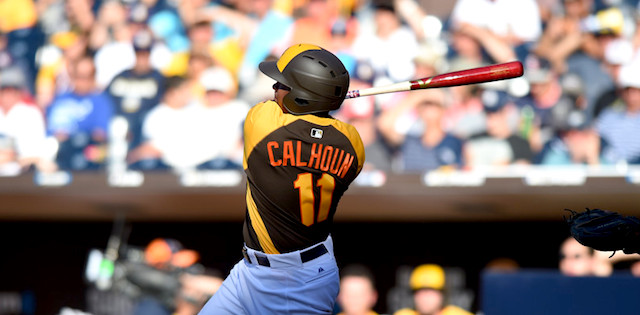 Happy middle of July, RotoBallers! I don't know about you, but it's getting real hot. Both outside and on the MLB trade wire. Moves are being discussed as we speak, which means I need to get this up and in front of your eyes ASAP or all this great advice that will definitely help you win your league could be useless or at least less than helpful. It's hard enough to keep up with trade talks and the rumor mill, but Rotoballer is here to wade through all the conjecture and give you real, actionable advice.
We'll continue our dive into the hottest and most interesting options largely available on waiver wires across the country. And since it's July, we'll be getting prospects into the mix more regularly (or at least trying to). You scouting hounds will no doubt recognize many of the names listed over the first couple of weeks, but keep checking back as I've got quite a few sleepers that will be interesting come late August.
Here are your Week 17 Outfield Waiver Wire Targets. Check out the rest of RotoBaller.com for the content you need to win, and don't forget to follow our team of analysts on Twitter. We have the moves you need to make to get that ring. Happy hunting!
Editor's Note: Get our 2020 MLB Premium Pass for 50% off, with exclusive access to our draft kit, premium rankings, player projections and outlooks, our top sleepers, dynasty and prospect rankings, 20 preseason and in-season lineup tools, and over 200 days of expert DFS research and tools.
Sign Up Now!
Week 17 Outfield Waiver Wire Targets
Jason Heyward (OF, CHC) - 27% owned
I don't want to write this one. Heyward has burned me and many fantasy owners way too many times for me to be excited about suggesting you add him in all leagues.
But… (sigh) that's what I'm doing.
Heyward has been kind of great this season as a runs, runs batted in, and batting average/OBP contributor. No, he's not a star, but look at that .287/.350/.426 with 50 runs and 43 runs batted in with just a 10.8% strikeout rate and tell me that he wouldn't have a spot on your team. That's the kind of unsexy production that can make a champion. How a guy that is 6'5 and 240 lbs can't hit for power is beyond me, but we're past that now. This is what Jason Heyward is, and what he is has value.
And he's been crazy good over the past two weeks. A .342/.444/.447 line while walking nearly twice as often as he strikes out has put him among the best hitters in baseball. Sure, he only had one homer and one steal, but he pitched in 10 runs scored over just 38 at-bats. He's not going to magically transform into the super stud everyone thought he'd be, and that's disappointing, but Jason Heyward is a really good hitter who gets consistent playing time and doesn't give up at-bats. That's a hell of a good no. 4 or no. 5 OF.
Willie Calhoun (OF, TEX) - 20% owned
FINALLY!!! IT HAPPENED!!! This week is just full of emotions for me.
After a surprise demotion to start the season followed by a mopey initial two months, Texas' top prospect Willie Calhoun has finally gotten back to the show. While it's exciting that we'll finally get to see the short slugger in Arlington this year, there are numerous reasons for concern. Not the least of these is his production in the first half of 2018.
While his approach is still among the most advanced in baseball for any player under 25 (and many players over), the vaunted pop that Calhoun possessed has been absent thus far. Eight home runs over 408 plate appearances is quite the disappointment for the guy who hit 59 homers over his last two minor league seasons. That said, he's been much better the last two months, as the aforementioned mopey month of April got him off to a poor start of .229/.308/.365. And while it's taken some time to get going in terms of power production, he hit .429/.520/.619 over 63 at-bats in July, ending his first half with a solid .296/.341/.429.
The fact of the matter with Calhoun is that not much has actually changed with him, and the eye test supports that. His "struggles", such as they were, at Triple-A were likely the result of his head not really being in the game, something to which Calhoun admits. While that may raise some of your personal red flags, and I understand that reflex, the fact is that this is still an extraordinarily gifted hitter with the power, launch angle, and batter's eye to make pitchers pay and fantasy owners drool. Whether he's up for good is really anyone's guess, but if he's in an MLB uniform, you'll want to get your hands on him.
Kole Calhoun (OF, LAA) - 12% owned
Over the last two weeks, Cole Kalhoun Kole Calhoun has been extremely productive. The 30-year-old collected four home runs en route to a .296/.375/.778 line. During this period, Kalhoun Calhoun hit fly balls on more than half of his contact, and was rewarded with a completely unsustainable 40% HR/FB rate. So, is this a return to form for a once budding star or just a very good blip on the radar
The 2018 season hasn't been kind to Calhoun. Nine homers on 283 plate appearances actually look better than he deserves, what with his .131 ISO and .185/.237/315 batting line. He's been a below replacement hitter by a pretty wide margin on the year and spent time on the disabled list earlier in the season. It wasn't until Calhoun returned from the DL with a major adjustment to his swing that he began to have success at the plate again. Fangraphs.com Rahul Setty did a pretty interesting write-up on his mechanical changes that I highly recommend you read, but the TL;DR is that he's putting the ball on the ground waaaaaay less, which corresponds to the dramatically improved production.
If Calhoun's changes hold, he's a solid no. 4 or no. 5 OF in shallow leagues. He still strikes out a lot and doesn't walk as much, but a line of .270/.330/.450 with another 10-12 home runs is a perfectly reasonable expectation for the rest of 2018.
Hunter Renfroe (OF, SD) - 2% owned
Hunter Renfroe, for me, has lived in the same space of the fantasy world as Mark Trumbo or Joey Gallo. Those are guys that I know I'll almost never own because I hate guys that strikeout a ton and always swing for the fences. Sure, you can get 40 home runs, which Trumbo did in 2016 and Gallo did in 2017, but that's literally all they're good for usually. In my humble opinion, a power-only guy is no different than an empty average.
So with that, we come to Renfroe. The 26-year-old is doing his usual thing, albeit with less power production than one would expect. He's striking out 26.4% of the time, which actually an improvement, but only has seven home runs to 197 plate appearances. Part of the issue is that he's hitting fewer fly balls, but actually more line drives. This is due to a change in his approach, which has also yielded a walk rate nearly double of a season ago. Actually, the crazy part about that changed approach has led to the profile of a much improved hitter even if the counting stats aren't showing that yet.
Renfroe absolutely obliterates the ball, producing hard contact on a whopping 50.4% of pitches he gets on the bat. He is also making slightly more contact overall, and swinging on pitches outside the zone much less. Renfroe will never be confused for Joey Votto, and his bat-to-ball skills were never the strength of his game, but even a modest improvement in these areas will allow Renfroe to put his power into play much more frequently. He's an interesting add-in on a deal you might be looking at in deeper leagues, or a prospective add in case he hits.
Justin Williams (OF, TB) - 0% owned
The Rays extremely quietly called up their third best outfield prospect, the 22-year-old Justin Williams, over the weekend. It's likely just a cup of coffee, but it's still notable that he was given the promotion. The Rays clearly want to give him a little exposure to major league pitching, and one of the strengths of his profile is his excellent makeup and desire to improve. Willy Adames, Jesus Sanchez, and Jake Bauers get the majority of the prospect love, but Justin Williams can very easily be the everyday left fielder in a year or two.
Tampa Bay the organization is way higher on the outfielder than prospect writers seem to be, and it mostly has to do with his power output. Williams is a physical beast, standing 6'2 and playing around 215 pounds, but hasn't been able to get to the power that everyone who looks at him knows is there. He's a bit aggressive at the plate, but has a quick swing and good bat-to-ball skills, so he strikes out less than you'd think with an approach like that. He hasn't produced anything special at Triple-A, just a .267/.323/.392 with a disappointing .125 ISO and eight homers on 357 plate appearances, but it's worth noting that he's quite young for his level. The Rays have promoted him aggressively ever since they acquired him from the Diamondbacks in 2015. They believe what I believe, that he's really close to unlocking that potential.
I have no reason to expect it this season, but there's a non-zero chance that Williams goes on a Juan Soto-esque tear where something in his mechanics clicks in place allowing him to use his impressive raw gifts in game situations. In my humble opinion, I think the Rays called him to give their major league hitting coaches time to work on his swing. He should be owned in all dynasty leagues, but he's deserving of a watch in redrafts for August and September. The physical tools of a star are lurking, and if a swing adjustment can turn Max Muncy into an All-Star, it can do the same for Williams.
More Waiver Wire Pickups and Streamers