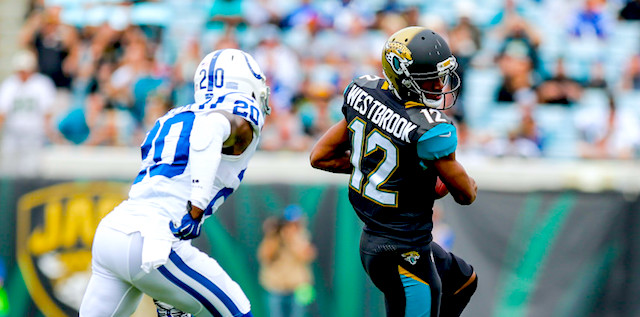 If you are reading this column because you are playing in your fantasy football league's Super Bowl this weekend, congratulations! If you are reading it because you are hoping to win a few thousand dollars in a DFS league so you can buy bigger holiday presents for your friends and family, even better!
This is the final under-the-radar booms/busts column of the season, fantasy folks! It has been a pleasure serving you up low-priced booms and helping you avoid catastrophic busts throughout the year. This is the most crucial week to find the best booms and sidestep the bad busts, so let's not waste any more time!
Here are some under-the-radar booms and busts for the 16th week of NFL action to help you set a winning lineup. Good luck RotoBallers!
Editor's Note: All you early birds can get a full-season NFL Premium Pass for 50% off. Our Draft Kit, In-Season tools and over 150 days of Premium DFS.
Sign Up Now!
Week 16 Under-the-Radar Booms
Sony Michel (RB, NE) vs. BUF
New England's offense has lost its way over the past month, and so has Michel and the Patriots running attack. The three-game early-season stretch when Michel rushed for 316 yards and four touchdowns feels like it happened eons ago. Michel has averaged a pedestrian 60 yards per game and has failed to score over his past three outings, plus he now has to contend with James White AND a healthy Rex Burkhead taking his touches.
Michel will be running against a top-10 Buffalo run defense that stuffed a Michel-less Pats backfield to the tune of 76 paltry rushing yards earlier this season, but no defense has allowed more touchdowns to running backs the past two months than the Bills have. Am I the only one thinking the Patriots will figure things out this week while the Bills will slump in a meaningless road game and the final score will end up being 40-3? Not only do I see that, I see Michel racking up tons of second-half yards and scoring a couple of touchdowns when the Pats salt the game away late.
Elijah McGuire (RB, NYJ) vs. GB
Bilal Powell and Isaiah Crowell are done for the season with their respective injuries, so McGuire is New York's top tailback from here on out unless he follows suit in the injury department. He has rushed for 102 yards and two touchdowns and added six receptions for another 52 yards over the past two weeks as the Jets' uninspired offense has seen a resurgence with rookie signal caller Sam Darnold healthy and appearing like he is getting the hang of being an NFL quarterback.
Green Bay's decimated defense is missing as many key cogs as any team in the NFL and is ranked 22nd against the run. The Packers have also allowed running backs to score six times over the past five games, including a couple via receptions. McGuire is in line for 15 carries and three-to-five catches and could crack the 100-yard mark and reach the end zone a time or two. McGuire is poised to give fantasy players a happy holiday.
Antonio Callaway (WR, CLE) vs. CIN
Calloway has hurt more fantasy players than he has helped this season. He has no 100-yard games to his credit, but unfortunately, he has had five games where he accounted for 25 receiving yards or less. Callaway golf clubs have been more valuable than Calloway the football player in 2018, by far.
Calloway had his second-best game of the season (4-62-1) against Cincinnati earlier in the year, and the Bengals secondary has gotten worse since then (29th in pass defense in NFL). With Cleveland's needle pointing up and Cincy's pointing down as the teams ready for their second "Battle of Ohio" of the campaign, look for Calloway to build off of his 35 yards and a score from this past weekend and provide fantasy owners with even more during their Super Bowls.
Week 16 Under-the-Radar Busts
Dede Westbrook (WR, JAX) at MIA
Westbrook has been the one and only Jaguars skilled-position player to keep his fantasy value above water over the past two games as Jacksonville's offense has died a spectacular death with Cody Kessler at quarterback (did you ever think we'd be begging to bring Blake Bortles back?). Westbrook had seven receptions for 88 yards and a touchdown two weeks ago, and this past week he pulled a Billy "White Shoes" Johnson and returned a punt for a touchdown.
Miami's 24th-ranked pass defense has no Deion Sanders' or Ronnie Lotts on the back end, but Jacksonville's offense is anemic, inept and in no position to take advantage of the Dolphins' defensive deficiencies. We have watched Jacksonville throw in the towel before (against Tennessee two weeks ago) and the Jags could be ready to do it again. There are better economical options out there in DFS leagues than Westbrook if you are shopping for a bargain-priced receiver.
Theo Riddick (RB, DET) vs. MIN
Riddick is the Duke Johnson of the NFC. You just wish the ball was in both of their hands a lot more than it is, because on the rare occasions they touch the ball, usually something positive happens. At least since Kerryon Johnson has been sidelined with his knee injury, Riddick has been getting some carries to go along with his catches and has been averaging 60 combined yards per game over the past month.
Minnesota has to win out to clinch a wildcard spot. Detroit has nothing to play for except for pride and extra dollars for impending free agents. In his last half-dozen games against his purple division rivals, Riddick has only averaged 38 combined yards per contest and has failed to score any touchdowns. Zach Zenner is also starting to out-touch Riddick as Zenner's role has surprisingly expanded in the offense. None of this bodes well for Detroit's underutilized change-of-pace back for this week.
Vance McDonald (TE, PIT) at NO
The better half of Pittsburgh's tight end twosome (Jesse James is the other half), McDonald has been productive for a low-end tight end in recent weeks. He is averaging 27 yards per game and has two touchdown grabs over Pittsburgh's past five games. McDonald sounds like the perfect candidate to provide a big bang for little bucks in DFS contests this weekend.
New Orleans is currently 28th in pass defense and has been close to the cellar in the department all season long. But while the Saints are low-ranked and have allowed three tight end touchdowns over the past three contests, they have been a lot stingier overall as they did not allow Carolina's Cam Newton, Tampa Bay's Jameis Winston, and Dallas' Dak Prescott to throw for 250 yards against them during that span. McDonald is too inconsistent to be counted on in a huge fantasy spot. He may muster 30 yards but unless he lucks into a touchdown than he will not be worth much.
More Weekly Lineup Prep