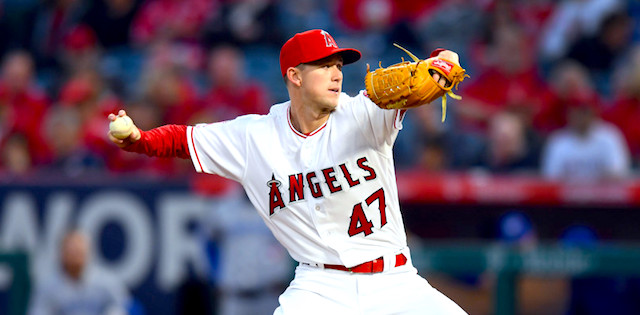 We're at the end of the second month of the season, and hopefully, those of you who have been reading this column are doing well in your leagues.
Looking at Week 8's list there were quite a few rather lackluster performances. That being said, Brett Anderson looks to have been the winning pick after going 2-0 with five strikeouts and two runs allowed over 11 2/3 innings. Week 9, on the other hand, is looking like it could be my best week so far this season. All five starters have combined to go 4-1 with five quality starts, but Sonny Gray looks to be in the lead so far after allowing one run over six innings while striking out seven against the Pirates.
One last note on Week 9 before we dive into Week 10: Jose Urena threw his fourth consecutive quality start and now has seven over his last eight starts. If you're in a quality starts league, pick him up now. And with that out of the way let's look at Week 10.
Editor's Note: Get any full-season MLB Premium Pass for 50% off. Exclusive access to our Draft Kit, premium rankings, projections, player outlooks, top prospects, dynasty rankings, 15 in-season lineup tools, and over 200 days of expert DFS research.
Sign Up Now!
Week 10 Streamers - Under 50% Owned
Wade Miley, HOU - 44% owned
Probable opponents: @ SEA, vs BAL
Miley finds himself on this list again, coming off his best start of the season that also ended with him taking the loss. Miley allowed two runs on six hits and a walk over seven innings against the Cubs while also striking out a season-high nine. The outing marked his second straight quality start, as he has now posted four quality starts over six appearances this month.
Now in Week 10, Miley will find himself going up against a pair of last-place teams in the Mariners and the Orioles. Don't let their records fool you though, both teams have been putting quite a few runs on the board recently. The Mariners have averaged 4.5 runs per game over their last 10 games while hitting .272, and the Orioles have averaged 5.0 runs while hitting .265 over their last 10 games. All that being said, these look like a couple of great matchups for Miley. First off, both teams are averaging over 8.5 strikeouts a game over their last 10 games. And on top of that, both teams are striking out at a higher rate against left-handed starters (SEA: 27.2 percent, BAL: 26.2 percent) than they are against right-handed starters (SEA: 24.4 percent, BAL: 22.3 percent). On top of that, the home-road splits for both teams are in Miley's favor as the Mariners' team batting average is 25 points lower and their OPS is 89 points lower at home than on the road. And while the Orioles' batting average is about six points higher on the road than at home, their OPS is 26 points worse on the road.
Miley has been cruising through the month of May with a 4-1 record and 3.25 ERA. Owners can expect him to start off June on a high note this week, and he should be grabbed as a top two-start option this week.
Griffin Canning, LAA - 37% owned
Probable opponents:@ CHC, vs SEA
You know, for a guy that back in March I didn't think we'd see in the majors this year, Canning has been doing pretty well for the Angels. He's currently 2-1 with a 3.06 ERA this year, and over his last three starts against the Royals, Rangers and Athletics, Canning has struck out 15 while posting a 1.00 ERA.
Now I've already talked about the Mariners' offense with Miley. Canning won't get the same advantage Miley will have in Seattle's home-road splits and lefty-righty splits, but he should have a solid outing against them regardless. Looking at his first start of the week at Wrigley Field, the Cubs show some similarities to the Mariners' offense — which could be good news for Canning. Like the Mariners, the Cubs are averaging 9.8 strikeouts over their last 10 games, and the Cubs' .244 average and .776 OPS at home are 26 and 64 points lower (respectively) than on the road.
If you have to choose between Miley and Canning this week, I'd still pick Miley first. But if Miley has already been picked up off the wire, you shouldn't be disappointed by Canning in Week 10.
Week 10 Streamers - Under 25% Owned
Corbin Martin, HOU - 16% owned
Probable opponents: @ SEA, vs BAL
I'm going to be completely upfront with you guys here: Martin is the risky play in this week's column. Martin looked really good in his debut against the Rangers, with nine strikeouts over 5 1/3 innings, but since then he has thrown 11 innings total over three starts with a 6.55 ERA. While Martin is a right-hander, he'll still get the same home-road split benefits that Miley will get this week, and he'll be going up against the Mariners and Orioles after facing tougher opponents in the Red Sox, White Sox and Cubs over his last three outings.
Like I said before, Martin is a risky play this week. He's worth taking a flyer on if you absolutely need someone, and his matchups this week look somewhat enticing. I think there's a decent chance that this week we could see him return to his Triple-A form, where he had posted a 1.42 ERA and 10.3 K/9 over six appearances before being called up.
Dylan Bundy, BAL - 11% owned
Probable opponents: @ TEX, @ HOU
After ending the month of April with an 0-4 record and 6.67 ERA, Bundy has shown significant improvement in May with a 2-2 record and 2.64 ERA. In his last time out against Detroit, Bundy earned his third quality start of the year after holding the Tigers to three runs over seven innings while striking out eight. Now this week, Bundy faces a tough start against the Rangers and an easier outing against the Astros. Texas is averaging 5.5 runs over their last 10 games while hitting .257 with a .794 OPS, while Houston is averaging just 3.7 runs and hitting .249 with a .708 OPS. One possible silver lining for Bundy's first outing is that while the Rangers are hitting well, they are also striking out a lot — averaging 9.5 Ks over their last 10 games.
This will probably be one of the toughest weeks for Bundy since April, but he has been looking quite a bit better on the mound over the past month. Martin may have an easier slate ahead of him in Week 10, but you might want to look to add Bundy first before considering Martin.
Wade LeBlanc, SEA - 2% owned
Probable opponents: vs HOU, @ LAA
LeBlanc wasn't setting the world on fire this season, but he looked decent in April before being sidelined by an oblique injury. His last three outings have not been very good at all, but he has shown improvement each time out. Now he could be poised for a bounce-back week with starts against Houston and Los Angeles. As I mentioned with Bundy, the Astros' offense has been slumping as of late, but on top of that, the splits look to be in LeBlanc's favor. The Astros' average and OPS on the road are respectively 20 and 22 points than at home, and they are striking out at a 20.3 percent rate against lefty starters as opposed to a 17.3 percent rate against right-handers. Meanwhile, the Angels are averaging 4.8 runs over their last 10 games, but their average is 39 points lower and their OPS is 81 points lower against left-handed starters than against right-handed starters.
He wouldn't normally be a guy you'd want to consider adding as a streaming option — especially with his performance over his last three starts. But LeBlanc could reap the benefits of a pair of very nice matchups where he has the advantage based on batting splits. Martin may be the risky play this week, but I think LeBlanc fits the definition of "high-risk, high reward" in Week 10.
More Fantasy Baseball Analysis