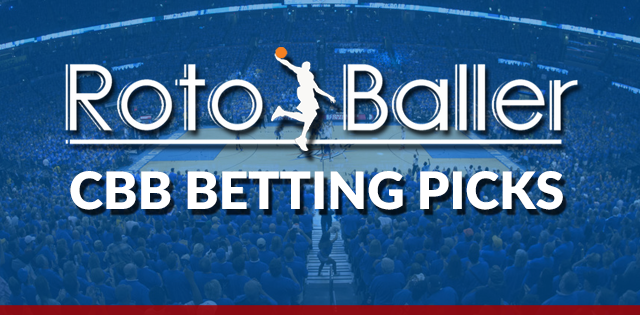 In this article every week, we'll be reviewing some of the top college basketball games of the day to see how we can beat Vegas.  Today's slate of games includes more exciting in-conference matchups and familiar names like the son of a former NBA player who was one of the main perpetrators of the Malice at the Palace.
With a 2-3 record on Saturday, the season record drops to 13-11. This week is a great opportunity to get back in the green and we have a nice slate of games available to us.
Here are some of the top college basketball expert betting picks for Wednesday, January 22. Let me know your thoughts, and follow me on Twitter @fredetterline.
Season record to date: 13-11
California State-Northridge (CSUN) @ California-Santa Barbara (UCSB) - 8:00 pm
The CSUN Matadors are a young team littered with names that the average basketball fan may be familiar with. Head coach Mark Gottfried is best remembered for his seventeen-year stint between Alabama and North Carolina State and is now in his second season leading the Matadors. Ron Artest III, the son of former NBA champion Metta World Peace, is a sophomore defensive stopper that may be the most noticeable name that fans notice, but the two engines that keep the Matadors running are sophomore forward Lamine Diane and diminutive junior guard Terrell Gomez. Diane, who was declared academically ineligible for the fall semester, has returned with a vengeance, averaging 27.4 ppg and playing an average of 33.5 minutes per game (mpg). The 5-foot-8 Gomez was terrific during Diane's absence in the fall and is averaging 20.9 ppg and 37 mpg this season. This team has more talent than any of their Big West counterparts, but it is a matter of getting the team to play more like a team that will be coach Gottfried's challenge.
The UCSB Gauchos entered the season with Big West title aspirations and so far that goal remains the same and reachable. Head coach Joe Pasternack's squad is deeper than their opponent's but is still looking for the offensive firepower to allow them to separate from the pack. Junior guard Jaquori McLaughlin is the team's leading scorer, but sophomore center Amadou Sow from Mali is the player to watch. Sow is a force underneath and is the team's second-leading scorer, but he has had difficulty staying out of foul trouble all year long. Expect the Matadors to use Diane at the power forward and center positions at times to match him up to take Sow off the dribble and draw the Gauchos big fella into foul trouble.
Pick: CSUN +8.5
McNeese State @ Southeastern Louisiana - 8:00 pm
Not much was expected of the McNeese State Cowboys, but they are on a recent four-game win streak that is causing teams to begin to take them more seriously as a Southland conference contender. The Cowboys entered the season largely as an unknown commodity, with only 37% of minutes played last year returning. Coach Heath Schroyer's team, consisting of a few holdovers and primarily junior college transfers, has stepped up to the challenge and appears formidable. One of the biggest additions this offseason was junior college transfer guard Dru Kuxhausen, who is shooting 50.3% from 3-point range on 8.6 attempts per game. The team gets its interior scoring from Shamarkus Kennedy, one of the few holdovers from the 2018-2019 team, and goes ten players deep at times in the solid rotation. This team is much improved and should stay in the Southland race through the end of the year.
The Southeastern Louisiana Lions are in the midst of a rebuilding season, to put things mildly. Aside from a season sweep of Texas A&M-Corpus Christi, the team has not beaten a Division 1 opponent all season, having lost by double digits eight times this season. The offense has been the main culprit for such a dismal season, as the Lions are replacing 60% of the total points scored from last year's team. Junior forwards Pape Diop and Tyron Brewer have stepped forward to lead the scoring, but they are the only two players averaging double-digit points for a team that lost in humiliating fashion by 51 points to Oklahoma State, a team that appears to be a roughly average Big 12 team.
Pick: McNeese -2.5
North Dakota State @ South Dakota State - 8:00 pm
The North Dakota State (NDSU) campus has been buzzing since the school captured yet another Football Championship Subdivision championship. The basketball team, which represented the Summit League in the NCAA Tournament last season, was picked to finish first in the Summit League in both the coaches' and media polls. NDSU is led by senior guard Vinnie Shahid and returns all five starters from last year's tournament team. The Bison have taken a step back this season, including an inexplicable loss to the University of Denver. This Dakota rivalry game always brings out the best in both schools, and should be a must-watch game as it always is.
The South Dakota State (SDSU) Jackrabbits have long been the class of the conference. This season brought much change to the team, with the loss of star Mike Daum, who is playing professionally in Spain, as well as head coach TJ Otzelberger and second fiddle star David Jenkins, who both bolted for UNLV. Eric Henderson, a former Otzelberger assistant, took the reins and a team that had to replace nearly 70% of minutes played from last season. Almost immediately, junior college transfer forward Doug Wilson asserted himself as the team's go-to option on offense and the team's top rebounder, attempting to fill the void left by Daum. The Jackrabbits play their home games at the Frost Arena, where they have yet to lose this season, and only lost one game last season.  The team's 77% home winning percentage since the 2011-2012 season is one of the best in the nation.
Pick: SDSU -2
Boston College @ Pittsburgh - 9:00 pm
2019-2020 will be the sixth year of head coach Jim Christian's tenure in charge of the Boston College (BC) Eagles, and all he has to show for it is one winning season, a 22% record in ACC play, and a first-round exit in the 2018 NIT with a team that had two future NBA guards in Ky Bowman and Jerome Robinson running the show. Things don't appear to be heading in the right direction this year, as BC has lost three consecutive ACC games in blowout fashion. However, the Eagles did find a way to knock off defending champion Virginia and a competent Notre Dame team in South Bend. Coach Christian should now be operating under a now-or-never mentality as his seat continues to get hotter.
Pitt is officially back. Coach Jeff Capel has brought excitement to the program that the team did not see for the final few years of longtime coach Jamie Dixon's tenure and throughout the terrible two years that Kevin Stallings led the program. The young Panthers team is still searching for ways to win, and has been inconsistent at times, including a mind-numbing home loss to Nicholls State, but has shown that it can play with some of the top programs, having beaten fifth-ranked Florida State and nearly knocking off Louisville. Sophomore guards Trey McGowens and Xavier Johnson are the catalysts on an offense that can sputter at times and has only scored over 70 points in seven games this season. The team is recruiting better, but it is clear that Capel is looking for another piece to make his team a legitimate contender. This season the Panthers are surprisingly close to the bubble but might lack the offensive firepower needed to close out some of the wins they will need down the stretch.
Pick: Boston College +12
Thanks for reading, and remember to gamble responsibly.
More Fantasy Basketball Analysis