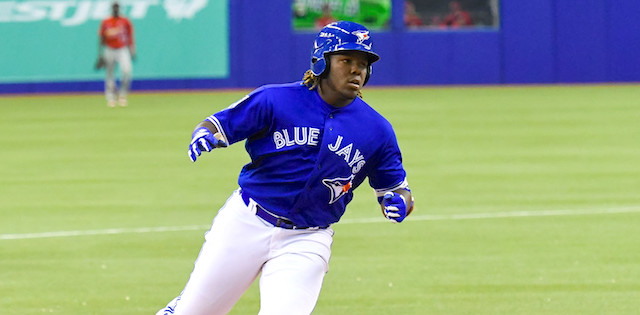 Prospects. For fantasy baseball enthusiasts, we are always looking to know about the next wave of prospects, rookies and call-ups. More than most other sports, baseball gives us a fresh influx of rookie talent every single year. Impact prospects are called-up both before and during the MLB season. Knowing about the right prospect, and drafting/adding him at the right time, can be a difference maker and league winner (see Juan Soto, Jack Flaherty, Aaron Judge and Cody Bellinger).
During the MLB preseason, it's key for fantasy baseball owners to understand who the top prospects are heading into their drafts - and to also know which minor leaguers are next in line for a call-up throughout the year. MLB rookies can get called up at any time really, and make huge impacts for MLB teams and fantasy baseball owners alike. It's an exciting time for everyone involved.
As always, we here at RotoBaller HQ are helping you prepare to dominate. Today we're bringing you our top prospects -- straight from the minds of Ellis Canady, Jon Denzler and Michael Grennell. So without further ado, below you will find our preliminary rankings of the top 2019 fantasy baseball prospects. As of February, this is our ranking of rookies that we feel will make fantasy baseball impacts in 2019.
Editor's Note: Our incredible team of writers received five total writing awards and 13 award nominations by the Fantasy Sports Writers Association, tops in the industry! Congrats to all the award winners and nominees including Best MLB Series, NFL Series, NBA Writer, PGA Writer and Player Notes writer of the year. Be sure to follow their analysis, rankings and advice all year long, and win big with RotoBaller!
Read More!
Top 2019 Fantasy Baseball Prospects - Redraft Leagues
Over the next few days and weeks, we will continue to publish more fantasy baseball prospect analysis columns so stay tuned. You can also read about dynasty prospect rankings in our 2019 fantasy baseball rankings dashboard. There you will also find early staff rankings for mixed leagues, points leagues, dynasty leagues, dynasty prospects and more. Bookmark it!
* Any players marked with an asterisk are technically no longer rookie eligible, but we chose to rank them here regardless since they are so close to rookie eligibility and we still consider them prospects for fantasy baseball purposes. Most of these players exceeded rookie eligibility due to the "Days on Roster" limit, not the AB/IP limits for rookies.
More Fantasy Baseball Prospects & Rookies