For six and a half games, there was no brighter star soaring through the fantasy football galaxy than Deshaun Watson. In 2018, whether it be the ghost of Robert Griffin, III or a limited sample size, the doubters outweigh the believers in Watson. Stop the Slander!
Watson started from humble beginnings. 100 yards and a score in one half in week one. 100 yards and a rushing touchdown in week two. The Jaguars and Bengals made him look like a project. For those who took a late-round flier or a week one waiver on Watson, there was reason to proceed with caution.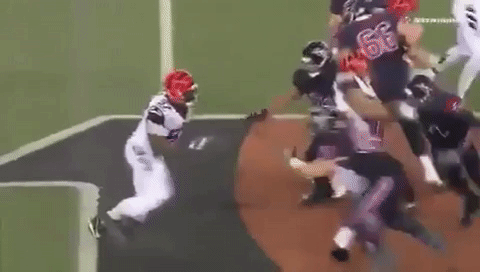 Editor's Note: Get any rest-of-season NFL Premium Pass for 50% off. Our exclusive DFS Tools, Lineup Optimizer and Premium DFS Research through the Super Bowl.
Sign Up Now!
Maybe those NFL front offices were apt in their assesments that Mitchell Trubisky and Patrick Mahomes were better. Could it be that Watson was just a system quarterback? Was Cleveland right to defer its opportunity for Watson for more draft picks?
The doubts, as it turned out to be, were premature.
For five magical sundays, from weeks 3-8, no quarterback was better than Watson. No player was better in the NFL, in fantasy football, in any arena were Watson's highlights could be compared to another man, woman or child's accolades.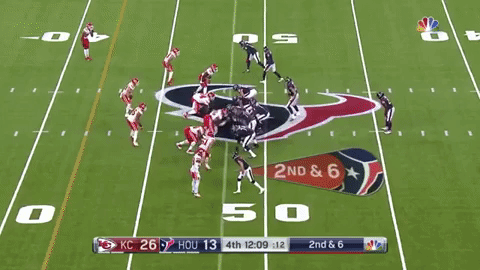 Watson completed 63 percent of his pass attempts. Threw for almost 300 yards, 3.6 touchdowns and only 1.4 interceptions per game. If that weren't enough to you greedy owners who yearned for more, Watson added more delight averaging 5.2 rushes for 37.2 yards.
During that time and space, where Watson sat atop the apex of fantasy football, he averaged a ridiculous 29.1 points per game.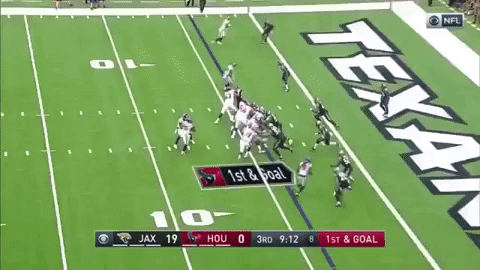 Then the bottom fell out.
Watson tore his ACL leading into week 9. With it, his season was over and the future was in question. Coming into the new season, the doubts about Watson have reemerged. Despite a growing resume of balling out, once again, Watson will be forced to prove himself.
The biggest concern, obviously, is Watson's health. Despite countless players returning from ACL injuries. More times than not, at positions absorbing more contact, there is a false assumption that Watson's mobility is what makes a repeat injury a big threat to this and future upcoming seasons.
If mobility is an issue, it is important we look at the facts. As stated above, Watson averaged 5.2 rushes per game in 2017. That's three rushes less than league-leading Cam Newton. When you compare Watson's tendency to run with the rest of the league, its really not a concern.
The numbers paint a picture of someone who does not use his legs as a crutch but rather a player taking advantage when the time is right. When you compare him to some of the other top QB rushers in the NFL, it depicts a false narrative that has hurt Watson's prospects.
Cam Newton: 8.7 Att/G
Russell Wilson: 5.9 Att/G
Tyrod Taylor: 5.6 Att/G
DeShaun Watson: 5.1 Att/G
Deshone Kizer: 5.1 Att/G
Carson Wentz: 4.9 Att/G
Marcus Mariota: 4 Att/G
Alex Smith: 4 Att/G
Jacoby Brissett: 3.9 Att/G
Blake Bortles: 3.6 Att/G
The difference between Watson, ranked fourth, and Kirk Cousins, ranked 15th, is two rushes per game. Houston averaged 64.2 plays per game. You're telling me that three percent of the Texans' offensive plays is the difference between Watson's viability as a fantasy football stud and the risk-oriented view many are taking?
Watson's offensive line is just as poor as Wilson. Watson's knee is just as questionable as Wentz. It is Watson, however, that everyone has stamped with a big fat question mark.
There should be no limitations to Watson's game. He's said as much in the off-season. He is not a run-first quarterback. Just a signal caller with an incredible talent in two distinct areas that make him unique to the position. He doesn't rely on the pocket like Tom Brady. He is not dependent on his legs like Newton.
He thinks he can throw 50 touchdowns in 2018. He threw 19 touchdowns in six and a half games. While it's rational to expect regression from that remarkable stretch. He is one year more experienced. He has had more time to study defenses and get the ball out quicker. Another year to gel with teammates and one more season with DeAndre Hopkins.
If you were to look at that 2017 stat line more closely, he threw 16 touchdowns in four games. If you were to take the average of his entire (healthy) 2017, he would be projected close to 47 passing touchdowns. It is that crazy to think he can reach near that number--we haven't even added the possibility of a rushing touchdown sprinkled in here and there for fantasy football nirvana.
It is true he is coming off an ACL tear. His second such injury. Modern science has made it that much likelier to come back healthier and stronger. Adrian Peterson won an MVP a year after tearing his ACL--and that's a running back.
Finally, Watson will have to deal with one of the worst offensive lines in the league. He was pressured more last year than any other quarterback. Part of that blame falls on him and the growing pains of being a rookie. What can't be denied is that when faced with a clean pocket he was nearly unstoppable.
According to Football Outsiders Watson's DVOA (Defense-adjusted Value Over Average calculates a team's success based on the down-and-distance of each play during the season, then calculates how much more or less successful each team is compared to the league average) without pressure is 99.3 percent. Um. What!? That is the highest season by any quarterback since 2010.
Now imagine if he's able to get the ball out quicker with an improved line.
You still think he's a risk?
More 2018 Fantasy Football & ADP Analysis