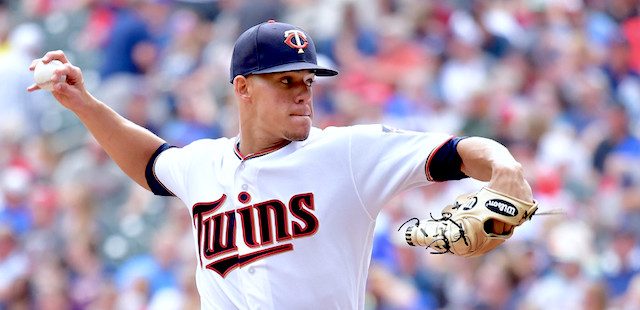 Welcome back to Rotoballer's series using Statcast to extrapolate, dig into, and commiserate over data to examine pitching performances. The weekly series will be dynamic as we fine-tune our findings and enlighten ourselves on the information and tools at our disposal.
We're closing in on two weeks left of regular season baseball and fantasy managers with skin left in the game know its significance. Whether it's the few remaining chances to gain precious roto points or a critical head-to-head matchup to hoist the virtual trophy, each pitcher start is of utmost importance.
For our second to last column (tear), we'll focus on early-inning efficiency for starters, harping on a theme we've hammered home multiple times this season. Pitchers that labor early lack longevity, rendering them worthless in fantasy. When looking for streamers these final starts, let's take a look at guys that have favorable and concerning early pitch counts. For reference, 52% is the median number of pitches thrown in the first three innings.
Editor's Note: Get any full-season MLB Premium Pass for 50% off, with exclusive access to our season-long articles, 15 in-season lineup tools and over 200 days of expert DFS research/tools.
Sign Up Now!
Bound to Pop
All stats as of September 17 for starting pitchers with over 500 pitches since August 1.
Yonny Chirinos, Tampa Bay Rays (4-5, 3.89 ERA, 1.26 WHIP, 7.44 K/9)
After missing nearly three months with an injury, Yonny Chirinos has returned as a lockdown long man for the Rays on "bullpen days". So while he's technically not a starter, he's logged at least five frames in eight straight outings. That qualifies for our purposes. Chirinos has expended only 44% of pitches in his initial three innings, extending his opportunity to pitch deeper into games.
Amidst the eight-outing run, Chirinos has registered a 3.63 ERA and 1.19 WHIP. While the strikeouts are unflattering (6.85 K/9), his K/BB is a superb 3.40. Chirinos pairs a mid-90s sinker with a killer slider that's yielded a sub-.200 average and similarly miniscule slugging percentage. While the 89.0 MPH exit velocity isn't anything special, his sinkerball tendencies have kept hard batted-balls to the grounded variety (43% GB%).
Chirinos' unorthodox usage has caused him to be nearly unowned. While he won't accumulate quality starts, a small minority of leagues are affected. He's actually collected four wins in his role. For owners suffering from innings limitations, it's time to get creative. Chirinos serves as a viable and efficient option.
Reynaldo Lopez, Chicago White Sox (6-9, 4.05 ERA, 1.29 WHIP, 7.07 K/9)
After a scorching but unconvincing start, Reynaldo Lopez predictably crashed to earth. Between April 22 to July 27, his ERA skyrocketed from 1.50 to 4.57. However, normalization has taken hold and Lopez has logged a 2.85 ERA since August. Accordingly, Lopez has lowered his early-inning pitch mix from 53% to 46%.
Lopez has particularly enjoyed September, having allowed only one earned run in 20 innings (three starts). While walks have been his bugaboo (3.59 BB/9), Lopez has issued only four free passes this month (1.80). The reduction in walks has allowed Lopez to fully unleash his arsenal, headlined by a 96+ MPH heater. Predictably, whiffs rates have reached season highs and the September 9.90 K/9 is well ahead of his prior pace.
Two starts likely remain for Lopez, both at home against the Cubs and Indians. The young fireballer has preferred the familiar confines of home (3.81 ERA, 1.11 WHIP). While the opponents are tough, his recent momentum sets him up as a recommended streamer down the stretch.
Other possible risers: Zack Wheeler (NYM, 42% early-inning pitch mix), Kyle Freeland (COL, 43%), Mike Leake (SEA, 44%)
Due to Drop
Vince Velasquez, Philadelphia Phillies (9-11, 4.50 ERA, 1.29 WHIP, 10.03 K/9)
It's late in the season and time to admit mistakes. After touting Vince Velasquez as a sleeper this offseason, we doubled down early in the series. Then tripled down. Woops. Since August, Velasquez headlines our model of inefficiency with a whopping 71% of his pitches thrown in the first three innings.
When nearly three-quarters of pitches are consumed in three innings, endurance is not your forte. Velasquez has gone seven consecutive starts without surviving past five innings. While he's wallowed with an ERA above 4.00, he's digressed meaningfully with a 6.06 ERA and 3.86 BB/9 since August. Unable to develop a reliable third pitch to complement his fastball-slider, opponents have walloped his changeups (.963 SLG) and curveballs (.750).
Velasquez is unowned in most leagues but consistently creeps up in streamer circles. He may yet hold tantalizing stuff, as a 3.66 FIP suggests better days should be in store. But this call is a redemption song. Velasquez had an opportunity to transform his potential into tangible results this year, but consistency was elusive. Maybe we'll jump back on the bandwagon next year.
Jose Berrios, Minnesota Twins (11-11, 3.81 ERA, 1.15 WHIP, 9.27 K/9)
Jose Berrios is a prime example of why efficient pitching matters. He looked like a rising stud to start the season, with 12 quality starts in 20 tries and utilizing only 47% of his pitches in the first three innings. Since August, that figure has ballooned to 62% and Berrios has looked very ordinary.
Berrios' ERA has teetered in the mid-to-high-3s for most of the season. However, the walks have destroyed his durability. Since the All-Star break, Berrios has issued nearly as many free passes (25) as he did before (29), in 75 less innings. Walks have single-handedly swelled his WHIP to an ugly 1.47 in the second half. Berrios has seemingly lost confidence in his fastball, reducing its usage and instead leaned on a sinker that's become very hittable (.325 BAA).
Berrios has proven himself to be a capable arm, possibly for years to come. His fantasy stock will doubtlessly earn SP2/3 consideration next season. Unfortunately, the youngster's been fading for months and benching him is a tough decision. We can only hope he rekindles that early-season precision to end the year.
Other possible fallers: CC Sabathia (NYY, 69% early-inning pitch mix), Chris Archer (PIT, 63%), Alex Wood (LAD, 56%)