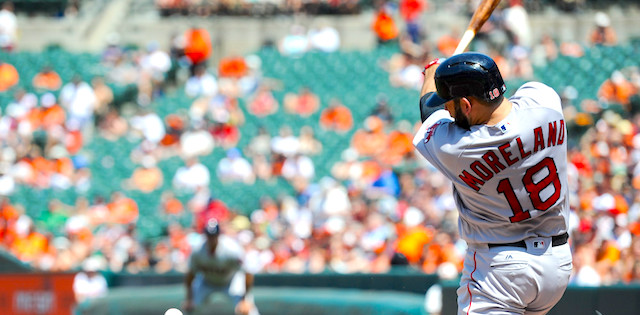 We're back with another edition of Statcast Risers and Fallers for Hitters. It's time to reach into the Barrels leaderboard in order to find out who is generating high-quality contact early in the 2019 season. If you aren't familiar with how Barrels are defined, the best place to start is with our own Rick Lucks' Statcast overview. Here's the short version, according to BaseballSavant.com:
"To be Barreled, a batted ball requires an exit velocity of at least 98 mph. At that speed, balls struck with a launch angle between 26-30 degrees always garner Barreled classification. For every mph over 98, the range of launch angles expands. Every additional mph over 100 increases the range another two to three degrees until an exit velocity of 116 mph is reached. At that threshold, the Barreled designation is assigned to any ball with a launch angle between eight and 50 degrees."
Fantasy owners can utilize this data to find risers and fallers to identify as buy, sell, add or drop possibilities. There are several names at the top of the leaderboard that you could guess easily: Gary Sanchez, Joey Gallo, Peter Alonso, Mike Trout, Christian Yelich. Instead of mentioning them, let's delve into some unexpected players who are either overachieving or underperforming based on expectations. Now, let's get into the hitters who are standing out in this regard as we head into Week 4 of the MLB season.
Editor's Note: Get any full-season MLB Premium Pass for 50% off, with exclusive access to our season-long articles, 15 in-season lineup tools and over 200 days of expert DFS research/tools.
Sign Up Now!
Surprising Chart Toppers
All stats current as of April 21, 2019 and display leaders among hitters with at least 25 Batted Ball Events (BBE).
14.5 Barrel/PA%
Moncada is sixth in Barrel rate on the young season, thanks to an average exit velocity of 95.7 MPH that also ranks sixth. His extra-base totals aren't quite as high as the top fantasy players because his launch angle hasn't been as high as someone like, say Christian Yelich. That doesn't tell the whole story though, since players like Khris Davis and Cody Bellinger, who were co-leaders on the home run chart until Yelich decided to go bananas, have almost identical launch angles to Moncada's 11.7° mark. Moncada does have six homers and six doubles so far, with 18 RBI in his first 19 games.
Mainly batting in the second spot, Moncada would see more RBI opportunities if he stayed down at fifth more often but he's still providing great counting stats and keeping a .321 average on top of that. It's probably too late to buy low on him but those who took him at an ADP of 150 overall need to be thrilled with the early results and hold on tight.
14.3 Barrel/PA%
The annual ritual of Mitch Moreland getting off to a hot start before falling off in the second half is underway. Last season was the most pronounced of all, with Moreland posting a .191 average and hitting just four HR in 47 games after the All-Star break. The Red Sox managed to get along OK without his help, so he's back as the regular starting first baseman and now it's the opposite situation - he's one of the few Sox hitters who has been solid with the bat, homering again on Easter Sunday afternoon.
His disappointing homer total of 15 from 2018 caused concern because it marked the third straight year his HR/FB rate had dropped. So much for that - he's now over 30% for his HR/FB in April and has seven bombs in 21 games. Unless he finds a way to completely reverse history, he should be owned and streamed for the next two months and then promptly ditched before July rolls around.
13.2 Barrel/PA%
First, let's clarify that Walker is not the next Goldy. He's hitting .353 at the moment but didn't consistently bat over .300 in his minor league career and was only projected for .250 this year. He's swiped three bags already but that's only two away from his career high over a season (five at Triple-A in 2017). The power, now that's legit.
Walker's high barrel rate comes courtesy of the fourth-highest hard-hit rate in the bigs, 62.2% according to Statcast. Walker was always capable of this type of output but is finally getting his chance. He needs to be added everywhere.
12.2 Barrel/PA%
Garcia has spent most of his career underachieving or nursing injuries. His biggest accomplishment was batting .330 in 2017 but that came with an inflated .392 BABIP that predictably regressed (a lot). He's never hit 20 HR in a season and wasn't retained by the White Sox even though he is entering his prime at 27. He was an afterthought for fantasy owners too, with a preseason ADP of 336.
He's made good for the Rays so far, slashing .304/.351/.551 with four HR, 10 RBI in the early going. Nothing jumps off the stat sheet with Garcia except that he's limiting soft contact to 8.3% and has found a way to make excellent contact on several occasions. It should be noted that his line drive rate has been dropping for four straight seasons and is at 16.7% this season, nearly five points below the league average. Garcia is not a pure power hitter so it might actually do him some good if he drops his fly ball rate and settles for more hard singles to keep his high average afloat. Buy him as a solid OF3 who can help across multiple categories, not as a burgeoning slugger, especially playing half his games in The Trop.
Alarming Bottom Dwellers
All stats current as of April 21, 2019 and display leaders among hitters with at least 25 Batted Ball Events (BBE).
0.0 Barrel/PA%
Not a single squared-up bat on ball for Odor yet. They say it's too early to panic but it's not too early to cut bait in fantasy. He's currently on the IL due to a knee issue, so it's easy to just stash him and hope things improve upon return. And they need to improve dramatically.
Odor's miserable 25.9% hard-hit rate and low exit velocity (87.0 MPH) are the culprits. This doesn't jive with last year's career-high 38.1% hard-hit rate or his career averages, so chalk it up to a bad start coupled with injury. Truth be told, Odor has never been a barrel master and his exit velo is in line with his yearly average, yet he has managed to put together a pair of 30+ HR seasons paired with double-digit steal totals. He could still do the same, albeit with a low average, so don't overreact to his April numbers.
0.0 Barrel/PA%
McNeil is batting .388 and slugging .493 but hasn't cleared the fence yet. What gives? It's not a matter of batted-ball luck, as his xBA is in the 95th percentile. His .433 BABIP will fall but he's still going to hit exceptionally well at the rate he's driving the ball. McNeil simply keeps the ball on the ground too much for us to hope for a homer surge. He's never been a power guy in the first place. His 14-HR outburst at Double-A last year was the only time throughout the minors he reached double digits. Even in the hitter-friendly PCL, he went deep just five times in 31 games that same season.
McNeil's lack of power may be a detriment to his fantasy ceiling but his outstanding plate discipline and multi-position eligibility make him an asset in 12+ team leagues nonetheless. The bigger concern should be the fact he hasn't stolen a base yet after swiping seven in less than half a season with the Mets previously.
1.2 Barrel/PA%
If you weren't too worried about Devers before, the recent call-up of Michael Chavis could have you sweating bullets. The Sox brought up their top prospect on April 19 but he's only seen one at-bat as a pinch hitter so far. If Devers keep struggling, that could change. By all accounts, he should be doing better. His plate discipline has improved dramatically, with a 7.3 K-BB% compared to last year's 16.9% K-BB%. His exit velocity is the same and his hard-hit rate is up four points.
The problem is launch angle. Devers is hitting 60% of batted balls on the ground and that's not good for someone who ranks 218th on the Sprint Speed leaderboard. If he can make the adjustment to get underneath the ball more, we may start seeing more hits than groundouts. Maybe the presence of Chavis will ignite that change, but it's a precarious time for Devers owners.
2.2 Barrel/PA%
Turner didn't get the memo - the Dodgers are a HR-or-nothing lineup now. With Cody Bellinger, Joc Pederson and even Kike Hernandez going deep on a regular basis, Turner has yet to do it once. His .274 average is fine. His .301 slugging percentage is not.
With Turner, the story is always about health. He's already played 21 games and hasn't experienced any physical issues (yet), so why isn't he making better contact? The main problem is that he's making less contact in general. Turner is traditionally among the league leaders in BB/K but he's currently posting a career-worst 21.3% K%. He's got a 33.3% Whiff rate on breaking balls so far, which is the highest among any pitch type he's ever experienced as a Major Leaguer. He's also being more aggressive, swinging at 29.2% of first pitches compared to 21.4% last year.
Maybe Turner is getting antsy watching his teammates bombard the scoreboard. He had a terrific spring training, slashing .457/.552/.783 with three homers in 47 at-bats, so he should be in mid-season form. There's no reasonable explanation for Turner's impatience, so we must assume regression to his norm. Most of his power arrives in June anyway, so keep Turner in your lineups and consider trying to buy him in the coming weeks before he goes on a tear.
More Statcast & Fantasy Baseball Analysis