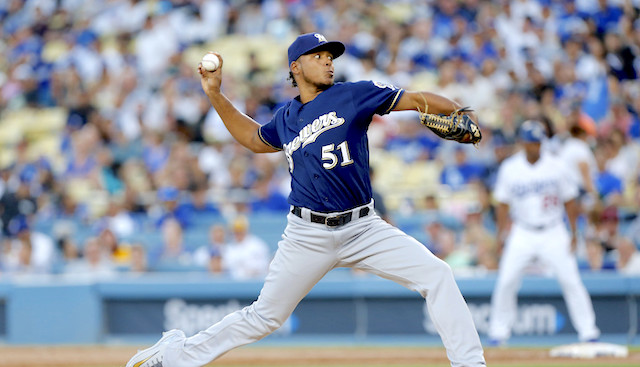 Each year in the MLB, there's always a handful of players who finally breakout and show their true potential. Oftentimes, some of these breakouts are legit, and for others, it's just a fluke solid season.
That was again the case during the 2021 regular season. We saw a ton of strong showings from some unexpected contributors. We'll see this season if those were legit breakthroughs or just one-year wonders.
Nevertheless, here are three breakout pitchers from 2021 who I feel will build off that strong campaign and will only continue to improve this upcoming season. 
Featured Promo: Get your 2023 MLB Premium Pass for 50% off. Exclusive access to our preseason Draft Kit, #1 accuracy rankings, #1 ATC projections, Team Sync platform, Live Draft Assistant, 15 in-season lineup tools, customized rankings and much more!
Sign Up Now!
I personally have always been a big Freddy Peralta fan. It was only a matter of time before he would put it all together.
In his fourth season in the big leagues, the righty solidified himself as one of the top young starters in the game. Peralta was named to his first-career All-Star game and finished with a 2.81 ERA and 0.97 WHIP over 27 starts.
Peralta has always been a high swing-and-miss pitcher over his career, recording 195 strikeouts over 144 innings and an average of 12.2 K/9 innings. He finished 39th in baseball (92nd/95th percentile, respectively) in both whiff rate (34.1%) and strikeout rate (33.6%). 
Peralta relies on a nice five-pitch mix consisting of a fastball, changeup, slider, curveball, and sinker. One of the biggest differences we saw this past season from the right-hander is his increased usage of his breaking balls.
(Via: Baseball Savant)
Peralta leaned on his fastball just 51% of the time, compared to 73% in 2020 and 78% in 2019. He increased his slider usage to 26.4% this past season and registered a 43.1% whiff rate and 2.5% put away percentage with the pitch.
While Peralta saw a slight increase in the home run department (0.9 HR/9), he had a significant improvement with a 6% barrel percentage. That mark improved from the 35th percentile two seasons ago, all the way up to the 78th percentile this season.
With his new and improved arsenal and a solidified spot in the Brewers' rotation, the 25-year old should only continue to get better during the 2022 season and beyond.
Logan Webb - San Francisco Giants
Just as we all expected at the beginning of last season, Logan Webb figures to open the 2022 season as the San Francisco Giants' ace.
Heading into this past season, Webb had pitched to a 5.36 ERA and 1.52 WHIP over a combined 21 appearances at the big league level. His struggles even continued to begin the year as his results were up and down and he was bounced between the bullpen and rotation.
Then, suddenly in the second half, it all clicked for Webb. The young right-hander finished the year pitching six or more innings in 12 of his 14 outings. He allowed two or fewer runs in 10 of those outings, and the Giants went 13-1 as a team over that span.
He continued to shine on the biggest stage of them all, allowing just one run and striking out 17 during 14.2 postseason innings against the high-powered Dodgers lineup. Webb finished the year with 26 starts and posted a 3.03 ERA, 1.10 WHIP, and 2.72 FIP.
So, what led to the sudden turnaround? Webb changed his plan of attack on the mound this season. The right-hander relies on a five-pitch repertoire consisting of a sinker, slider, changeup, fastball, and cutter.
Over his first two big league seasons, the fastball was Webb's go-to pitch, throwing it 44% and 34% of the time in 2019 and 2020. This past season, he changed things up a bit, turning himself into more of a three-pitch pitcher.
Webb leaned on either his sinker, slider, or changeup 89% of the time this past season, and just 10% of the time he turned to the fastball. It certainly worked, as Webb generated stellar ground ball rates with both his sinker (68.8%) and changeup (67.3%).
Additionally, he saw a decrease in his walk rate and an increase in his strikeout, whiff, and chase rates. Webb's 26.5% overall strikeout rate and 46.7% strikeout rate with his slider were both career-highs. 
I think this is just the beginning of the Logan Webb breakout. He dominated later in the season and carried it into the postseason. Still, at just 25 years old, the former fourth-round pick has the ability to solidify himself as the Giants' ace this season.
The ceiling has always been sky-high for hard-throwing right-hander Dylan Cease. During spring training, White Sox catcher Yasmani Grandal even went as far as saying Cease could possibly be a Cy Young winner down the road.
He finally backed up his teammates' talk and showed his true colors with a breakout 2021 season. Cease posted a 3.91 ERA, 1.24 WHIP, 3.41 FIP, and struck out 226 batters over 165 innings. He led the league with a career-high 32 starts and an average of 12.3 K/9.
His 31.9% strike-out rate (45th in baseball) and 34.6% whiff rate (32nd in baseball) finished in the 93rd and 92nd percentiles, respectively. That K-rate was a significant 14.6% increase from the prior season.
As pointed out by Vinnie Duber of NBCSports Chicago, Cease certainly benefited from working with pitching coach Ethan Katz, who also helped transform fellow White Sox right-hander Lucas Giolito into the ace he is today.
Cease's biggest issue thus far at the big league level has been the walks. He was able to cut them down a bit last season, finishing with a 9.6% walk rate. While he could still use some work in that area, it was certainly a step in the right direction. 
Cease just began to scratch the surface this season, and with the help of Katz, he should only continue trending up next season and beyond. Look for Cease to be a big piece in the middle of the White Sox rotation during the 2022 season.
Who's Next? Potential 2022 Breakouts
Some pitchers to keep an eye on as potential breakouts for the 2022 season include youngsters Triston McKenzie of the Guardians, Jesus Luzardo of the Marlins, Patrick Sandoval of the Angels, and Logan Gilbert of the Mariners. 
If he just stayed healthy, Sandoval could've easily been on this list for the 2022 season. Prior to being shut down due to a stress fracture in his back, the young southpaw had pitched to a 3.62 ERA, 1.20 WHIP, and had a 27.9% whiff rate over 87 innings.
Luzardo hasn't had much success so far at the big league level, but he is still just 24 years old and has a solid four-pitch mix. Gilbert struggled at times during his first stint in the majors but has shown some flashes of his upside and true potential.
McKenzie is probably the most intriguing of all four guys here. He is also still just 24 and has looked really impressive in his brief stints with Cleveland prior to injuries. If he can stay healthy, the Brooklyn native could play a huge role for the Guardians this season.
Download Our Free News & Alerts Mobile App
Like what you see? Download our updated fantasy baseball app for iPhone and Android with 24x7 player news, injury alerts, sleepers, prospects & more. All free!


More Fantasy Baseball Advice