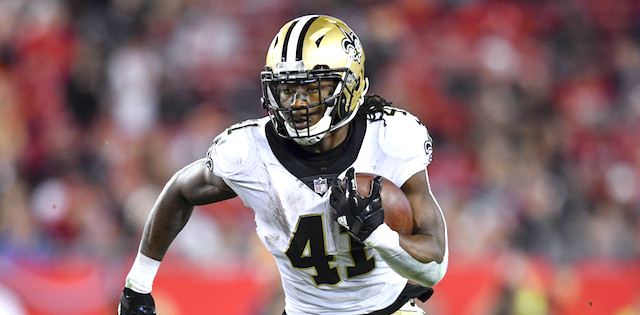 New Orleans Saints running back Alvin Kamara was a beast in his rookie season despite sharing the workload with Mark Ingram. The third-round pick out of Tennessee compiled 728 yards and eight touchdowns on 120 rushing attempts (6.1 yards per carry) while adding 81 receptions (100 targets) for an additional 826 yards (10.2 yards per catch) and five scores. Unreal.
He's a special talent, that's for sure. Fantasy owners were extremely happy, too. Kamara was fourth in overall fantasy points in point-per-reception leagues with 320.4 -- behind only Todd Gurley, Russell Wilson and Le'Veon Bell.
After such a great rookie season, Kamara was inevitably going to be a high first-round pick in 2018 fantasy drafts. But the real question was whether Kamara could match those numbers in another timeshare with Ingram in 2018. The good news was that Kamara would have the backfield all to himself for the first four games of the year with Ingram suspended. Now that Ingram is back, does that change where Kamara stands in terms of fantasy value? With so many trades involving Kamara on the fantasy landscape this past week, we decided to investigate his true worth to help you make an informed decision, whether you are looking to buy or sell.
Editor's Note: Get any full-season NFL Premium Pass for 50% off. Our exclusive In-Season Lineup Tools, Lineup Optimizer and over 150 days of Premium DFS Research.
Sign Up Now!
What's the Deal?
In those first four games against the Buccaneers, Browns, Falcons, and Giants, Kamara picked up right where he left off from his rookie season. He ran the ball 56 times for 275 yards (4.9 YPC) and five touchdowns, although he only scored in two of the four games. In the passing game, he caught 35 of his 47 targets for 336 yards (9.6 YPR) for a score. In only one of those four games did he receive under double-digit carries (the season opener). Same Kamara from 2017 in another very strong offense led by future Hall of Fame quarterback Drew Brees. Then came Week 5 against the Redskins on Monday night...
This night was always going to be about Brees, who was close to passing legends Brett Favre and Peyton Manning for the most all-time yards in NFL history. He was also coming close to 500 career touchdown passes. Brees accomplished both feats in electrifying fashion, but it was a surprise to everyone how uninvolved Kamara was with Ingram back from his suspension.
The second-year do-it-all back had a season-low six rushing attempts for 24 yards and just three receptions on four targets in the passing game for 15 yards. On the flip side, Ingram toted the rock 16 times for 53 yards and TWO TOUCHDOWNS and caught two of his three targets in the air for 20 yards. Ingram out-snapped Kamara 36-31.
Inevitably, Ingram's return was going to hurt Kamara's ceiling for production, but this was more drastic than any fantasy owner could've imagined. Will this be more of the norm the rest of the way? Will Kamara play second fiddle to Ingram? Is Ingram more of an RB2 now? And the biggest question of all for fantasy owners: Should I sell high on Kamara?
Before rushing to judgment, let's take a look at some things. Kamara only received double-digit carries in five games last year and never more than 12 times. He had five or fewer carries five times, including only a single carry in two different games. He eclipsed the 100-yard rushing mark just once in 16 games. Kamara also had double-digit catches just one time in 2017. Yet he still managed the fourth-most fantasy points in all of football.
On the flip side, Ingram saw double-digit carries in all but two games and produced 12 rushing scores and four 100-yard games. He ran the ball over 20 times on three separate occasions. While on the surface that seems concerning for Kamara's workload moving forward, the bottom line is that this offense proved in 2017 that it can support two highly effective running backs.
The Saints offense remains largely the same overall, too. In fact, they might even be a little more explosive with Benjamin Watson instead of Coby Fleener at tight end and wideouts Cameron Meredith and Tre'Quan Smith instead of Willie Snead. They rank third in the NFL in yards per game (424.0), third in passing yards per game (320.8) and first in points per game (36.0). There will continue to be plenty of opportunities for Kamara to score and put up yards and catches.
Another thing to consider in that Monday night performance is the fact that Ingram was coming off a four-game suspension and the Saints were heading into their bye week in Week 6. It seemed like the perfect opportunity to get Ingram a lot of work and get his legs under him. And why not after the Saints jumped out to a huge lead in the first half. The game was essentially over by halftime, meaning there was little reason to use Kamara all that much when it made more sense to work Ingram back into the fold.
Head coach Sean Payton even admitted that under normal circumstances, Kamara and Ingram ideally would've had more of an even split in the workload. All of the explosive plays on offense also led to fewer chances for Kamara to get involved. "It just changes how the game unfolds. Alvin's nine touches, I think is a little bit of byproduct of a 60-yard scoring strike, another 40," Payton said. "Those change kind of the pitch count, if you will."
Sure, Kamara is unlikely to replicate the gaudy numbers he posted in Weeks 1-4, but I also believe that he'll remain a strong RB1 over the course of the remainder of the season as the team's best overall playmaker. Consider the fact that he's halfway to his 120 carries from last year (62), is three rushing TDs shy of matching his 2017 total and is almost halfway to his total of 81 receptions from last year. While his 299 rushing yards have him tied for 19th in the NFL with T.J. Yeldon, he also ranks seventh in the NFL with 143 fantasy points and has played one fewer game than most players because of his Week 6 bye.
A lot of Kamara owners may be panicking and trying to sell high, which I see as the perfect opportunity to buy. It's hard to beat an all-around talent like Kamara in one of the best offenses in the NFL, even if he is sharing touches. At a position that drops off quickly with Leonard Fournette, Dalvin Cook and Devonta Freeman already being busts, it's all the more reason to hold onto an elite talent at running back.
More NFL Analysis