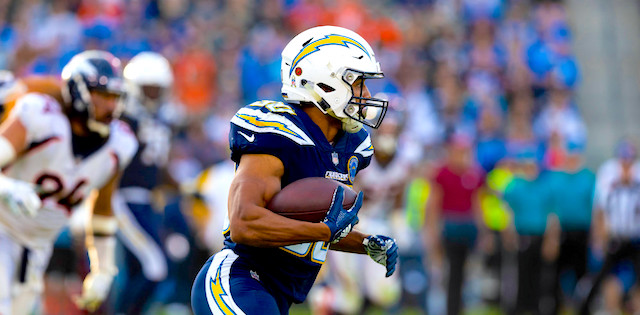 We have progressed beyond the most dormant weeks of this offseason, and the impending player movement that will transpire during free agency will fuel encouraging rises and concerning falls in the stock of various players. The highly-anticipated NFL Draft is also approaching, which will create another notable shift in the fantasy landscape as each selection is announced.
The Best Ball draft process is also escalating, as fantasy managers embrace the opportunity to assemble rosters that will not require any additional management following the conclusion of each draft. That's why the team at RotoBaller is providing the latest updates on our tiered rankings, that will help you prepare for every draft in this popular format. That includes this article, which will direct the spotlight on running backs.
This critical position has been the source of various strategies during your drafts, as some of you are prioritizing the selection of multiple backs during the initial rounds. Other managers have embraced the Hero-RB strategy by seizing your first backs in Round 1, then exercising patience through a collection of rounds before addressing the position again. Some of you are also focusing on other positions during the early rounds while adhering to the Zero-RB approach. The backs will be examined in a two-part series, and this article will focus on Tiers 1-3. You can also find all of the latest rankings here.
2022 Running Back Rankings - Best Ball
Tier 1
Jonathan Taylor, Derrick Henry, Christian McCaffrey, Austin Ekeler
Taylor's name is located at the top of most draft boards in the aftermath of the exceptional numbers that he assembled during his unmatched 2021 season. Taylor confiscated the league rushing title while stockpiling a league-high 1,811 yards (106.5 per game). He also exceeded 100 yards in 10 different matchups – which was five more than any other back – while also producing 150+ yards three times. Taylor also paced all backs in both yards before contact (870), and yards after contact (941), and accrued a league-high 18 touchdowns.
Jonathan Taylor has four touchdowns. He is very good. pic.twitter.com/OLxkojVrBW

— Barstool Sports (@barstoolsports) November 21, 2021
Taylor's 85 red zone carries were a whopping 39 more than any other rushers, while his outstanding season also propelled him atop the Football Outsiders' rankings in DYAR (Defense Adjusted Yards Above Replacement). He will enter Week 1 as the unquestioned cornerstone of the Colts' offense and should be the first overall selection during your drafts.
Henry had accumulated 82 more carries and 288 more yards than any other runner from Weeks 1-8 while stockpiling a league-best 219 attempts (27.4 per game), and 937 yards (117.1 per game). He had also generated a league-high five games with 100+ yards, eclipsed 150 yards twice, and was also pacing the league with 10 touchdowns. Henry had also assembled 42 more fantasy points than any other back before a broken foot suddenly derailed his steady accumulation of yardage, touchdowns, and fantasy points.
Henry still finished ninth in rushing yardage during 2021, even though he was affixed to the sideline from Weeks 9-18. He also tied for second in games of 100+ and was sixth in touchdowns. He will regain responsibilities as the primary component in Tennessee's offense and could approach 2,000 yards and 20 touchdowns.
McCaffrey was a mainstay atop the best ball rankings in both 2020 and 2021 as a byproduct of two consecutive finishes at RB1 (2018/2019). The fervor for targeting the 25-year old back has dissipated slightly after injuries have sidelined him during 23 of Carolina's last 33 matchups. Concerns surrounding the Panthers' shortcomings at quarterback are justified, as are any doubts that Matt Rhule and new offensive coordinator Ben McAdoo have the acumen to operate effectively as the architects of Carolina's deteriorating offense.
Observation through about 70 best ball drafts so far in 2022

It doesn't feel bad having Christian McCaffrey "fall" to you at 1.02 pic.twitter.com/fWc2cAXlUj

— Curtis Patrick 🥇 (@CPatrickNFL) February 28, 2022
However, McCaffrey remains an elite talent whose production has remained exceptional whenever he is on the field. He averaged 30.1 points per game in three contests during 2020 and averaged 14 carries, 5.9 targets, and 112 total yards per game in 2021. He remains one of just three players to accrue 1,000 rushing and 1,000 receiving yards in the same season and is worthy of selection among the top three at his position.
Ekeler thrived with his indispensable role during Joe Lombardi's first season as the Chargers' offensive coordinator, as the elusive sixth-year back operated with a career-high 65% snap share. He also finished at RB2, while his 94 targets (15.1% share/5.9 per game) tied for the lead among all backs. He also led his position in receiving yardage (647/40.4 per game) yards after catch (627), and receiving touchdowns (8), while finishing second in receptions (70/4.4 per game). Ekeler was also 12th in rushing yardage (911/56.9 per game), second in red zone attempts (46), and fifth in rushing touchdowns (12), while establishing career highs in attempts, rushing yardage, rushing touchdowns, and receiving touchdowns.
The first Sunday touchdown of 2021 belongs to Austin Ekeler and the @chargers!

(via @NFL) pic.twitter.com/ONHgAfyJYr

— FOX Sports: NFL (@NFLonFOX) September 12, 2021
It will be difficult for Ekeler to replicate his 2021 touchdown total. However, he is positioned to accrue outstanding numbers while functioning within a Charger attack that ranked fourth (390.2 yards per game). That elevates him among the top five backs that should be targeted during your drafts.
Tier 2
Dalvin Cook, Najee Harris. Joe Mixon 
Cook's current ADP (14) places him below seven other backs. This represents a notable decline from one year ago when fantasy managers seized him as the second overall selection during their drafts. This was largely in response to his average of 24 points per game during 2020 when he assembled 1,557 yards (111.2 per game) and 16 touchdowns. Cook did not replicate those numbers last season, as he missed three matchups while contending with health issues (ankle/shoulder/reserve-COVID).
He still finished fifth in both rushing yardage (1,159), and attempts (249/19.2 per game), although his 89.2 yards per game average decreased by 22 yards when contrasted with 2020 (111.2 per game). Cook also scored six times after averaging 14.5 touchdowns during 2019-2020 and established new career lows in receptions (2.6) and receiving yards per game (17.2). The decline in Cook's ADP has also been fueled by his inability to play in over 14 games during any of his first five seasons. However, that also presents an opportunity to secure him near the onset of Round 2.
Najee Harris FIRST NFL TOUCHDOWN 🤩 (via @NFL) pic.twitter.com/PbG25M9Fc3

— Overtime (@overtime) September 19, 2021
Harris ascended to RB3 during his rookie season, while accumulating the second-highest number of carries (307/18.1 per game) and finishing fourth with 1,200 yards on the ground (70.6 per game). He was also third in yards after contact (675), second in broken tackles (30), and third with 62 rushes for first downs. His extensive involvement in Pittsburgh's passing attack also vaulted him to the league lead among running backs with 74 receptions (4.4 per game). He also tied with Ekeler for the lead in targets (94/5.5 per game) and was third with 467 receiving yards (27.5 per game).
Pittsburgh will enter Week 1 with a reconstructed offense that will include a new signal-caller to replace Ben Roethlisberger, However, Harris easily led his position in snap share  (83.6%), and will retain an integral role in the Steelers' reshaped attack.
Mixon was RB9 from Weeks 1-6 during 2020, after averaging a career-high 19.8 carries and 71.3 yards per game during that span. He suffered a foot injury that prematurely ended his promising season, which also intensified further debate regarding his viability as an RB1. However, Mixon delivered the best numbers of his career in 2021, including 1,205 yards on the ground (75.3 per game). That was the third time in four seasons that he has accrued 1,130+, and his career-best total vaulted him to third overall from Weeks 1-18.
That's ✌️

2014 All-American Joe Mixon (@Joe_MainMixon) dives into the end zone for his 2nd touchdown of the day. #RuleTheJungle #AllAmericanBowl 🇺🇸

— All-American Bowl (@AABonNBC) December 26, 2021
He also finished third in both attempts (292/18.3 per game), and yards before contact (692), was fourth in yards after contact (543), fifth in rushes for first downs (60), and generated a career-high 13 touchdowns, Mixon will operate as the undisputed feature back in Cincinnati's potent attack. That elevates him among your most viable options near the end of Round 1 in your drafts.
Tier 3
D'Andre Swift, Nick Chubb, Javonte Williams  Antonio Gibson, Cam Akers
.@DAndreSwift 🤫 #GBvsDET | 📺 FOX pic.twitter.com/V7Pny4MuWG

— Detroit Lions (@Lions) January 9, 2022
Swift was RB5 from Weeks 1-11 while leading all running backs in targets (67/6.7 per game), and receptions (53/5.3 per game), and vaulting to second in receiving yardage (420/42 per game).
He was also 14th in rushing yardage (555/55.5 per game), and 12th in carries (137/13.7 per game) during that sequence, before a lingering shoulder injury impacted his usage and production during Detroit's remaining matchups.
However, he still finished fourth at his position in targets (78/6.0 per game), and receptions 62/4.8 per game), and fifth in receiving yards (452/34.8 per game) despite the troublesome shoulder. Swift was also fifth overall in snap share (72.6%) before his injury, and his workload could expand further within a Lions offense that will be directed by second-year head coach Dan Campbell and new offensive coordinator Ben Johnson. His involvement as a pass-catcher will also keep his ADP contained in Round 2 during the majority of drafts.
Chubb was averaging 104.6 yards per game from Weeks 1-5 before his statistical momentum was temporarily curtailed by a calf issue in Weeks 6-7. He was also sidelined in Week 10 (reserve/COVID), and his 228 attempts were exceeded by seven other backs. However, Chubb still finished second overall in rushing yardage (1,259). His 88.9 yards per game average was only surpassed by Taylor and Henry. while he also averaged 5.5 yards per attempt for a second consecutive season.
Chubb also finished second in yards after contact (692) was also second with 12 runs of 20+, and tied for second with five games of 100+. He remains fully capable of stockpiling yardage and functioning as a proven point producer for fantasy managers. His output would also expand even further if Kareem Hunt (9.8 carries/3.4 targets per game), was not lurking as a weekly threat to pilfer touches. However, that should not deter you from targeting Chubb as a low-end RB1.
Weekly Javonte Williams highlight.

📺: CBSpic.twitter.com/BPrkomiC9H

— Denver Broncos (@Broncos) December 19, 2021
Even though Williams was expected to begin his 2021 season in a quintessential committee with Melvin Gordon, his appealing blend of physicality and speed led to anticipation that he would eventually capture the majority of touches that were distributed within the Broncos' backfield. That did not transpire, as both backs carried 203 times while attaining similar snap shares (Williams 51%/Gordon 47.5%). However, his unquestioned talent and the potential for Gordon's departure have incentivized fantasy managers to seize Williams as an RB1 (ADP 13/RB7).
He still finished 13th in rushing yardage (903/53.1 per game) and first downs (52), while also rising to ninth in yards after contact (460), and eighth in yards after contact per attempt (2.3). Williams will justify all lofty expectations if he seizes RB1 responsibilities in a Denver offense that should be reenergized with Russell Wilson under center. That will sustain him among your most viable options at the onset of Round 2. However, if Gordon does not relocate to another environment, a continuation of the Broncos' 2021 backfield rotation would impede Williams from delivering on the optimistic projections.
Some fantasy managers who selected Gibson as an RB1 during 2021 (ADP19/RB12) may believe that he failed to fulfill their expectations at various points of the season. However, that should not deter anyone from targeting him late in Round 2 during your upcoming drafts. He contended with a plethora of health issues during 2021 (toe/shin/calf/shoulder/hip/reserve-COVID), yet still played in 16 different matchups.
Gibson also finished at RB10, while completing the year at fourth overall in attempts (258/16.1 per game), sixth in rushing yardage (1,037/64.8 per game), sixth in yards after contact, and second only to Taylor in first downs (65). He will also be functioning in a Washington offense that is undergoing an offseason overhaul, which will include the infusion of a new quarterback and additional receiving weaponry. Gibson will restain a sizable workload, although J.D. McKissic's effectiveness as a pass-catcher will restrict Gibson's target totals – if McKissic re-signs with the Commanders.
Cam Akers will not be denied! The Rams cut their deficit down to 7 after scoring a touchdown and getting the 2-point conversion. Packers lead 25-18.

Follow along for live updates: https://t.co/Pt18iiPI3B…

— L.A. Times Sports (@latimessports) January 16, 2021
It appeared inevitable that Akers would remain sidelined throughout the 2021 regular season after he experienced a torn Achilles in late July. However, he obliterated expectations by resurfacing in Week 18 and attaining a 58% snap share during the postseason. Akers did not display his usual efficiency following his return (175 yards/72 attempts/2.2 per attempt), but those performances were unfolding just six months following his injury.
The offseason will be highly beneficial to Akers, who should resemble the back that was operating with greater proficiency during his 2020 rookie season. He finished third in attempts (74/18.5 per game), and fifth in rushing yardage (390/97.5 per game) from Weeks 12-15. That fueled his selection as an RB1 during the 2021 draft process (ADP12 RB9), before he suffered the devastating injury. He should receive a significant workload - even if Darrell Henderson siphons a percentage of touches – and you can select him with confidence in Round 2 of your next draft.
Download Our Free News & Alerts Mobile App
Like what you see? Download our updated fantasy football app for iPhone and Android with 24x7 player news, injury alerts, rankings, starts/sits & more. All free!


Win Big With RotoBaller
Be sure to also check out all of our other daily fantasy football articles and analysis to help you set those winning lineups, including this new RotoBaller YouTube video:


More Best-Ball League Strategy
Check out all of RotoBaller's fantasy football rankings. Staff rankings are updated regularly for all positions and include standard formats, PPR scoring, tiered rankings and dynasty leagues.