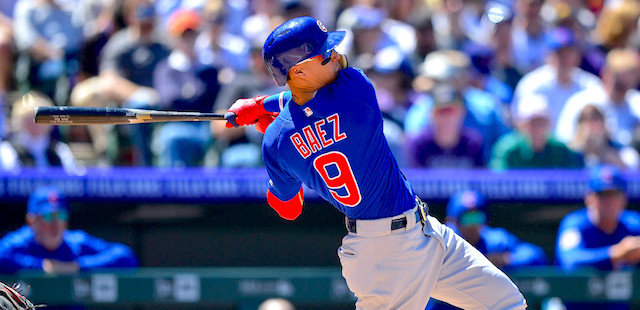 The 2018 season has now come and gone (so sad!), so it is now time to dive into trends and projections for next season! Run production, that is R+RBI, is a key trend to monitor, as there are tight correlations to both slugging percentage and on base percentage with the respective numbers.
Let's start with the fact that there were only eight players in baseball that tallied 100 runs scored and 100 RBI, with only two of those players repeating the feat from 2017. It is obvious that these six newbies will be considered for this article, as well as those close to this feat.
Of runs scored leaders year over year, there were only two players that were a leader in both 2017 and 2018 (Jose Ramirez and Charlie Blackmon). When you look at RBI, there were also only two players that were leaders in both 2017 and 2018 (Nolan Arenado and Khris Davis). Here is the list of the top R+RBI breakouts from 2018.
Editor's Note: Get any full-season MLB Premium Pass for 50% off, with exclusive access to our season-long articles, 15 in-season lineup tools and over 200 days of expert DFS research/tools.
Sign Up Now!
R+RBI Breakouts of 2018
Mitch Haniger (OF, SEA): R+RBI Increase 2018(183)-2017(105) = +78
As you read this article, you will see MVP candidates who easily topped 200 R+RBI and were players that were key parts of playoff teams, both in fantasy and reality. Our first player, though, is one that is a 27-year-old that topped 100 games played for the first time and did not top 100 runs scored or RBI and was not part of a playoff team. That being said, Seattle Mariners outfielder Mitch Haniger was one of the best values of the 2018 season.
Coming into 2018, Haniger only played 130 career games and, while he had a .843 OPS in 2017, was basically an unknown entity. Then, he tallied 68 extra-base hits, 90 runs scored, 93 RBI, and a .859 OPS in 157 games as the right fielder for the Mariners. To say that he was one of the surprise players of the 2018 season is an understatement and the only thing that will limit his future are his injury woes from the past.
Haniger was an OF2 in 2018 and his extra-base hit abilities on top of his .350+ OBP will likely keep him on the fringe of OF2 in 2019. Unfortunately, he will obviously not go unknown in drafts this spring, but could still be a sleeper pick. If you can get him around the 12th-14th round, consider yourself very lucky.
Javier Baez (SS, CHC): R+RBI Increase 2018(212)-2017(150) = +62
The jury was out on Chicago Cubs infielder Javier Baez leading into the 2018 season, as he showed flashes of brilliance in his 23-home run campaign in 2017. He had a .273 batting average, 75 runs scored and 75 stolen bases, and chipped in with 10 stolen bases. Baez profiled as a decent mid-to-late round option leading into last season, but finished as one of the front-runners for the NL MVP.
Clubbing 34 home runs, stealing 21 bases, and seemingly playing wherever the Cubs needed him, Baez was the straw that stirred the drink for the 2018 Chicago Cubs. More pertinent to the topic at hand, he also scored 101 runs and drove in 111 runs for the Cubbies, putting up triple-digit tallies in each category for the first time in his career. If not for another player in this article, Baez would likely be the runaway NL MVP for 2018.
While it is easy to bet on the Puerto Rican spark plug, fantasy owners need to remember that he has a career .309 OBP and still had just 29 walks against 167 strikeouts last season. It nice that he had 83 extra-base hits, and his .290 batting average was solid as well, but it is tough to be consistent when you struggle to get on base. He still will be drafted as a top MI, but his inability to get on base is a huge red flag and him topping 200 R+RBI once again in 2019 is unlikely.
J.D. Martinez (OF, MIL): R+RBI Increase 2018(241)-2017(189) = +52
It is somewhat surprising that Boston Red Sox outfielder J.D. Martinez had a bit of a drop off in 2018, but that shows just how good he was at the end of the 2017 season. In 62 games with the Diamondbacks, Martinez clubbed 29 homers, drove in 65 runs, and had a 1.107 OPS. That being said, his start to his Red Sox tenure was nothing to be ashamed about.
The slugger posted a .330 batting average and, in just his second full season, scored 111 runs and drove in a league-best 130 runs. His 43 home runs were a bit off of the 45 that he hit in just 119 games in 2017, but he was still one of the most feared sluggers in baseball last season. It was also the first time that Martinez topped a .400 OBP (.402), showing a consistent improvement in his ability to get on base.
With a player like Mookie Betts hitting in front of him, there is very little reason to believe that Martinez will see a drop off in his run production statistics. The Red Sox are coming off of a World Series championship and their offense will continue to be among the top three in the league, only making Martinez look better for the future. The only thing that will keep Martinez from fulling his top-15 value is the fact that he only played 239 games from 2016-2017.
Alex Bregman (3B, HOU): R+RBI Increase 2018(208)-2017(159) = +49
A 2015 first-round pick that was in the big leagues by the end of the next season, Houston Astros third baseman Alex Bregman is part of a young core for the 2017 World Champions. In that season, Bregman had a .827 OPS with 19 home runs and 17 stolen bases, approaching 100 runs scored (88) and putting up a respectable tally with 71 RBI. Then he made a leap in 2018 and now is among the top third baseman in baseball.
While he took a bit of a step back on the base paths with 10 stolen bases, Bregman took a leap forward in every other statistic, posting a .926 OPS while topping 100 runs scored (105) and 100 RBI (103). His 51 doubles and 31 home runs show that he is an extra-base hit machine and his .394 OBP displays that he will be on base enough to score runs. With everything that Bregman did in 2018, the most impressive thing may be that he had more walks (96) than strikeouts (85).
The biggest reason to believe in Bregman is his supporting cast, as players like Carlos Correa, George Springer, and Jose Altuve will only help the 24-year-old maintain his elite run production. Notably, Correa and Altuve had down seasons in 2018, showing how impressive Bregman's successes were and putting him in a good position to top 200 R+RBI in 2019 as well. Considering his consistent improvement in the big leagues, Bregman is a safe bet to be a top-five 3B in 2019.
Christian Yelich (OF, MIL): R+RBI Increase 2018(228)-2017(181) = +47
Milwaukee Brewers outfielder Christian Yelich was a good player for the Marlins before he was traded to the Brew Crew, tallying five consecutive 30-double seasons and almost driving in 100 runs in 2016 (98 RBI). He took a bit of a step back in 2017, but still posted a .808 OPS and scored 100 runs for the first time, and the 26-year-old was a part of the fire sale in Miami, traded for a package headlined by Lewis Brinson.
While some said that the move to Milwaukee was a somewhat lateral one, remember that the Fish had Dee Gordon, J.T. Realmuto, Marcell Ozuna, and Giancarlo Stanton, Yelich went into orbit in his first season with the Brewers. Scoring 118 runs and driving in 110, Yelich is a top NL MVP candidate with Baez and is the main cog in the Brewers offense.
The top reasons to believe in Yelich are his ballpark (as it assists lefties with homers) and his .375 career OBP. If he is able to continue to drive the ball as he did in 2018 (even if he does not hit 36 home runs again), he will be a viable option as an OF1. While he may not repay what could be an ADP in the 20s leading into 2019, Yelich will likely approach 200 R+RBI next season as well.
More 2018 MLB Year In Review Articles