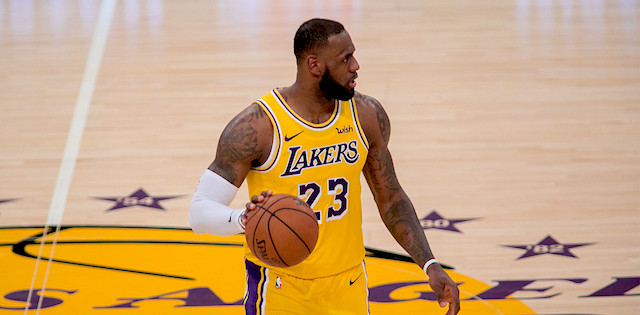 It's the time of year again! NBA draft season is in full effect and I was excited to participate in our RotoBaller staff league this week. I wasn't sure if I was going to be able to pull off one of my favorite punt category strategies going up against a bunch of very knowledgable analysts, but I think I was able to do it and I'd like to share my roster with you all and explain my logic behind each pick with the goal of helping you in your upcoming league drafts.
It's now time to start thinking about how you're going to win your league this year and punting a category in the draft is certainly one way to do it. RotoBaller will be here with rankings, sleepers, players to avoid, and all the analysis you need to be competitive in your leagues this year.
Punting FT% is one of my favorite strategies, and I outlined it (along with several other punt strategies) in our premium draft kit. Use promo code THUNDERDAN to save 10% off your kit this season and dominate your competition from the draft all the way to the league finals.
Upgrade To VIP: Win more with our NBA and DFS Premium Pass, get expert tools and advice from proven winners! Will Priester (@ChiefJustice06) from RotoGrinders joins the RotoBaller team in 2023-24 with his exclusive DFS picks, Prop picks and more. Gain VIP access to our Lineup Optimizer, Research Station, DFS Cheat Sheets and VIP Chat Rooms.
Go Premium, Win More!
Let's take a look at my team in the RotoBaller staff league and I'll break down why I drafted the way that I did. I was drafting from the #9 slot and our league is a standard 12-team, 9-cat, H2H league on Yahoo.
Rounds 1-3
Pick #9, LeBron James - PG/SG/SF
Our first round was nuts, and as Justin Carter laid out in his draft breakdown earlier this week a lot of unexpected stuff happened. I was tempted to grab Lillard, KD, or Trae Young here but I held firm on my stance that LeBron is the best stud to build around (other than Giannis) for a punt FT% team.
I know some might shy away from him based on him sitting out some games, but he's been one of the most durable players in the NBA during his career and still played 67 games last season. He also set a career-high in assists with 10 per game and is going to provide point guard type assist numbers while also helping me lock down rebounds and FG%. I am okay building around the King and I wouldn't hesitate to do the same thing again if he falls into the late first-round or early second round.
Pick #16, Bam Adebayo - PF/C
Apparently, I sniped Bam one pick ahead of one of our other writers and I resisted the temptation to go with Deandre Ayton over him. Bam fits what I am trying to do here perfectly and is a top-10 player if you punt FT%. He also provides an elite number of assists (5.1 per game) from the center position that you can only find from a guy like Jokic. Between Bam and LeBron I have 15 assists per game and I haven't even drafted a guard yet!
Pick #33, Andre Drummond - PF/C
I had to hold my nose to do it, but I was committed to the strategy and therefore took Drummond here in the third round. I know he's a dinosaur in today's NBA, but as long as the Cavs play him 30 minutes a night he's going to post massive double-doubles and rack up defensive stats on elite FG%. He's a must-have for any punt FT% team and I didn't mind using my pick on him here with how valuable he is to my strategy.
Rounds 4-6
Pick #40, Christian Wood - PF/C
I was torn here because it was either Wood or Whiteside and I chose the younger, more exciting player of the two. Whiteside is the perfect player for a punt FT% strategy, but I have some doubts about his minutes in Sacramento. Meanwhile, Wood had a breakout second-half for Detroit last year and now gets to play in an up-tempo offense with James Harden and John Wall. I think he's going to have a huge year and he should be a boon to my points, boards, and defensive stats while shooting a solid percentage from the field.
Pick #57, Malcolm Brogdon - PG/SG
I really felt like I needed to grab some guards at this point and it was really tough to pass up Jonas Valanciunas here at 57, but Brogdon is exactly the type of guard I was trying to target to compliment my big men. He is actually a good free-throw shooter, so he doesn't gain value in a punt FT% strategy, but what I love about him is his solid FG% (47% career shooter) and rebounding (nearly five boards per game) from the PG position. He's another seven-assist guy who bolsters that category as well.
Pick #64, Lonzo Ball - PG/SG
Here's where I had to put my own personal bias aside. I have never been a fan of Ball (or his dad) and there are certain aspects of his game that are still lacking (like he still can't really shoot - at all). But I do think he's in for a nice year in New Orleans with Jrue Holiday gone and I can stomach his 40% shooting because it's on relatively low volume. What I love is that he stuffs that stat sheet elsewhere with six boards and seven assists per game and averaged 2 blocks/steals combined last season. I think he's a poor man's Jason Kidd this year and he fits what I am trying to do perfectly.
Rounds 7-9
Pick #81, Al Horford - PF/C
A few weeks ago I would have never grabbed Horford here, but the trade to OKC should be a huge boost to his value as he should move back to center and start for a young Thunder team that really needs a steady veteran like Big Al. Yes, his best days are behind him but he's going to contribute across the board and shouldn't hurt me anywhere. I think his FG% goes back up as he's more likely to take fewer outside shots this season and play more in the high post and low post than at the three-point line.
Pick #88, Ricky Rubio - PG
So I couldn't help myself here and went after another high-assist guy who is a FG% liability. However, like Lonzo, Rubio doesn't put up that many shots per game (only 10.6 attempts last year) and is a solid rebounding guard who also contributes a healthy amount of steals. He's been coming off the bench so far this preseason, but as long as he's going to get 25-28 minutes a game I think he's going to give me exactly what I am looking for with his skill set.
Pick #105, Otto Porter - SF/PF
I am a big fan of Otto and his well-rounded game. If he was totally healthy and guaranteed big minutes, he'd be a guy going in the middle rounds of drafts. His minutes are probably going to be monitored, but he put up 12-3-2 and 1.5 blocks/assists in only 23 minutes per game last year. I don't expect a lot of volume, but like Horford, Otto won't hurt me anywhere and is a buy-low guy that could have a really solid year if he stays healthy.
Rounds 10-13
Pick #112, Will Barton - SG/SF
I won't spend too much time talking about these late round guys, but I was "thrilled" to get Will here in the 10th round. Barton is an awesome glue guy in fantasy and was killing it last year to the tune of 15-6-3.7 with 1.6 blocks/steals before getting hurt. He usually plays a lot of point guard with the second unit and is a great value down here if he maintains a 30-minute role this year with Denver.
Pick #129, DeAndre Jordan - C
Yes, DJ is in a timeshare with Jarrett Allen, but he's the perfect player for my team and a great late-round pick for any punt FT% team. I'll happily take his 8-10-2 in 22 minutes and 66% shooting from the field. He should get a ton of easy buckets on an improved Nets team and if Allen ever gets hurt he's going to be a monster with starters' minutes.
Pick #136, Malik Beasley - PG/SG
I have a man-crush on Beasley, I'll admit it. I love his game and while he has had a rough offseason off the court, he is primed for a big year as a starter with the Wolves. Last year he started 14 games for Minnesota and posted 20-5-2 on 47% shooting! While he won't average 20 points a game this year with D-Lo and Towns both healthy, he should be a great source of threes and boards without hurting my FG% that much.
Pick #153, Larry Nance Jr. - PF/C
Not too much to say here about Nance, other than he's a solid source of stats when he gets minutes. He should be good for 25 minutes off the bench this year behind Drummond and Love and is "Drummond-insurance" if the Cavs happen to trade the big man this year or he were to get hurt.
More Fantasy Basketball Analysis