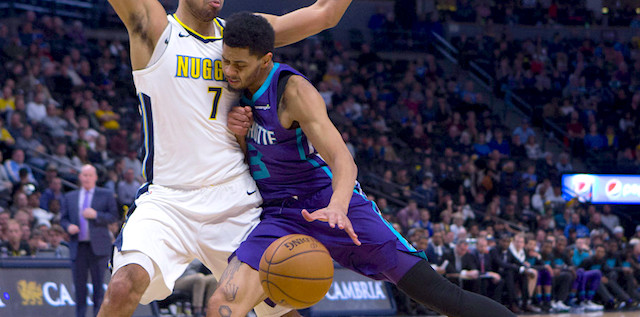 Welcome to the RotoBaller NBA Recap. In this feature, we highlight three fantasy basketball takeaways from last night's slate of NBA games. It turns out that the West really wasn't all that wild this year. All eight playoff teams have been a foregone conclusion for the past couple weeks, and outside of a few minor deviations in seeding, there hasn't been all that much excitement to speak of lately. Instead, it has been the Eastern Conference that has experienced a state of insanity, which can be best explained by five teams fighting for the final three playoff spots.
One of those organizations is the Charlotte Hornets, who currently sit two games out of the final position with just three contests remaining. While that may seem dim for their prospects going forward, the Hornets will face both the Orlando Magic and Detroit Pistons - two teams who are also fighting for the final playoff places. A game against the tanking Cleveland Cavaliers shouldn't hurt either, and lady luck might have something special in store for Kemba Walker and crew.
On Friday night, Jeremy Lamb hit the game-winning three-point basket against the Toronto Raptors, making it the second time in the past two weeks that Lamb has stunned Toronto at the end of the game. Friday's three-point dagger pales in comparison to his halfcourt heave on March 24th, but the ramifications of his basket could loom even larger with the madness going on in the Eastern Conference. It still seems unlikely that the Hornets will find a way to sneak into the postseason this season, but a win against Detroit on Sunday would give them a puncher's chance, and that is really all they can ask for right now. Our three main takeaways from April 5th are still to come, so without further ado, let's dive a little deeper into Friday's proceedings.
Editor's Note: Get any full-season NBA and DFS Premium Pass for 50% off. Our exclusive DFS tools, Lineup Optimizer and daily Premium DFS Research.
Sign Up Now!
Delon Wright Records First Triple-Double
Delon Wright posted the first triple-double of his career with a career-high 26 points and 14 assists to go along with 10 rebounds. Wright was able to add two steals and two triples in Memphis' 122-112 victory over the Dallas Mavericks.
Memphis' trade that sent Marc Gasol for Jonas Valanciunas and Delon Wright has looked very promising for the Grizzlies organization, and Wright has taken a massive step in the absence of Mike Conley. During those six contests, Wright has put together 17.3 points, 9.0 assists, 6.7 rebounds, and 2.2 steals. The 26-year-old will turn 27 on April 26th and will be heading into restricted free agency with a ton of momentum as a gifted two-way guard.
Blake Griffin Explodes Despite Pre-Game Health Concerns
It is safe to say that Blake Griffin is healthy. The forward scored 45 points to go along with seven rebounds, three assists, two steals, and nine three-pointers in 35 minutes.
Griffin missed the last six days due to a knee injury, which wasn't known until after warmups last Saturday. He came into the contest today questionable but quickly put any issues or concerns to rest. His nine triples were a career-high, and he just missed tying the franchise record by one three-pointer. The Pistons currently sit in the eighth position in the Eastern Conference and will have a massive game on Sunday against the Charlotte Hornets.
Bruno Caboclo Is A Name To Store For Next Season
Bruno Caboclo returned to the starting lineup on Friday, scoring nine points with six rebounds, four assists, one block, and one three-pointer in 29 minutes. It was a solid all-around effort for the man that has been labeled the 'Brazilian Freak,' and Caboclo has registered top-60 nine-category production over the past two weeks with averages of 12.0 points, 6.6 rebounds, 1.9 assists, 1.4 blocks, and 2.3 three-pointers.
The Grizzlies were smart to lock him up through next season, and the 23-year-old might finally be starting to tap into the potential that helped him to draw comparisons to Giannis Antetokounmpo when he was drafted. Those expectations seem slightly outlandish now, but there is no reason why Caboclo can't transform into a starting option in the NBA. Keep an eye on him during drafts next season.
More Fantasy Basketball Analysis