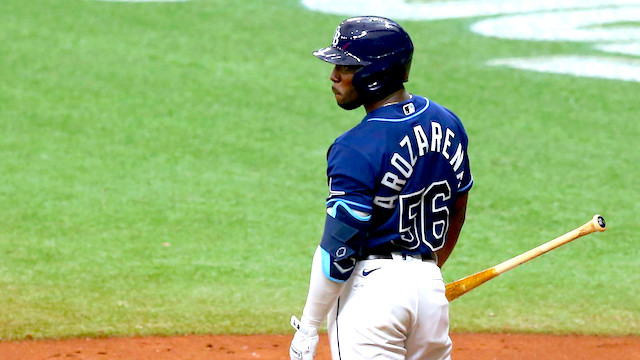 As we steamroll into fantasy baseball draft season, the team here at RotoBaller continues to practice what we preach by partaking in mock drafts. It's the best way to test out plans, gather information to have a better idea of what to expect for the real thing and try out new ideas you've been working on.
Not only does the team do these mocks for our own personal benefits, but also to bring what we find to our valued readers. Every participant in the draft was asked to look back and choose their biggest reach or regret in the draft. I'll then add my own little bit of analysis on their choice and why they shouldn't rue the pick.
For context, this was a 12-team draft with the standard five batting categories; R, RBI, HR, SB and AVG. Pitching was slightly different from the standard with quality starts (QS) replacing wins and instead of saves, we used holds and saves combined (SVH). So pitching stats were QS, K, ERA, WHIP and SVH. The rosters were 26 players with the standard positions; C, 1B, 2B, 3B, SS, CI, MI, 5 x OF, UT. The full draft board can be found below.
Featured Promo: Get your 2023 MLB Premium Pass for 50% off. Exclusive access to our preseason Draft Kit, #1 accuracy rankings, #1 ATC projections, Team Sync platform, Live Draft Assistant, 15 in-season lineup tools, customized rankings and much more!
Sign Up Now!
Draft Board
The full draft board can be found below. You can click it to enlarge.
In hindsight, what was your biggest reach, or what pick do you want back?
Ian Anderson - Round 9 Pick 8 (104 Overall), ADP 97
Pierre - "I'm big on Anderson this year but I probably could have waited another round or two rather than picking him just outside the top 100".
I'd have taken Anderson in the tenth round so you were wise to take him when you did Pierre. Anderson will likely offer a bit more value in leagues counting wins and any innings limit for Anderson will likely be negated this year as teams are less likely to push their starters following a shortened season. A total of 35 starting pitchers were selected before Anderson in this draft and the youngster led all Braves starters in K%, xFIP, SIERA, AVG and WHIP last year.
Randy Arozarena Round 6 Pick 1 (61 Overall), ADP 71
JB - "I needed speed badly but when money is on the line I don't think I'll be trusting the small sample at that ADP".
Every year someone emerges from nowhere, has a huge postseason and then gets the helium treatment in fantasy the following year. Arozarena is that guy in 2021. Last year, Arozarena had an .895 slugging percentage against fastballs and was in the 93rd percentile for sprint speed. He will hit and he will run. Whether or not he'll return sixth-round value remains the be seen but he could easily end up as a top-20 player if things continue to click. At the very least, you'll have fun watching him on your teams.
Michael Grennell (@MichaelGrennell)
Trevor Story - Round 1 Pick 11 (11 Overall), ADP 12
Michael - "It wasn't a bad pick but I wish I took Shane Bieber over Story in the first round. I was set on picking Lucas Giolito in the second for the homer pick (go Sox) and I didn't want to go SP-SP with my first two picks. In hindsight with the run on pitching we saw I kind of wish I had grabbed Bieber instead, as I believe I could have gotten a good value SS later on".
Let us not forget, fantasy baseball is a game and should be fun. So why not draft players you want to route for. If Giolito was your second-round pick no matter what and you didn't want to go SP-SP, Story is possibly the best 'consolation prize' late in the first round. Story's career 162-game average is 36 homers, 22 steals, 101 runs, 101 RBI and a .277 batting average. The only player who has more total homers and steals in the last five seasons is Mike Trout.
Raisel Iglesias - Round 12 Pick 4 (136 Overall), ADP 117
Eric - "Relief pitchers fell a lot because it's a saves and holds league, but I also am just not 100% sold on Iglesias as a stable option. He's struggled in the past and taking him where it did cost me three first baseman options and made it so I had to settle on Eric Hosmer as my first baseman".
Iglesias has been deceptively elite throughout his career. He's had an ERA below 2.75 in four of his last five seasons, never had a SIERA above 3.55, has a career 28.4% K% and a career 7.8% BB%. His role for the Angels isn't clear but in leagues with saves and holds such as this, Iglesias is arguably one of the safest relief option picks. And I don't think Hosmer is a downgrade on the first base options you missed out on (Hoskins and Josh Bell). I won't tell anyone it was only two, not three you missed between picks, Eric...
Dylan Moore Round 15 Pick 6 (174 Overall), ADP 187
Nick - "I like Moore and think that spot was right for him, but not right for my team. Another low-BA guy in a potential Adalberto Mondesi mold really strains the overall BA projections".
If by Mondesi mold, you mean lots of steals and some pop with a .230 batting average, you're right. Mondesi has an ADP of 39 so is going 11 rounds earlier, however. Moore's expected batting average was league average in 2020, ranking in the 50th percentile. He has also shown some good pop in his bat so should be able to deliver a 20/20 season. If anything, Moore looks like a possible Ian Desmond 2.0 and someone who will return top-100 value at the end of the season, much like Desmond used to do.
Luis Robert - Round 4 Pick 11 (47 Overall), ADP 38
While Dave is a man of few words, he produces awesome content and I can't criticize this pick. Do you know how many outfielders had 11+ homers and 9+ steals last year? Two. Luis Robert and Mookie Betts. Last year's debut should hold Robert in good stead for this year now he's seen Major League pitching. Expect that 32.2% K% to come down and his batting average to be near at least league average this year.
Dominic Smith - Round 9 Pick 1 (Overall 97), ADP 111
Nick - "While it is around his current ADP, the lack of a universal DH could impact his playing time adversely. I'm nervous with Smith as my starting first baseman, skillset and 2020 performance aside. I'd feel better with Smith locked in as my starting CI and not as my primary 1B option".
It's understandable to worry about Smith's playing time without a universal DH, but the Mets will simply have to find at-bats for Smith if he performs even close to like he did last year. People will point to his .316 batting average last season as a fluke and given his expected batting average was .304, they'd be right. But put into context, among all qualified hitters, Smith's .316 average was 12th best and his .304 expected average was 10th best.
Edwin Rios - Round 22 Pick 8 (260 Overall), ADP 322
Jamie - "I wanted a third baseman for my corner infield spot for added flexibility and like Rios as a breakout candidate this year. But I likely would have got him with the final pick".
That was before the Dodgers traded for Sheldon Neuse which throws a potential spanner in the works. It likely means that the Dodgers don't add any more potential roadblocks for Rios who at worst should be on the strong side of a platoon. If he matches his projections, he'll still offer plenty of value as a late-round corner infielder.
Rhys Hoskins - Round 13 Pick 4 (148 Overall), ADP 149
Scott - "Not crazy about Hoskins, but needed the power bat".
Since his debut in 2017, Hoskins averages 36 homers in 162 games and although it doesn't count as a stat here, his career 15.3% BB% is ninth-best in all of baseball (among qualified hitters). That's what led to Hoskins being used exclusively as the no.2 hitter for the Phillies last year and when you're surrounded by JT Realmuto, Bryce Harper, Alec Bohm and Andrew McCutchen in the lineup, counting stats will be plentiful.
Mike Schwarzenbach (@Schwarz_Mike)
Aroldis Chapman - Round 9 Pick 7 (103 Overall), ADP 97
Mike - "Nothing against the flame-throwing Cuban, but I feel like I reached, especially in a 'saves plus holds' format. Seeing Raisel Iglesias, Nick Anderson, James Karinchak and Devin Williams go three to four rounds later triggered serious buyer's remorse".
In leagues where holds are equal to saves, it's understandable to be concerned about taking closers too early. Chapman is one of the rare breed of closer secure in his role and despite his ERA of 3.09 last year being only the second time he's had an ERA north of three in nine seasons, he had a 1.79 SIERA and 2.36 xFIP. Both are his best since rejoining the Yankees in 2017. Chapman also had his best strikeout rate in six years (48.9% K%) and a healthy Chapman should comfortably be a top-3 reliever in fantasy again this year.
Dustin May - Round 12 Pick 3 (135 Overall), ADP 141
Jon - "I took May without considering that he could start the year in Triple-A after the Trevor Bauer signing. That was horribly stupid. I also reached pretty high for Pablo Lopez but that's because I have a crystal ball and know that he's going to be the fantasy MVP this year".
I'll ignore the Lopez comment as I don't want to roast you, Jon! But what are we always preaching in fantasy? Draft talent over roles. On that basis, May is still a strong pick. No pitcher started more games for the Dodgers than May last year with 10 (tied with Kershaw and Urias) so there will still likely be plenty of starts available for May this year. May doesn't strike out as many hitters as you'd think given his arsenal, but when he does, it's a thing of beauty.
Lance Lynn - Round 3 Pick 3 (27 Overall), ADP 45
Jon - "Lynn in the third round was my biggest reach. I went pocket aces with my first two picks (Jacob deGrom and Zac Gallen) and could have rounded out my team better with a bat instead of another pitcher. Innings pitched is a very hard stat to project and even the great pitchers fail to get to 200 innings but Lynn is a safe bet to reach that milestone this season, even if he's playing on a new team. There is a lot to like about him but my team, which lacks offensive firepower could have used offense at this spot in the draft".
This is where hindsight plays a big part in drafts.  Since Lynn's first full season as a starter in the Major League (2012), he's reached 155+ IP, has three seasons of topping 200 IP and led the league last season with 84 IP. In the seven seasons prior to 2020, Lynn averaged 31.57 starts a year and has a career 3.57 ERA and only one year with an ERA north of 4.00. Turning down excellent reliability and production from a starting pitcher is difficult to do in the third round of drafts, even if it means opening the draft with three straight pitchers.
Thanks to everyone involved in the draft and for their feedback. Special thanks to Eric Samulski for putting together the post-draft survey. Go check everyone out on Twitter and give them a follow.
Download Our Free News & Alerts Mobile App
Like what you see? Download our updated fantasy baseball app for
iPhone
and
Android
with 24x7 player news, injury alerts, sleepers, prospects & more. All free!
More Fantasy Baseball Analysis