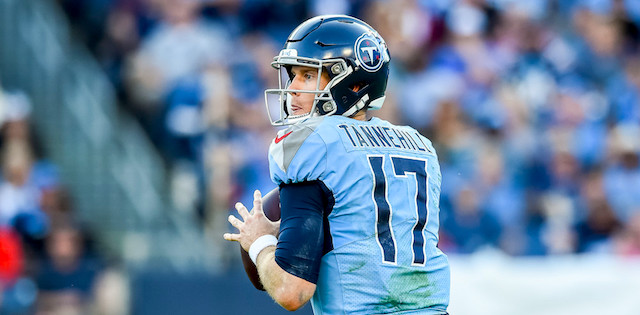 What Appears In This Article?
hide
This article will examine the biggest risers and fallers at the quarterback position, which proved to be the most impactful in fantasy leagues as is often the case. Of the top-25 players in fantasy this season, 18 of them played the QB position and none of the 18 scored less than 280 fantasy points on the whole year or averaged fewer than 18.0 FP/G.
From Lamar Jackson to Kirk Cousins, there have been a ton of league-winning quarterbacks in fantasy this season and all of them have brought their own way of doing it to the equation. Jackson did it combining his passing with a massive rushing upside, while others like Aaron Rodgers did so by limiting his mistakes as much as possible.
While that is the bright side of the story, there is also a dark one to it. Not every quarterback finished atop the leaderboards and more than one saw terrible decreases in production during the 2019 year. Here is the breakdown of those with the biggest statistical surges this past season and those with the most crushing of downturns during the past few months.
Featured Promo: Our friends at Sharp App have created the ultimate tools for sports bettors. Download the FREE app to track bets, compare odds, get daily picks from the most accurate models in the industry, and identify the sharp side of any bet. Use promo code BALLER to get a month free of Sharp Pro access.
Get The App!
Quarterback Risers
Lamar Jackson, Baltimore Ravens
I'm not going to waste your time here. If anyone has raised his level of play this year it's been Lamar Jackson. Full stop. Jackson's 2018 season wasn't a bad one, but of course, he was limited and he played second fiddle to Joe Flacco's No. 1 role during the first half of the year. That prevented Lamar from reaching higher heights, but even with that Jackson's rookie season was promising as he finished with 177.6 total fantasy points on his 16 (not all being starts, though) games. Jackson threw for 1,201 yards and six touchdowns on the year, but perhaps the most intriguing aspect of his game was the rushing upside that came with it. Even limited in playing time, Lamar logged 147 rushing attempts (Cam Newton was second with 101) and he rushed for a quarterback-leading 695 yards and five touchdowns (only Dak Prescott and Josh Allen rushed for more with six and eight respectively).
Fast forward to the start of the 2019 season and one week was more than enough to start drooling over what Jackson would be capable of as he demolished Miami to the tune of 324 yards and five touchdowns in Week 1. That was only the start, though, and had nothing to do with his ground game. At the end of the season, Lamar proved to be the Konami Code of 2019 combining a terrific rushing prowess (1,213 yards on 175 carries for seven TDs) with a more than good passing game (3,127 yards and a league-leading 36 TDs with just six interceptions). Basically, Jackson was two players in one and everybody is looking to find the next RB-QB and draft him come 2020. That is just how impactful Lamar's 2019 season was.
Jameis Winston, Tampa Bay Buccanneers
Before you pour your anger on the screen and start shouting toward your laptop take a minute to think about Winston's 2018 season and how he evolved in 2019. One year ago by the end of 2018, we were talking about a Winston that had finished the season with a very meh set of numbers: 2,992 passing yards for 19 TDs and 14 INTs, and just 281 rushing yards on a total 49 carries with only one touchdown to account for. Although Winston finished with an average of 21.1 FP/G, his 231.7 fantasy points on the year were good for a measly QB23 finish as he was benched in some games and he could only play 11 of them. Low year for Jameis.
During the 2019 season, we watched the full Jameis Winston experience unfold. You either love Jameis or hate him, but Winston is one of the best fantasy quarterbacks ever. In a full 16-game schedule Winston went for a QB4 366.5 fantasy points and an average of 22.9 FP/G. That is not very impressive, and pretty close to his per-game production in 2018, but when you look at the counting stats you lose your mind. Winston leveled up in 2019 all the way to reach 5,109 passing yards for 33 touchdowns and 30 (!) interceptions. That sucks in real life, but with such a massive positive set of outcomes in yardage and scoring Winston was able to make up for his mistakes in fantasy leagues and become a weekly must-play QB this season and someone who will definitely have a great ADP in 2020.
Josh Allen, Buffalo Bills
Allen entered the NFL with some doubts attached to his name and with the "gunslinger" label stuck to his forehead. He definitely fit the profile and in his 12 games, he threw for 2,074 yards and 10 touchdowns... but was also picked 12 times. Perhaps the most intriguing aspect of Allen's game, though, and as was the case with Lamar Jackson, was his rushing and numbers on the ground: 89 carries did he run for a total of 631 yards only bested by the very own Jackson and a quarterback-leading eight touchdowns rushing the ball. Good season, but definitely nothing otherworldly or worth making him a top-pick in 2019 drafts.
How much can things change in a year? A lot, considering what Lamar Jackson and Josh Allen (among others on lower levels) did this season. It'd be a little disrespectful for Jackson to put him at the same level as Allen finished the year at, but the latter did more than enough to consider him one of the quarterbacks with the highest of upsides for next season. Allen broke the 3K passing yards mark to the tune of 3,089 this season and threw for 20 touchdowns (double his 2018 outcome) while limiting his interceptions to just nine. More impressively, Allen was able to score a massive nine touchdowns on his 109 rushing attempts (510 total yards on the ground) and became the poor's man Jackson of the 2019 season. These two, along with Kyler Murray or Deshaun Watson will define the 2020 fantasy drafts as much as any other player available with their RB+QB combo profiles.
Teddy Bridgewater, New Orleans Saints
When Drew Brees went down injured, Bridgewater appeared in four more games than he did in 2018 and improved his fantasy points per game a massive 9.9 FP/G to finish 2019 averaging 11.6. That doesn't jump off the page, but Teddy won every game of the five he started and did so throwing nine touchdowns to just two interceptions. Overall, Bridgewater threw for 1,384 yards on the season and the most interesting thing concerning him is where will he play next season. Bridgewater is a free agent this summer and his 2019 numbers and winning tendencies could make him the starter for some QB-needy team for 2020, bumping his ADP even more in next season drafts.
Ryan Tannehill, Tennessee Titans
What Tannehill did in 2019 I doubt anyone expected. Marcus Mariota, on the final year of his rookie deal, was benched in Week 6 leaving the door open for Tannehill and once the backup took hold of the position he never looked back. Tannehill played all of the Titans' remaining games in the regular season and did so with an average of 25.2 FP/G on his 10 starts. He never dropped under 17 fantasy points and peaked at 37 when he rushed for two touchdowns and throw another two in Week 12. He closed the season with 2,742 passing yards and 22 touchdowns (six interceptions) and added an extra 185 yards on the ground to go with four rushing TDs. Mariota's days are over in Tennessee and Tannehill will keep the starting role in 2020 making him a good option as a late-round pick with upside if he can keep up his 2019 level of play.
Quarterback Fallers
Patrick Mahomes, Kansas City Chiefs
Mahomes' 2018 campaign was a season for the ages. Not only did the quarterback finish the year as the No. 1 player in fantasy football, but he also lapped the field big time. Mahomes' 472.1 fantasy points on the year had no rival even remotely close to that tally (Matt Ryan was second with 414.2), and his counting stats would make your eyes pop: 5,097 passing yards, 50 (!) touchdowns, and only 12 interceptions. Mahomes even added 272 extra yards while rushing the ball 60 times and crossing the goal line two times. His 29.5 FP/G also led the league by almost five points and made him an automatic week and league-winner to whoever lucked into having him rostered.
Even with an obvious regression to the mean coming, Mahomes' ADP was sky-high this past September. Part of the issue is that he had nowhere to go but down but this is not to say that you should avoid Mahomes in 2020, just keep this in mind when thinking about using a high pick on Lamar Jackson next season. Mahomes dropped his FP/G by almost six points to 23.7 in 2019. He threw for half the touchdowns (26) and finished the year with 4,031 yards. Those are great numbers, surely, but they show you how such a great set of performances (those of 2018) were highly unsustainable in the long run. Consider this as a warning.
Jared Goff, Los Angeles Rams
No one could argue Goff had a great season in 2018 when he finished as the QB6 on the year thanks to a season-end tally of 367.2 fantasy points and an average of 23 FP/G. Goff threw for 4,688 yards (fourth-most in the league) and was one of nine quarterbacks to break the 30-TD mark while throwing 32 of them (tied for the sixth-most) and limiting his interceptions to 12 on the season (almost a three-to-one ratio). The Rams offense clicked on all fronts and saw the Goff-led team reach the Super Bowl, and although they ultimately couldn't get the trophy home, it all made Goff's stock rise entering 2019 draft season.
Now, if you were one of those buying into Goff repeating his 2018 exploits, I'm sorry for you. Goff was far from his 2018 level in 2019 finishing with pretty much a similar set of stats but dropping the ball massively on the touchdown and interception categories. While his 2.7 TD/INT ratio of 2018 wasn't bad at all, Goff finished 2019 with 22 touchdowns and 16 interceptions for a measly 1.3 ratio that limited his upside significantly. On a per-game basis, Goff could only average 19 FP/G (four fewer points than in 2018) and his total 304 fantasy points on the season made him finish as the QB13 on the year. The whole Rams team regressed incredibly in 2019 and with such high and low outcomes in back-to-back seasons, it is hard to trust this offense next year.
Baker Mayfield, Cleveland Browns
Mayfield had to wait until Week 4 to start his first professional game in 2018 as a rookie, but once he did he never looked back and finished the year as the clear go-to QB of the Browns and potentially the solution at the position after uncountable years looking for it. Mayfield was rather impressive in his first year throwing for 3,725 yards and 27 TDs with 14 picks for a virtual 2:1 TD:INT ratio. His 20.2 FP/G weren't otherworldly (ranked 18th among QBs with at least 11 games played) but were on par with and close to the averages of Tom Brady, Philip Rivers, and Dak Prescott. Had he started all 16 games it isn't hard to see Mayfield finishing as a high-end QB2 or even low-end QB1 in 2018.
That, along with the addition of Odell Beckham Jr. to the wide receiver corps of the Browns and the hype surrounding the franchise entering 2019 put sky-high expectations on Mayfield. The reality, though, was soul-crushing. Mayfield completed a full 16-game season in 2019 but he finished the year averaging 17 FP/G and racking up a total of 271.5 fantasy points good for QB27 (min. 10 games played) and QB20 respectively. Even starting three more games in 2019 than he did in 2018, Mayfield finished the year with 3,827 passing yards (just 102 more than in 2018), 22 TDs (five fewer), and 21 INTs (seven more). He probably needed his three rushing touchdowns to save face a bit on the season thanks to those extra points, but even with that, his overall numbers are concerning going into the 2020 season.
Marcus Mariota, Tennessee Titans
Mariota's mistakes and middling production might have cost him another start for the Titans and a move out of Tennessee sooner rather than later. Being honest, there is little if any chance of seeing Marcus extending his Titans tenure this summer after he was benched in Week 6 this past season. Mariota's 13.9 FP/G on the year rank him as the QB33 of 2019, under Mitchell Trubisky, Kyle Allen, and on par with Joe Flacco. His numbers were low at the very least for a starter, throwing for just 1,203 yards and seven TDs (two interceptions) and put him on the level of horrific quarterbacks (at least six games played) such as Devlin Hodges or Dwayne Haskins. At this point, it is hard to fathom Mariota being the No. 1 even for the most quarterback-needy team at the position, no matter where he ends up in 2020.
More Fantasy Football Analysis