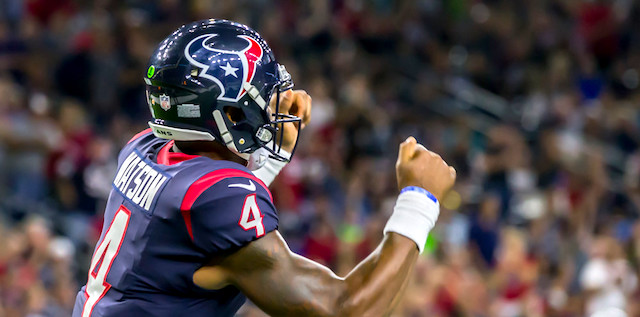 Week 9 is here, and we have to figure out which quarterbacks should boom for us compared to the ones that could bust for us. Some quarterbacks could light things up this week and some guys are going to be giving the laundry crew a lot of work to do when the final whistle blows.
In addition to the guys discussed here, there are others with good or bad matchups, but we're trying to focus on ones that maybe you have to think extra about. You may even still start some of the bad matchup guys but as long as you're thinking about it, that's where we come in.
There are four teams on byes this week so you're very possibly missing a starting quarterback. The New Orleans Saints, Los Angeles Rams, Atlanta Falcons, and the Cincinnati Bengals are all off this week. You'll need to pay a bit more attention to your quarterback spot this week.
Editor's Note: Get any rest-of-season NFL Premium Pass for 50% off. Our exclusive DFS Tools, Lineup Optimizer and Premium DFS Research through the Super Bowl.
Sign Up Now!
Look Away Before It Gets Ugly
Deshaun Watson @ Jacksonville Jaguars
Houston Texans quarterback Deshaun Watson has been making spectacular plays week after week. He's been doing all that despite getting sacked and hit a fair bit. He's been taken down 24 times on the year, including two different games where he was sacked six times. The addition of left tackle Laremy Tunsil has improved his offensive line but they're still allowing Watson to get hit far too often every week, and those hits add up.
This week he has to go to face the Jacksonville Jaguars who sacked him four times back in Week 2. They also forced two fumbles while they were at it. Luckily for Watson, the defensive backs have lost a few of their teeth with cornerback Jalen Ramsey now in Los Angeles. However, rookie pass rusher Josh Allen is tied for the rookie lead with 7.0 sacks on the year and he'll be looking to add another. Watson gets the volume that provides him value every week, but this is a tough matchup up front.
Dwayne Haskins @ Buffalo Bills
This is going to be an absolute bloodbath. Washington Redskins rookie quarterback Dwayne Haskins is set to make the first start of his career in Week 9. How will Washington set him up for success? They're making him play in a tough environment on the road against one of the better defenses in football. He has already struggled with turnovers this season, and he'll likely have one or two more at a minimum this week with pressure constantly on him.
The Bills Defense only has 16 sacks on the year, but they have been ramping things up as of late. Nine of those 16 sacks have come in the last three games for the team. Buffalo's secondary should have no trouble slowing down the receiving weapons of Washington which will make Haskins hold the ball longer, and give the pass rushers more time to get home. There is just about no logical reason for you to start Haskins this week, but if you do, it was nice knowing you.
Ryan Tannehill @ Carolina Panthers
Tennessee Titans quarterback Ryan Tannehill is the starting quarterback, and he did alright last week. He did well enough against a turnover-prone opponent to get to a win. He's not going to be afforded the same luxuries this week. His offensive line has been the worst in football, as they've allowed 34 sacks on the year, and he's going to be without his starting center Ben Jones along with tight end Delanie Walker. Those are two major pieces that help to keep him upright, and they are gone.
On the other side, the Carolina Panthers Defense has been one of the better groups in the NFL this year, and they've done it without stars dominating the game. They've been getting contributions from all over, and that allows them to get creative with the looks that they throw at opponents. They've racked up 30 sacks this season, and they will be wanting to add a few more. That shouldn't be an issue against a Titans team that hasn't protected Tannehill or former starter Marcus Mariota.
That's More Like It
Tom Brady @ Baltimore Ravens
New England Patriots quarterback has been sacked 13 times this season, and he's shown some rust at times, especially on his escapability and deep balls. In Week 9, things are going to be a little easier for the veteran. The Baltimore Ravens Defense has only rung up 12 sacks so far this year, and they just lost starting edge rusher Pernell McPhee for the remainder of the season. Brady should have all day to stand back there.
Patriots guard Shaq Mason is questionable to play this week. If he plays, it would give a big boost to this offense. He's one of their top linemen still available with the injuries to starters Isaiah Wynn and David Andrews, although Wynn is slated to return soon. Ultimately, the Ravens just don't have the juice to rush the passer that they've had for the last 15 or so years which is how you hurt Brady. As a result, he should have a good day of production.
Derek Carr vs Detroit Lions
Oakland Raiders quarterback Derek Carr has bounced back this season and a major part of that has been the play of his offensive line. They've allowed just eight sacks on the year, which is the second-best mark in the NFL behind the Pittsburgh Steelers. Carr gets the ball out of his hands either to his receivers, or he allows rookie running back Josh Jacobs to run over opponents in front of him. He also has receiver Tyrell Williams back from his foot injury.
The Detroit Lions have been floundering over the past few weeks but they've been in some tight games. However, that's been more because of their offense than their defense. The defense has just 13 sacks this season and they're not hunting for those quarterback takedowns like some teams. They prefer to contain the quarterback while their coverage holds up. The problem is that their secondary is depleted due to trades and injuries which gives Carr a big upgrade in Week 9 at home.
Dak Prescott @ New York Giants
Dallas Cowboys quarterback Dak Prescott has only been sacked 10 times this year but he'll have to watch out for a New York Giants Defense that has collected 22 sacks on the year. However, there is one thing that Dak does better than a lot of quarterbacks in this league. He takes advantage of good matchups. The strength of the Giants is in the trenches, but that's exactly where the strength of the Cowboys is. For me, I'm taking that Cowboys line to get the better of the Giants.
Tackles Tyron Smith and La'el Collins dealt with some injuries earlier in the year, but they're healthy now. They're one of the best duos in the NFL when they're healthy, and this Giants front only really has one major threat which is rusher Markus Golden. However, he's no match for these guys now that they're firing on all cylinders. Dak frequently lights the Giants up, and that should be no different this week.
More Weekly Lineup Prep