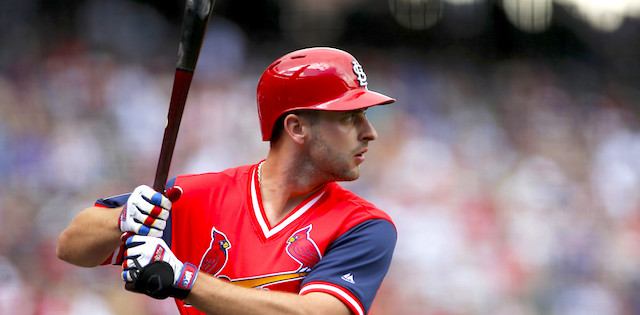 As we get set for the 2019 MLB season, it's time for our crack staff to reveal their favorite preseason sleepers.
We recently polled some of our fantasy baseball writers to get their take on which hitters and pitchers they are targeting the most in the mid-to-late rounds of fantasy drafts. While you've likely heard some of these names already in our Sleepers section or through our Youtube series, we wanted to lay it all out for you in one convenient place.
Let's find out who our experts have pegged for breakout seasons or, at the very least, a positive return on investment based on current ADP.
Editor's Note: Get our 2020 MLB Premium Pass for 50% off, with exclusive access to our draft kit, premium rankings, player projections and outlooks, our top sleepers, dynasty and prospect rankings, 20 preseason and in-season lineup tools, and over 200 days of expert DFS research and tools.
Sign Up Now!
Which hitter ranked outside the top 150 overall is the best sleeper pick and why?
I feel that Adam Eaton (ranked 156) is a virtual lock to outperform his current ranking. He seems entrenched at the top of the Washington lineup, giving him a robust runs-scored projection. He generally hits for a solid average and is more than willing to take a walk. Most importantly, a healthy season probably involves 20-30 SB, a pretty great number considering he's much more of a well-rounded player than somebody like Billy Hamilton. He hasn't been healthy in a while though, so it kind of makes sense that he's a draft-day afterthought.
-Rick Lucks
Domingo Santana hit 30 home runs and stole 15 bases back in 2017, and although he struggled with strikeouts in 2018, he has the starting LF job on lock in Seattle and could easily go 25/10 as Seattle's No. 2 or 3 hitter next year. His 40.1% hard-hit rate from last season was even better than he posted in 2017, a sign that the pop in his bat is still very much there. Strikeouts will always be a concern, and T-Mobile park isn't the friendliest for hitters, but Santana is a Top-150 hitter in my opinion.
-Andy Patton
If Paul DeJong had played a full seasons worth of games last year, we'd be talking about an easy top-10 shortstop. Missing time with a hand injury after a hit by pitch, he still managed to smack 19 HR in 115 games in 2018. If we average out his two big-league seasons, we get a 162 game pace of .263/32 HR/89 R/97 RBI. DeJong is slated to bat third for the Cardinals, so he has the opportunity to eclipse these numbers in 2019 with 150 games under his belt. Still just 25-years-old, he can return tremendous value at his position.
-Riley Mrack
An injury prone 34-year-old seems like it's too risky on the other hand, but Ryan Zimmerman hit 36 home runs with 108 RBI in 144 games just two seasons ago. Last year, he had a terrible April and was then out until the break, but he still ended up tied with Mookie Betts in barrels/PA (min. 200 BBE), behind only Joey Gallo, Khris Davis, and J.D. Martinez--three players who also happened to be 2018's only 40-HR hitters. What differentiates Zimmerman from Gallo and Davis is his relative ability to put the ball in play; he struck out 21.9% of the time in 2017, but only 17.0% of the time last year (with an also-above average 8.7% whiff rate), so he'll do better for you in batting average. Some may go young bucks like Austin Meadows or Jake Bauers, but their lack of a track record is as likely to doom them as Zimmerman's injury history is him.
-Nate Green
Gregory Polanco set career highs in home runs (23), wOBA (.353) ISO (.245), and wRC+ (123) and that was before his season was cut short due to shoulder surgery. Had he not missed most of September, he'd have likely completed his breakout year by also setting career highs in runs and RBI to go with it. While he will likely start off the season on the IL, there isn't a player who will accrue 500+ plate appearances with 20HR/80RBI potential going where Polanco is currently (ADP 254). Make no mistake, he carries injury risk but when he is on the field he's got Top 15 OF potential.
-Steve Janik
Asdrubal Cabrera is currently sitting at a 202 ADP. He might be of those guys that sometimes makes you hold your nose when you're picking him but he's got triple eligibility (2B, SS, 3B). He is also about to play half his games at the hitter's paradise known as Globe Life Park. To go along with this move, Cabrera is coming off a season where he posted the best hard contact rate of his career. It was also a season where he hit 36 doubles (10th in the NL), and posted the sixth-best SLG among all 2B in baseball. He's not without his warts though, his average has taken some lumps and he doesn't steal any bases anymore, but Cabrera is a great option for MI or as your primary bench bat.
-Jason Nichols
Franchy Cordero. I'm interested in the potential of the Padres lineup this year after the moves they've made plus the prospects they have near the majors. I like Cordero's 20-20 potential, and I would take him over guys like Jay Bruce, Adam Jones and Randal Grichuk — who are all higher than Cordero in our rankings.
-Michael Grennell
I'm going to keep standing up for Jesse Winker until I get to say "I told you so." The Reds' presumptive left fielder is an on-base machine, putting up a .405 mark last year before his season was cut short by shoulder surgery. He drew walks in nearly 15% of his plate appearances, a mark that is actually higher than his strikeout rate. Combine that kind of plate discipline with 43.9% hard-hit ratio and you've got a legitimate star in the making. The Reds are nuts if they don't bat him lead-off, and with a beastly 2-5 behind him, Winker has a great shot at 100 runs scored.
-Bill Dubiel
Which pitcher ranked outside the top 150 overall is the best sleeper pick and why?
Jon Gray -- Coors Field is a tough place to pitch and although the right-hander had a nightmare season in 2018 (5.12 ERA), his FIP of 4.08 shows that he had some pretty rotten luck. Gray still has plenty of strikeout upside, so if he can avoid the long ball and strand more runners (which he should), he should outperform his draft price by a wide margin.
-Keith Hernandez
Michael Wacha seems pretty far removed from his amazing 2015 campaign, in which he went 17-7 with a 3.38 ERA. The main problem for him has always been health--he's only thrown more than 130 innings three times in his career. We saw the talent flash once again last year though, as he went 8-2 with a 3.20 ERA across 15 starts, but once again that's all he was able to muster as injuries plagued him once again. To be fair, there was likely some luck involved in those numbers as his .249 BABIP and 4.12 xFIP indicate. However, Wacha is supposedly healthy heading into 2019, and provides legitimate fantasy SP2 upside if he can just get through 160+ innings.
-Bill Dubiel
With several question marks around the league regarding ninth-inning jobs, Trevor May should win the gig in Minnesota. After returning at the end of the 2018 season from Tommy-John surgery, he was lights out with a 35.0% K% and 4.9% BB% in 25.1 IP. The right-hander has some competition with Blake Parker and Taylor Rogers for the job, but May has the best skill set in the Twins pen to earn the role. He's an extremely cheap source for saves, especially given the lack of trustworthy options around his 260 ADP.
-Riley Mrack
With a rank of 314, nobody expects much out of Kyle Gibson. His slider is elite (26.6% SwStr%, 45.2% chase rate last season), and both his change (17.7% SwStr%, 41.8% chase) and curve (16% SwStr%) offer strikeout potential as well. He posted a career-best 21.7% K% last season, and his repertoire presents tremendous upside if he starts throwing his mediocre fastballs less often. If he doesn't, he still could repeat his 2018 season (3.62 ERA in 196 2/3 IP) and earn his fantasy owners a substantial profit. Oh, and he's in a terrible division that should inflate his win totals.
-Rick Lucks
Tyler Glasnow - this is finally the year that the 6'8" righty will take the league by storm. After being traded from the Pirates, it seemed like the Rays let Glasnow loose on the mound, which may have been exactly what he needed. While he gave up 10 homers in 11 starts, he also carried a 28 K% with his new team, and that was while he was still toying with his pitch mix. Add in a .248 BABIP with a 74% strand rate and the 26-year-old opened some eyes. It's impossible to project a Blake Snell-like breakout. However, Glasnow could finally answer all the hype he received coming through the minors.
-Steve Janik
Jesus Luzardo's stuff is absolutely filthy, and once he is up in the big leagues he could easily be a Top-25 starting pitcher, which could make him an incredible steal at his current ADP of 308. Luzardo has done his part to earn a rotation spot, absolutely shredding the minor leagues and also posting a ridiculous 15/4 K/BB ratio with a 0.93 ERA in 9.2 spring training innings. His competition level has been solid, with a 7.8 OPPQUAL, per baseball-ref, proving that this left-hander is ready to carve up big league hitters. If you can get him in the last few rounds of your 12-teamer, you'll be a happy camper.
-Andy Patton
Ross Stripling, based mostly on his 22.7 K-BB% that ranked 10th among those with 120+ innings, is as good a pick as any. His .322 BABIP and 16.4 HR/FB rate ought to come down as he was in the top fifth percentile (Statcast) in hard-hit percentage. He won't get as many wins as some starters, unless he vultures them in relief, but should produce well in the other fantasy stats. He doesn't have the best fastball, but unlike Jack Flaherty, he already seems to have his command and control figured out.
-Nate Green
Kyle Freeland is being overlooked after finishing fourth in Cy Young voting in 2018. He went 17-7 and posted a 2.85 ERA. His 0.76 HR/9 shows that he doesn't give up homers (especially helpful at Coors), to go along with a low ERA and FIP. He also has a powerful offense behind him to support wins.
-Kyle Ringstad
Why do I feel like Dallas Keuchel's fantasy value is being punished by the fact that he is still a free agent? He might not still be the Cy Young winner, but he is one of 13 pitchers who eclipsed 200 innings in 2018. He posted an almost identical FIP of 3.71 as Zack Greinke who is going in the sixth round of most drafts. I would guess that part of Keuchel's discount is coming because he's not a prolific strikeout pitcher. But that's not his game. Looking at batted ball data from baseball savant, Keuchel is 8th best at missing the sweet spot and he induces the 3rd worst launch angle against (avg. launch angle of 4 degrees). Basically, Keuchel is still good at what made him great a few years ago. He's not an ace but at his current ADP, I don't see much downside to even reaching a round or two in order to get him as your SP4.
-Jason Nichols
More Fantasy Baseball Sleepers and Undervalued Players