We'll be doing this roundup of points leagues every week here at RotoBaller, with waiver wire targets and streaming pitchers being evaluated in terms of the different scoring systems of ESPN, Yahoo!, CBS, and Fantrax.
Player values can vary wildly from platform to platform, so we'll make sure to highlight where players are the best and worst fits. We know points league players get neglected and we're here to help.
These fantasy baseball waiver wire pickups are for the week of June 13th - June 19th, looking at players below 50% rostered for ESPN, Yahoo!, or Fantrax. Position eligibility is taken from Fantrax and players are grouped by their most valuable fantasy position, using a hierarchy of: C > 2B > OF > 3B > 1B > SS. Stats and rankings for charts are calculated using games through Saturday, June 11.
Featured Promo: Get any full-season MLB and DFS Premium Pass for 50% off. Exclusive access to our Team Sync platform, Premium articles, daily Matchup Rating projections, 15 lineup tools, DFS cheat sheets, Research Stations, Lineup Optimizers and much more!
Sign Up Now!
Know Your Scoring System
You know what I'm going to say, right?  You must account for, as precisely as possible, how a player performs under your particular scoring system. Don't be fooled into believing you can just make rough adjustments in your head, bumping up guys with high on-base percentages and low strikeout rates. Every point, in every category, counts.
For example, ESPN and Fantrax are virtually identical in their scoring for hitters and roster size. The only difference is that stolen bases are worth one more point on Fantrax and ESPN subtracts one point per strikeout. That's the difference between Trea Turner being a top-five hitter versus a top-25 hitter.
If your league uses standard settings, then great! Turn to page 94 and you can skip ahead to the leaderboards. If you play with custom settings, it'll still be fine. Go back to page 43 and look below at the scoring systems of the four major platforms. I bet there's a chance that you'll find that your league's scoring is very similar to one of the four (well, not Yahoo!'s), even if it's not the platform you actually play on.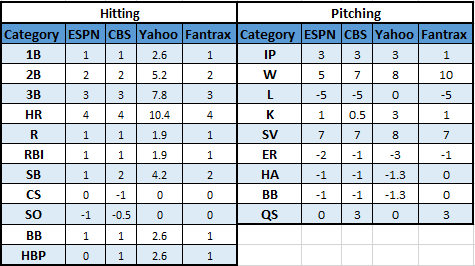 You'll likely find a suitable mirror to your own system if you look above. While every point counts, as long as they aren't seismic changes you can get away with some "close enough" calls. IE. You're probably fine if everything is the same except for HBP (or something similar).
Week 10: Waiver Wire Leaderboards
All charts are updated prior to Friday's games, on stats and ownerships, and clicking on a chart will open a new page with a magnified version. Players on overall leaderboards are ordered according to their current Roster% on Yahoo.
*APR = Average Platform Ranking - the average platform ranking between ESPN, CBS, Yahoo, and Fantrax (standard point settings)
The 14-Day Leaderboard, Presented by Hansel
These players are so hot right now. Here are the players on the wire who are running inside the top-100 of APR over the past two weeks:
Overall Leaderboards
First Base Waiver Wire Pickups
Best Choices
Christian Walker, ARI - Walker is slumping, having gone 3-for-31 over his past eight games but don't get too stressed out about a hitter having a bad week - It's baseball, it happens. And call me crazy but I don't think the 35.5% K% that he's run over that stretch will continue given he tends to live closer to 20%. Even with those rotten eight games, Walker has still posted a respectable .345 wOBA over the past two weeks but, more importantly, that comes with an elite .471 xwOBA that tells us he's still smacking it on the screws.
Next Choices
Nathaniel Lowe, TEX - If you haven't noticed yet, the offensive tide is rising in baseball. And somewhat dramatically, with dong storms occurring in games on almost a nightly basis. Whether you think it's just the "natural" effects of new humidors and rising summer temperatures that are behind the increased offense, or that the nefarious MLB switched in bouncier balls, doesn't matter. What matters is that it's here. And the biggest sluggers might get the most attention but I'm more interested in the hitters with the type of fringe power that really got dampened by the new dead-ball era in 2022. Guys like Lowe, who has now hit four home runs in the past two weeks after hitting 3 HR in his previous 163 PA.
Desperate Choices
Jesus Aguilar, MIA - With a 103 APR over the past two weeks, Aguilar is heating up, I guess?  Aguilar now has 8 HR on the season but a .321 wOBA (.300 xwOBA) for the year and a .320 wOBA (.310 xwOBA) for the past two weeks tells me that not much has changed.
Ji-Man Choi, TB - Admit that you secretly love Ji-Man Choi...Admit it! Well, point players should as Choi has a very friendly profile when he's actually not hurt and hitting. Choi has a 63 APR over the past two weeks but be aware that's partially driven by a 20.0% K% that's about 10-points lower than the 30% points-killer that he usually runs. That, along with his pine-riding versus a lot of LHP, makes Choi a temporary band-aid, at best.
Luke Voit, SD - I guess it's positive that Voit has hit two home runs in the past two weeks? Granted, over that time he also has a 32.8% K%, 1.6% BB%, and a .273 wOBA - AKA points-league poison.
On the IL
Brandon Belt, SF (knee inflammation)
Edwin Rios, LAD (strained hamstring)
Second Base Waiver Wire Pickups
Best Choices
Santiago Espinal, TOR - When you refuse to strike out (16.1% K% for the season, 9.6% over the last two weeks) and make a ton of contact playing every day for an excellent offense that is starting to heat up, your points profile is likely quite friendly. Plus, Espinal has not only gotten a few shots at the top of the order but is no longer spending much time in the eight-hole and is batting mostly out of the 4-6 part of the lineup. These are all good things.
Next Choices
Jace Peterson, MIL - How great would it be if Peterson could hit lefties enough to actually play against them occasionally? Well, he doesn't - and doesn't (133 PA vs RHP, 18 PA vs LHP). But in 42 PA over the past two weeks, Peterson has posted a .403 wOBA (.390 xwOBA) and this upcoming week might be a great chance to ride the hotness. Milwaukee is scheduled to face RHP in five of their six games and the one LHP they do face is Mike Minor, so expect the bullpen to get involved quickly.
Brendan Donovan, STL - Given his lack of sexy stats (1 HR and 2 SB in 130 PA), Donovan's value in roto is pretty blah but don't ignore how well his points-friendly profile is. As in, over those 130 PA, Donovan's 14.6% BB% is outpacing a 13.8% K%. Even more importantly (at least as it pertains to compilers needing to play a lot) is that the Cardinals are actually *looking around his St. Louis neighborhood furtively before whispering* playing their best players, with Donovan starting 14 of the last 15 games.
Brad Miller, TEX - How great would it be if Miller could hit lefties enough to actually play against them occasionally? --- This is the remix. Like Peterson, Miller only starts vs righties (122 PA vs RHP, 9 PA vs LHP) and this also might be a good week to use him, as the Rangers will only face LHP in two of their seven games.
Jose Miranda, MIN - It's hard to get too excited about Miranda's offensive potential until the Twins commit to playing him every day. And as of now, he's still on a "play two, sit one" kind of schedule.
Desperate Choices
Jonathan Schoop, DET - The Schoopening (™ Paul Sporer) has been canceled. Schoop was starting to heat up but has dropped right back to his subpar ways lately, hitting just 1 HR over the past two weeks and posting just a .282 wOBA and .281 xwOBA. Every fantasy manager banking on an improved Detroit offense in 2022 continues to be severely disappointed.
Jon Berti, MIA - Since returning from the IL on May 25, Berti has started 14 of 15 games for Miami but is only slashing .245/.333/.283, with a 25.0% K% and 86 wRC+. So how in the fresh hell has he still managed an 84 APR over the past two weeks. Because Berti is all about speed - hot nasty bad-ass speed (credit: Roosevelt, El.) Berti has nine stolen bases since returning from the IL, driving his scoring way up in leagues that give at least two points per bag.
Josh Rojas, ARI - When healthy, Rojas piles up the plate appearances but a career-best 20.8 K% is slowly creeping up (24% over the past two weeks) but the damage he's doing hasn't been as fortunate. Rojas has a .323 wOBA (.283 xwOBA) over the past two weeks and since going nanners for three home runs at Wrigley on May 20, he's hit just one home run with an empty .271 AVG.
Cesar Hernandez, WSH - Looks like we've entered back into the Hernandez doldrums. Cesar has a 182 APR over the past two weeks after posting a .239 wOBA and .270 xwOBA. Send him back to the wire until his super-compilerness heats back up.
Jose Iglesias, COL - Normally I'd recommend smashing waiver wire adds who are playing in Colorado all week but do you want to see something funny about Iglesias?
Away: .365/.390/.448, .369 wOBA, 138 wRC+
Home: .231/.302/.295, .274 wOBA, 48 wRC+
On the IL
Third Base Waiver Wire Pickups
Best Choices
Jake Burger, CHW - On a scale of 9 to 10, how many puns about his last name do you think he's heard in his life? And how many has he actually found funny? Regardless, the hits are coming hot off the grill, lately, with Burger charbroiling pitchers past well done and posting a .476 wOBA (.489 xwOBA) over the past two weeks, hitting 4 HR and running just a 21.7% K%. And so long as Yoán Moncada continues to hit like the ghost of Yoán Moncada, expect Burger's playing time to continue. Unless Tony La Russa gets too deep in his cups some night and decides maybe Burger would be better suited on the pine. If you think that's crazy, I'd like to offer Leury García's .450 OPS coming out of the leadoff spot as my rebuttal.
Next Choices
Gio Urshela, MIN - The good news is that Urshela has an 83 APR for the last two weeks after slashing .325/.357/.600, with a .410 wOBA. The bad news is that those numbers are backed by a paltry .281 xwOBA saying that the good times won't last. The Minnesota offense has been heating up and Urshela has been playing every day but the Twins also don't really believe in the improved hitting, as he remains down in the order almost every time they face an RHP.
Yandy Diaz, TB - With improved exit velocities and absolutely elite plate discipline (10.4% K%, 17.3% BB%), Diaz has the bones to be a top-notch points asset. Unfortunately, he just refuses to do anything besides pound the ball into the dirt. With an average launch angle of 3.9 degrees, it's no surprise that Diaz has posted a 58.7% GB% that is 10 points above league average and is up from a 52.1% GB% in 2021.
Evan Longoria, SF - I still love Longoria in the long run (given health) but he's been mostly a mess since returning from the IL. The exit velocities are still excellent but a 30% K% that's up his norm in the low-20's undercuts a lot of what makes his profile so points-friendly. Stay ready to pounce if the hits start coming but he needs to stay out of your starting lineup until then.
Maikel Franco, WSH - Like a poor man's Gio Urshela, Franco will accumulate points by playing every and striking out rarely. But also like Urshela, you're in trouble if you need to use Franco as a long-term starter.
Desperate Choices
Alec Bohm, PHI - I still believe in Bohm's overall profile being points-friendly but he's just been a dumpster lately. Bohm has a 226 APR over the last two weeks, posting a .186 wOBA which, at least, is backed by a less-embarrassing .323 xwOBA.
Bobby Dalbec, BOS - Dalbec has woken up with an 86 APR over the past two weeks but let's not get too carried away. His +30% K% will still make him a liability under many scoring systems and Dalbec's .404 wOBA over the past fortnight is backed by a .323 xwOBA.
On the IL
Shortstop Waiver Wire Pickups
Best Choices
We know the deal by now, right? Our choices classified at shortstop continue to be the weakest of sauces and you're likely better served by snagging one of the previously discussed options that have SS eligibility (Gio Urshela, Brendan Donovan, Josh Rojas, almost anyone).
Next Choices
See: Choices, Best
Desperate Choices
Miguel Rojas, MIA
Elvis Andrus, OAK
Didi Gregorius, PHI
The three above are the best choices for the group...Do you see what I'm saying now? Which flavor of a sub-.300 wOBA would you prefer? Okay, you caught me cheating - Gregorius has a .352 wOBA that's backed by a .299 xwOBA. What a stud. May all of your opponents lock him in.
On the IL
Catcher Waiver Wire Pickups
Best Choices
MJ Melendez, KC - I don't know why Melendez is still under 50% rostered but he absolutely shouldn't be. The rookie has started every game for almost a month and continues to absolutely mash, slashing .267/.341/.491 over 129 PA. Plus, he has a 62 APR over the last two weeks and has posted a .406 wOBA and .385 xwOBA. See ya later, MJ - I refuse to believe you'll be here next week.
Next Choices
Christian Bethancourt, OAK - Ok, who shoved a rocket up Bethancourt's bat? Was it you? Or you?! Well, someone did, as the Oakland catcher (that hasn't played in the major leagues since 2017!) is slashing .261/.303/.417 over 123 PA for the season and now has posted a .489 wOBA (.554 xwOBA!) over the past two weeks. He's still a part-time catcher but has started the past four games at DH/1B and his power outburst needs to be recognized. Acknowledge him.
Desperate Choices
All catcher adds are desperate adds. Now and forever.
On the IL
Outfielder Waiver Wire Pickups
Best Choices
Oscar Gonzalez, CLE - Still barely rostered anywhere (except my NFBC teams, where it's ~80% ; ), it's time for everyone to start hopping on the Oscar that Cleveland has been waiting for. Unlike the false one of Mercado, the true Oscar has posted a 69 APR over the past two weeks and is slashing .417/.426/.567, with a .431 wOBA in his 61 PA since getting called up. That's a sexy enough slash line but what's more intriguing is that those numbers are with Gonzalez having yet to hit a home run - and make no mistake, power is his calling card. Gonzalez hit 9 HR at Triple-A before his call-up and hit a combined 31 HR in 504 PA at two levels in 2021. Once the dongs start catching up to his hard contact, points are gonna rain. Like with most rookies, you'll have to deal with more streakiness than with the choices below but Gonzalez has arguably the most upside anywhere on the wire.
Tommy Pham, CIN - Okay, I know King Slappy has been up-and-down but he really shouldn't still be on the waiver wire. Even this diminished version of Pham is a top-75 hitter by overall APR and has a 77 APR for the last two weeks, posting a .381 wOBA and his normal double-digit walk-rate/low-20 strikeout rate. It's what Tommy does. Well, that, and slap people who make him angry about fantasy football stuff and/or steal his parking spot in a strip club parking lot.
Trent Grisham, SD - Grisham has finally started to wake up, even if his numbers haven't yet reached the levels of his recent past. He's posted a 27 APR over the past two weeks and has slashed .290/.371/.516, with a 152 wRC+ over his past nine games. With a .370 wOBA and 142 wRC+ in the month of June, me thinks Grisham is not so long for this column.
Next Choices
Ramon Laureano, OAK - Doctor! I think we have a heartbeat. Laureano has started to wake up since returning from his suspension, running a 136 APR over the last two weeks that only feels impressive because of just how bad he had been prior. But he's slashed .311/.354/.410 over his past 15 games, collecting at least one in all but two of them, with five multi-hit performances. He even hit his first home run of the year! But even better for points-profile purposes is a career-low 19.5% K% (2018-2021: 26.2% K%) that is backed by a career-low 7.8% SwStr%.
Jesus Sanchez, MIA - Good god, nurse! I think we have another one. Get the paddles. The Marlins offense has been red hot and so has Sanchez, hitting four home runs in his past nine games, slashing .300/.290/.767 over 31 PA, with a .436 wOBA. Granted, two of the home runs came in Colorado, but still! Life is life.
Alek Thomas, ARI - The Arizona rookie continues to get no love from his Roster%, even with a well-balanced profile that comes with a 16.5% K%. Thomas has a 102 APR over the past two weeks and even though the .318 wOBA from that period is below average, the .399 xwOBA holds a promise of more to come.
Lane Thomas, WSH - Given how hot he's been in June, I suppose I'll have to pause my whole "Lane Thomas is a plus 4th-outfielder who occasionally gets hot but can't hit lefties" schtick, for the moment. Thomas has now started the past seven games and is slashing .412/.474/.765 over 38 PA in June, with the numbers ballooned by a 3-HR game on June 3. Hey, maybe Thomas can hit lefties now! I mean, he is slashing a not completely terrible .246/.308/.386 against them, with two home runs...That's good, right? Or-rrrrr...Maybe Thomas's numbers are being propped up by hitting three home runs in a game against Mike Minor (L), Jeff Hoffman, and Vladimir Gutierrez, and has another lefty-HR coming off of a gassed Austin Gomber? Who knows. But hey, ride the streak - Washington plays eight games this week, with only three coming against left-handers.
Jack Suwinski, PIT - It's always risky betting on rookies on bad teams but Suwinski has been on absolute fire lately, posting a .451 wOBA and .422 xwOBA over the past two weeks, with per-PA scoring that would rate as elite if they came over a larger sample.
Desperate Choices
Kole Calhoun, TEX - Calhoun (and most of the rest of Texas) has been in the dumps in June, going just 4-for-34. Having not hit a home run since May 26, the Calhoun renaissance appears to be closing down. But he's still shooting for the moon with his average launch angles so perhaps the power will start showing back up as temperature rises.
AJ Pollock, CHW - I'd like to think Pollock is finally starting to come around (139 APR over the last two weeks) but a .374 wOBA backed by a .264 wxOBA makes me want to continue avoiding the hot mess on the South Side.
Darin Ruf, SF - Ruf has continued to play against righties and lefties and has started his four games since returning from the bereavement list, including a 2-HR game against the Dodgers on Friday. He's still better vs RHP, though, and the Giants will face one in four of their six games in Week 10.
Garrett Cooper, MIA - I'm telling you, Garrett Cooper is really good at hitting, with an above-average walk rate and a below-average strikeout rate that make his profile very points-frien...Oh wait, he just got put on the COVID-IL on Saturday. Let's pick this back up when he returns.
Seth Brown, OAK - Brown only plays vs RHP but Oakland will only face an LHP in four of their six games this week.
On the IL
Download Our Free News & Alerts Mobile App
Like what you see? Download our updated fantasy baseball app for iPhone and Android with 24x7 player news, injury alerts, sleepers, prospects & more. All free!


More Fantasy Baseball Waiver Wire Advice