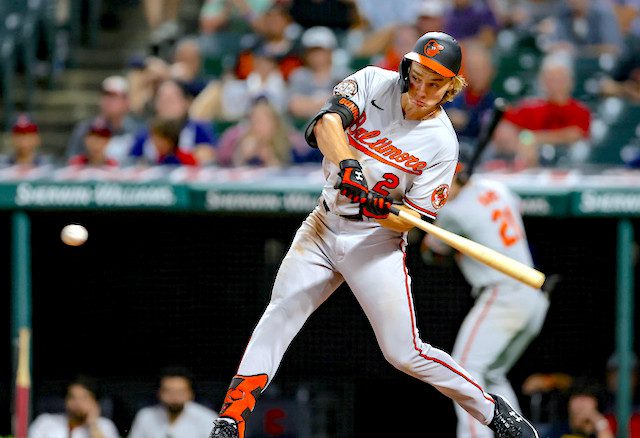 Welcome to Week 24 and our fantasy baseball waiver wire hitters. We'll be doing this roundup of points leagues every week here at RotoBaller, with waiver wire targets and streaming pitchers being evaluated in terms of the different scoring systems of ESPN, Yahoo!, CBS, and Fantrax.
Player values can vary wildly from platform to platform, so we'll make sure to highlight where players are the best and worst fits. We know points league players get neglected and we're here to help.
These fantasy baseball waiver wire pickups are for the week of September 19th - September 25th, looking at players below ~50% rostered for ESPN, Yahoo!, or Fantrax. Position eligibility is taken from Fantrax and players are grouped by their most valuable fantasy position, using a hierarchy of: C > 2B > OF > 3B > 1B > SS. Stats and rankings for charts are calculated using games through Friday, September 16.
Editor's Note: Our incredible team of writers received five total writing awards and 13 award nominations by the Fantasy Sports Writers Association, tops in the industry! Congrats to all the award winners and nominees including Best MLB Series, NFL Series, NBA Writer, PGA Writer and Player Notes writer of the year. Be sure to follow their analysis, rankings and advice all year long, and win big with RotoBaller!
Read More!
Know Your Scoring System
You know what I'm going to say, right?  You must account for, as precisely as possible, how a player performs under your particular scoring system. Don't be fooled into believing you can just make rough adjustments in your head, bumping up guys with high on-base percentages and low strikeout rates. Every point, in every category, counts.
For example, ESPN and Fantrax are virtually identical in their scoring for hitters and roster size. The only difference is that stolen bases are worth one more point on Fantrax and ESPN subtracts one point per strikeout. That's the difference between Trea Turner being a top-five hitter versus a top-25 hitter.
If your league uses standard settings, then great! Turn to page 94 and you can skip ahead to the leaderboards. If you play with custom settings, it'll still be fine. Go back to page 43 and look below at the scoring systems of the four major platforms. I bet there's a chance that you'll find that your league's scoring is very similar to one of the four (well, not Yahoo!'s), even if it's not the platform you actually play on.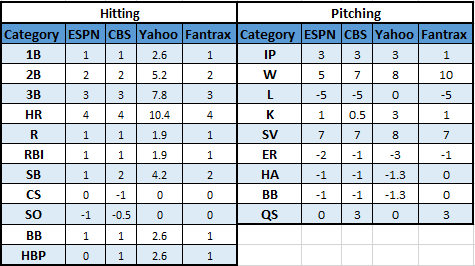 You'll likely find a suitable mirror to your own system if you look above. While every point counts, as long as they aren't seismic changes, you can get away with some "close enough" calls. IE. You're probably fine if everything is the same except for HBP (or something similar).
Week 24: Waiver Wire Leaderboards
All charts are updated prior to Saturday's games, on stats and ownerships, and clicking on a chart will open a new page with a magnified version. Players on overall leaderboards are ordered according to their current Roster% on Yahoo.
*APR = Average Platform Ranking - the average platform ranking between ESPN, CBS, Yahoo, and Fantrax (standard point settings)
The 14-Day Leaderboard, Presented by Hansel
These players are so hot right now. Here are the players on the wire who are running inside the top-100 of APR over the past two weeks:
Overall Leaderboards
First Base Waiver Wire Pickups
Best Choices
Albert Pujols, STL, 1B (Yahoo: 35%, ESPN: 17%) - The Cardinals' devil magic continues to flow, with Pujols hitting his 698th home run on Friday night and running a 45 APR over the past two weeks, with 4 HR and 12 RBI. And mind you, that's coming at a time when the Cardinals have faced a dearth of LHP, against whom Pujols is significantly better (LHP: .478 wOBA, 216 wRC+, RHP: .298 wOBA, 94 wRC+. In Week 24, the Cardinals are scheduled to face left-handers in four of six games.
Next Choices
Luke Voit, WSH, 1B (Yahoo: 31%, ESPN: 29%) - Voit has stayed hot (68 APR over the last two weeks) but the most remarkable part (for his value in points) of this recent run is the 11.1% K%
Desperate Choices
Michael Toglia, COL, 1B (Yahoo: 0%, ESPN: 1%) - Toglia has been fairly unremarkable since getting called up but is starting every day and has seven games at Coors in Week 24.
On the IL
Eric Hosmer, BOS (back inflammation - no timetable for return)
Miguel Cabrera, DET (strained bicep - no timetable for return)
Second Base Waiver Wire Pickups
Best Choices
Nico Hoerner, CHC, 2B/SS (Yahoo: 49%, ESPN: 43%) - Wait, how'd Nico get back on here? Hoerner has dipped below our Roster% threshold, for some reason, but it's not performance-based, as he still has an 80 APR for the year and a 70 APR over the past two weeks. Why would you drop the Nico? Okay, well he has missed the past four games with a triceps issue but should be returning soon. So, again, why would you drop the Nico?
Kyle Farmer, CIN, 2B/3B/SS (Yahoo: 30%, ESPN: 28%) - Remember when Kyle Farmer was one of our Best Choices last week (and a bunch of other weeks)? Well, so far in Week 23, Farmer has slashed .300/.364/.600 over 22 PA, with 2 HR and a .413 wOBA. You should consider picking him up.
Brendan Donovan, STL, 1B/2B/3B/SS (Yahoo: 32%, ESPN: 24%) - Donovan has now started St. Louis's past 10 games, batting leadoff in seven ove them and slashing .294/.415/.500 over 41 PA, with 2 HR, 9 Runs, and a .401 wOBA. Behold the power (or lack of it) of name value! There's no good reason Donovan's Roster% should qualify him for this article.
Next Choices
Tony Kemp, OAK, 2B/OF (Yahoo: 7%, ESPN: 6%) - The Tony Kemp renaissance tour continues, with Kemp running a 47 APR over the past two weeks, backed by a .412 wOBA and 7.5% K%. Playing almost every day and batting leadoff, you could do a lot worse - for now.
Desperate Choices
Rodolfo Castro, PIT, 2B/3B/SS (Yahoo: 8%, ESPN: 2%) - Castro has a 50 APR over the past two weeks but that's backed a somewhat bonkers collection of stats. Playing every day (and pulling 60 PA in two weeks), Castro has hit four home runs, with 6 Runs and 10 RBI...But just a .299 wOBA (.265 xwOBA) and .413 wOBAcon. That's seriously hard to pull off when also hitting four jacks.
Luis Garcia, WSH, 2B/SS (Yahoo: 6%, ESPN: 3%) - Garcia, who is still somehow just 22 years old, has collected at least one hit in all but two September contests, running a 96 APR over the past two weeks.
On the IL
Third Base Waiver Wire Pickups
Best Choices
Gunnar Henderson, BAL, 3B/SS (Yahoo: 47%, ESPN: 23%) - Why is Henderson still available??? The Baltimore rookie has been electric since getting called up on August 31, slashing .333/.379/.574 over 58 PA, with a .407 wOBA and 171 wRC+ Playing every day in the middle of a recharged Orioles offense, there are zero good reasons for Henderson to be on your waiver wire.
Next Choices
Gio Urshela, 3B/SS (Yahoo: 32%, ESPN: 21%) - Urshela is on a hitting bender, picking up a hit in eight of his last nine games, slashing .378/.429/.486 over 42 PA. Playing every day keeps Urshela compiling his way to a high floor but that can get accentuated real quick when he goes on a heater.
Spencer Torkelson, DET, 1B/3B (Yahoo: 15%, ESPN: 42%) - The results haven't completely shown up yet but Torkelson is clearly a different hitter than prior to getting demoted back to Triple-A. Since returning, Torkelson is only slashing .263/.364/.447 but a .374 wOBA over the past two weeks is backed by a .449 xwOBA, while his .396 wOBAcon has a .499 xwOBAcon with it. This is only a matter of time. Hopefully, he doesn't get to hot and completely ruin the discount I'm hoping to pull in 2023 drafts.
David Villar, SF, 3B (Yahoo: 6%, ESPN: 1%) - Villar has started 12 of San Francisco's 15 games since getting called back up, and has delivered, so far. Over 44 PA in September, Villar is slashing .293/.341/.659, with a .422 wOBA and 176 wRC+.
Desperate Choices
Yoan Moncada, CHW, 3B (Yahoo: 39%, ESPN: 44%) - Oh boy, oh boy, oh boy; folks are really going to talk themselves back into Moncada next year, aren't they? He might have a 67 APR over the past two weeks but nothing much has changed, with a .392 wOBA that's only backed by a .314 xwOBA, a .526 wOBAcon with a .417 xwOBAcon, and a 25.0% K% that will likely be back at 30% shortly. Don't be fooled, this is a BABIP-driven mirage.
Jordan Groshans, MIA, 3B/SS (Yahoo: 1%, ESPN: 0%) - The former top prospect for the Blue Jays has made his presence felt in his four games since getting called up by the Marlins, going 5-for-14, with 1 HR and a .449 wOBA. If playing every day, his plate discipline could make him a decent points asset for the final stretch.
On the IL
Shortstop Waiver Wire Pickups
Best Choices
Elvis Andrus, CHW, SS (Yahoo: 48%, ESPN: 29%) - So, we're still doing this? Andrus continues to be one of fantasy's hottest assets, posting a 3(!) APR over the past two weeks, and is now slashing .321/.362/.541 over 116 PA since getting traded to the White Sox. Ride the streak 'till the wheels come off.
Next Choices
Isiah Kiner-Falefa, NYY, SS (Yahoo: 24%, ESPN: 15%) - Wait, IKF can play offense, now? Kiner-Falefa is red-hot, posting a 20 APR over the past two weeks, slashing .359/.444/.513 over 46 PA, with a .419 wOBA and 181 wRC+.
Desperate Choices
Spencer Steer, CIN, SS (Yahoo: 2%, ESPN: 1%) - Things have mostly gone downhill for the rookie since the high of hitting a home run in his debut, running just a 183 APR since.
On the IL
Catcher Waiver Wire Pickups
It's dumpster season. I hope you don't need a catcher from the waiver wire.
Best Choices
Cal Raleigh, SEA, C (Yahoo: 38%, ESPN: 17%) - A .204 AVG and 23 HR is about the best you're going to find on the catching wire but a near-30% K% will continue to limit his value in many point leagues.
Next Choices
Yadier Molina, STL, C (Yahoo: 10%, ESPN: 10%) - Molina must've shot some of that Pujols hotness right into his face because the old man behind the plate has been killing it in September, slashing .306/.342/.556 over 38 PA, with 2 HR and a .385 wOBA.
Eric Haase, DET, C/OF (Yahoo: 23%, ESPN: 7%) - Haase has a 98 APR over the past two weeks but his .451 wOBA has a .291 xwOBA and 35.9% K% behind it.
Desperate Choices*
*All catcher adds are desperate adds. Now and forever. But also:
Danny Jansen, TOR, C (Yahoo: 14%, ESPN: 6%) - Jansen just doesn't play enough to be used by anyone but the desperate but does have an 84 APR over the past two weeks after posting a .453 wOBA (.413 xwOBA) over 36 PA.
On the IL
Outfielder Waiver Wire Pickups
Best Choices
Oscar Gonzalez, CLE, OF (Yahoo: 29%, ESPN: 13%) - Oh my god, it's ha-penning! We've talked about his power potential all season but Gonzalez is finally starting to deliver on the power that was promised by his minor league career. Gonzalez has a 12 APR over the past two weeks and has hit four home runs in his last 35 PA. Pick him up.
TJ Friedl, CIN, OF (Yahoo: 23%, ESPN: 11%) - Friedl has a 32 APR over the last two weeks and should get enough playing time in Week 24 to keep the train rolling, with the Reds not scheduled to face a left-handed starter in any of their six games.
Aristides Aquino, CIN, OF (Yahoo: 5%, ESPN: 2%) - Aquino is red-hot, hitting five home runs in the past two weeks and running a 15 APR, with just a 22.4% K%. But just as importantly, he's playing every day, having now started the Reds' last 12 games. In September, Aquino is slashing .327/.377/.755 over 53 PA.
Yonathan Daza, COL, OF (Yahoo: 3%, ESPN: 2%) - Daza has returned from the IL with an absolute vengeance, slashing .452/.500/.645 over 34 PA in eight games, with a .493 wOBA. With a homestand on tap, Daza might be one of the sneakiest pickups available.
Next Choices
Jake Fraley, CIN, OF (Yahoo: 22%, ESPN: 9%) - Don't like Friedl, how about Fraley? They're kind of like that Spiderman meme but if one of the Spidermen occasionally went ice-cold/on the IL.
Robbie Grossman, ATL, OF (Yahoo: 21%, ESPN: 35%) - Good god, a Robbie Grossman sighting?! Well, don't get to crazy; his .410 wOBA over the past two weeks is only backed by a .326 xwOBA. But he is playing a lot, starting each of Atlanta's last nine games.
AJ Pollock, CHW, OF (Yahoo: 31%, ESPN: 25%) - Pollock had been heating up (finally) but has gone ice cold, as of late, going 1-for-17 in his past five games.
Garrett Cooper, MIA, 1B/OF (Yahoo: 12%, ESPN: 8%) - Cooper has woken back up lately, running an 80 APR over the past two weeks that has a .378 wOBA and .368 xwOBA behind it.
Lane Thomas, WSH, OF (Yahoo: 21%, ESPN: 11%) - Thomas is on one of his classic "trick people into thinking he's a viable fantasy starter" streaks, posting a 27 APR over the past two weeks. But a .408 wOBA and .469 wOBAcon over the past two weeks is only backed by a .306 xwOBA and .332 xwOBAcon. I'm still doubting Thomas.
Desperate Choices
Corbin Carroll, ARI, OF (Yahoo: 41%, ESPN: 17%) - Carroll has been really good since getting called up, hitting 3 HR in 53 PA, with a .377 wOBA and 142 wRC+. Unfortunately, the Diamondbacks are infuriating and are only playing him about every other day. It's the worst and currently makes him not very viable.
Alex Call, WSH, OF (Yahoo: 0%, ESPN: 0%) - Call has started seven games in a row, hitting two home runs in 28 PA. If you're desperate, Call me maybe?
On the IL
Download Our Free News & Alerts Mobile App
Like what you see? Download our updated fantasy baseball app for iPhone and Android with 24x7 player news, injury alerts, sleepers, prospects & more. All free!


More Fantasy Baseball Waiver Wire Advice