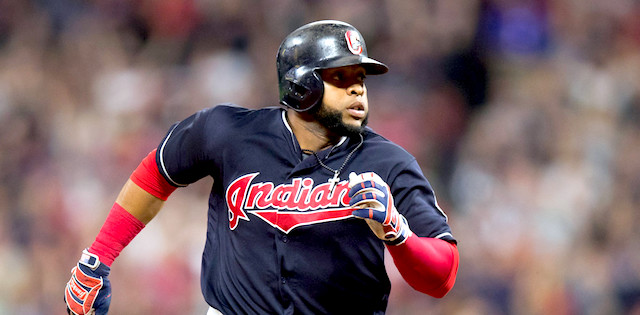 First base is bottom-heavy for fantasy purposes this year, with just one player drafted in the top-30 picks on average. As a result, there are relatively few first basemen who are excessively overvalued and several who can provide solid value in late rounds.
Below are first basemen who are particularly poorly valued in drafts. These players should provide fantasy owners with opportunities to gain an edge, whether it be by avoiding the overvalued players or targeting the undervalued players.
ADPs and point totals are based on ESPN standard scoring leagues. Players receive one point per base, RBI, and run scored. Scoring is most distinguished by receiving only one point per stolen base (compared to two points on every other site) and losing one point per strikeout (compared to zero or a half-point). To qualify as a first baseman, a player have appeared in twenty games at the position last season.
Featured Promo: Get your 2023 MLB Premium Pass for 50% off. Exclusive access to our preseason Draft Kit, #1 accuracy rankings, #1 ATC projections, Team Sync platform, Live Draft Assistant, 15 in-season lineup tools, customized rankings and much more!
Sign Up Now!
ADP: 101
Santana scored an impressive 502 fantasy points last season, a mark that ranked third among first basemen and 14th among all hitters. It's only based on one season and ignores positional value, but all 13 of the other hitters who collected at least 500 points own top-60 ADPs this year. 
Santana enjoyed a mini power breakout last season with a career-best 91.8 mph average exit velocity, helping fuel a career-high 5% home run rate and strong 9.5% extra-base hit rate. Encouragingly, Santana's average exit velocity sat above 90 mph for the vast majority of last season, indicating that his power improvements may stick in 2020.
Combined with his elite plate discipline and contact skills -- Santana's 15.7% strikeout rate was matched by his similarly impressive 15.7% walk rate last year -- Santana's power surge makes him more likely to be worthy of a top-50 pick than not this year. As a result, Santana's 101 ADP leaves him substantially undervalued.
ADP: 136
Encarnación put up 344 points in just 109 games last season. Had he played a full season and maintained his per-game average, Encarnación would have posted 511 points, good for the 12th highest total among all batters.
Even at 37 years old, Encarnación showed few signs of significant decline last season. Indeed, Encarnación's 90 mph average exit velocity, 42% hard-hit rate, and 10.4% swinging-strike rate are all in-line with or better than his numbers from the past few seasons, suggesting that he's unlikely to see a sharp decline in 2020.
Although Encarnación's .409 xwOBA on contact was unusually low, this was likely in part due to a poor 36.5% under-rate that was nine-points lower higher than 2019. However, his average launch angle declined towards his career-average 17.7-degree mark as the season progressed, indicating that he may mishit the ball less frequently in 2020. 
Health may be the most significant factor holding Encarnación back from being undervalued in 2020. An oblique strain plagued Encarnación last season, but he missed the majority of his time with a broken wrist, so his re-injury risk appears to be relatively low this year even though oblique strains can be nagging. As long as Encarnación can manage to play in at least 130 games -- something he's done in four of the past five seasons -- he should easily provide value at his 136 ADP.
Undervalued: Yandy Díaz (3B, TB)
ADP: 226
Diaz posted a fairly strong 2.7 points per game last season, but he's one of the last first basemen drafted on average this year. One common knock against Diaz is his ground-ball heavy 1.05 GB/FB ratio. But while that may limit his ceiling, Diaz is still likely to be a highly productive player in 2020 even with his high rate of grounders. 
Diaz's 97 mph average exit velocity on line drives and fly-balls ranked 11th in the league last year. Since hitting fly-balls hard is so important for a hitter's production, this ability should help establish a relatively high floor.
Even with his 1.05 GB/FB ratio last year, Diaz posted a .397 xwOBA on contact and a .816 OPS, and there's little to suggest that such a performance is unsustainable. It's also worth noting that Diaz's average launch angle sat at a career-high 5.7 degrees last season, and improvements in his launch angle could result in an OPS near .900 in 2020.
If that's not enough, Diaz also boasts a 17.6% strikeout rate that's largely supported by his 72.6% z-swing rate and 9.3% swinging-strike rate. Fantasy owners should be all over Diaz at his 226 ADP, as he should be one of the best bargains at any position this season.
ADP: 25
Alonso had a monster rookie season with a .941 OPS and a whopping 53 home runs, but the 25-year-old is overvalued at his 25 ADP. Even if Alonso can maintain last season's numbers, he was only the 23rd-most productive hitter in ESPN points leagues last year.
Problematically, Alonso appears likely to see his performance decline somewhat in his sophomore season, with his league-leading 24.7% HR/FB ratio seemingly unsustainable. Although Alonso's 96 mph average exit velocity on fly-balls and line drives was impressive, it ranked 20th in the league, suggesting that his HR/FB ratio is likely to decline. Even if it's not a substantial decrease, Alonso's 2019 performance was already failing to support his ADP, leaving him in a more tenuous position.
Alonso's most obvious area of improvement is his strikeout rate but little suggests that he's likely to do so. At a 26.4% K-rate, Alonso struck out at a higher rate than all but 14 batters, a trend that appears unlikely to change significantly in 2020 given his 12.4% swinging-strike rate that stayed relatively constant throughout the season.
Based on last season's performance, Alonso appears unlikely to crack the top-15 points league batters in 2020, even with his prodigious home run power. This makes his top-25 ADP far too high of a cost to pay.
Overvalued: Danny Santana (1B/SS/OF, TEX)
ADP: 192
Santana broke out last year with a .857 OPS, but a high strikeout rate and some expected regression make him overvalued at his 101 ADP. After posting an average exit velocity north of 90 mph over his last 345 batted balls, Santana's power breakout is likely legitimate. Even so, Santana's .353 BABIP from last season is likely to fall closer to .330 in 2020, a projection that is partially supported by his .014 wOBA - xwOBA. 
Santana's poor 29.6% strikeout rate caps his value in points leagues as well, and his career-worst 15.7% swinging-strike rate from last season suggests that it's unlikely to fall significantly in 2020. Overall, even if Santana can maintain his 2019 production, fantasy owners will likely be better off taking Christian Walker a round or two later.
More 2020 Fantasy Baseball Advice