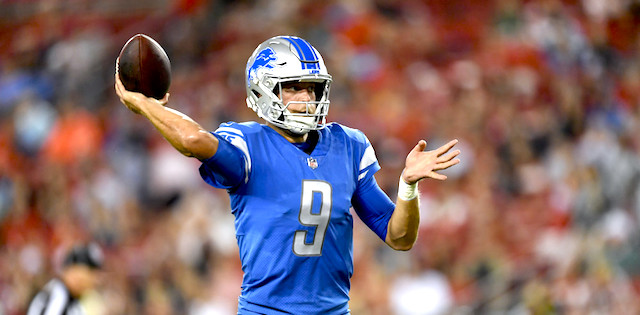 There is no firm timetable on the possible return of the best quarterback in fantasy football. Patrick Mahomes may miss three weeks with a dislocated kneecap, but there have been reports indicating he could possibly be back sooner. The best way to approach the guesswork as a fantasy owner is to prepare as if he will miss at least three weeks. If he returns sooner, consider it a bonus.
So if you lost the services of Mahomes, who can adequately fill in for him while he is out? When we say adequate, we mean adequate. You don't have to trade for Lamar Jackson or Deshaun Watson to fill the hole. You can still get to the fantasy playoffs with a respectable option at QB.
Here are some good shorter-term solutions to replace Mahomes in fantasy football. Some can be traded for, others can be plucked off waivers in your leagues.
Editor's Note: Get any rest-of-season NFL Premium Pass for 50% off. Our exclusive DFS Tools, Lineup Optimizer and Premium DFS Research through the Super Bowl.
Sign Up Now!
Who Can Ease Your Chief QB Concern?
Kirk Cousins, Minnesotta Vikings
He is one of the hottest passers in the game right now, and you may have to part with more in a trade to get him than with some others on this list. He has revived the Minnesota passing game with three consecutive 300-yard performances and back-to-back four TD outings. His next two matchups are against two vulnerable secondaries (Kansas City and Washington).
Matthew Stafford, Detroit Lions
He has been more of a downfield thrower than expected this season (career best 12.9 yards per completion so far) and is coming off his best game of the year. He threw for 364 yards and four TDs against a very respectable Minnesota defense. His next two matchups are against the Giants (23rd ranked pass defense) and Raiders (worst in the AFC). You can possibly swing a lower-level deal to acquire him..
Josh Allen, Buffalo Bills
I do not have some sort of statistical evidence to back this up, but trust me when I tell you that I have seen many Josh Allen owners roster another quality QB along with him. The Allen owner is often in a spot to trade one of their two QBs and may be willing to part with him while keeping the other guy. Allen does not have great upside, as he has not thrown for 260 yards in a game and has only two outings with more than one TD pass. But he does run well and has three rushing TDs and always is capable of bolstering his stats with his rushing ability. His next four games are against the Eagles (27th ranked pass defense), Redskins (fifth most rushing yards allowed to QBs), Browns (seventh most rushing yards allowed to QBs) and Dolphins (most AFC fantasy points per game allowed to QBs).
Philip Rivers, Los Angeles Chargers
He has endured through some ups and downs this season and has seemingly very tough matchups with the Bears and Packers next. But the Chicago pass defense ranks 13th and Green Bay 21st, and Rivers just threw for 329 yards and two TDs vs. the Titans' 10th ranked unit. Rivers should usually provide you with quality totals over a few games and can be a decent plug-in for Mahomes. He should be acquired via trade rather easily.
Jacoby Brissett, Indianapolis Colts
A prime overlooked free agent pickup in some leagues, Brissett is 58 percent owned. He has thrown for three TD passes in three of his past four games. He does face Denver's third ranked pass defense this week, but after that, he does not take on a Top 15 unit in the next four games. The Colts were smart to hold on to Brissett as Andrew Luck's previous backup. He has become a good starter and fantasy players need to stop thinking of him as a former understudy.
Sam Darnold, New York Jets
You may think this is a laughable suggestion after Darnold suffered through the worst performance of his young career on Monday. But he is not as bad as he looked, and a week earlier he looked very sharp against a usually sturdy Dallas defense. The schedule opens up for the Jets beginning this week. Jacksonville's pass defense ranks 17th and Darnold could rebound quickly to put his nightmarish Week 7 outing behind him. After that he gets Miami, the Giants, Washington, Oakland, Cincinnati (16th) and Miami again. Darnold is still an inconsistent work in progress but he has the playmakers for the numbers to be good enough through Week 14. He is owned in 54 percent of FleaFlicker leagues and will be cut in many of them to give you an opportunity to scoop him up. Look forward with Darnold, not just to recency.
Gardner Minshew, Jacksonville Jaguars
There is not too much fantasy upside here, but Minshew has a decent floor and may be available on waivers in your league, as he is 54 percent owned on FleaFlicker. Minshew has registered at least 16 fantasy points in six of seven games this season. He gets the Jets (24th ranked pass defense) and Houston (29th) next.
Drew Brees, New Orleans Saints
He could return as soon as this week against Arizona. Many of his original 2019 owners moved on from him and replaced Brees awhile ago and have two quality starters on their roster. Some even cut him, as less experienced fantasy players sometimes do when a guy is injured. If he is not available as a free agent his current owner likely can afford to part with one of his passers in a trade. The Saints get the Cardinals (25th ranked pass defense), Atlanta (28th) and Tampa Bay (worst in the NFL) in their next three games. They do have a bye in Week 9, though, and if Brees cannot come back this week that means you need someone else to fill in for Mahomes for two weeks.
Matt Moore, Kansas City Chiefs
This is the natural and easy solution, although it's obviously the riskiest. Grab Mahomes' backup off waivers and start him until the superstar returns. Moore has shown glimpses of being able to hit some big plays throughout his career, as he has averaged 11.8 YPC. He and Tyreek Hill did connect for a 57-yard TD in Week 7. But matchups against an angry Vikings Defense this week and a solid Titans unit thereafter does not bode well for statistical promise in the short term.
More Fantasy Football Analysis