So far this offseason, I've been doing deep dives on a few of the key Statcast metrics and trying to see how the leaderboards from last year can point us in the direction of some players that might be undervalued based on current projection systems. If you haven't checked those out yet, you can read all of them here, so I'd encourage you to do that because I spent a lot of time on them but I also think they're helpful.
Today, I wanted to do a little stat combining. When you think of a good hitter, not just in fantasy baseball but in the real game of baseball, you think of a player that doesn't swing and miss a lot and makes authoritative contact when he does make contact. Now, that doesn't mean this hitter will be an automatic stud. There obviously are still issues that could present themselves like not swinging enough or not getting enough plate appearances, but I think this is a good place to start.
Let's call these players Selective Sluggers: players who may not swing often, but when they do, they make it worth our while.
Featured Promo: Get your 2023 MLB Premium Pass for 50% off. Exclusive access to our preseason Draft Kit, #1 accuracy rankings, #1 ATC projections, Team Sync platform, Live Draft Assistant, 15 in-season lineup tools, customized rankings and much more!
Sign Up Now!
Selective Sluggers: The List
Last year, there were only 15 players in all of the MLB with over 200 plate appearances who ranked in the 60th percentile or better in BOTH barrel rate and whiff rate. You can see the full list below, and I'm going to try this thing when I BRIEFLY cover each in a short blurb under the table.
Historically, I'm terrible with being brief, so hit me up on Twitter @SamskiNYC anytime and let me know what you think.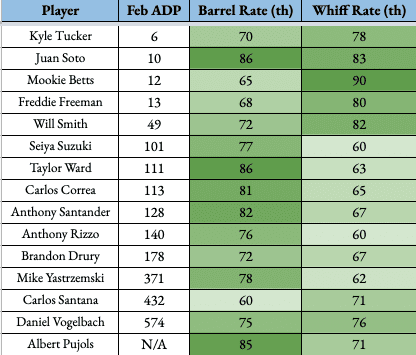 Analysis Of The Sluggers
Tucker is currently going sixth after the fairly well-established top five of Ronald Acuña Jr., Aaron Judge, Jose Ramirez, Trea Turner, and Jose Ramirez. You should be drafting Tucker sixth; he's very good, and at 26 years old, will only get better. I expect his batting average to tick back up this year and think he's a legitimate candidate to go 30-30.
There. That's my short analysis.
Juan Soto - OF, San Diego Padres
Soto is also very good at baseball, but I am not a fan of his current ADP of 10.
Part of what makes Soto such a great baseball player is his tremendous eye at the plate, but walking 20% of the time doesn't help you in fantasy because it limits the number of swings Soto takes, which limits his ability to hit home runs and drive in runs.
Last year, Soto had a swing rate of just 35.3%, which was last in the MLB among qualified hitters. The problem is that his zone swing rate was also the fourth-lowest in the league, so he's also not swinging at pitches that are in the strike zone. Oh, and now he's in a worse park for left-handed pull power.
I don't think Soto hits just .242 again, but I also don't think he's hitting 34 home runs as he did in 2019 and he won't steal you 10+ bases, so it really limits his upside in this range despite being one of the best real-life players in the game.
Mookie Betts - OF, Los Angeles Dodgers
Shocker, another really good player on this list. Betts had some detractors in the past couple of years due to health concerns, but he played 142 games last year and seems to be as good a bet for 140-150 games in 2023 as any hitter in this range.
While his batting average has come down slightly outside of Fenway Park, his power still plays and he hits leadoff for one of the best offenses in baseball. He's going to be a solid source of batting average, power, runs, and RBIs, and despite not being as fast as he used to be, he is a smart enough baserunner to steal you 10-15 bases. I would love to end up with Mookie Betts in my drafts and actually have him ranked ahead of Soto without much concern.
Freeman is the second of three Dodgers to come on this list. Remember that part about their offense being really good? The biggest knock on Freeman was that he hit only 21 home runs last year, which seemed like a far cry from what people expected; however, outside of the 2019 bouncy ball, Freeman only had two years with over 30 home runs.
Part of that is because he's an all-fields hitter and the new ball didn't jump to the opposite field the way the ball had done in previous years. Well, Freeman is a smart hitter, and he knows this. His pull rate jumped from 34.1% in the first half with an HR/FB rate of 13.3% to a 39.3% pull rate in the second half; however, his HR/FB rate dropped to 10.4%. I think that's flukey for a hitter with a 16.6% HR/FB rate and Statcast agrees that his 22 home runs could have been his 27 xHR.
Considering everything else he did was great, if the only knock is power, then I would say pencil Freeman in for 26-28 home runs and be happy to take him in drafts.
Will Smith - C, Los Angeles Dodgers
Will Smith is one of the best catchers in fantasy baseball and had another great season last year. He also cut his strikeout rate to 16.6% and remains a good bet for 25 home runs and a .260 average. The only downside is that he started only 109 games at catcher last year while adding other starts at designated hitter and one at 1B. With J.D. Martinez in town, it's far less likely Smith will start at DH, which means he might not match the 137 starts he received last year.
Seiya Suzuki - OF, Chicago Cubs
I wish Suzuki wasn't hurt right now because I was excited about him this season. He cut his strikeout rate as the season went on last year and he adapted to the MLB game. He also posted a .211 ISO in September and had six home runs in the last six weeks of the season. I think he's underrated since he was inconsistent while battling through injuries last year. However, he put on 20 pounds of muscle this offseason and is already hurt, so that makes me a bit nervous.
Taylor Ward - OF, Los Angeles Angels
Taylor Ward is another player who was underrated due to playing through an injury last year. He's no longer being underrated with an ADP of 109 in March. That still might not be high enough. From August 1 onward, he hit .288/.346/.481 with 10 home runs, 25 runs, 20 RBI, and two stolen bases in 57 games. His strikeout rate was under 17% and that on-base skill has him slated to hit lead-off in a lineup that features Mike Trout, Shohei Ohtani, Anthony Rendon, and Hunter Renfroe. Ward could be in for a big season.
Carlos Correa - SS, Minnesota Twins
All the offseason chatter about Correa has been centered around the ankle issues that derailed a few of his contracts, but perhaps we should also remember that Correa remains a talented shortstop who played a least 136 games in back-to-back seasons. He no longer steals any bases and his O-Swing% did go up, but he still makes a tremendous amount of contact in the zone and had his highest barrel rate since 2019. He has a bit of a boring fantasy profile, but he should hit .280 or higher with around 25 home runs in a good lineup, so there are worse shortstops for your team.
Anthony Santander - OF Baltimore Orioles
Anthony Santander is perpetually underrated. Maybe it's because he plays in Baltimore. Maybe it's because last year was the only season he's played over 110 games, but we need to start recognizing what the outfielder is capable of. Last year, he had an 11.6% barrel rate and 43.3% HardHit% while rising his flyball rate to 50%. Even with the changes in Baltimore's field, that led to 33 home runs and another 30-home run season is well within reason.
Santander also cut his O-Swing% for the third straight season while also cutting his swing rate overall, which leads to a bump in his zone contact rate due to a more selective approach. I love Santander as a .240 hitter with a 30-home run upside in the middle of an improving lineup.
Anthony Rizzo - 1B, New York Yankees
I think Rizzo keeps being overlooked because we know that he has back issues he's always going to play through. In truth, that's a fair reason to be concerned, but he's also played 130 games or more in back-to-back seasons and has a swing that is tailor-made for Yankee Stadium. Last year, he had a career-high 48.1% pull rate and a career-high 49.3% fly ball rate, which was a 10% jump from 2021. That led to 32 home runs and a career-high 10.95 barrel rate.
Rizzo has never had a strikeout rate over 20% in a full MLB season and has posted double-digit walk rates in every season but one. Given his elite understanding of the strike zone and solid contact ability paired with his swing approach for his park, he is going to be a great source of home runs and RBIs while he's on the field.
Brandon Drury - INF, Los Angeles Angels
I covered Brandon Drury in detail here, so make sure you check that out.
Mike Yastrzemski - OF, San Francisco Giants
Yaz is another player that people are off of because of the way San Francisco likes to platoon their outfielders. However, as a left-handed hitter, Yaz is, at worst, on the strong side of a platoon, so I think we need to stop writing him off, especially since he's had over 530 plate appearances in each of the last two years.
Yaz upped his walk rate last year by cutting his O-Swing% and his overall swing rate. While his called strikes did go up, he also had a career-low swinging strike rate and a career-high contact rate and zone contact rate. He's also a left-handed hitter who was shifted on 81.2% of his plate appearances and had a .297 wOBA against the shift and .336 wOBA without it, so there should be some improvement in batting average coming.
However, the bigger signal for me is that his pull rate dropped just 1.6% and his flyball rate dropped 0.8%, yet his HR/FB% was 5.2% lower and was a career-low 10.2%. Oracle Park is bad for pull power, but Yaz hit 25 home runs there in 2021, so I think he can reach 20+ in 2023 as opposed to the 17 he hit last year. So you might be looking at a .230 hitter with 20+ home run power who will get 500+ plate appearances in the middle of a decent lineup. I think that profile needs to be drafted a bit more regularly at the end of 15-team drafts.
Carlos Santana - 1B, Pittsburgh Pirates
Honestly, I was shocked to see Santana on here. While he's always had great walk rates, he was terrible last year and hasn't hit above .214 in three seasons. So what's going on here?
Well, interestingly, Santana had his highest barrel rate since 2019 at 9.3% and his highest fly ball rate since 2018. His pull rates remain just under 50%, so you have a hitter with a good understanding of the strike zone who's pulling the ball more and lifting it a good deal. Those are things we generally like to see. His contact rates have remained consistent over the years, but in the last two years, he has been chasing outside the zone more than normal, and even though he's making good contact outside of the zone, it's leading to soft contact.
Moving out of Kauffman should help, but PNC Park is 24th in left-handed pull power, so he's not moving into a much better situation. Overall, I think we might see a slight power boost up to 22-24 home runs, but his average should stay around .210 or under on a bad team, so it's not an enticing profile outside of NL-only leagues.
Daniel Vogelbach - 1B, New York Mets
In my day job, I write about New York Sports as the Deputy Editor of amNew York, so I'll link to an article I did on Vogelbach, which the RotoBaller fam is OK with because they're great people. Basically, the premise is that Vogelbach walks far too much, but the Mets hired a new organizational hitter coordinator who stresses pulling fly balls, which could help unlock Vogelbach if he buys in.
Download Our Free News & Alerts Mobile App
Like what you see? Download our updated fantasy baseball app for
iPhone
and
Android
with 24x7 player news, injury alerts, sleepers, prospects & more. All free!
More Fantasy Baseball Advice