After diving into the xBA and xSLG leaderboards last week, I'm continuing my look at Statcast metrics by turning our eye to the Pull% leaderboard. We'll go through some of the leaders in the hopes of not just giving you Statcast numbers but explaining how I believe those numbers impact the projections I have for the given player heading into 2023.
While pull rate might not seem like the most advanced Statcast metric, it's one that I think can tell us a lot. First, pulled baseballs tend to be hit harder than any other because they are often the result of contact in the hitter's "power zone." Also, pulled fly balls led to home runs more often than any other type of fly ball, so a hitter who frequently pulls fly balls will often have a higher home run tally than a similarly talented player who uses the whole field.
Lastly, with the new shift rules, pulled groundballs might go for hits more often than we're used to, so seeing players who already have a tendency to pull might help to identify who might benefit from those new rules. While Statcast metrics are not perfect, they enable us to look beyond just what the result on the field was and start to see the quality of contact or pitches and get a sense of who was performing at a consistently high level, whether the results were there or not. That's how we can hopefully unearth some value.
Featured Promo: Get any full-season MLB and DFS Premium Pass for 50% off. Exclusive access to our Team Sync platform, Premium articles, daily Matchup Rating projections, 15 lineup tools, DFS cheat sheets, Research Stations, Lineup Optimizers and much more!
Sign Up Now!
The Best Way to Use This Article
While there are many articles like this that highlight certain stat leaderboards, it's important to know HOW to use them.
In my opinion, the most basic starting place for any fantasy baseball season is to familiarize yourself with the player pool and the current ADP and start putting together projections. Even if you download built-in projections like ATC, which you can find on RotoBaller, it's important to see if those numbers align with your views on the players. In order to do that, you need to have your own thoughts on who's in for a bounceback or letdown season, and then manually tweak the projections if need be.
That's where these articles come in handy. If you believe that the current projection for a player isn't properly taking into account the quality of contact they made, the poor luck they had, or the playing time they should earn, then you can adjust those projections and find yourself some players you want to target and/or others you want to fade.
Pull% Leaderboard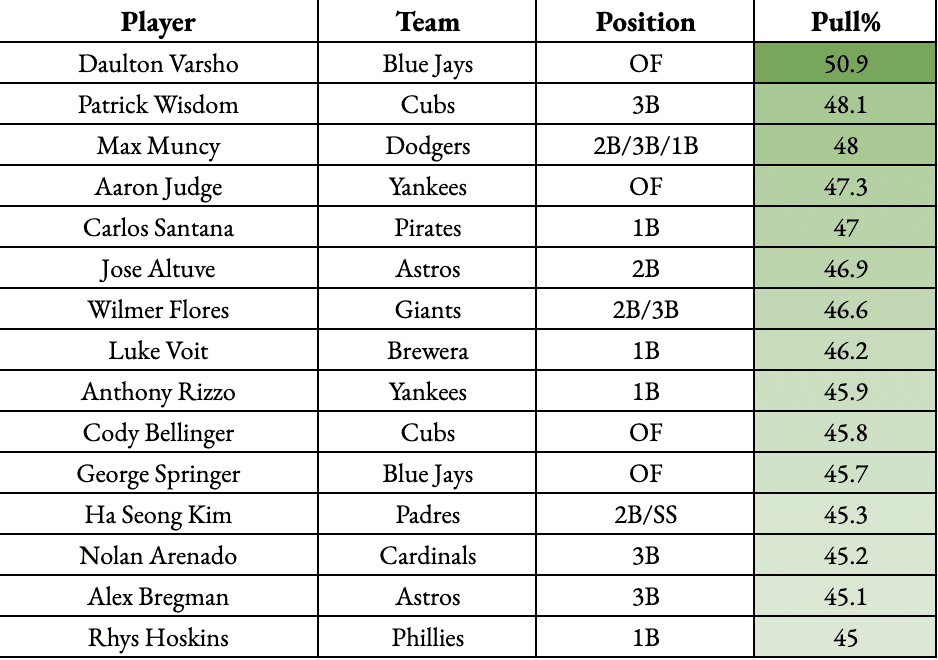 Some interesting names on this list are Daulton Varsho, Carlos Santana, Luke Voit, Anthony Rizzo, Cody Bellinger, and Ha-Seong Kim. However, I want to check one more thing before we dive deeper.
Pull% Leaderboard With 10% Barrel Rate
If we're going to dive in with detailed breakdowns, I want to do it with players who have a high pull rate but also barreled the ball over 10% of the time. To me, that shows us players who pull the ball but also make hard contact, which should eliminate the player who top ground balls or have potentially less interesting profiles like Wilmer Flores, who was 7th in baseball in Pull% but had just a 6.3% barrel rate.
Daulton Varsho - OF, TOR
2022 Stats: .235/.302/.442, 27 HRs, 79 Runs, 74 RBI, and 16 SB in 592 plate appearances
Eric's 2023 Projection: .237, 24 HR, 71 Runs, 75 RBI, and 14 SB in 554 plate appearances
Daulton Varsho is not a catcher. We just need to get that out of the way. He is a good defensive outfielder and a solid hitter masquerading as a catcher, but he will not catch in Toronto and will likely not have catcher eligibility after this. That means this will probably be the only year you'll see Varsho drafted this highly because, while the stat line above plays really well at catcher, it's not as enticing as a pure outfielder.
OK, now onto the analysis. Not only did Varsho lead the league in pull rate, but he did it after pulling the ball just 38.1% in 2021. That's a massive difference that can only come from a conscious change by the player. Varsho also saw his barrel rate jump from 7.3% to 10.2%, so it's possible that being more pull-focused allowed Varsho to find the sweet spot a little more regularly, a possibility backed up by a spike in HR/FB% as well.
That last improvement is particularly interesting because Varsho will now be playing in Toronto, which has the 9th-best park factor for home runs for left-handed hitters. His former park, Chase Field, was 25th. All of this means that the pull-centric approach that worked for Varsho last year should work again this year and perhaps lead to a small bump in home runs again if he's able to play the same number of games.
However, as you can also see from my projection, the batting average will likely be low. Varsho swings out of the zone at a 34.8% clip and his walk rate has decreased each year he's been in the majors. He'll still likely hit in the middle of a good lineup and have a chance to drive in a fair bit of runs, but keep the batting average limitations in mind when projecting out Varsho.
ADP: 34th overall
Eric's Ranking: 35th overall 
2022 Stats: .263/.320/.492, 28 HRs, 87 Runs, 87 RBI, and two SBs in 568 plate appearances
Eric's 2023 Projection: .260, 20 HRs, 62 Runs, 65 RBI, two SBs in 490 plate appearances
Drury is an interesting name to see on this list, but we also know that 2022 was a bit of a breakdown season for him, so now we can dig into why. For starters, he was finally given another chance. While his batting average struggled in 2019, he's been a solid player every time he's been given at least 400 plate appearances in a season.
The pull tendency is something that started in a small sample with the Mets in 2021 but was also a part of Drury's profile in 2018 and 2019 too. The bigger change is that 2022 was the first time that Drury paired a high pull rate with a high fly ball rate. Every other year he's had a high pull rate, he's hit under 34% fly balls, but last year he hit 39.4% fly balls.
Perhaps not coincidentally, 2022 was also the highest barrel rate of Drury's career.
Drury was also more patient, cutting his O-Swing% and swing rate overall while registering the second-highest contact rate of his career. This particularly helped against fastballs where Drury posted a .278 average (.256 xBA) and .500 SLG (.462 xSLG) a year after posting a .118 average (.132 xBA) and .118 SLG (.183 xSLG). He also decreased his whiff rate on four-seamers from 31.8% to 18.5%. While 2021 was a small sample size, that 18.5% whiff rate against four-seamers is his best ever in the Statcast era.
As a result, I like a lot of what Drury did and think the solid batting average and power production will carry over. However, Great American Ballpark is also far and away the best stadium for right-handed pull power, while Angel Stadium is still a solid fourth. He also now has to battle for playing time with Anthony Rendon, Luis Rengifo, David Fletcher, and Gio Urshela which means getting to 500 plate appearances could harder. But if the playing time opens up, you should believe in Drury.
ADP: 181st overall
Eric's Ranking: 198th overall
2022 Stats: .217/.313/.393, 18 HRs, 57 Runs, 62 RBI, and two SBs in 534 plate appearances
Eric's 2023 Projection: .230, 22 HRs, 69 Runs, 61 RBI, five SBs in 560 plate appearances
MJ Melendez is another non-catcher on this list who has a ton of fantasy value because he is eligible as a catcher. Now, in fairness to Melendez, he would be catching right now if he didn't share a team with Salvador Perez, which has forced the Royals to find a new position for Melendez to keep his bat in the lineup.
As a rookie last year, Melendez only has one season of data to work off of, so we can't talk too much about his improvements, and his surface-level splits are eerily even with a .17 batting average and nine home runs in the first half and a .218 average and nine home runs in the second half.
He also had similar underlying metrics with a 43.2% pull rate in 60 games in the first half with a 24.3% strikeout rate and an 11.9% walk rate and a 46.4% pull rate in the second half with a 24.7% strikeout rate and 12.7% walk rate.
That consistency is actually a good thing as a rookie because it means that Melendez was able to maintain a base level of production in his first taste of the big leagues. He had a strikeout peak in the summer but adjusted back and held his own as a 23-year-old in the majors. What's more, his xBA actually improved as the year went on, even if the surface level average remained the same.
Considering Melendez was a career .237 hitter in the minor leagues, I don't think we should expect some average boost, and it's possible his .288 average in 2021 was a bit of a mirage. However, he has a great feel for the plate and obviously hits the ball to his pull side with power, which should lead to power gains in 2022.
ADP: 96th overall
Eric's Ranking: 94th overall
Pull% Improvement Leaderboard
This leaderboard shows us which players had the highest Pull% increase from 2021 to 2022. This could indicate players who had a shift in approach and made gains that might be more sustainable or "real" than projections think. 

I covered Corey Seager here in my article about players with defensive concerns, so make sure to check that out.
2022 Stats: .251/.362/.436, 18 HRs, 62 Runs, 59 RBI, and one SB in 505 plate appearances
Eric's 2023 Projection: .254, 21 HRs, 64 Runs, 64 RBI in 520 plate appearances
While it was a tale of two seasons for Trey Mancini before and after his trade to Houston, the pull rate numbers showed growth throughout 2022; hence, why he's so high up on this list. While Statcast has him for a 40.9% pull rate, FanGraphs has a 45% mark, both of which are easily career highs. He also had a career-high 39.1% flyball rate, up from his 31.6% rate for his career, so pulling the ball in the air appeared to be a clear part of his game plan.
It worked in Baltimore as Mancini had a 43.8% pull rate and a 38.2% FB rate before the trade. he also rocked a triple slash of .268/.346/.403 with 10 home runs and a 21.4% strikeout rate. Granted, there was a .324 BABIP, but nothing supported the nosedive he took when he got to Houston, hitting .176/.258/.364 with a 26.3% strikeout rate. In Houston, he also had a 40.7% flyball rate and 45% pull rate, which may have increased as he tried to reach the Crawford boxes in left field.
Given that Mancini had been an Oriole his entire career and the organization had stood by him as he battled cancer, it's only logical that he may have struggled to deal with the trade emotionally and personally. As a result, I'm prepared to totally ignore the Houston games.
What we have is a career .265 hitter who had four straight seasons of 20+ home runs moving away from a park in Camden Yards that was 26th last year in Park Factors when it comes to right-handed pull power for home runs. While Wrigley Field was only 21st last year, that's an improvement in regards to power but slightly worse for batting average, where Camden's spacious confines helped with hits.
Still, we're looking at a hitter in the middle of a decent lineup who should hit .250 or higher with 20+ home runs as he trades a bit of batting average for pull-side power. Given that he's also 1B/OF eligible, Mancini makes for an intriguing target in the middle of drafts.
ADP: 248th overall
Eric's Ranking: 205th overall
2022 Stats: .229/.324/.433, 27 HRs, 83 Runs, 76 RBI, two SBs in 621 plate appearances
Eric's 2023 Projection: .231, 31 HRs, 83 Runs, 84 RBI, two SBs in 630 plate appearances
Matt Chapman is one of my favorite targets at 3B this year if you sit out the early feeding frenzy that involves plenty of players being pushed up the draft board ahead of where they should be going. Chapman's plus defense will keep him on the field essentially every day, and I love the changes he made in 2022.
For starters, the pull rate was the second-highest rate of Chapman's career behind only the COVID-shortened 2020 season where he hit .232 with 10 home runs in just 37 games. He also had an 18% barrel rate that season and a career-high 22.2% HR/FB rate. So while it is certainly a small sample size, going back to an approach that mirrors that season is nice.
However, you can also see a change within the season last year as Chapman started to pull the ball more. In the first half, he had a 43.2% pull rate but raised that to 54.2% in the second half, according to FanGraphs. That's a pretty substantial change and a potentially impactful one since the Rogers Centre ranks 9th-best for right-handed pull power. Becoming more pull-focused will work for Chapman now that he's out of Oakland, which ranked 29th for right-handed pull power.
Another change I liked is that Chapman had the lowest O-Swing% of his career, cutting it down to 19.3%, and had the highest contact rate and zone contact rate since 2019. So Chapman is becoming a bit more selective and focused on pulling the ball for power when he does swing, which is useful for fantasy.
Yet, I also think there is some room for even more growth. In that shortened 2020 season, Chapman had a career-high 24.2-degree launch angle, and we already covered how it was the best stretch of his career from a power and hard contact standpoint. Well, in the middle of last season, Chapman's launch angle spiked again.
That stretch you see starts around June 7th and begins to plummet again around August 13th. If we sort on Fangraphs for his stats during that stretch, we see that Chapman hit .263/.335/.575 over 209 plate appearances with 16 home runs and a .312 ISO. He also had a 50% pull rate and a 54.8% flyball rate.
If the pull rate is his new normal, as it seems, then a slight shift in being more lift-focused could unlock even more power for Chapman. Will he put together a stretch like that for an entire season? Unlikely, but could he push for a .240 average and 30+ home runs again? Yeah, I can absolutely see that.
ADP: 150th overall
Eric's Ranking: 123rd overall
2022 Stats: .251/.316/.415, eight HRs, 57 Runs, 63 RBI, and two SBs in 538 plate appearances
Eric's 2023 Projection: .261, 10 HRs, 45 Runs, 48 RBI, 1 SB in 420 plate appearances
David Peralta signing with the Dodgers was one of the more under-the-radar moves of the offseason. Now, with the injury to Gavin Lux forcing Chris Taylor to spend more time in the infield, it seems like Peralta may have a bit of a longer leash in the outfield in Los Angeles than many expected.
The team context is obviously the best he's had in his career, so it will be curious to see if this new approach carries over. In 2022, Peralta pulled the ball almost 7% more than in 2021 but he also increased his flyball rate from 26.2% to 41.1%. That's a massive jump.
Meanwhile, his HR/FB rate stayed under 10% at 8.8% but he did register a career-high 8.5% barrel rate. However, part of that could be due to park factors. Chase Field, where Peralta spent much of the season, ranks 22nd for left-handed pull power, while Tropicana Field, where Peralta finished the season, ranks 27th. Dodger Stadium, which he will call home in 2023, ranks 10th.
In fact, Statcast says Peralta's 12 home runs last year would have been 19 if he had played all his games in Dodger Stadium.
Now, we can't simply take that and says Peralta should have had 19 home runs, but we can say that his new home environment will be more welcoming to his pull-and-lift approach if he chooses to keep it. There's also the chance that he goes back to hitting 50% groundballs now that there is no shift.
The 50% groundball version of Peralta won't offer more than 10 home runs at Dodger Stadium but would likely come with a batting average around .270-.280, which had been his norm for much of his career. The newer pull-centric version of Peralta could pop 15-17 home runs this season but would likely hit .250-.260 since this version came with a career-high strikeout rate and nearly career-high O-Swing%.
I tend to think we'll see something closer to the career norm version of Peralta, but his Spring Training approach will be a big tell.
ADP: 516th overall
Eric's Ranking: 452nd overall
Download Our Free News & Alerts Mobile App
Like what you see? Download our updated fantasy baseball app for
iPhone
and
Android
with 24x7 player news, injury alerts, sleepers, prospects & more. All free!
More Fantasy Baseball Advice