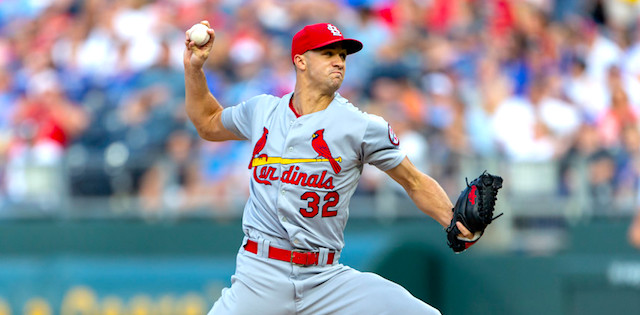 I recently finished the grueling process of making my 2021 SP ranks one-by-one. What I did was go rotation-by-rotation and insert every pitcher into my list as I went along, taking a close look at each guy. This led to me having lots of knowledge on the player pool for the 2021 season, and having a list of rankings that came with no prior biases.
I previously identified some undervalued starters, so if you have not seen that yet be sure to check it out.
In this piece, I will go through some names that I have ranked significantly lower than their current ADP, based on NFBC draft results.
I am not as committed to this take as the rest of what you will see below, but I figured to include Buehler here. I have him as my #11 SP right now, and he is currently the sixth pitcher off the board in NFBC drafts. There is no questioning his abilities, he has a fantastic arm and is a huge upside starter every night he takes the mound. The issue is the team he plays for.
Since the 2017 season, the maximum number of innings a Dodgers pitcher has thrown in 182.2 innings (Hyun Jin Ryu in 2019). Buehler has topped out at 182.1 (in 2019). The main reason for this two-fold. First, the Dodgers just have not played many meaningful regular-season games, they routinely win the NL West running away. Secondly, they have no shortage of capable starting pitchers, so they never find themselves in need of maxing out their starters. This gives them the ability to ease their big arms into the playoffs, limiting their workload in the second half of the season.
It is possible that the Padres compete with the Dodgers this year, which would help. It is also true that every time is likely to limit their starter's innings after nobody even eclipsed 100 innings in 2020. These two things are good news for Buehler's fantasy stock, but it doesn't completely ease my doubts.
Buehler is also the rare ace that throws one pitch over 50% of the time, throwing his four-seamer 53% of the time last season. It's a great pitch, and he has never had trouble posting great numbers, but it is just another thing that makes me lower on him than the field.
The Cardinals ace is currently the 11th pitcher off the board in drafts, and I have him as my #16 guy. His bad 4.91 ERA in 2020 has nothing to do with this either. It was a really goofy season for Flaherty and the Cardinals, so I'm willing to throw it all out. My reasoning for having him lower than the field is just that he does not the dominant stuff you typically see in the top twenty. He throws a four-seamer nearly 50% of the time that averages just 94 miles per hour.
Another huge chunk of his distribution is made up of sliders. The four-seamer and slider make up nearly 75% of his pitches, again, not very typical of a true fantasy ace. He has certainly posted some great stats in his young career, but I see Flaherty as more of an SP2 than the SP1 the rankings are showing him to be.
Lamet is one of the most unique starters in the league, throwing a slider 53% of the time last year. Another 37% of his distribution was made up by a four-seamer. The slider is one of the hardest pitches to locate, and the four-seamer is typically the pitch that gets out of the ballpark at the highest rate. And yet, Lamet posted a great walk rate (7.5%) and an elite home run rate (0.65 HR/9). His low ground-ball rate makes all kinds of sense with that arsenal, but it certainly does not support him being great at preventing the long ball.
After earning Cy Young votes in 2020, Lamet has vaulted up draft boards currently being the 23rd pitcher taken. I have him at #28 and will probably move him down further. I see regression coming for him in walks and home runs, which could make 2021 tough on him.
A stellar 2020 season boosted Plesac's draft stock up massively. He is currently the 20th pitcher off the board in NFBC leagues, and he comes in at #34 on my board. Plesac has a deep arsenal and stellar command, but the truth is that his success has come in such a small sample. He was not very impressive in 115.2 innings in 2019 (18.5% strikeout rate, 1.23 WHIP), and that is not going to be completely erased by 55 innings in 2020 (27.7% strikeout rate, 0.80 WHIP). He does not have much velocity or movement on any of his pitches, and he gives up tons of fly balls (career 39% ground-ball rate).
He has four pitches and locates them all well, which keeps his floor pretty high, but I think the field has overreacted on Plesac.
Expectations are being tempered on Wheeler, as he is the 31st pitcher off the board in NFBC. I still have him a step behind that at #41 on my list. He did post an enticing 2.92 ERA and 1.17 WHIP in 2020, but that came with a huge drop-off in strikeouts (a career-low 18.4% strikeout rate). Wheeler threw more four-seamers and fewer sinkers in 2020, and yet somehow saw his ground-ball climb up to 55%. No part of that makes sense to me. What we have now is a guy who took a big step backward in strikeouts and benefitted hugely from a ground-ball rate I do not see as sustainable. I'll pass on Wheeler as a top thirty starter without thinking twice.
The young Royals starter threw a soft sinker 57% of the time and yet posted a respectable strikeout rate of 23%. Hitters made contact on 83% of their swings against the sinker, so him having a decent strikeout rate just does not make any sense. He is a ground-ball specialist, and that will continue, but I cannot see his draft price (66th SP off the board) being justified seeing how he will almost certainly have a worse strikeout rate in 2021 than he did in 2020. Strikeouts are not the be-all-end-all in fantasy, but a guy allowing this much contact is unlikely to help you in WHIP either, so I'm firmly off of Singer.
The same story as Singer here, Gonzales threw a sinker 45% of the time and yet posted a 23% strikeout rate. His sinker was even more hittable than Singer's with an 88% contact rate. Marco had never posted a good WHIP in his career before dropping in a 0.95 mark in 2020, and that is just completely unrepeatable in my opinion. He will remain a decent streaming option given his strong command, but he is not a fantasy-relevant starter in standard leagues. I have him as my number 96 starter, and he is soaring way above that at #59 in NFBC drafts.
Download Our Free News & Alerts Mobile App
Like what you see? Download our updated fantasy baseball app for iPhone and Android with 24x7 player news, injury alerts, sleepers, prospects & more. All free!


More 2021 Fantasy Baseball Advice