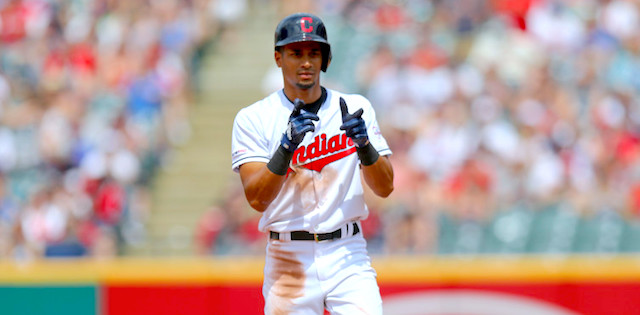 The season rolls on and fantasy managers need to continue analyzing their roster with an eye on categories instead of just adding any random player. This week the primary focus for outfield additions will be to maximize platoon splits. Some might cause a little tingle of concern when you read their name. Don't be afraid. Do what you're comfortable doing with your roster. No Fear, Just Fantasy.
Whether you're streaming a hot bat or need to replace a guy long-term, there are plenty of different options. The issue is that you are not alone and others in your league might have intent on doing the same thing. Just make sure you make a decision and grab someone. You'll lose valuable counting stats if you leave a roster spot empty, even if only a day. In this article, I'll discuss waiver wire targets for the outfield in week 17. This week we cover guys that primarily have advantageous splits and environments.
Even in the first few weeks, ownership can change quickly. Be quick to check your leagues for their availability. Key points - this list will focus on players who are owned in less than 50% of Yahoo leagues. When you want to chat it up regarding outfielders, prospects, or dynasty leagues, message me directly on Twitter @EllisCan2.
Editor's Note: Get any full-season MLB Premium Pass for 50% off. Exclusive access to our Draft Kit, premium rankings, projections, player outlooks, top prospects, dynasty rankings, 15 in-season lineup tools, and over 200 days of expert DFS research.
Sign Up Now!
Outfield (OF) Waiver Wire Options
Oscar Mercado (OF, CLE) — 33% Owned
Mercado has had repeat appearances in this article and remains a valuable option that many are avoiding. If you're jumping back in now, you likely missed the last week where he hit three homers to go with 8RBI, 3SB, and a .455AVG. You can't get that now, but you can ride the hot bat to better stats with the upcoming opponents. Mercado also benefits from hitting second behind Francisco Lindor which will provide ample RBI opportunities when Lindor isn't hitting bombs himself. Mercado has a solid upcoming schedule, despite spending the entire week on the road. He has a trip to Toronto before a four-game series in Kansas City. The schedule calls for four right-handers(.303) and three lefties(.293) which doesn't matter because he's just flat-out hitting.
Bryan Reynolds (OF, PIT) — 31% Owned
The 24-year-old, switch-hitting Reynolds continues to be a pleasant surprise in his first season with the big league club. In 248 at-bats, he has 7HR and 37RBI to go with a .339/.411/.516 slash line. He's managed that while maintaining a 9.6%BB & 21.4% K rates. Some of Reynolds' success will regress, particularly the .322AVG on his 47% ground-ball rate which helps buoy his .423BABIP. He's a solid player and streaming option that has some upside when you take advantage of the schedule. This week he hosts the Cardinals before traveling to face the Mets. At the very least, Reynolds will fill the spot without being a drain in any category.
Adam Eaton (OF, WAS) — 43% Owned
Assuming Eaton stays on the field, you'll only acquire his services for specific reasons. If you need batting average and runs, Eaton is your guy w/54 runs and a .282AVG. There is potential for speed with eight stolen bases this year, one short of his 2018 total. Power is the one factor that is questionable, even in this live-ball era. With only six homers this year, you might as well dismiss it from your consideration. Eaton is a solid streaming option this week when the Nationals host the Rockies. However, things get really rocky when the Dodgers come to town. Eaton will have to face Hyun-Jin Ryu and Clayton Kershaw in two of the three-game series. If you can stream daily, those are two games you might want to avoid altogether if you have better options at the ready.
Marwin Gonzalez (1B/2B/SS/3B, OF, MIN) — 28% owned
Mr. Super-Utility, Marwin Gonzalez gives you coverage at any position you could possibly need, except catcher. While you shouldn't expect the career-year that was 2017 for him, don't let his numbers in 2019 (11HR, 33RBI, .262AVG) cause you to gloss over him. To put it bluntly, he had an atrocious start to the season. However, since May 1st, Gonzalez has 9HR, 26RBI, and a 299AVG with a 121 wRC+. When he takes on the Yankees and White Sox this week, he'll face four righties and only three lefties. While he has a career average near .263 for both sides, this year he's hitting southpaws(.315) much better than right-handers. The improved Twins' offense will definitely produce some runs so any piece of the pie will have delicious bites.
Garrett Cooper (1B/OF, MIA) — 36% owned
At 28 years old, Cooper is a late-bloomer. Many skimmed past his name because he is apart of the Marlins organization. Admittedly, I was skeptical in the beginning as well. Up until July 6th, Cooper was strictly seen as a batting average guy with little else to offer. He had a .320AVG with 7HR, and 28RBI. In the last two weeks, he's raised his season numbers to 11HR and 37RBI with a .311AVG. There are only six games on the docket this week with an even split of right- and left-handed starters. If Cooper had his druthers, I'm sure he'd wish to face all righties(.329), but his .275AVG versus southpaws isn't anything to turn your nose up at. Cooper is sure to get you AVG with the potential for a homer or two. The rest of the stats will depend on his supporting cast.
Jesse Winker (OF, CIN) — 34% owned
Winker is coming! You might be arriving at the right time to take advantage of it. Winker has not become the player that we hoped he would be when the season started. He has become a platoon player, hitting below the Mendoza Line versus lefties. His 51% ground-ball rate isn't helpful either. Winker does have 13 homers to his name. Although his batting average resides at .255, he still has excellent plate discipline with a 25%Chase and a 6.5%Swinging Strike rates. Also, Winker's hitting has progressively improved this year with a .276AVG in June and a .293 thus far in July.
While he only gets six games this week, all of them are in great parks in Milwaukee and at home in Cincinnati. Oh, the entire slate is filled with right-handed starters, against whom he is hitting .265 this year. The lineup, venues, and recent upsurge in batting average make him a solid addition versus a right-handed schedule this week.
Jordan Luplow (OF, CLE) — 1% Owned
Just so there is no confusion, start Luplow only against left-handed pitchers. The Indians might make this easier for you and remove him from the lineup when that isn't the case. Luplow feasts on southpaws to the tune of nine taters, 20RBI, and a .315AVG. You might be bold; you might be ambitious; you might even be some gambling hotshot. Trust me when I tell you, do not start Luplow against a right-handed pitcher. It's bad for your mental sanity. If you want to throw caution to the wind and start him against everyone in Toronto, I could almost understand it because the venue is hitter-friendly. Do not take that attitude into Kansas City though. Remember, the keyword is lefty-masher.
More Waiver Wire Pickups and Streamers
Check out RotoBaller's entire fantasy baseball waiver wire pickups and sleepers list, updated daily!